Cass Scenic Railroad, Home Of The Unique Shay Locomotive

Last revised: May 28, 2023
By: Adam Burns

The Cass Scenic Railroad is Geared Steam, USA, boasting the largest collection of operating geared steam locomotives in the world.

The railroad was originally part of West Virginia Pulp & Paper's (later Mower Lumber Company) massive timber operations centered within the small community of Cass, West Virginia, situated deep within the Appalachian Mountains. 
The ability to move vast amounts of lumber out of such a remote region was all thanks to the Western Maryland and Chesapeake & Ohio, which opened branch lines from Ronceverte and Elkins into Pocahontas County. 
They met at Durbin and passed through thick virgin timber stands along the way.  How the Mower Lumber Company's rail operations turned into a tourist attraction and one of the Mountain State's most popular state parks was nothing short of miraculous, as will be discussed further here.
Today, Cass Scenic Railroad draws thousands of visitors annually and is a big boost to West Virginia's economy, in spite of its secluded location.
History
It seems nearly unimaginable today the world-renowned Cass Scenic Railroad was nearly cutup for scrap during the 1960's.  The story of this fascinating operation actually begins with the Chesapeake & Ohio Railway. 
As the C&O expanded westward, William McNeel notes in his book, "The Durbin Route," the company was interested in tapping the natural resources found within West Virginia's rich Greenbrier River Valley, which ran the state's eastern spine. 
Chief among these was timber. As the author notes no fewer than two dozen company names were proposed to extend into the region as early as the 1880s.  While rail service was the fastest mode of travel at the time, funding new route construction was always an issue. 
This was no different for a railroad along the Greenbrier River, which took years to see the project become a reality. 
It was thanks to four men who ultimately pulled the right strings in luring the C&O to build the branch; these individuals included Johnson Camden, Henry Davis, Stephen Elkins, and John McGraw.  By 1897 the C&O had formed the Greenbrier Railway, which would branch from a junction along its main line at Ronceverte.
Actual construction of its Greenbrier Division (later Subdivision) began in 1899 following two years of additional planning and surveying. 
By May 26, 1902 the entire line was opened to Durbin where a connection was later achieved with the Coal & Iron Railway, a future component of the Western Maryland, which arrived at that point on July 27, 1903.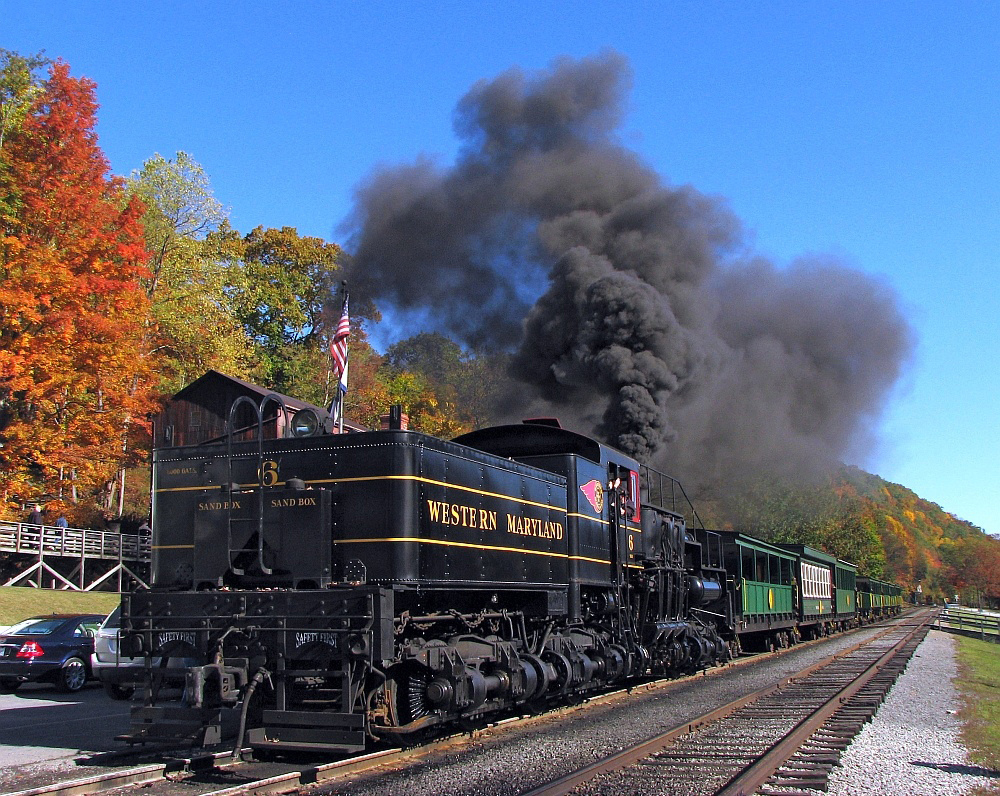 The Greenbrier Division's peak years lasted through the late 1920s during which time it handled considerable wood products. The route also moved other traffic such as hides and materials for tanneries, livestock, general freight, and of course passengers. 
With the arrival of common-carrier railroads, loggers were quick to establish their own private railroads to move far more timber than had previously been possible. 
The iron horse did not bring this industry to Pocahontas and Greenbrier Counties although its introduction did make it far more efficient and practical, such as replacing log drives (a slow and expensive operation).

Formation
The West Virginia Pulp & Paper Company (WVP&P) was the first when it acquired 173,000 acres of virgin timber stands (through a subsidiary, the West Virginia Spruce Lumber Company) in the area immediately north and northwest of Cass (named for West Virginia Pulp & Paper president Joseph K. Cass). 
While the WVP&P would locate its primary lumber mill in this town its paper mill was constructed far away in Covington, Virginia (a town also served by the C&O).  The company's railroading division was named the Greenbrier & Elk River Railroad, later changed to the Greenbrier, Cheat & Elk in 1910.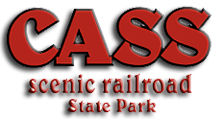 Interestingly, it was established as a common-carrier, a somewhat uncommon practice as many loggers had no practical reason for serving the public. 
Thanks to thick stands of timber the WVP&P expanded rapidly; its band mill was quickly producing thousands of board feet daily and regarded as the world's largest double-band of its kind. 
In addition, the GC&E had grown into a 101-mile operation by 1921.  Today, most visitors only know of the 11 miles currently in service between Cass and Bald Knob and are unaware of the GC&E's once extensive network.

With a secondary mill built at Spruce (north of Cass) the GC&E snaked its way westward to Bergoo in Randolph County. 
There was also an additional branch heading north from Spruce into Randolph County where it eventually connected with the Coal & Iron at Cheat Junction, following the Shavers Fork most of the way. 
System Map
At its peak the GC&E maintained some 175 miles, earning it recognition as the longest logging railroad in the country.  Its fleet of locomotives consisted entirely of Shays, a type of geared steam locomotive designed for maximum traction and steep grades, which precluded high-speed running. 
Alas, the timber would begin to play out prior to the Great Depression and operations were scaled back accordingly; in 1928 the Western Maryland acquired the GC&E's line from Cheat Junction, along the C&I, to Bergoo whereupon WVP&P still had an interchange connection at Spruce (the WVP&P retained trackage rights over its former GC&E lines). 
During an era before reforestation, the WVP&P exhausted its the spruce stands prior to World War II.  As a result,  the operation was sold to F. Edwin Mower. 
He continued, albeit on a smaller scale, harvesting the remaining spruce and hardwood stands.  This too would eventually play out and by 1960 only 65,000 acres remained under the company's control.  
---
Locomotive Roster
West Virginia Pulp & Paper Company/Mower Lumber Company
Number

1 (1st)

1 (2nd)

2 (1st)

2 (2nd)

3

4 (1st)

4 (2nd)

5

6 (1st)

6 (2nd)

7

8

10

11

12

13

14

Type

Shay

Shay

Shay

Shay

Shay

Shay

Shay

Shay

Climax

Shay

Shay

Shay

Shay

Shay

Shay

Shay

Shay

Arrangement

2-Truck/42 Ton

3-Truck/65-Ton

2-Truck/50-Ton

3-Truck/70-Ton

3-Truck/70-Ton

3-Truck/70-Ton

3-Truck/80-Ton

3-Truck/80-Ton

2-Truck/40-Ton

3-Truck/70-Ton

2-Truck/42-Ton

3-Truck/100-Ton

3-Truck/70-Ton

3-Truck/100-Ton

3-Truck/154-Ton****

4-Truck/150-Ton

4-Truck/150-Ton

Builder

Lima

Lima

Lima

Lima

Lima

Lima

Lima

Lima

Climax

Lima

Lima

Lima

Lima

Lima

Lima

Lima

Lima

Date Built/Notes

1900/Acquired New

1905*

1902/Acquired New

1904/Acquired New


1903/Acquired New

1904/Acquired New

1922/Birch Valley Lumber, Tioga Lumber**

1905/Acquired New

1904/Operated In 1912-1913

1907/Lewisburg & Ronceverte RR, Acquired 1913

1912/Acquired New For Stoney River Dam

1912/Acquired New

1913/Built For Canadian Government***

1914/Acquired New

1921/Acquired New

1906/Chesapeake & Ohio, Acquired in 1923

1910/Chesapeake & Ohio, Acquired in 1923
*    Built for the G.W. Huntley Lumber Company, later working for the Flint Erving & Stoner Lumber Company and North Fork Lumber Company.  Acquired by WVP&P in 1915 for #1 (1st).
**   Acquired by the Mower Lumber Company in 1943.
***  Sold new to WVP&P.
**** Rebuilt to a 4-Truck/197-Ton unit by the Cass Shops in 1923.
Dispositions
1 (1st): Scraped in 1931.
1 (2nd):  Operated on the Cass Scenic Railroad until traded to the Baltimore & Ohio Railroad Museum for Western Maryland Shay #6.
2 (1st): Returned to Lima (1903/1904).
2 (2nd): Scrapped in early 1930s.
3: Scrapped in early 1930s.
4 (1st): Sold to Conner & Tanner San & Gravel Company of Columbus, Texas.
4 (2nd): Cass Scenic Railroad
5: Cass Scenic Railroad
6 (1st): To Southern Iron & Equipment as #1334, later became Waterford Lumber Company #1.
6 (2nd): Sold to Preston County Coal Corporation in 1947.
7: Sold in 1916/1917, scrapped in early 1950s.
8: Scrapped late 1930s.
10: Sold to R.E. Wood Lumber Company in 1926, later worked for Birmingham Rail & Locomotive as #1698, and finally became The Sound Timber Company #3 (1928). 
11: Scrapped late 1930s.
12: Retired 1943, scrapped 1955.
13: Retired 1941, scrapped 1955.
14: Sold to Western Maryland in 1932, scrapped in 1953.
---
Mower had passed away in 1956 and his wife, Dorothy, subsequently sold the remaining assets to W.R. Grace & Company, a shipping/chemical firm which had no interest in the venture. 
As a result, all logging and rail operations ceased on June 30, 1960 and the property was sold for scrap to Midwest Raleigh Steel Corporation.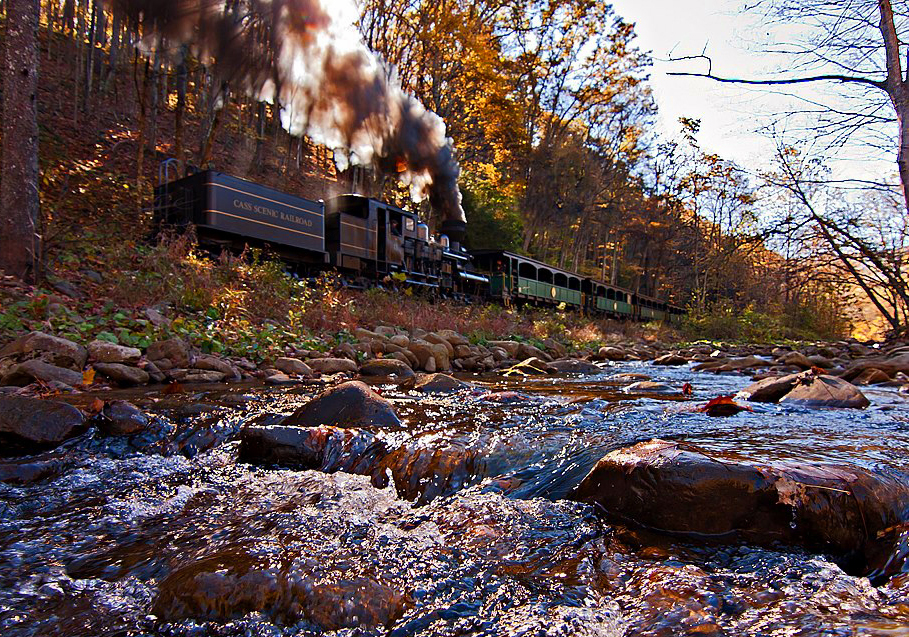 It is here where Cass Scenic Railroad's story begins.  In a surprising turn of events, a local railfan from Sunbury, Pennsylvania named Russell Baum had a held a long interest in Mower's operations. 
Upon learning of its demise he wanted to see what could be done to spare its ultimate fate.   He was able to interest State Delegate J.C. Cruikshank in becoming involved who was successful in convincing the state legislature to consider turning the property into a state park. 
Baum also persuaded Midwest Raleigh Steel's president, Sam Silverstein, to suspend scrapping operations while a committee was formed to analyze the railroad's potential as a tourist attraction.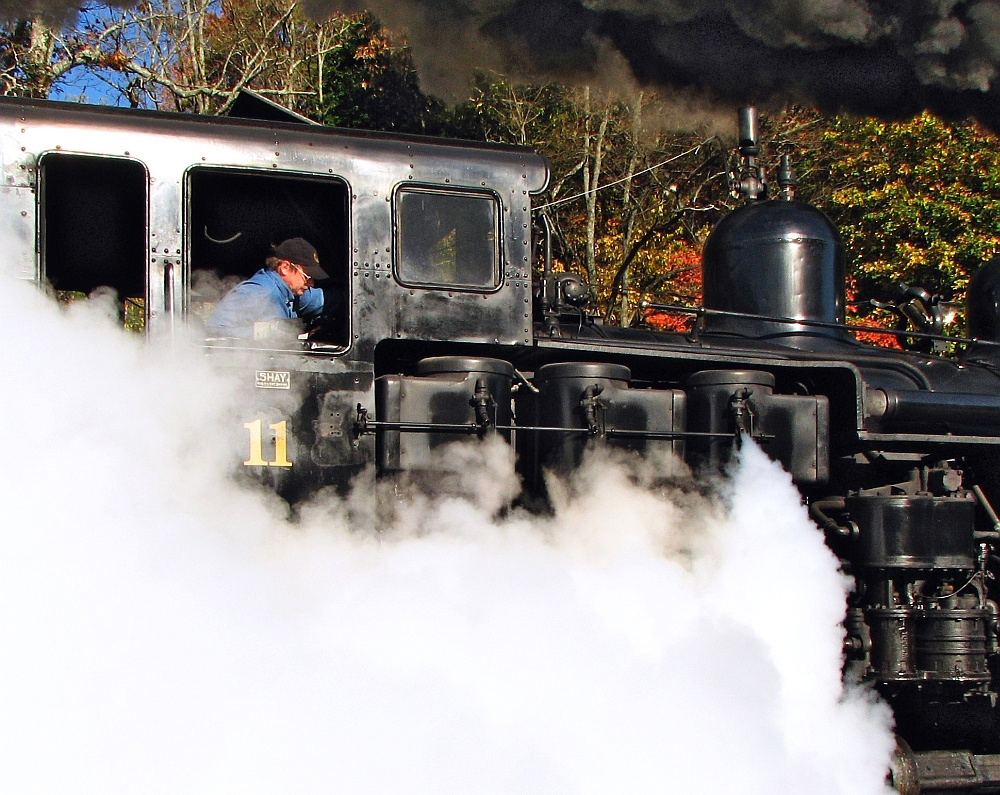 At first, the endeavor enjoyed strong support but because 1960 was an election year, new political power in Charleston soured on the idea by 1961.  Once again delegate Cruikshank came through. 
He spoke with new governor William Wallace Barron and successfully convinced him the state should acquire the railroad.  By March of 1961 the property had been purchased and subsequently turned over to the West Virginia Department of Natural Resources. 
Another important individual in Cass Scenic Railroad's creation was Chesapeake & Ohio agent P.F. Long.  For his part the railroader successfully enticed the C&O to donate the wooden depot and water tank in Cass to the fledgling new operation. 
For good measure the railroad also provided three old coaches and a shop crew from Clifton Forge to overhaul the Shays!
From this point forward Cass Scenic Railroad was off and running with its first official passenger trip hosted on June 15, 1963.
The first year of operations over 23,000 passengers rode the trains, a respectable number during an era predating the modern tourist railroad. 
Steam locomotives have always been a natural draw for the public, even those with no particular interest in the iron horse, since all the working parts can be seen in addition to the incredible noise they produce. 
Because of this the railroad witnessed a ridership jump of 35% is a single year.  Initially trains operated only as far as Whittaker Station, about 4 miles north of Cass. 
However, in 1968 service was extended another 7 miles to Bald Knob (standing at an elevation of 4,843 feet, it is the third-highest point in West Virginia and the Allegheny Mountains), providing visitors panoramic views stretching for more than 20 miles.
For more than five decades the state continued to maintain and operate the park.  However, that all changed in late 2014 when John and Kathy Smith's Durbin & Greenbrier Valley Railroad, which also operates the nearby West Virginia Central and a small excursion based in Durbin, leased the Cass Scenic Railroad.
The husband/wife team has been quite successful with the WVC and their other railroad assets. 
To further bolster the Cass experience and rejuvenate the small operation in Durbin, several years of work, and millions of dollars spent, to restore the former Greenbrier Branch between Cass an Durbin, which was removed by the C&O during the 1970s citing declining business. 
Following the closure, 5 miles of this right-of-way was washed away in the severe flooding of 1985 along the river.  However, the railroad announced on February 1, 2023 that the entire 15-mile corridor had been completely restored.
Today, Cass Scenic rosters a fleet of eight geared steam locomotives including six Shays (five of which are operational), one Climax, and one Heisler.
Locomotive Roster
Cass Scenic Railroad
Shay #2:  This locomotive (Class PC-13) was built in July of 1928 by the Lima Locomotive Works (Pacific Coast Shay) for the Mayo Lumber Company of Paldi, Vancouver Island, British Columbia.  
It later worked for Lake Logging Company, Cowichan Lake British Columbia & Western Forest Industries, and at Honeymoon Bay, B.C. before its acquisition by Cass Scenic Railroad in the 1970s.  It weighs 93 tons and utilizes a three-truck design.
Shay #4:  This locomotive (Class C-70) was constructed by the Lima Locomotive Works in December of 1922 for the Birch Valley Lumber Company of Tioga, West Virginia and given #5.  
It was later acquired by the Mower Lumber Company at Cass in 1943 and given #4.  The Shay weighs 80 tons and carries a three-truck design.
Shay #5:  This locomotive (Class C-80) was originally built by the Lima Locomotive Works in the fall of 1905 for the Greenbrier & Elk River Railroad.  Since that time it has not left the area.  The Shay weighs 90 tons and features a three-truck design.
Shay #6:  One of the largest and final Shays ever built (Class C-150) it is a relatively modern design constructed by Lima in the spring of 1945 for the Western Maryland.  
The WM used the locomotive on its Chaffee Branch.  It operated for only four years until being stored in 1949 and later donated to the Baltimore & Ohio Railroad Museum in 1955.  
In 1981 the museum gave it to the Cass Scenic Railroad in exchange for a little 0-4-0 switcher built by the H.K. Porter Company.  Affectionately known as "Big Six" the mammoth, 162-ton Shay (three-truck) was soon restored and remains in regular service today.
Heisler #6:  Another unique geared design this locomotive (Heisler Class C-90) was built by the Heisler Locomotive Works in 1929 for the Bostonia Coal & Clay Products Company of New Bethlehem, Pennsylvania.
Given #20, it later found its way to the Meadow River Lumber Company of Rainelle, West Virginia before being acquired by the Cass Scenic Railroad in 1968.
Climax #9:  Yet another geared type this locomotive was originally built in 1919 by the Climax Locomotive Works for the Middle Fork Railroad Company as #6.  
It later worked for the Moore-Kepple & Company of Ellamore, West Virginia and was purchased by Cass Scenic from the private collection of Robert Johnson based in Rossville, Georgia.  The Climax is currently under restoration.
Shay #11:  Another Shay from the West Coast the locomotive (Class C-90) was built by the Lima Locomotives Works in July of 1923 for the Hutchinson Lumber Company of Feather Falls, California.  
It later worked as Feather River Railway #3 and was donated to the Pacific Southwest Railway Museum of San Diego, California in 1967.  In 1997 the 103-ton Shay made its way to Cass Scenic Railroad and is currently operational.
---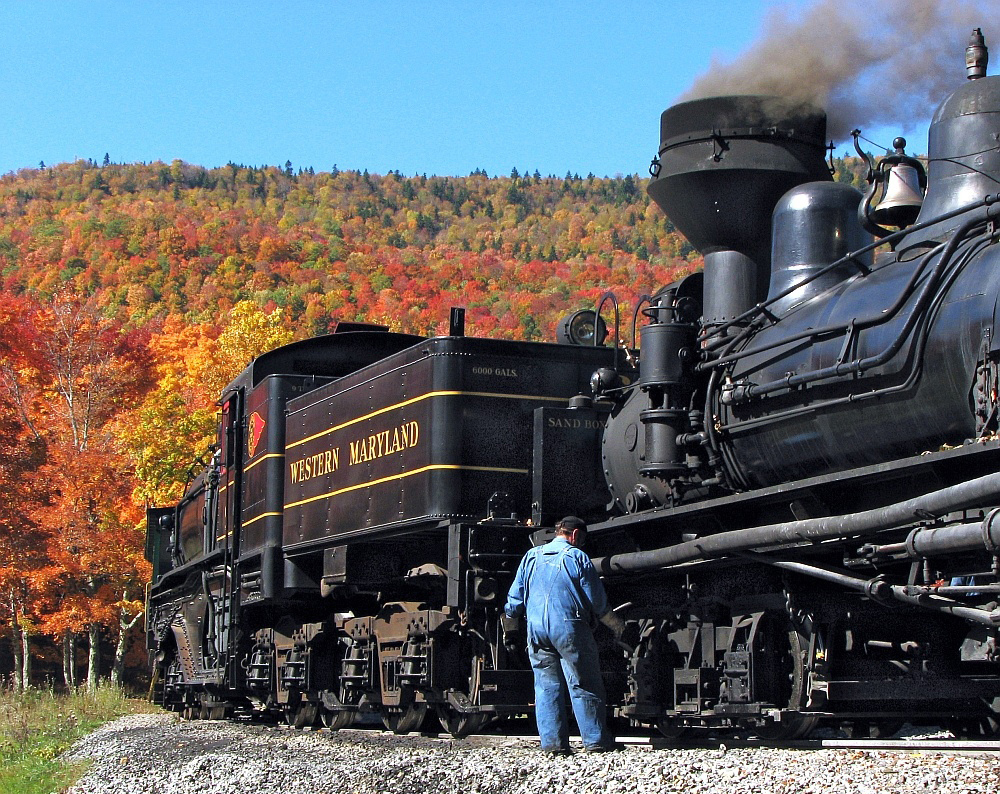 In recent years the railroad has provided visitors with more options such as reopening a connection with the national rail network at Spruce, connecting there with the West Virginia Central. 
It also hosts dinner trains, Halloween specials, offers cottage rentals in Cass (within former company houses), and provides caboose rentals for overnight stays. Also, during your visit don't forget to stop by the old company store, still very much in business.  
All in all, a trip to see Cass Scenic Railroad and the historic little town is well worth it. You certainly won't be disappointed, either, by taking the train up the mountain behind the railroad's famous Shays.
Just remember to take a jacket, and maybe even long pants, as temperatures can be quite cool even during the summer months. 
To learn more about Cass Scenic Railroad please click here to visit their official website, which provides plenty of information concerning exactly what the tourist line offers.