Hocking Valley Scenic Railway

Last revised: March 27, 2023
By: Adam Burns

The Hocking Valley Scenic Railway (reporting marks, HVSR), located in Nelsonville, Ohio is a tourist railroad operating in the southeastern region of the state.

Because of its location and the fact that it is situated in a sparsely populated region, the railroad is a hidden gem that can easily be missed.
The Hocking Valley operates over a former Chesapeake & Ohio Railway branch line and owns a total of 12 miles between Nelsonville to as far north as Logan.
Since its creation over 30 years ago the railroad has steadily grown and today features a small locomotive fleet of diesels, passenger cars, which are climate, controlled, two different standard excursions and several special trains operated throughout the year.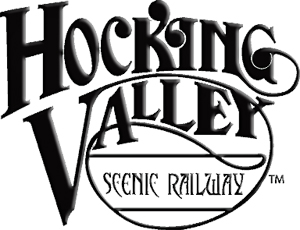 The Hocking Valley Scenic Railway is named for the railroad, which originally operated the line between Logan and Nelsonville, the Hocking Valley Railway, which was taken over by the Chesapeake & Ohio Railway in 1930.
While the C&O featured a main line between Huntington and Detroit it actually did not have a large presence in the state of Ohio.
The line now operated by the Hocking Valley Scenic was the C&O's only branch in the state, originally connecting Logan and Athens.
The HVSR itself dates back to 1972 as a non-profit organization, which eventually purchased a 12-mile section of the route directly from C&O successor Chessie System in 1985, after the railroad deemed it unprofitable and redundant.
At the time Chessie was significantly reducing its infrastructure in the state as it was also selling or abandoning former Baltimore & Ohio lines.  
Today, the Hocking Valley Scenic operates two different regular excursions along with several specials.
Its regular runs include a 14-mile round trip from Haydenville and back to Nelsonville and a 22-mile round trip along the entire line between Nelsonville and Logan.
Along with its regular excursion the HVSR also operates the Robbery Train, Easter Train, Murder Mystery Train, Fall Foliage Train, Santa Train, Wine and Cheese Train, and specials during Memorial Day and the 4th of July.
To power its excursion trains the Hocking Valley Scenic Railway has a fleet of five diesel locomotives, with its EMD GP10 and GP7 (painted in original C&O colors) doing most of the work.
Additionally, the railroad's rolling stock includes two enclosed coaches (ex-B&O and ex-Rock Island), a combine (ex-B&O), two cabooses, a customized power car, and four newer bi-level commuter coaches (so, you have the option of riding in historic or contemporary equipment).
Of note, the Hocking Valley Scenic is working to restore an original Ohio Power Company 0-6-0 steam locomotive, #3. The work is ongoing and a completion date is not yet known. 
Locomotive Roster
#701 – EMD GP10 (Originally Illinois Central)


#4005 – BLH (Whitcomb) RS4TC


#5833 – EMD GP7 (Originally Chesapeake & Ohio)


#7318 - GE 45-tonner (Originally US Army)


#8122 – Whitcomb 65DE19A (Originally US Army)
All of the railroad's excursions depart from their restored Nelsonville depot where you can purchase tickets and visit their small gift shop, "The Train Shop". Of note, the Hocking Valley Scenic also offers charters, school groups, and parties of 20 or more.
However, if you may be interested in this please contact and reserve your trip in advance as they cannot accommodate such large parties on the spot.  Finally, for more information about the Hocking Valley Scenic Railway please click here to visit their website.
There you can find out exactly everything that they have to offer from special trips to their seasonal operating schedule. 
---
So, if you're ever in southeastern Ohio and have some spare time I would strongly suggest a visit to this little tourist railroad run entirely by volunteers.   
Lastly, if you have the time please consider volunteering to help them with not only restoration work but also maintaining their railroad. I am sure they would very much appreciate the help!  To learn more about the Chesapeake & Ohio Railway please click here.