Royal Gorge Route Railroad

Last revised: March 29, 2023
By: Adam Burns

The Royal Gorge Route Railroad (reporting mark, CRRX) is another tourist attraction utilizing a component of the fabled Denver & Rio Grande Western. 

The historic D&RGW was a legend even in its own time as it carved out an efficient transportation network through the once impenetrable Rocky Mountains. 
It began as a three-foot, "narrow-gauge" operation and would eventually amass the largest such system in the country by the late 19th century. 
Some of these lines were never converted and ultimately sold to form two of Colorado's most popular destinations, the Cumbres & Toltec Scenic and Durango & Silverton Narrow-Gauge. 
Today's Royal Gorge Route Railroad was interestingly not built by the Rio Grande.  Instead, it was the work of the Atchison, Topeka & Santa Fe.  During the 1870's, mining was big business in the Centennial State and both railroads went to war to access the lucrative silver mines around Leadville.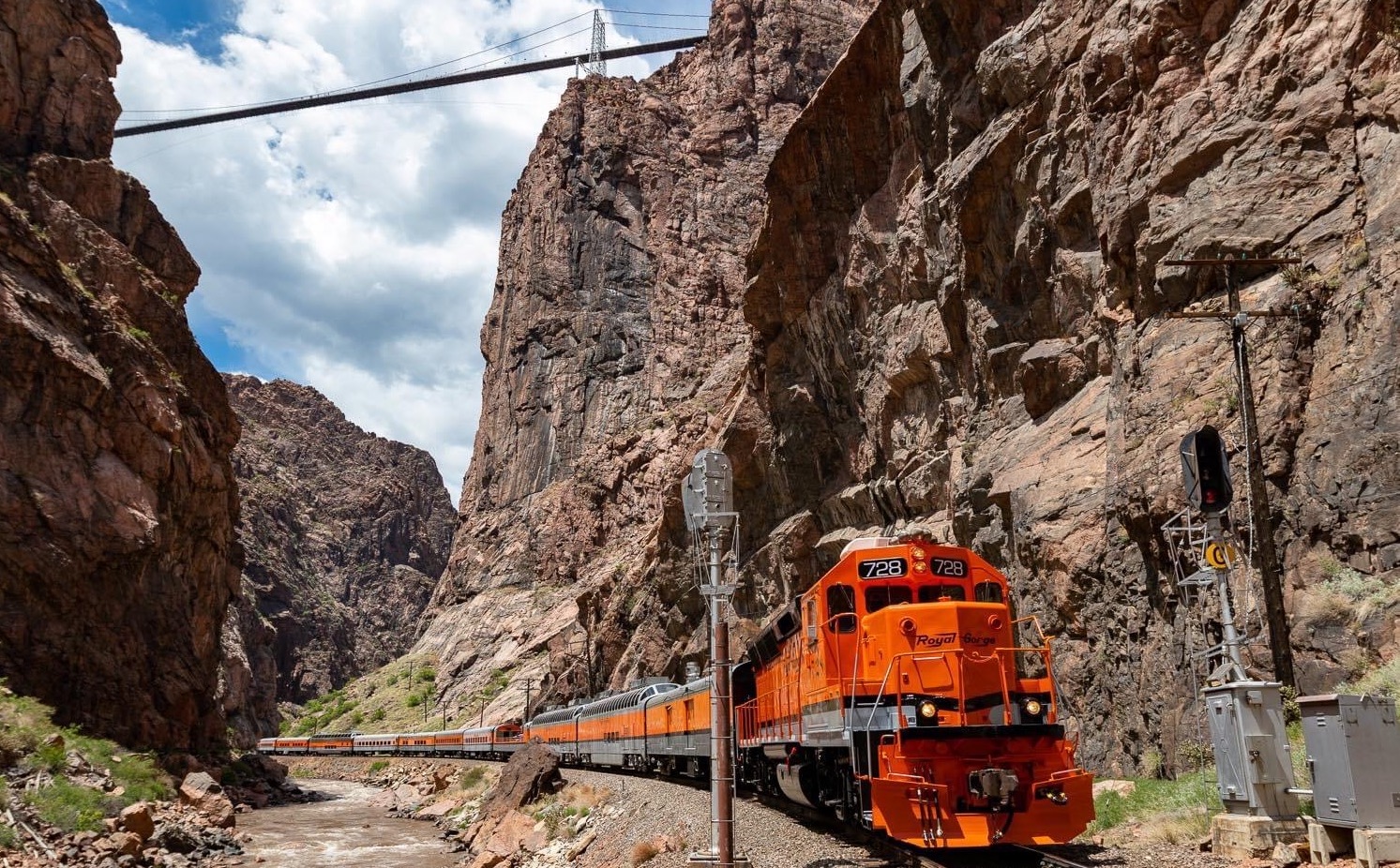 With only enough room for one right-of-way, Santa Fe arrived first and engineers conceived a breathtaking railroad hugging the walls of the Royal Gorge.  The splendor of what they had created would be fully appreciated for decades. 
The Royal Gorge Route currently operates a total of 12 miles with trips departing from Cañon City. Given the region's stunning geography the railroad now draws more than 100,000 visitors annually and hosts a wide range of excursions.

History
While there had been sporadic activity for some years prior, Colorado's Silvering Mining Boom officially began in 1879 when the precious ore was discovered in great quantities near the small town of Leadville, situated about 100 miles southwest of Denver. 
At that time, William Palmer's narrow-gauge Denver & Rio Grande (D&RG) was already underway with intentions of connecting Colorado's Front Range with the Mexican border via El Paso, Texas. 
Well ahead of his time he strongly believed the state's agriculture and mining potential would allow for a successful railroad. 
By January 1, 1872 Palmer had opened his D&RG between Denver and Colorado Springs.  He and his business associates were well on their way to completing their original charter when they encountered Santa Fe's determined William Barstow Strong.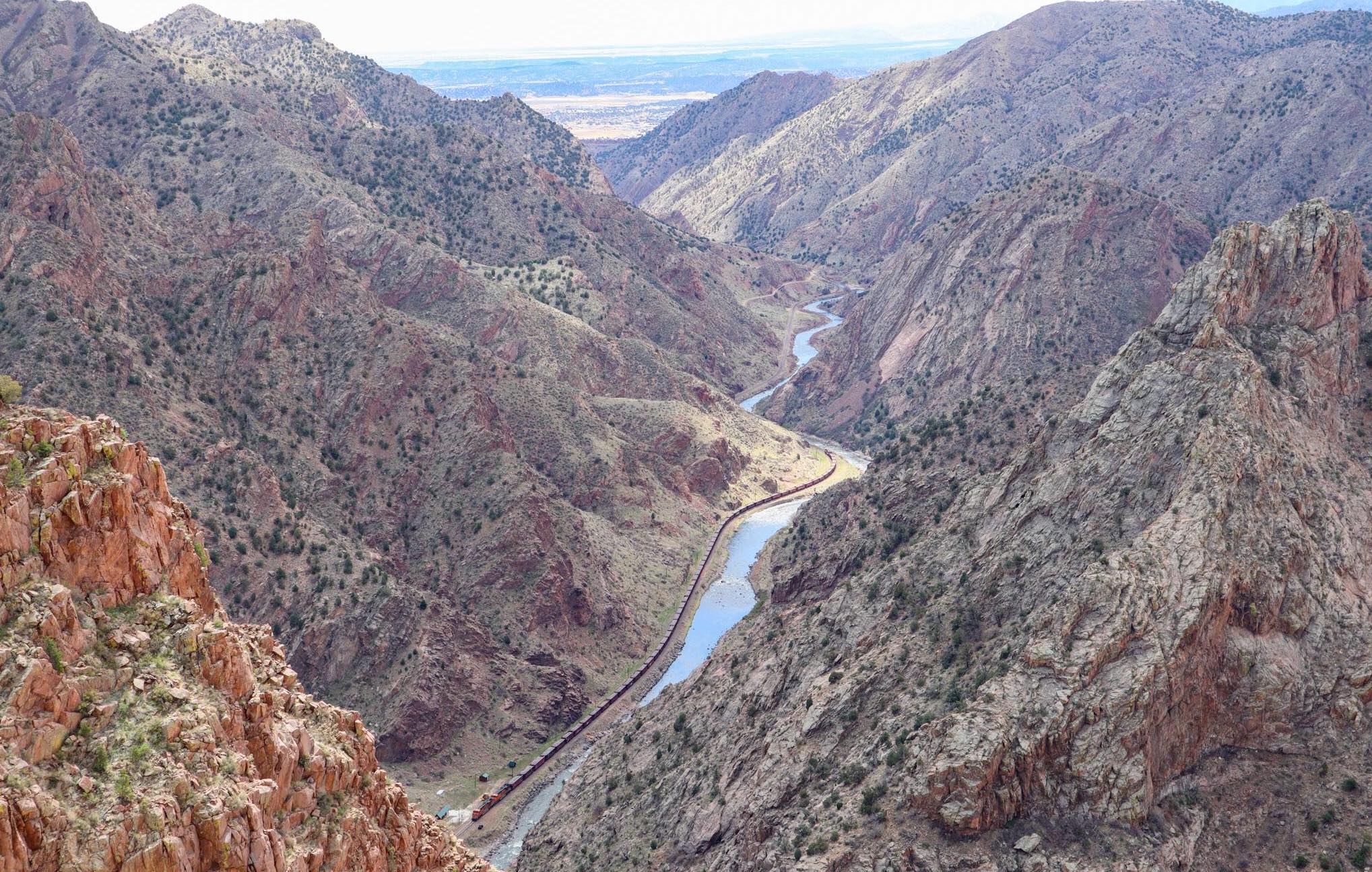 The two companies fought for control of New Mexico's coveted Raton Pass, a battle AT&SF would eventually win.  As Strong worked his way westward he was not content with simply securing Raton.
Keith Bryant, Jr.'s excellent book, "History Of The Atchison, Topeka & Santa Fe Railway," points out he also wanted in on the mining boom.  As he would later say:
"A railroad to be successful must also be a progressive institution.  It cannot stand still if it would.  If it fails to advance, it must inevitably go backward and lose ground already occupied."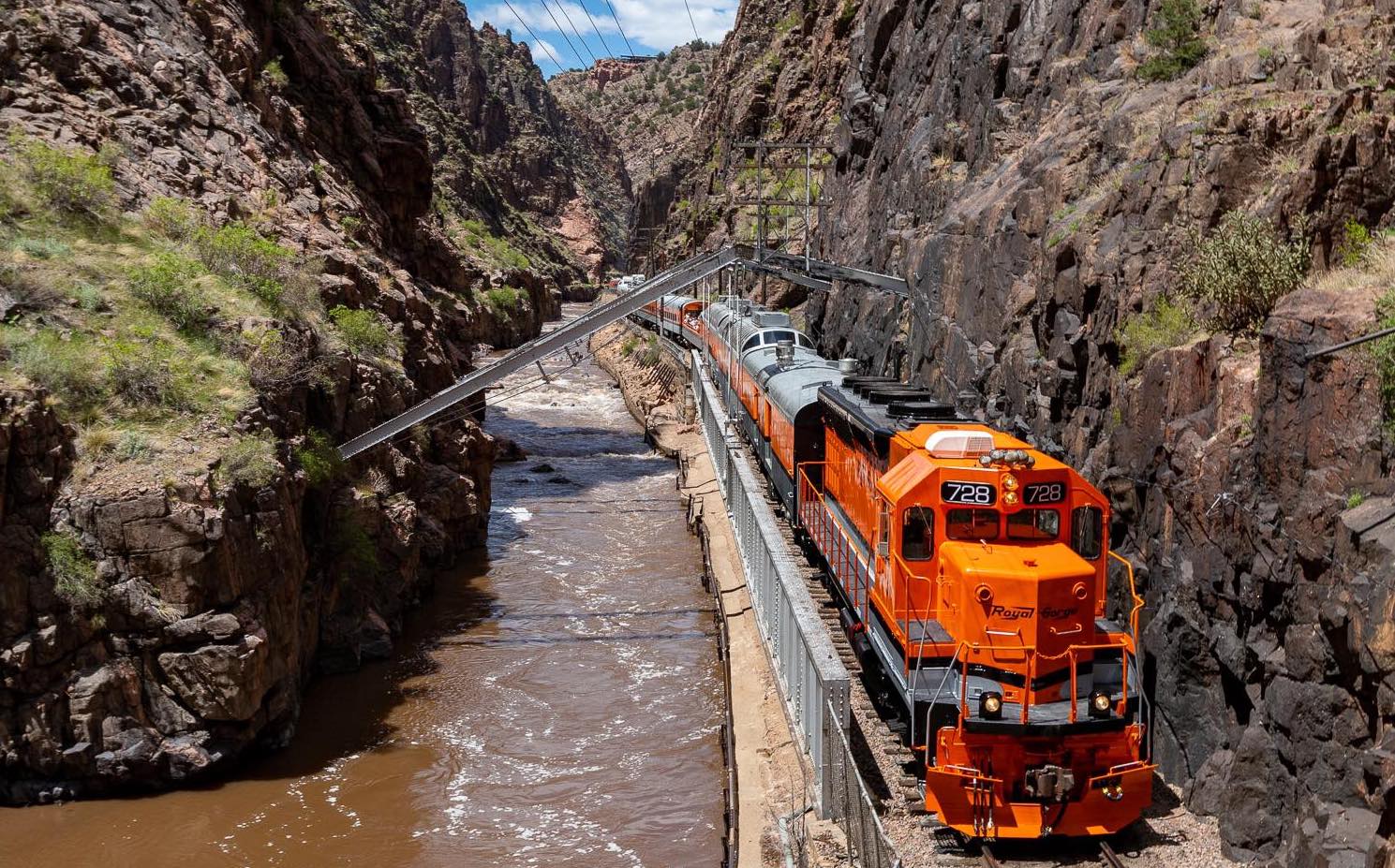 Strong and Palmer were already bitter enemies by the time of their famous war through the gorge.  In 1872 the D&RG had reached as far south as Pueblo with a coal branch to nearby Cañon City. 
The AT&SF was not far behind and had opened its own line from Pueblo to Cañon City in 1878 via a subsidiary known as the Cañon City & San Juan Railway.
- This company had actually been formed by Cañon City leaders on February 19, 1877 to see rail service established to their town. That same year the CC&SJ was merged into another Santa Fe property, the Pueblo & Arkansas Valley Railroad, which provided AT&SF legal authority to build through the Royal Gorge. -
This work had been ongoing since the spring of 1875 when the AT&SF launched a westward extension from Granada, which followed the Arkansas River the entire way.  As mining grew in intensity efforts to reach Leadville, as well as Silverton, only increased.   
Through espionage practices, Denver & Rio Grande agents realized the AT&SF was busy elsewhere on its empire in the spring of 1878. 
Hoping to catch its rival off-guard, Palmer ordered his chief engineer to hurriedly build a railroad through Colorado's spectacular Royal Gorge, just west of Cañon City. 
At this particular location the river could barely support a single right-of-way and the first to claim it would enjoy the only natural corridor into the mining region from the east.
Unfortunately for Palmer, Strong caught wind of his efforts and the battle for the gorge began.  First, the AT&SF, led by engineer Robinson, attempted to outmaneuver Rio Grande crews by rushing a construction crew ahead of it by mere hours. 
The D&RG was faced with an added problem; Cañon City locals were still upset the company had not completed its branch into town. 
As a result, they steadfastly supported the Santa Fe's arrival and when D&RG's chief engineer, John A. McMurtrie, arrived he was dismayed to see he had been beaten again. 
A nearly identical scenario had played out at nearby Raton Pass. Unlike in New Mexico, however, McMurtrie did not capitulate and began laying a grade only yards away from the Santa Fe's.  A legendary war ensued, complete with fortifications, trenches, and hired gun-hands on both sides. 
These were all intimidation tactics designed to spook the other into giving up.  The Santa Fe even employed the legendary Bat Masterson to head its posse. 
While actual gun fighting would never break out the two crews did their best to make life miserable for the other by destroying or stealing equipment. 
Eventually, Strong and Palmer came to their senses and went to the courts after fearing an actual war might break out.
Palmer continued to fight for his cause, arguing he had rightfully surveyed the route five years prior to Santa Fe's arrival.  While true, the war eventually wound up in federal court which ordered both parties to cease all work and post $20,000 bonds. 
On August 23, 1878 it ruled both parties were required to share the gorge, and subsequent rail line, as far as Leadville. 
Again, Palmer fought this decision on the grounds the D&RG should have sole ownership. Unfortunately, the drawn out fighting put his company in a precarious financial situation. 
In an ironic twist, to avoid bankruptcy he agreed to lease the D&RG to the Santa Fe for 30 years. The AT&SF took control on December 13, 1878 but its ownership was short-lived. 
A later U.S. Supreme Court struck down the lower court's ruling on April 21, 1879, stating the Rio Grande had operational authority. 
This was followed by a Colorado court nullifying Santa Fe's lease, stating it could not control the D&RG as a Kansas corporation. 
The AT&SF, for its part, made it 20 miles into the hotly contested gorge and is credited with constructing the photogenic "Hanging Bridge" over the Arkansas River (which became an often-used location for Rio Grande publicity scenes). 
In another interesting twist, soon after the Supreme Court's order, the D&RG entered receivership in July.  The Supreme Court's decision also led to the "Treaty of Boston" signed by both parties on March 27, 1880. 
It ended hostilities and each railroad agreed to stay out of the other's territory (later broken by both). 
The Rio Grande was also awarded AT&SF's completed work through the gorge, purchased for $1.4 million.  The notorious tycoon, Jay Gould, is also credited for ending the fighting; he had effectively gained control of the D&RG leading up to the treaty and worked as an intermediary in negotiating peace.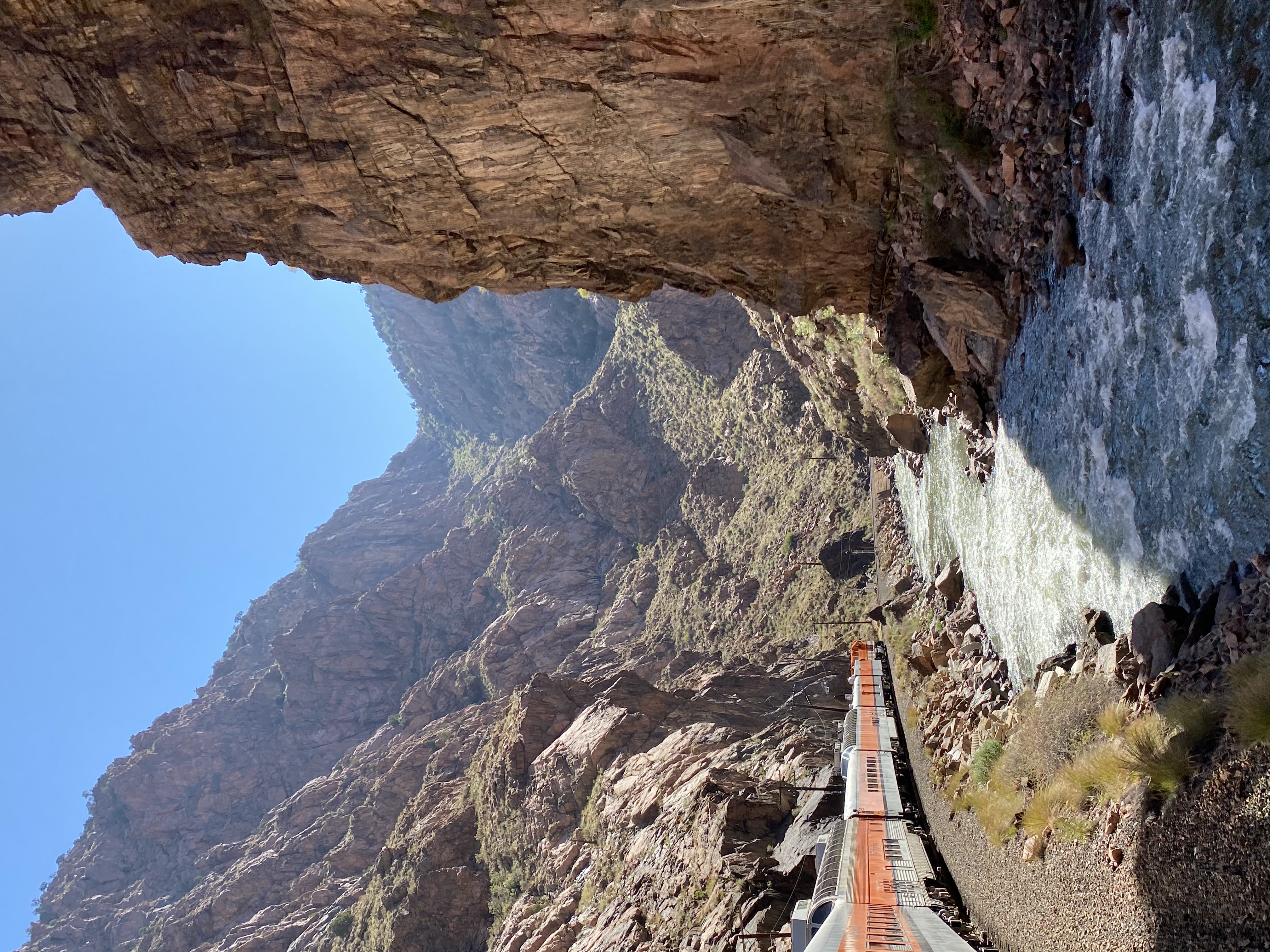 With this dispute over, Palmer turned his attention back towards expansion.  The Royal Gorge line would become part of the Rio Grande's Tennessee Pass.
Despite the fact that the legendary California Zephyr did not pass through the Royal Gorge, which was arguably the most scenic area of the railroad, travelers could nevertheless travel by train through the Arkansas Valley via the D&RGW's Royal Gorge.
This train whisked travelers from Denver, through Pueblo and the Arkansas Valley all of the way to Ogden, Utah. The train remained on Rio Grande's timetable until August, 1967 when it was discontinued, the result of both poor ridership as well as the cancellation of federal mail contracts.
Today
The Royal Gorge Route Railroad was created in 1998 after Union Pacific decided to sell 12 miles of the pass, including the Royal Gorge component.  As the line winds its way north it eventually reaches another fabled section, the crossing of Tennessee Pass. 
After UP's 1996 acquisition of the Rio Grande/Southern Pacific it mothballed this corridor the following year.  However, it remains under the railroad's ownership for possible future use. 
Today, the Royal Gorge Route offers guests a variety of adventures from cab rides and group charters to several different dinner trains and murder mysteries.
They also host a wide variety of special trains throughout the year, particular during the holidays including the Santa Express Train, Easter Bunny Special, and Oktoberfest. Additionally, they provide guests with on-board accommodations ranging from coach class to Vista Dome viewing.
Finally, in recognizing the line's heritage, much of the equipment is adorned in Rio Grande's post-1960's era livery of orange, silver, and black featuring the railroad's classic speed lettering. 
Diesel Locomotive Roster
Number

V-20

84

402

403

1503

2238

3104

5305

Model

GP40PH-2

44-Ton

F7A

F7A

F7B

GP7u

GP40

SD9

Builder

EMD

GE

EMD

EMD

EMD

EMD

EMD

EMD

Date Built/Notes

1969/As GP40 #728 For Atlanta & West Point

1947/Fibreboard Products #1

1949/Chicago & North Western #4075-A

1949/Chicago & North Western #4079-C

1952/Alaska Railroad #1503

1951/Santa Fe GP7 #2676

1970/Western Pacific #3521

1957/Rio Grande #5305
Steam Locomotive Roster
Number

8

Type

Shay

Arrangement

3-Truck

Builder

Lima

Date Built/Notes

1922/West Side Lumber
---
The Royal Gorge Route is one of the country's most luxurious with a total of five different service classes to choose from including Vista Dome, First Class Lunch, Club, Coach, First Class Diner, and you can even ride along in the cab! 
Aside from the spectacular scenery the keynote attraction is the fabled Hanging Bridge mentioned previously.  Neither its length nor height is particularly impressive. 
However, the span was constructed on the side of a rock wall and partially straddling the Arkansas River.  It was the work of Santa Fe's chief engineer, the previously mentioned Albert Robinson. 
The structure straddles a point in the gorge only 30 feet wide; it is 175-feet long utilizing girder-plate construction with A-frame girders anchored into each side of the cliff which support the main span.  The bridge was completed in 1879 at a cost of $11,759.  
As with all of the other excursion services operating former Rio Grande trackage in Colorado, the Royal Gorge Route Railroad's seasonal schedule runs between late May and late October, outside of the frigid cold of winter.
If you think you may be interested in riding train please visit their website for more information. There you can learn about everything they currently offer including other information such as how to reach Canon City and local accommodations.