Black Hills Central Railroad

Last revised: March 30, 2023
By: Adam Burns

The Black Hills Central Railroad has become a quite popular tourist railroad in southwestern South Dakota, near Rapid City.

One reason for the little railroad's success is a big Mallet steam locomotive it restored a few years ago and today is the star in its fleet (it is also the only operational Mallet of any kind in the country).
The 1880 Train, as it's likewise known (being the premier excursion train on the railroad), has also been featured on a number of television shows. Aside from the Black Hills' famous Mallet it operates several different trains and events, such as specials for the holidays.
All in all, between the fabulous scenery afforded from the Black Hills Central and train ride itself (whichever one you choose), a trip aboard the railroad is a very memorable experience.
The Black Hills Central Railroad is one of the oldest tourist railroads in the country, dating back to 1957 when it took over an ex-Chicago, Burlington & Quincy Railroad branch in the region originally used to mine the famous gold deposits located in the Black Hills region.
The line had a history dating back to late January of 1900 and was named the CB&Q's Keystone Branch. Never a very profitable route, it was abandoned by the railroad in the 1950s.
Today, the Black Hills Central still operates roughly 10 miles of this branch between Hill City and Keystone, just a short drive from the large population center of Rapid City and located in the Black Hills National Forest. 
Over the years the railroad has steadily grown a fine collection of steam locomotives and rolling stock, all of which have been authentically restored to the early 20th century era.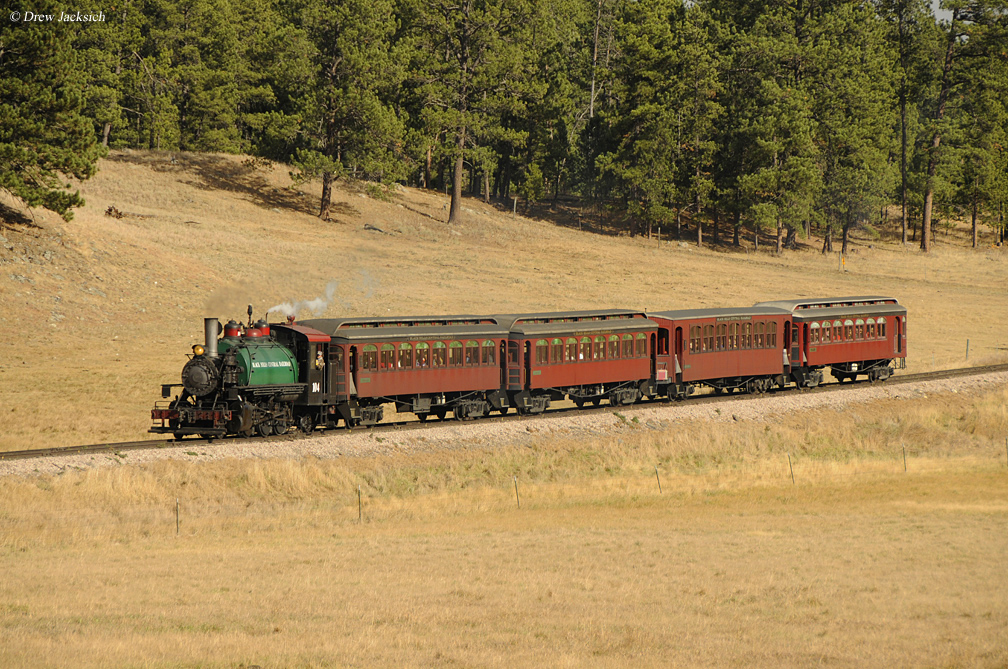 A panoramic view of 2-6-2T #104 and its train easing down the short grade into Hill City, South Dakota on October 9, 2012. Drew Jacksich photo.
Because of the railroad's detail to authenticity it has earned celebrity status on a number of different occasions having been used in television shows and movies including the series Gunsmoke and movie Orphan Train.
Additionally, it has been featured in TNT's Into the West and General Hospital.   The Black Hills Central Railroad's steam locomotive fleet includes the recently restored 2-6-6-2T Mallet (the pride of the fleet) built by Baldwin Locomotive Works and three other 2-6-2s designs.
The railroad has restored all but one of these to operational status, so if you enjoy live steam this is a great to place to catch it.
They also own two diesel locomotives, mostly used for helping with switching duties and rarely employed in excursion service.
Black Hills Central 2-6-2T #104 steams through the fall colors on its way to Hill City on October 10, 2012. Drew Jacksich photo.
Aside from their fleet of locomotives, the Black Hills Central fields a roster of ten passenger cars along with a caboose and a rare waycar.
Most of these cars date back to the 19th century and have been beautifully restored making the trip that much more enjoyable. Below is roster information about the railroad's entire fleet, which also includes two diesels:
Locomotive Roster
Diesels
· #63 – An ex-Chesapeake & Ohio railway EMD GP9 road-switcher, used when needed and during morning excursions.
· #6657 – A Whitcomb Locomotive Works 80DE5
Steam Locomotives
· #7 – Baldwin Locomotive Works 2-6-2, owned by the Prescott & Northwestern Railroad. Acquired in 1962. Operational.
· #103 – Baldwin Locomotive Works 2-6-2T, Owned by the Peninsula Terminal Railroads. Acquired in 1965. Not Operational.
· #104 – Baldwin Locomotive Works 2-6-2T, Also owned by the Peninsula Terminal in 1965. Operational.
· #110 – Baldwin Locomotive Works 2-6-6-2T, The star attraction originally owned by the Weyerhaeuser Timber Company. It was acquired from the Nevada State Railway Museum in 1999 and restored in 2001.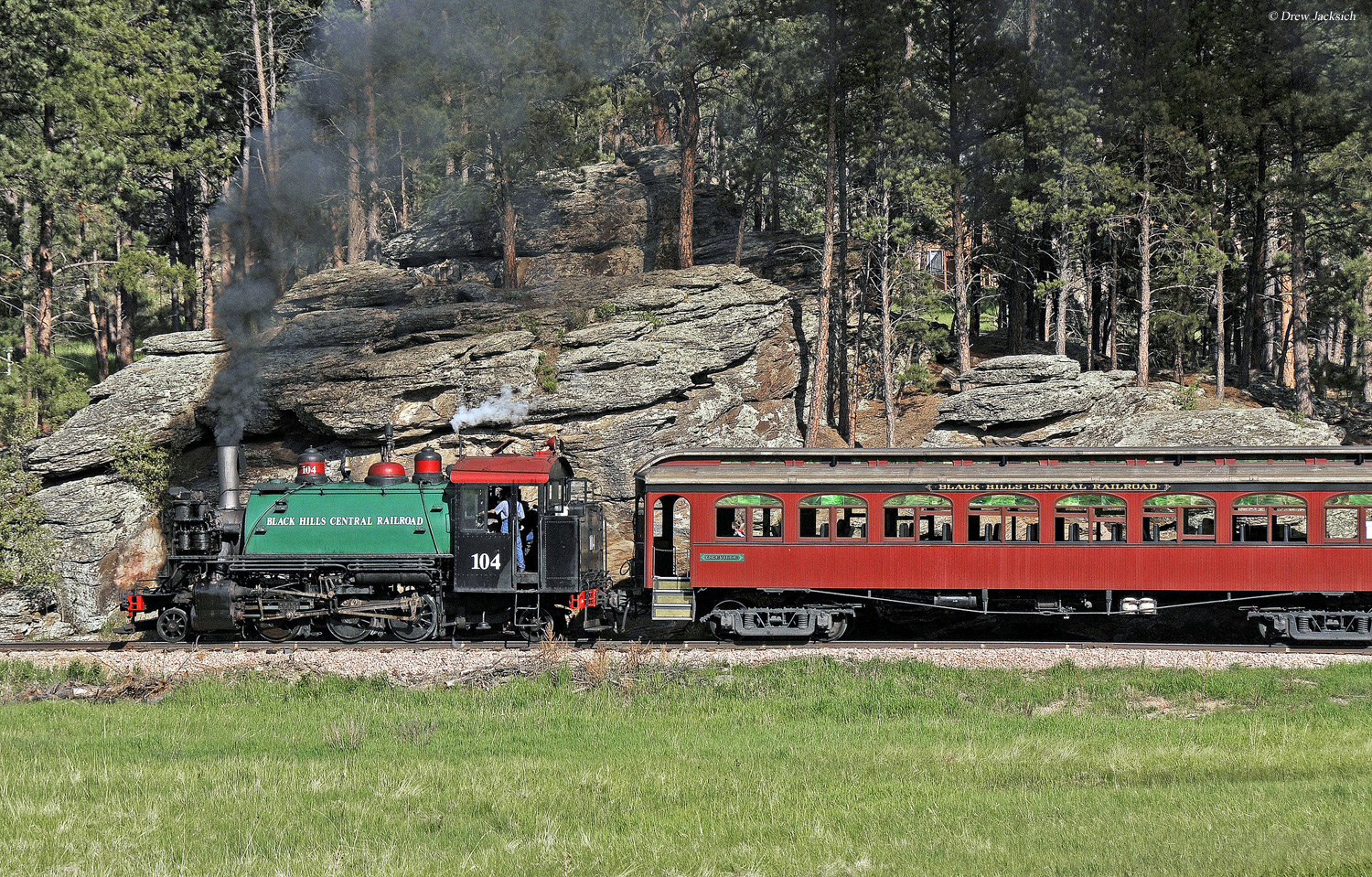 Little Black Hills Central 2-6-2T #104 is seen here bound for Hill City, South Dakota on June 6, 2013. Drew Jacksich photo.
The Black Hills Central Railroad's signature ride during the summer season is called the 1880 Train, which runs the entire length of the line between Hill City and Keystone passing through and along the beautiful hills and canyons of the Black Hills Mountains.
Other excursion specials the railroad operates include their Wine Train, Fireworks Express (for the July 4th holiday), Holiday Express (for the Christmas season), and Fright Train for Halloween.
The railroad also runs specials for Father's and Mother's Day.  Because of the short seasons in the Dakotas, the 1880 Train only operates between late May and early October.
However, if you catch one of their special holiday trains mentioned above you can see them at other times of the year. The railroad will also accommodate large group charters and weddings.
Also, be sure to check out their vacation packages if you would like to plan your trip in advance (they provide more information about this on their website).
---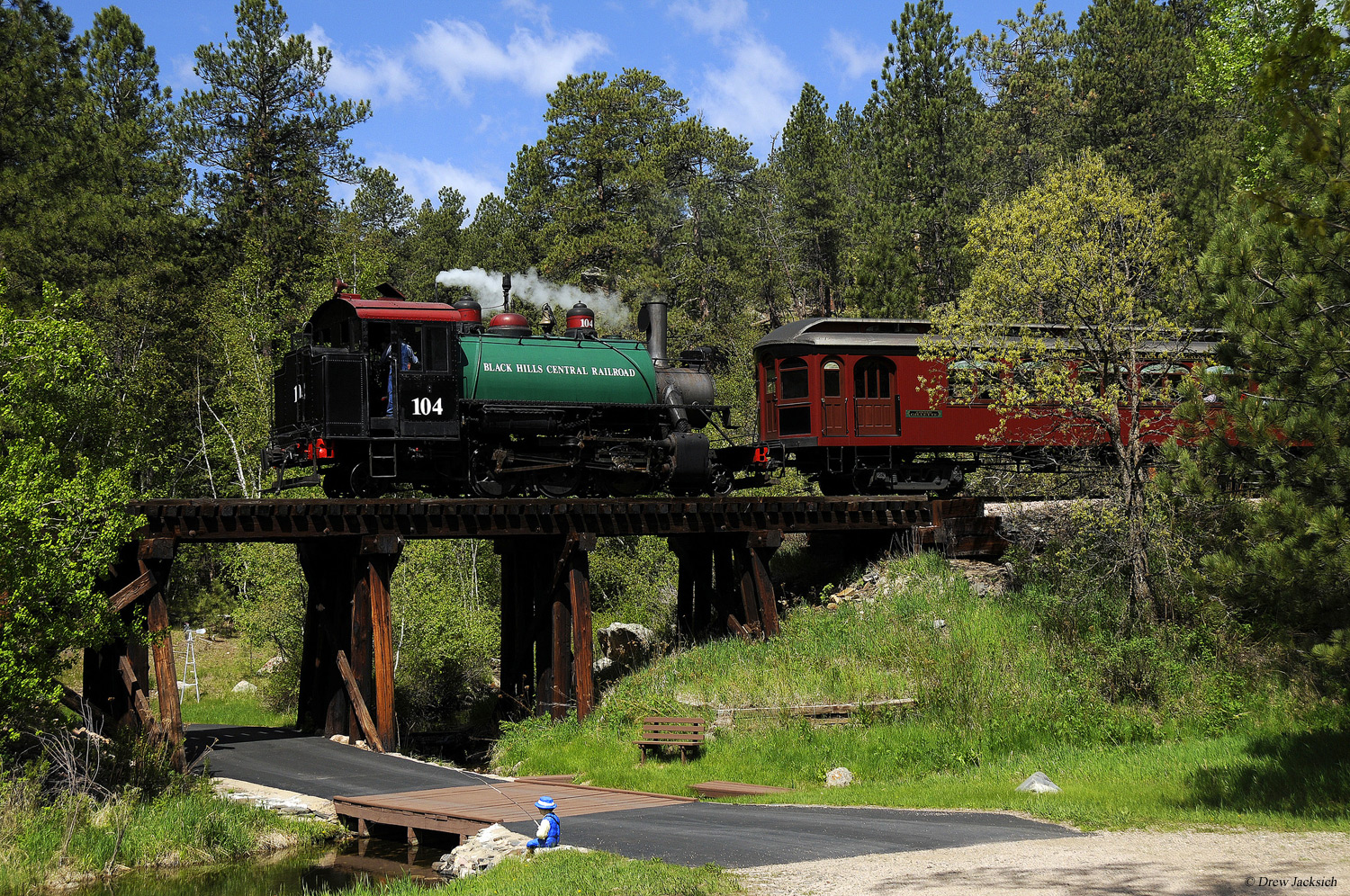 In this view of 2-6-2T #104 the little tank engine crosses a wooden trestle on its way to Keystone, South Dakota on June 6, 2013. Drew Jacksich photo.
So, if you're ever in southwestern South Dakota or visiting Rapid City consider taking a short drive south to see this unique and super scenic railroad.
I have a feeling that you won't come away disappointed! Lastly, if you have the time please consider volunteering to help them with not only restoration work but also maintaining their railroad.
I am sure they would very much appreciate the help! Finally, to learn more about the Black Hills Central Railroad please click here to visit their website.
There you can find information regarding everything they offer, directions to reach the railroad, pricing, the South Dakota State Railroad Museum located in Hill City, and much more.