Alabama Scenic Train Rides (2023): A Complete Guide

Last revised: June 4, 2023
By: Adam Burns

If you are interested in a heritage railroad, unfortunately, few can be found in Alabama. 

The state has a rich history with the iron horse although only the Heart of Dixie Railroad Museum (Calera) and North Alabama Railroad Museum (Huntsville) provide scenic train rides. 
There is also the unique two-foot gauge Wales West Light Railway located in Silverhill and not far from Mobile Bay.  This interesting little operation is owned and operated by Ann and Ken Zadnichek. 
It was constructed to simulate the actual narrow-gauge railroads of Whales, offering roughly 1-mile trips on its loop track.  It has become a relatively popular attraction and today hosts around 30,000 riders annually! 
The information provided below concerns not only these organizations but also all of the state's known railroad museums, some of which preserve historic depots. 
If your museum or tourist railroad is not listed here please contact this website and it will be promptly added.  
Please note!  The guide here pertains only to scenic train rides and museums related to vacation and tourism.  If you are interested in intercity/long distance rail travel please visit Amtrak's website.
State Rail History
Alabama's history with the railroad is extraordinarily diverse.  According to an in-depth analysis Trains Magazine published in its January, 2007 issue entitled, "Great Railroading: State-By-State," its very first was the Tuscumbia Railway, a horse-powered operation originally chartered on January 16, 1830. 
It also holds distinction as the first chartered and opened west of the Appalachian Mountains.  It was formed by local businessmen to ease the transportation of cotton bales from downtown Tuscumbia to a new wharf on the Tennessee River. 
The operation opened in 1832, running a distance of 2.1 miles.  After only two years, horses were replaced by the first steam locomotive, which had arrived from Liverpool, England. 
At around the same time the Tuscumbia, Courtland & Decatur Railroad (TC&D) was incorporated (January 13, 1832) to further serve the cotton industry by linking its namesake towns. 
It ran in a slightly southeasterly direction, from a connection with the Tuscumbia Railway.  The TC&D was completed in June, 1834, operating a network totaling 45 miles. 
It soon added the Tuscumbia Railway and was then acquired by the Memphis & Charleston Railroad in 1850.  The M&C went on to link Memphis, Tennessee with Stevenson, Alabama.
Overview
When the Southern Railway was created in 1894, a unified network of more than 4,000-route miles interlinking much of the Southeast, the M&C joined this new system. 
The former Tuscumbia and TC&D lines not only handled substantial cotton business during the 19th century but also became Southern's primary corridor into Memphis, a gateway market where interchange was established with the:
Illinois Central


Gulf, Mobile & Ohio


Louisville & Nashville


Missouri Pacific


St. Louis-San Francisco Railway (Frisco)


St. Louis Southwestern (Cotton Belt)


Chicago, Rock Island & Pacific (Rock Island)
Over time, Alabama blossomed into an important and integral source of traffic for railroads with its diverse natural resources (cotton, coal, timber, and iron) and places of commerce (Birmingham, Montgomery, Decatur, Dothan, Huntsville, Mobile, and others). 
According to the book, "The Routledge Historical Atlas Of The American Railroads" by author John F. Stover, the state had just 40 miles in service during 1840. 
This number steadily increased over the next 80 years, peaking at 5,378 miles in 1920. 
By 1965 abandonments had reduced trackage to 4,612 miles by 1965.  Today, the state's Department of Transportation notes there are 3,973 miles currently in operation.

Foley Railroad Museum & Model Train Exhibit
The Foley Railroad Museum is located in Foley, situated within the town's restored Louisville & Nashville depot, a 1905 wooden structure. 
According to the book, "The Louisville & Nashville Railroad, 1850-1963" by author Kincaid A. Herr, the L&N reached Foley by way of a subsidiary known as the Bay Minette & Fort Morgan Railroad. 
It branched from the main line at Bay Minette and ran 36.5 miles and was completed on May 11, 1905 at a cost of $225,728.57.  The line was built to serve Baldwin County's timber trade. 
After this business played out, agriculture became the primary traffic base. There was once intentions to eventually reach the Gulf Coast although this extension never materialized. 
As the years passed and vehicular traffic ate away carloads,  the branch was abandoned in 1971.  The L&N had intentions of also razing the depot but the structure was spared when John Snook, owner of Gulf Telephone Company, acquired it for $1. 
After being moved to Magnolia Springs as a storage building, it returned to its original location in 1995 and opened as the Foley Railroad Museum.  Admission is free; inside you will find displays and a large model train layout.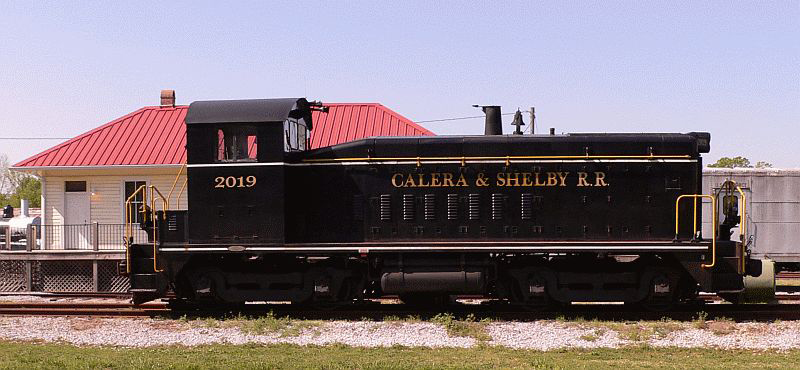 The Calera & Shelby Railroad offers a 5.5 mile trip on property owned by the Heart of Dixie Railroad Museum in Calera.
Fort Payne Depot Museum
The Fort Payne Depot Museum is located in the town's beautifully restored 1891 depot constructed by the Alabama Great Southern Railroad (another future component of the previously-mentioned Southern Railway). 
The structure was designed in the Richardsonian Romanesque style by architect Charles C. Taylor utilizing grey sandstone with pink granite for trim. 
It served passengers until 1970 and was maintained by successor Norfolk Southern for freight service until 1983.  It subsequently became a museum in 1986. 
Their mission is "to collect, preserve and, through exhibits, educate the public about the history of the DeKalb County area." 
To this end that certainly holds true as there are plenty on site, including an original Southern caboose painted in red and yellow.  In addition to railroad artifacts the museum includes Native American pieces and dioramas of local historical events.

Heart of Dixie Railroad Museum
The Heart of Dixie Railroad Museum is designated as the state's official such institution.  It opened in 1962 and, today, is home to a wide range of exhibits, ranging from locomotives and cars to preserved depots and other various displays. 
The most famous pieces include a small roster of steam locomotives:
American Rolling Mills Company 0-4-0 #3


Battson-Hatten Lumber Company 2-8-0 #12


Alabama Power Company 0-4-0F #40


U.S. Army Transportation Corps 0-6-0 #8380
in addition, they feature a pair of preserved depots, which are not original to the area:
One is a former Southern building constructed in the 1890's for the town of Wilton.


The other was built in 1887 to serve Woodlawn (Birmingham) and the Louisville & Nashville.  
In addition to displays, the Heart of Dixie hosts scenic train rides along a 5.5-mile stretch of the former L&N, originally built by subsidiary Alabama Mineral Railroad.  They also operate a 2-foot gauge live-steam attraction over a 1/4-mile loop (previously located at the Birmingham Zoo).
Huntsville Depot & Museum
The Huntsville Depot & Museum is located within the restored Memphis & Charleston's (M&C) brick depot, completed in 1860. 
It is the oldest such structure still standing in the state.  The M&C, as mentioned above, operated a nearly 300-mile main line from Memphis to Stevenson, Alabama. 
It was completed in May, 1857 and not only provided the future Southern Railway with its primary artery into Memphis but also served as an important link in a chain of railroads connecting the southeastern Atlantic coast with the Mississippi River. 
It played a strategic part in the Civil War; only two years after opening, Union forces captured the building and used it as a prison for Confederate soldiers. 
Today, it is listed on both the Alabama Register of Landmarks & Heritage and National Register of Historic Places.  The museum currently features historic exhibits as well as a few pieces of rolling stock.
North Alabama Railroad Museum
The North Alabama Railroad Museum is based in Chase, slightly northeast of downtown Huntsville. 
This organization was incorporated in 1966 and since that time has amassed quite a collection of rolling stock and a few diesel locomotives, all of which are of American Locomotive lineage. 
The group's star pieces are three operating units:
RSD-1 #8562 originally built for the U.S. Army in 1945


S-2 #484 manufactured for the Delaware, Lackawanna & Western in 1949


Terminal Railroad Association of St. Louis S-2 #571 completed in 1941 (it later became Manufacturers Railway #213)
The NARM does not require admission and has a group of roughly 100 volunteers to maintain and oversee day-to-day operations. 
Along with the Heart of Dixie Railroad Museum they offer the only excursion available in the state thanks to 5 miles of former Nashville, Chattanooga & St. Louis trackage acquired from CSX Transportation in 1984. 
Today, it is colloquially known as the "Mercury & Chase Railroad," offering 10-mile round trips from March through December with several special events hosted throughout the year. 
NARM also maintains the Chase Union Depot, a wood/stucco structure completed in 1937 for the Southern and NC&StL.
---
Wales West Light Railway

The Wales West Light Railway is located in Silverhill.  This very unique attraction operates an authentic, narrow-gauge steam locomotives based from English design, specifically those found on the island of Whales. 
These machines include the Dame Ann manufactured by the Exmoor Steam Railway of Bratton Fleming, England and the Gareth built by Motor Rail during the 1960's, a British company. 
They have also since added a small diesel locomotive.  The small fleet carries passengers in replica carriages based on English designs.   
Since they first began in 2001 (the railroad is operated as part of the larger Whales West RV Resort & Light Railway) the group has worked hard at duplicating something you can find only in Britain!   
In addition to the railroad they also provide scenic train rides on a 7.5-inch gauge miniature scale train.