Virginia Scenic Train Rides (2023)
: A Complete Guide
Last revised: June 6, 2023
By: Adam Burns

The Cavalier State enjoys a long history with the iron horse thanks to its eastern seaboard location.  Railroading in the United States has its genesis here. 

In nearby Baltimore, Maryland the country's first common-carrier (Baltimore & Ohio) was chartered in 1827 while not far away in the Palmetto State the South Carolina Canal & Rail Road Company opened what was then the world's longest railroad (136 miles) in October, 1833 between Charleston and Hamburg. 
Despite its rich heritage there are few Virginia scenic train rides available today as only the Buckingham Branch Railroad offers public excursions. 
However, several museums do a fantastic job highlighting its history; don't miss the Virginia Museum of Transportation (owner of Norfolk & Western 4-8-4 #611, an operational streamlined steam locomotive) and the O. Winston Link Museum, which showcases O. Winston Link's dramatic black and white steam photography of the 1950s.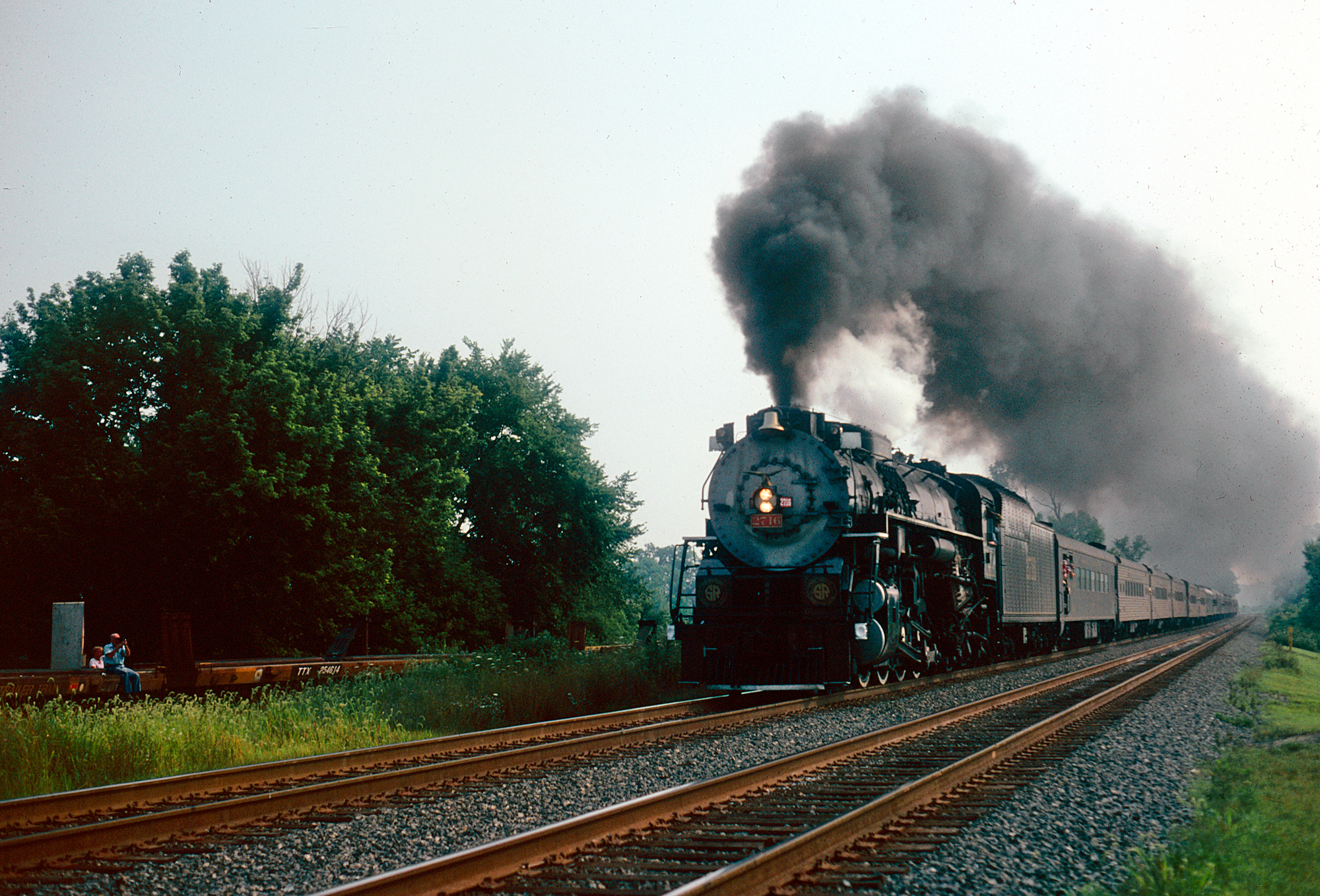 Chesapeake & Ohio 2-8-4 #2716 (K-4), masquerading in Southern Railway colors, leads an excursion southbound through Catlett, Virginia in July, 1982. The big Kanawha had a brief stint in the Southern's steam program at this time. American-Rails.com collection.
State Rail History

From Florida to Maine, railroading got its start along America's east coast during the 1820's and 1830's. 
Virginia's splash with this newfangled technology began when the Petersburg Railroad was chartered in 1830 to connect its home city with southern points. 
According to an in-depth analysis Trains Magazine published in its January, 2007 issue entitled, "Great Railroading: State-By-State," it opened in 1833 between its home city and Garysburg, North Carolina, just across the Roanoke River from Weldon. 
At Petersburg, a connection was opened with the Richmond & Petersburg (R&P), originally chartered in 1836.  The R&P was completed between its namesake cities in 1838 and, together, the two provided direct service from Richmond to the Tarheel State. 
The Petersburg remained an important Virginia/North Carolina artery throughout most of the 19th century. 
It played an important role for the Confederate Army during the Civil War, particularly in the movement of supplies and men for General Robert E. Lee's Army of Northern Virginia. 
It suffered considerable damage several times during the conflict, notably during the Battle of Globe Tavern, the Battle of Jerusalem Plank Road and Second Battle of Ream's Station. 
Following the cessation of hostilities in 1865, the railroad needed to rebuild 10 miles of right-of-way. 
It finally reopened for service on April 11, 1866.   The growing Wilmington & Weldon Railroad leased the Petersburg in 1891 and two years later, in 1893, was acquired by a group of railroads which collectively referred to themselves as the "Atlantic Coast Line."
According to Larry Goolsby's book, "Atlantic Coast Line Passenger Service: The Postwar Years," the first, unofficial use of that name occurred in 1871 by William T. Walters, a Baltimore investor who controlled the consortium.  
After that time they worked together under the banner, "Atlantic Coast Line Fast Mail Passenger Route."  
The name was first, officially used in 1893 when all five railroads were placed under the new holding company, Atlantic Coast Line Company.  
In 1900, they were formally merged into the Atlantic Coast Line Railroad.  The ACL continued to expand though the early 20th century; its largest single interest came in 1902 when it reached an agreement to purchase Henry B. Plant's so-called Plant System.  
This collection of railroads connected with the ACL at Charleston and reached Savannah, Montgomery, Albany, Jacksonville, and other points throughout Florida.
They constituted the bulk of ACL's network south of Charleston.  The Atlantic Coast Line merged with the Seaboard Air Line in 1967 to form the Seaboard Coast Line. 
The SCL would later go on to form a sizable component of today's modern CSX Transportation, one of the seven largest railroads in North America.
Overview
Ashland Museum
The Ashland Museum tells the history of a community that was originally founded in 1858. 
From a railroading perspective it is home to a double-tracked, north-south main line that for many years was operated by the Richmond, Fredericksburg & Potomac (today, CSX Transportation). 
Among their collection is a Chesapeake & Ohio caboose and other displays telling the railroad's history. 
Located in Central Virginia, the Buckingham Branch Railroad, a successful short line freight system, offers several seasonal excursions throughout the year.
During the month of October, they host fall foliage trips taking you on a scenic ride through the beautiful Shenandoah Valley.
You can choose to sit in a climate controlled car or enjoy the views from an open air car. Either way, you are sure to have a wonderful time on this 3.5 hour excursion through Buckingham County and over the James River. 
Carson Branch, Appomattox Regional Library
Located within the preserved Atlantic Coast Line wooden depot originally situated in Kings Crossing and constructed between 1888-1891.  The museum houses historic artifacts and has a preserved Norfolk & Western wooden caboose on the grounds.

C&O Railway Heritage Center
Based in Clifton Forge, a once important yard and terminal of the Chesapeake & Ohio Railway, the heritage center offers likely the best example of preserved C&O equipment and artifacts on-hand.  
Among its current collection is a replica 1891 depot, interlocking tower (or "cabin" as the C&O referred to them), and 4-8-4 "Greenbrier" (J-3a) #614.
Eastern Shore Railway Museum
As its name suggests this museum is located on Virginia's Eastern Shore, housed within the preserved and former Pennsylvania Railroad depot from Hopeton.  They house a collection of artifacts and displays inside as well as a few railcars outdoors.

Fairfax Station Railroad Museum
Located in Fairfax Station within an original wooden depot built by the Southern Railway in the late 19th century, the museum houses historic artifacts along with a preserved caboose on the grounds.  They are open during much of the year and host special events on select dates.

Historic Cambria Depot & Scale Cabinetmaker Museum
This museum is located within the restored depot originally constructed by the Virginia-Tennessee Railroad in 1867 and opened in 1868 (built in the Tuscan Italianate style), later acquired by the Norfolk & Western.  Much of the building displays The Scale Cabinetmaker miniature pieces.

O. Winston Link Museum
Located in Roanoke, Virginia which was the long-time important locomotive shops of the Norfolk & Western Railway, this museum highlights the acclaimed photographs of O. Winston Link, the master of shadow and light. 
His works made the N&W famous during its late steam era in the 1950s as Link took hundreds of legendary black and white scenes, mostly in Virginia.
Raymont F. Ratcliffe Memorial Transportation Museum
More commonly referred to as simply "The Ratcliffe," this museum is an interpretative center which tells Pulaski's transportation heritage that began with the railroad's arrival in the mid-19th century. 
In later years, the city would sit along Norfolk & Western's busy Bristol line as well as the point from which its branch to Galax, Virginia diverged. 
According to their website the museum:
"...offers a unique blend of local and national exhibits, highlighting the cultural significance that the railroad and early transportation play in small town living.   
The museum allows community members and tourists alike, the opportunity to experience the draw of yesteryear with hands on displays, guided tours, and a glimpse into our beautiful and rich culture."
Richmond Railroad Museum
Opened in 2011 this museum, operated by the Old Dominion Chapter NRHS, is housed within the Southern Railway's brick depot in Richmond constructed during the early 20th century.
Outside they have two preserved steam locomotives on display, originally owned by the Albemarle Paper Company:
0-4-0F (fireless) #836 built by H.K. Porter in 1936


0-6-0T #1 also built by H.K. Porter in December of 1942 as US Army Corps of Engineers #5019.  
Additionally, inside they have many displays, photos, and artifacts.
Suffolk Seaboard Station Railroad Museum
Housed within the town's restored Seaboard & Roanoke Railroad brick depot completed in 1885, which later became part of the Seaboard Air Line.  The museum has a preserved caboose on the grounds and displays inside.  It is also home to the local chamber of commerce.

---
U.S. Army Transportation Museum
This facility is located at Fort Eustis and tells the history of the United States military's use of vehicles and craft it has employed over the many years to move men and materials.  Included within its collection are various pieces of rolling stock.

Virginia Museum of Transportation
The VMT is certainly Virginia's best known railroad attraction, located in Roanoke.  

Originally opened in 1963 and displaying many types of transportation equipment their prized pieces are railroad locomotives, including operational Norfolk & Western 4-6-4 #611 (J) and 2-6-6-4 #1218 (A).  
Visitors can see #1218 housed under the outdoor pavilion along with the other rolling stock on the grounds while #611 is currently in operation on the Strasburg Railroad in Pennsylvania.