Metro-North Railroad
Last revised: March 21, 2023
By: Adam Burns

The Metro-North Railroad (reporting mark, MNCW) is the commuter system operated and maintained by the Metropolitan Transportation Authority (MTA) of New York State (which also includes other transit services such as subway and buses).

Like New Jersey Transit, which serves communities to the south of New York City, Metro-North serves communities to the north, east, and west of the city using five different rail lines.
For more than 30 years the Metro-North Railroad has been providing reliable and efficient commuter rail services to northern New Jersey, southern New York, and the southern coast of Connecticut and without it many commuters would have a difficult and time-consuming effort getting to work.

Photos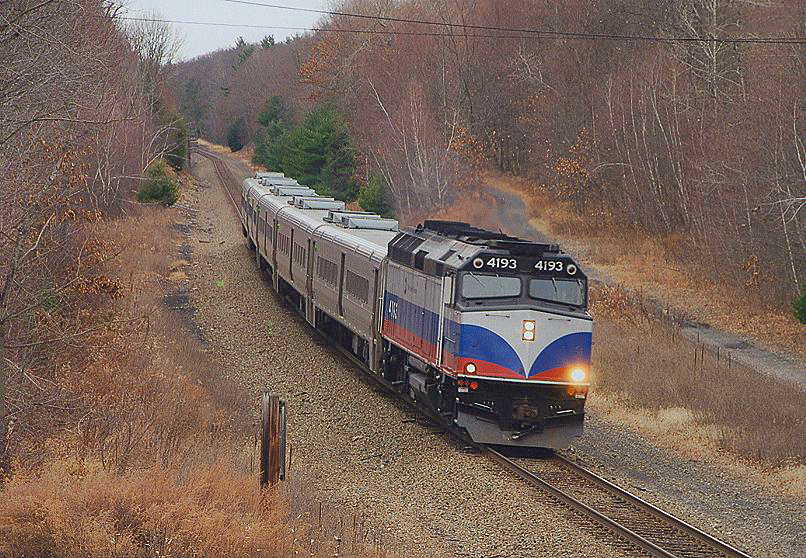 Metro-North F40PH-2CAT #4193 hustles westbound train #73 along the Port Jervis Line near Guymard, New York on December 4, 2010. Doug Kroll photo.
History
Many years ago the greater New York metropolitan region was provided extensive commuter rail service radiating in all directions, operated by the major railroads in the area including the Pennsylvania, New York Central, Erie, and New Haven.
 As interest in rail travel steadily declined after World War II these services also declined but at that time railroads were still required to provide them nevertheless.  
During the 1960s and 1970s they were finally relieved of these duties; at first states began subsidizing such services and later took them over entirely.  
In the case of New York many of the routes currently operated by Metro-North are remnants of those spared from abandonment as railroads removed large segments to save money. 
The Metro-North Railroad began operations in 1983 to take over commuter services once provided by the New York, New Haven & Hartford; Erie/Erie Lackawanna/Conrail; and New York Central.
Following the collapse of the Penn Central Corporation in the early 1970s, which eventually led to the formation of Conrail in 1976, the Metropolitan Transportation Authority (MTA) took over commuter operations north of the New York City region in 1972.
The MTA was tasked with continuing to provide suburban services to these communities and it eventually led to Metro-North's creation.  Today, the system remains under the ownership of MTA.  
While the New York Central had extensive operations in the area, no railroad is better remembered, particularly in the New England region, for its commuter services than the New Haven.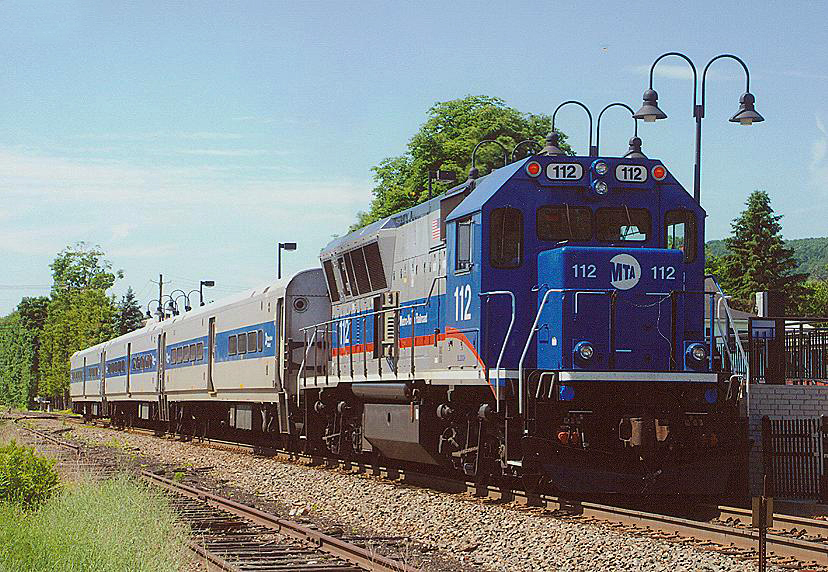 One of Metro-North's newer units, BL20GH #112, pushes southbound train #952 out of Dover Plains, New York on June 1, 2012. Doug Kroll photo.
Routes
Today's former New Haven and New York Central (NYC) routes operated by the Metro-North Railroad run north and east of downtown Manhattan, terminating at Grand Central Terminal.  These routes, located east of the Hudson River include the:
Hudson Line:  This 74-mile route utilizes part of the the former NYC's Water Level Route, which still exists all the way to Chicago as a very important freight line owned by current Class I carrier CSX Transportation.  
Metro-North has jurisdiction to operate as far north as Poughkeepsie, which terminates back at Grand Central while Amtrak handles passenger services north and west of that point.  There are currently 29 station stops on this corridor.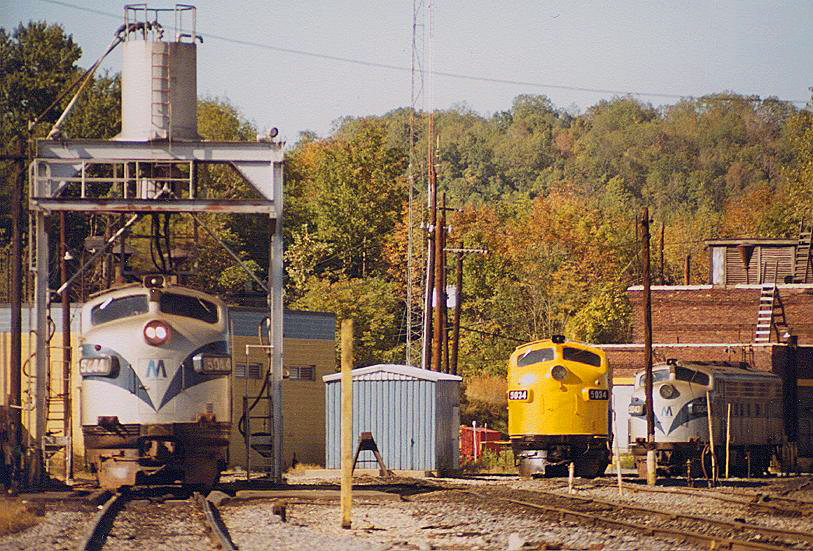 The early Metro-North era was always interesting with its eclectic collection of power as seen here with FL9's in various paint schemes at the Brewster Shops during a fall afternoon in the mid-1980s. Doug Kroll photo.
Harlem Line:  This is another former NYC route, one of four which once radiated northward from New York City.  
The line was originally chartered as the New York & Harlem Rail Road in 1831 and later became part of NYC's Harlem Division where it reached Chatham, New York along the NYC-owned Boston & Albany Railway (which reached Boston).  
Along with the nearby Putnam Division this line saw heavy commuter use and was electrified with third-rail as far north as White Plains (this electrification is still used by Metro-North).  
Under Penn Central, created through the merger of the NYC and Pennsylvania, passenger service was discontinued on March 20, 1972 and later segments were abandoned.  
Since July 9, 2000 Metro-North operates the 82 miles from Grand Central Terminal to Wassaic, the northern end-of-track, serving 38 stations along the way.

New Haven Line:  The last route Metro-North operates east of the Hudson this line was originally part of the New York, New Haven & Hartford Railroad (better known as simply the "New Haven").
It serves:
The old "Shore Line" (New Haven's name for its main line east of New York City).


As far as New Haven with branches reaching Waterbury (via Bridgeport)


New Canaan (via Stamford)


Danbury (via South Norwalk)
It is Metro-North's busiest line seeing well over 100,000 riders daily, serving 47 stations (including branches).
Port Jervis Line:  This 95-mile route, operated in conjunction with NJ Transit, is located west of the Hudson River; reaching as far as Port Jervis with 26 stops where it terminates at the restored Hoboken Terminal, an historic railroad station built by the Delaware, Lackawanna & Western (or "Lackawanna" for short).  
The line was originally built by the New York & Erie Railroad in 1848, a later component of the Erie Railroad, and was part of its main line reaching Buffalo and Chicago (now largely abandoned in the Midwest).  
The Erie and Lackawanna would merge in 1960 to form the Erie Lackawanna, which continued providing commuter services to Port Jervis until going bankrupt and becoming part of Conrail on April 1, 1976.  The service was subsidized from 1973 until Metro-North was created in 1983.
Pascack Valley Line:  The other route located west of the Hudson is also operated in conjunction with NJ Transit.  It runs roughly 31 miles north of Hoboken Terminal, ending at Spring Valley/Woodbine and serves 18 stations along the way.  
The line was chartered as the Hackensack & New York Railroad, a later component of the New Jersey & New York Railroad, which was a future subsidiary of Erie.
Locomotive Roster
| Builder | Model Type | Road Number(s) | Date Built | Notes |
| --- | --- | --- | --- | --- |
| Budd | RDC-1 | 11, 18-19, 40, 43, 51-56, 60-61, 64-65 | 1952-1953 | Built as NYC and New Haven units. |
| EMD | GP35R | 101-107 | 1966 | Built as PRR and Reading GP35's. |
| Brookville | BL20GH | 110-115 | 2008 | Acquired New. |
| GE | P32AC-DM | 201-231 | 2001 | Acquired New. |
| Brookville | BL14CG (Genset) | 401-402 | 2008 | Acquired New. |
| Brookville | BL06 (Genset/Switcher) | 405-406 | 2008 | Acquired New. |
| EMD | E8A | 497 | 1951 | Built as PRR #5898-A. |
| EMD | FP10 | 410-413 | 1946-1947 | Built as GM&O F3A's. |
| EMD | GP8 | 543 | 1953 | Ex-NYC GP7 #5770 |
| Alco | RS3M | 605 | 1952 | Ex-DL&W RS3 #912 |
| EMD | GP9 | 750 | 1956 | Built as NYC #5936. |
| GE | B23-7 | 801-807 | 1978 | Ex-Conrail |
| EMD | FL9AC | 2040-2046 | 1957-1960 | Ex-New Haven |
| GE | U34CH | 4183 | 1978 | Ex-Erie Lackawanna |
| EMD | GP40FH-2 | 4184-4189 (Original numbers.) | 1987-1990 | Custom-built by Morrison-Knudsen from GP40 (Rock Island) and F45 (Burlington Northern) parts, classified as GP40FH-2. Rebuilt by Motive-Power Industries in 2007 as GP40FH-2M. |
| EMD | GP40PH-2 | 4190 (Original number. | 1969 | Built as Penn Central #3273. |
| EMD | F40PH-2CAT | 4191-4194 | 1976-1981 | Ex-Amtrak F40PH's. |
| EMD | F40PH-3C | 4907-4914 | 1976-1981 | Ex-Amtrak F40PH's. |
| EMD | FL9 | 5000, 5003, 5005, 5007, 5015, 5017-5019, 5023, 5026-5027, 5031, 5033-5034, 5037-5044, 5049, 5052-5059 (Original numbers.) | 1957-1960 | Ex-New Haven. |
---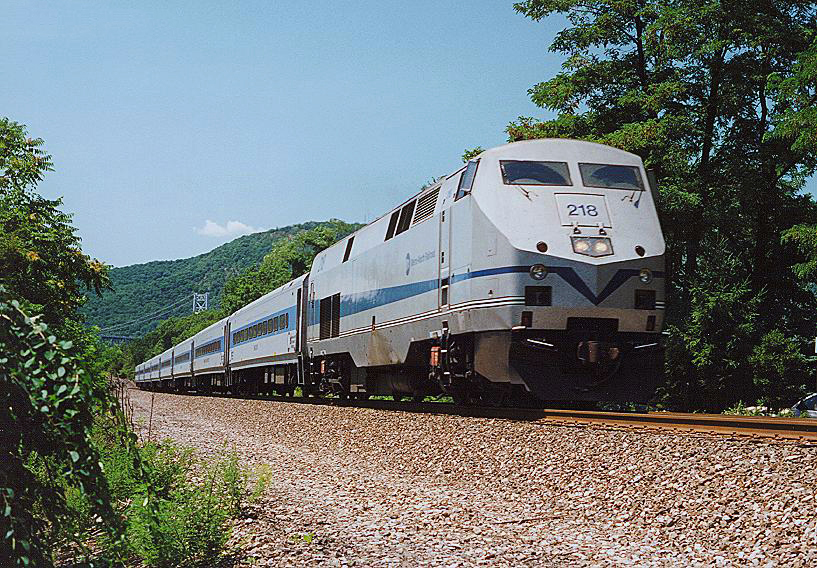 Metro-North P32AC-DM #218 is at speed with its northbound train near Manitou, New York on July 25, 1999. Doug Kroll photo.
Current Operations
In total, Metro-North operates about 384-route miles with 124 stations serviced along its system.  According to MTA, it is the busiest commuter railroad in the country witnessing more than 70 million riders annually.  
While there have been proposals for service extensions over the years none have ever occurred except for the Harlem Line in 2000.  
Potential future projects includes the Metro-North/MTA-own Beacon Line, currently not in use it is located east of the Hudson and would connect all three routes currently in service:
Additionally, there are proposals to open service into Penn Station via New Rochelle along the New Haven Line running from the Upper East Side of Manhattan.


Another would route via the Upper West Side, along West 62nd and West 125 Streets reconnecting with the Hudson Line near Riverdale.