Altamont Corridor Express (ACE)

Last revised: March 21, 2023
By: Adam Burns

The Altamont Corridor Express commuter rail service, better known as simply ACE, is a relatively new operation inaugurated during the late 1990s.

It has become quite popular since its inception and currently utilizes Union Pacific trackage connecting Stockton and San Jose, California on a route that covers nearly 90 miles.
Thanks to the growth in ridership future plans are already in the works extending the system to Pittsburg (via Stockton) and a connection between Sacramento and Modesto. 
There are also long-term goals to include ACE within California's high-speed rail project.  All in all if you live in the San Francisco Bay area and the ACE is an option for you consider using their trains as it sure beats the rush of the highway.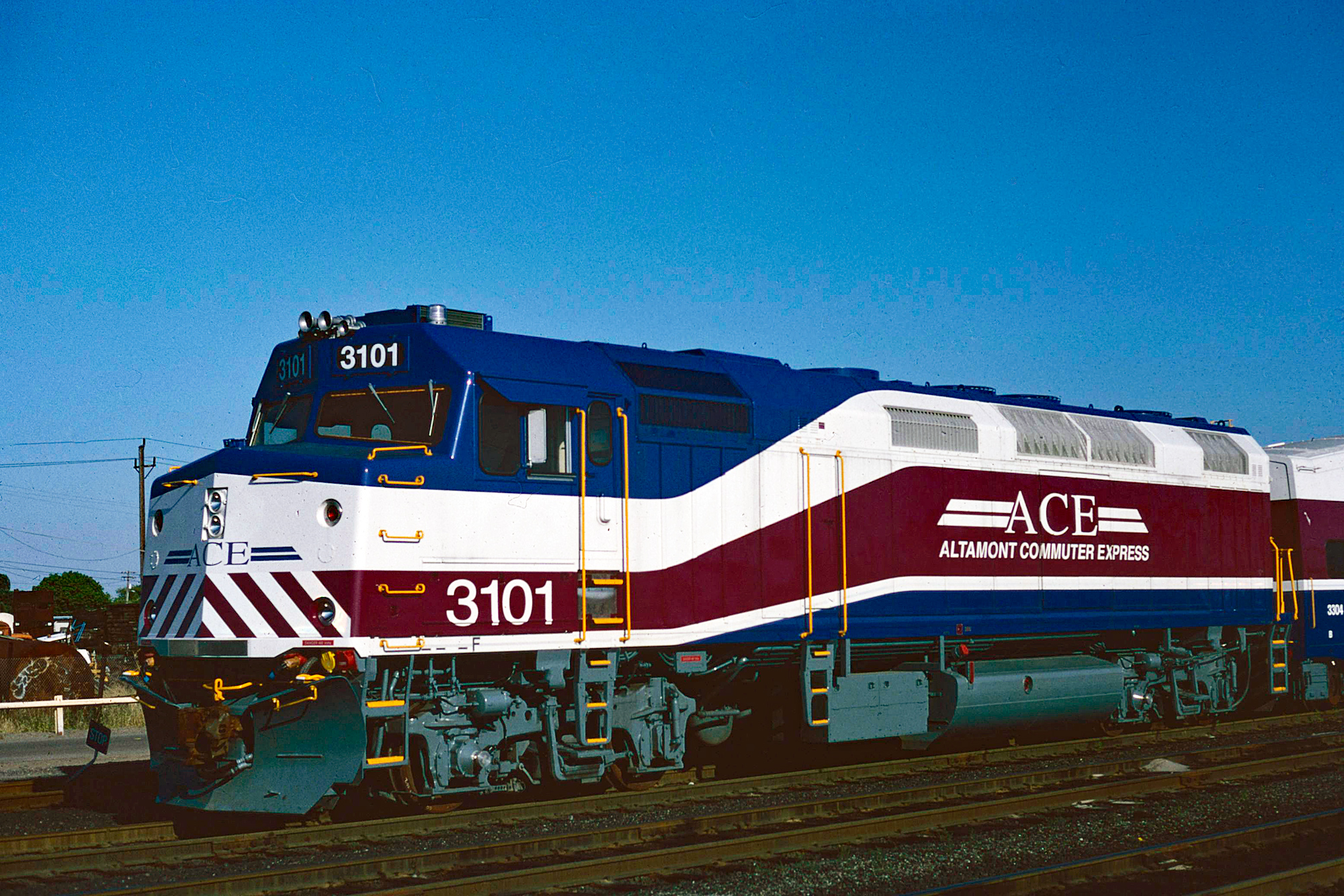 Altamont Commuter Express F40PH-3C #3101 in Stockton, California on May 23, 1998. Bryan Copple photo. American-Rails.com collection.
The Altamont Commuter Express, named for the Altamont Pass in which the Union Pacific line operates between Stockton and San Jose, has its beginnings dating as far back as 1997. 
The state of California has long been a proponent of commuter rail service and there are currently multiple systems in operation ranging from Amtrak California to Amtrak's Surfliner, both of which receive state subsidies. 
During May of 1997 the San Joaquin Regional Rail Commission (SJRRC), Alameda Congestion Management Agency (ACCMA), and Santa Clara Valley Transportation Authority (VTA) came together to form what was then known as the Altamont Commuter Express (ACE). 
This new commuter rail service, covering 81 miles, would connect Stockton with San Jose.
While ACE would operate over Union Pacific trackage the history of line can be traced back to the historic Western Pacific, acquired by UP in 1982. 
The WP, also known as the "Feather River Route," was a regional Class I system incorporated on March 3, 1903.  It was the dream of Arthur Keddie, who saw the railroad a reality after receiving millions in financial backing from noted tycoon George Gould.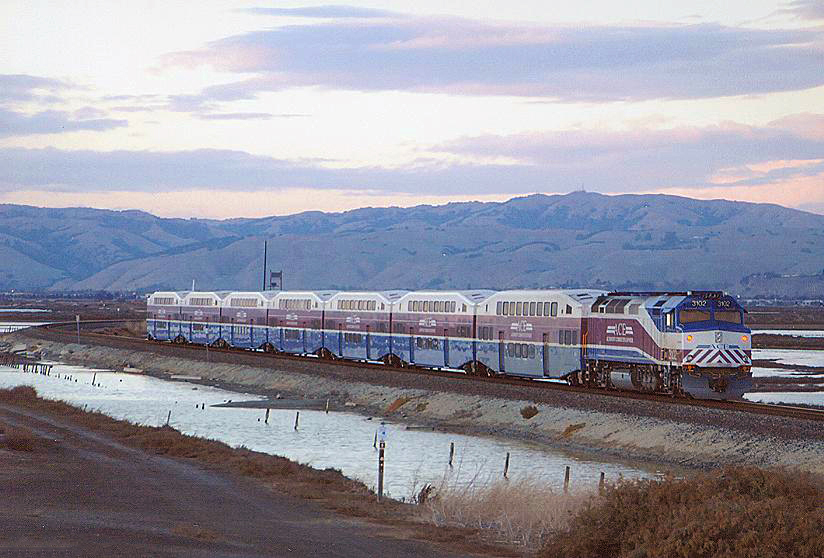 Altamont Corridor Express F40PH-3C #310 is near Alviso, California with train #6 during November of 2012. Doug Kroll photo.
Keddie envisioned a system that would compete against the much larger Southern Pacific by connecting the San Francisco Bay Area with Salt Lake City utilizing the rugged Feather River Canyon. 
The road was completed and opened for service on November 1, 1909. 
In time the WP grew into a system reaching such locations as San Jose, Modesto, Woodland, and Bieber in California although its most important route was always the San Francisco/Oakland-Salt Lake City main line.
Altamont Commuter Express F40PH-2C #3101 leads westbound train #5 towards San Jose as it travels through rural Alviso, California on the morning of November 9, 2012. Doug Kroll photo.
The WP is perhaps best remembered for operating the legendary (original) California Zephyr, which covered much of the same territory as the current ACE. 
That famous train, however, was  discontinued after March 22, 1970.  During its first few years of service ACE witnessed strong growth although the mini-recession brought on by the Dot Com Bubble saw ridership decline in 2002. 
It quickly rebounded but again declined during the recession of late 2007.  However, since 2010 patronage has once more been on the rise and will likely continue to show strong grow if California completes its much anticipated high speed rail project. 
The current ACE system serves ten stations and connects with three other commuter/light rail systems which include Amtrak's Capitol Corridor (Fremont), Amtrak's San Joaquin (Stockton), the Bay Area Rapid Transit (Fremont), and Caltrain (San Jose and Santa Clara).
The stations served include (from west to east) San Jose, Santa Clara, Great America, Fremont, Pleasanton, Livermore, Vasco, Tracy, Lathrop/Manteca, and finally Stockton. 
There are currently eight daily trains operated by Altamont Corridor Express:
#1, #3, #5, and #7 are westbound morning runs departing Stockton between 4 and 7 AM with arrivals in San Jose between 6:30 and just after 9 AM.


Conversely, eastbounds #2, #4, #6, and #8 leaves San Jose between 3:30 and 6:30 PM with arrivals back in Stockton throughout the evening hours (for complete scheduling information please visit the ACE website).  
Naturally, such times are meant to coincidence with the weekday work schedules, getting folks where they need to be in the morning and returning them home every night. 
Altamont Corridor Express F40PH-3C #3106 is in pusher service with evening train #04 at Santa Clara, California on November 9, 2012. Doug Kroll photo.
For a state with such crowded freeways as California commuter rail systems like ACE are very convenient (and less stressful). 
If you ride the entire Corridor, the trip is about two hours with trains reaching speeds as high as 79 mph.  According to the California's Department of Transportation ACE ridership currently exceeds 700,000 annually but this number is somewhat below its all-time high of 805,257 during the 2007-2008 year. 
Interestingly, ACE perennially sees the lowest ridership of all California's commuter rail operations (not including the state-aided Amtrak services).
However, overall numbers are strong considering it owns only 6 locomotives (five F40PH-2C's and one F40PH-3C) as well as 25 Bombardier-built Bi-Level commuter cars (nine of these are cab-control cars, which enable the train to operate in a push/pull setup, eliminating the need of turning the consist).

---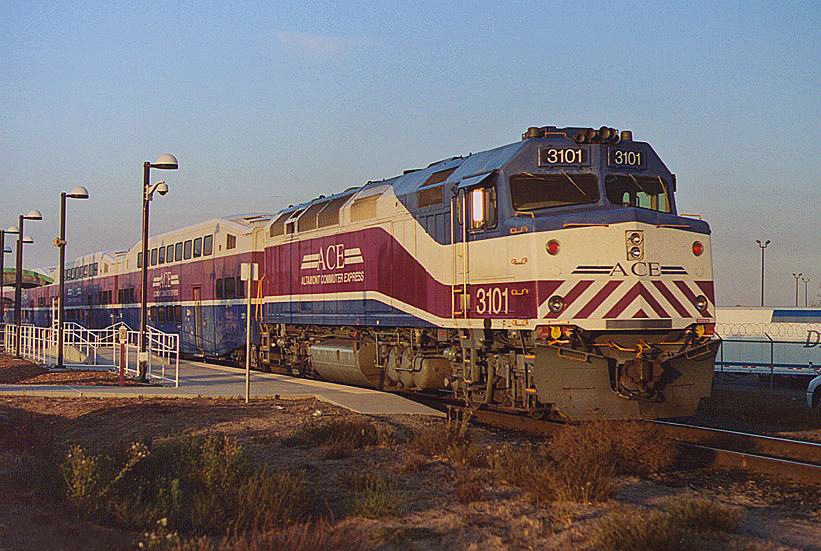 Altamont Commuter Express F4OPH-3C #3101 and its all-matching bi-level cars makes a station stop in Lathrop, California on October 21, 2005. Doug Kroll photo.
Additionally, the Corridor offers perhaps the scenic commuter trip anywhere in the state as it passes over Altamont Pass and through rural farmland during its journey to and from San Jose. 
In any event, it should never be forgotten that commuter rail is an expensive proposition and always has been going back to the days of private operation long before Amtrak and other state agencies were put into service. 
Year-to-year ACE normally covers only about 30% of its total cost, leaving taxpayers to foot the bill for the other millions in annual expenses (operating and administrative costs). 
In 2013 Altamont Commuter Express was renamed Altamont Corridor Express, perhaps in an effort to better associate it with as part of the state's future high-speed rail service. 
It will certainly be interesting to see the future of the ACE system and how ridership will be affected if the new operation is completed.