EMD "BL2" Locomotives

Last revised: May 29, 2022

By: Adam Burns
The Electro-Motive's BL2 would be the stepping-stone for the company's legendary early GP series, the GP7 and GP9 (two of the most success diesel locomotives ever built).
The locomotive was a mix between the cab models and a standard road-switcher, a design that gave crews much better visibility during switching operations or simply shuffling cars around.
The road-switcher was not something new, and was not even invented by EMD.   However, the company knew there was a demand for such a design after seeing the success with Alco's pioneering RS1 of 1941.
While the BL2 was not exactly what railroads had in mind it paved the way for the highly successful General Purpose series. Today, at least a half-dozen BL2s remain preserved around the country with a few still operational.
A great location to see one in action is at the West Virginia Central Railroad in Elkins, West Virginia which maintains an original Western Maryland unit, #82. 
This locomotive, which still wears its WM "Fireball" livery can be found pulling both public excursions and working freight service when-needed.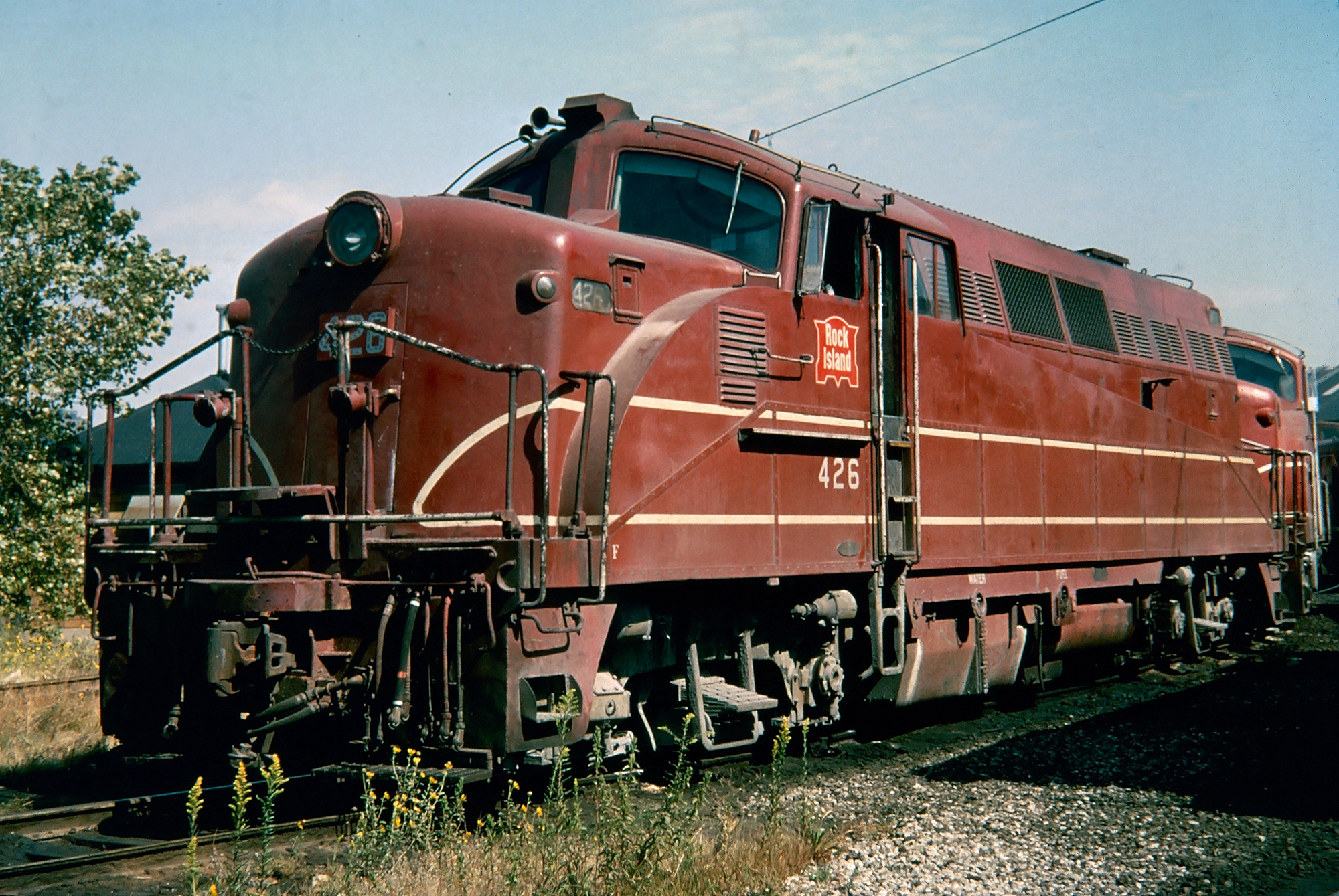 Rock Island BL2 #426, along with a mate and other units, lay over at the 22nd Street Yard in Chicago, Illinois, circa 1960. American-Rails.com collection.
Following the success of its cab units, EMD realized that there was a market to be made in road-switchers, which at the time was mostly dominated by the American Locomotive Company (Alco) with its popular RS series. 
Since the BL2 not released until 1949 EMD was late to the game , nearly ten years behind Alco, which had sold more than 1,200 examples of its early RS1 and RS2 models (along their variants) by then.
Additionally, both the Baldwin Locomotive Works and Fairbanks Morse were also offering their version of the road switcher; the former its "DRS" line (DRS-4-4-1000, DRS-4-4-1500, DRS-6-4-1500, and DRS-6-6-1500) and the latter the H15-44 and H20-44.
Naturally, EMD needed an answer and was not particularly happy by the fact that Alco, its direct competitor, was quickly becoming the industry leader in a market it wanted to dominate itself (road switchers). 
Intending to give crews increased visibility by cutting down the width of the long trailing hood and adding windows to behind the cab EMD believed that this would correct sight problems inherent with the E and F models.
The BL2 ("BL" meant Branch Line) did allow crews better sight lines and was quite reliable. However, it still lacked exterior walkways, which made the locomotive more utilitarian and was available on Alco's models. 
Although unsuccessful from a sales standpoint the BL2 was really a mere stepping-stone for its next model, the GP series (meaning General Purpose).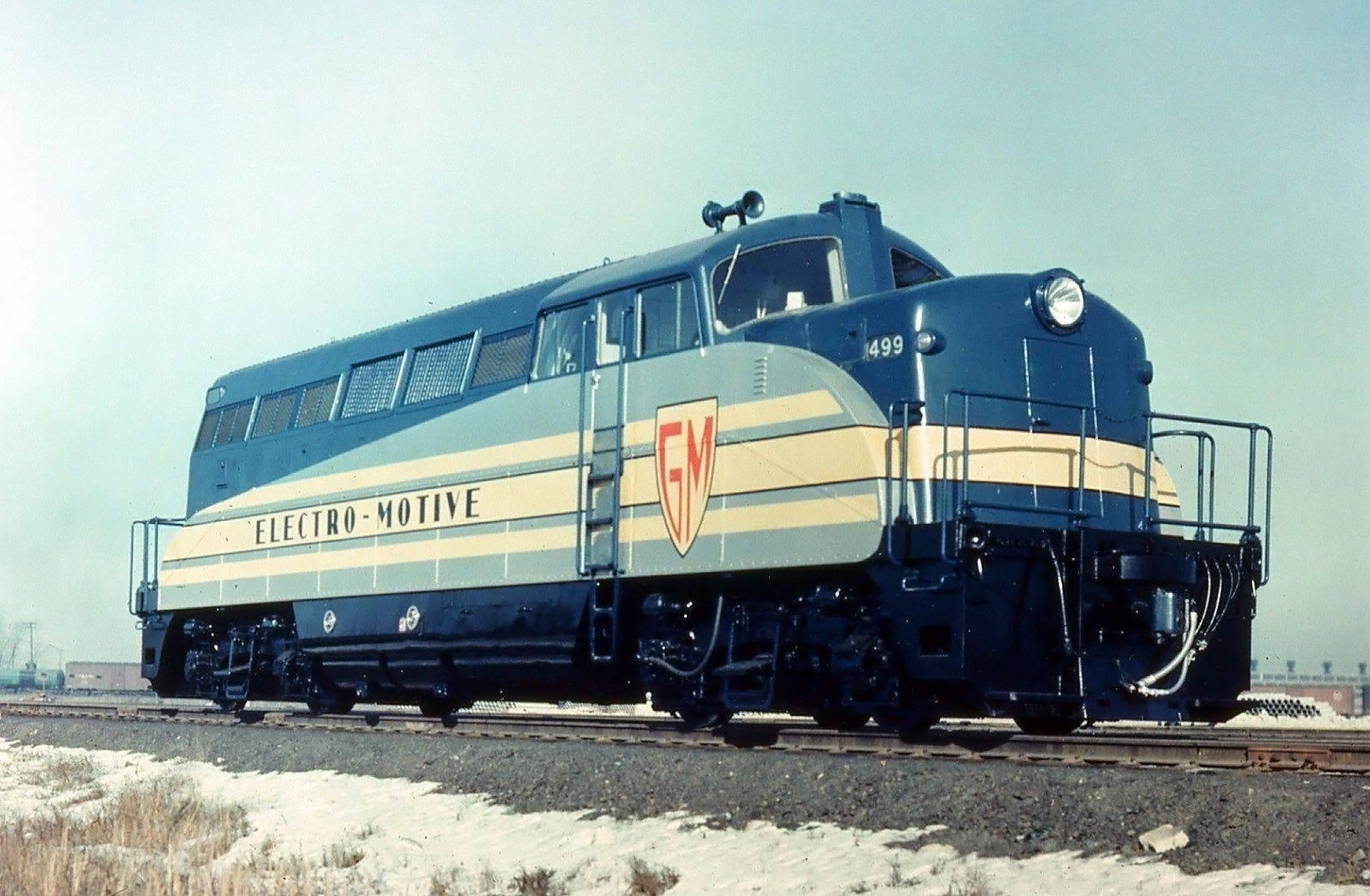 Electro-Motive's BL-1 demonstrator, #499, soon after it was completed in February of 1948. This unit went on to become Chicago & Eastern Illinois #1602.
For power, EMD used its tried and proven 16-cylinder model 567B prime mover that was capable of providing the locomotive 1,500 horsepower.
Additionally, using four General Motors model D27B traction motors the B-B model could produce 55,000 pounds of starting tractive effort and 40,000 continuous.  Essentially, the BL2 was an F3 on a different carbody. 
While the locomotive offered multiple-unit capability its extremely rare predecessor, the BL1 did not.
This was the only difference between the two as the BL1 was actually EMD demonstrator #499 that used an air-powered throttle while the BL2 featured an electrically powered throttle making it MU-compatible. 
Built only between 1948 and 1949, a total of 60 BL2s were constructed for a handful of railroads.
EMD BL2 Production Roster
| Owner | Road Number(s) | Quantity | Date Built |
| --- | --- | --- | --- |
| Bangor & Aroostook | 550-557 | 8 | 1949 |
| Boston & Maine | 1550-1553 | 4 | 1948 |
| Chesapeake & Ohio | 80-85, 1840-1847 | 14 | 1948-1949 |
| Chicago & Eastern Illinois | 1600-1601, 1602 (BL1) | 3 | 1948 |
| Electro-Motive (BL1 Demo) | 499 (To C&EI, #1602) | 1 | 1948 |
| Florida East Coast | 601-606 | 6 | 1948 |
| Missouri Pacific | 4104-4111 | 8 | 1948 |
| Monon Railroad | 30-38 | 9 | 1948-1949 |
| Rock Island | 425-429 | 5 | 1949 |
| Western Maryland | 81-82 | 2 | 1948 |
---
Florida East Coast BL2 #605. This was one of six the FEC owned. No date or location listed. American-Rails.com collection.
Despite the few number built, there are actually more BL2s preserved than one might think.
Additionally, at least four are still operational; Western Maryland #82 at the West Virginia Central, Monon #32 at the Kentucky Railway Museum, the Stourbridge Line in Pennsylvania operates Bangor & Aroostook (BAR) #54, and Saratoga & North Creek Railway operates BAR #52.  
Others preserved include WM #81 at the Baltimore & Ohio Railroad Museum, BAR #56 at the National Railroad Museum in Green Bay, and BAR #57 at the Cole Transportation Museum in Maine. 
A particular reason why so many of Bangor & Aroostook's BL2s are preserved is that the railroad continued operating them  into the early 1980s.