"Crandall Cabs" (Locomotives)

Last revised: April 12, 2022
By: Adam Burns
The Chicago & North Western Railway was widely regarded during the 1960s through the 1980s for its resourcefulness whereby it used virtually any type of diesel locomotive that was either cheap or it could continue to operate.
A case in point was the Crandall Cab, a locomotive designed by one of the company's motive power officers.
The model was essentially retrofitted from former Union Pacific E8Bs and E9Bs during the early 1970s with a home-built cab and control-stand added to make it a stand-alone locomotive that could be operated by a train crew.

The C&NW only owned six of these units and all were used in commuter services around Chicago. The Crandall Cabs first saw use during the early 1970s and were only operated for about seven years before being sold to Chicago's Regional Transportation Authority (RTA). 

The reliability of Electro-Motive's products from that era was unmatched, which was not lost on the North Western.  The ever-resourceful company recognized the potential of B units converted to "A's" via home-built cabs. 
Under RTA ownership the units continued to pull commuter trains until the early 1980s. Eventually, the locomotives were sold to a scrap dealer thus closing the book on this unique design.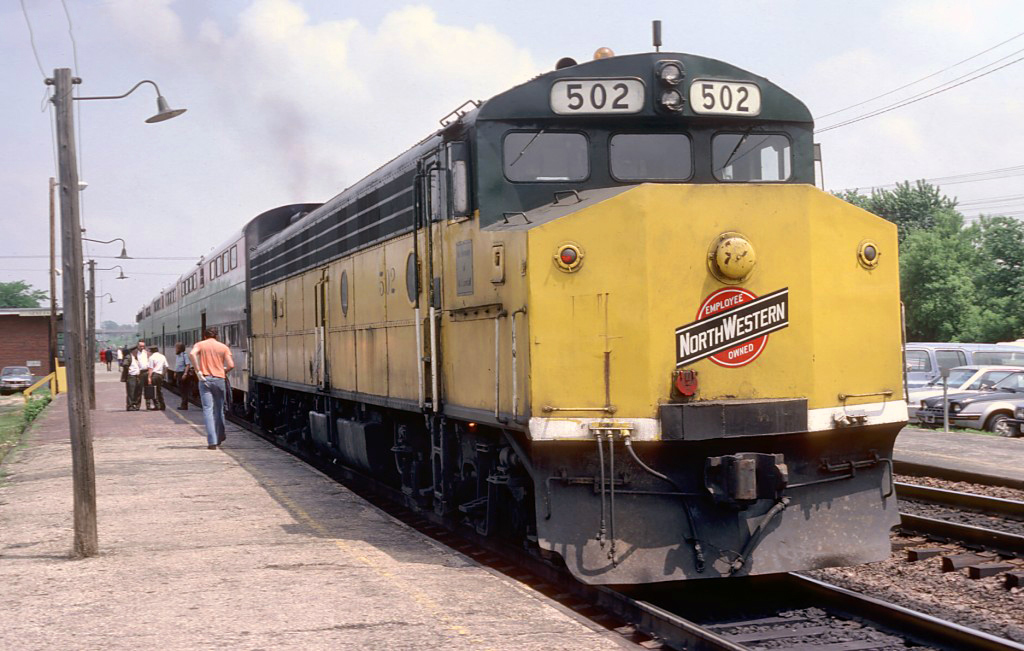 Chicago & North Western "Crandall Cab" #502 boards passengers at a Chicago commuter stop during May of 1982. Gary Morris photo.
A Brief History Of The "Crandall Cab"
The idea for what became the Crandall Cabs began shortly after Amtrak began operations on May 1, 1971. As the new national passenger carrier sorted through its fleet of either worn down or simply worn out locomotives it attempted to trim down its size.
Much of its handed-down diesels were EMD E8As/Bs and E9As/Bs, which while having logged hundreds of thousands of miles were generally reliable.
One of the first things the company did was to retire these units as quickly as possible and replace them with the new SDP40F starting in 1973 (unfortunately, this model proved unreliable in passenger service and forced Amtrak to purchase new units just a few years later in 1976, the F40PH).
Since Amtrak was offering the locomotives at very affordable prices and the C&NW needed power for its commuter operations around Chicago (this was before the service became state-funded) the railroad grabbed six B units and five A units in the spring of 1973.
All of these locomotives, as mentioned above were ex-UP, and the C&NW gave them road numbers of 501 through 511; #501-#506 included four E9Bs and two E8Bs while #507-#511 were all E8As except for one which was an E9A (EMD had built these units for UP between 1950 and 1962).
Between April 3rd and August 16th, 1973 the C&NW began rebuilding the covered wagons with either updated 12-567C prime movers (giving them all a horsepower rating of 2,400) or other new features like Automatic Train Control, Automatic Train Stop, and Head End Power (or HEP, this replaced the antiquated steam generators).
However, the railroad a problem with its B units in trying to figure how to retrofit them into self-contained units that could then be used in commuter service.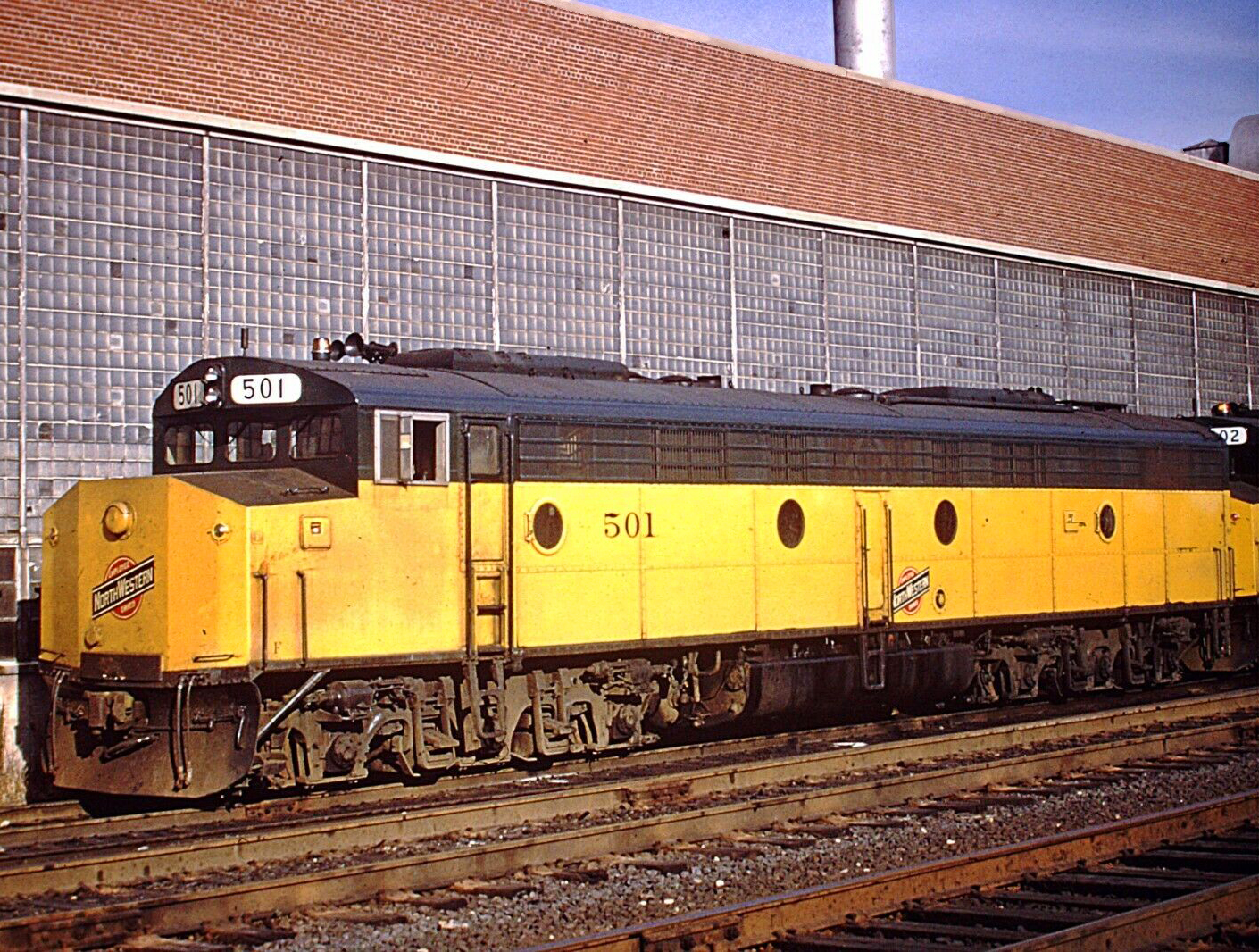 Chicago & North Western "Crandall Cabs" layover between assignments in Chicago on November 23, 1973: #501 was built as Union Pacific E9B #910-B in December, 1962 while #502 was originally Union Pacific E9B #913-B built in December, 1963.
The answer to this came from the company's then Assistant Superintendent of Motive Power, M. H. Crandall. He proposed to construct a home-built cab on one end and add a control stand.
The idea worked and what resulted was a rather ugly, but utilitarian, cowl look that became known as Crandall Cabs after their creator.
In truth, the cabs of these units somewhat resembled the special wide versions built for the Canadian roads over the years like the SD50F, SD60F, M420, and M636 with a tapered nose and flat front windshield that angled at the corners (although the glass itself did not).
Interestingly enough, the design still looks similar to the present wide-cabs used by Electro-Motive since roughly the 1980s.
For whatever reason the Chicago and North Western chose not to give these unique locomotives a name and they were only ever listed as E9BA. As the 1970s wore on the RTA had been in operation since 1973 and began to increasingly subsidize commuter rail services around Chicago.
As the C&NW began to wind down its personal obligation in this regard it sold its 11 Crandall Cabs and E8As/E9A to the RTA on December 31, 1977 which subsequently leased them back to the railroad. In doing so the units began to be repainted into RTA colors, which was completed by November of 1980.
"Crandall Cab" E9BA Fleet
| Road Number | Built As | Union Pacific Number | Date Built | Metra Number/Disposition |
| --- | --- | --- | --- | --- |
| 501 | E9B | 910-B | 12/1962 | 501/(Scrapped, 1985) |
| 502 | E9B | 913-B | 12/1963 | 502/(Scrapped, 1985) |
| 503 | E8B | 925-B | 1953* | 503/(Scrapped, 1985) |
| 504 | E8B | 935-B | 2/1953 | 504/(Scrapped, 1985) |
| 505 | E9B | 960-B | 5/1955 | 505/(Scrapped, 1985) |
| 506 | E9B | 962-B | 5/1955 | 506/(Scrapped, 1985) |
* #503 began its career as Union Pacific/Chicago & North Western E2B "LA-3," out-shopped by the Electro-Motive Corporation in October, 1937. 
The unit originally pulled the luxurious "City of Los Angeles" between Chicago and LA.  It was later rebuilt by UP to E8B specifications in 1953 and given number "925-B."
---
---
Chicago & North Western "Crandall Cab" #502 heads west on a commuter run out of Chicago at Clybourn Avenue in 1979.
They continued to operate in this fashion until the spring of 1983 when the RTA retired all of the Crandall Cabs, between March and May of that year except for E8 #510 and E9 #511, which continued to see service until March 19, 1989.
After their retirement in 1983 the Cabs were sold to Naporano Iron & Metal of Naporano, New Jersey between June and July of 1985. After this point the units were subsequently scrapped.
Despite the locomotives' unpopular look they operated as intended and saved the Chicago & North Western a significant amount of money, particularly when it had no interest by the 1970s in continue to operate commuter trains but was forced to do so.
Additionally, being an EMD locomotive of the period with and featuring 12-567C model prime movers made them highly reliable.