FM "H16-66" Locomotives (Baby Train Master)


The Baby Train Master, cataloged by the builder as its H16-66 model, was the first of its six-axle, road-switcher line released in the very early 1950s.
Unfortunately, the locomotive sold rather poorly although its bigger cousin the H24-66 Train Master fared relatively better.
Ultimately, just three railroads (Milwaukee Road; Chicago & North Western; and Chicago, Minneapolis & Omaha), one federal authority (Tennessee Valley Authority), and one industry purchased the H16-66 with fewer than 60 built over a seven year span.
The H16-66 gained its unique name from railfans which coined the term because it was smaller and produced less horsepower than the larger and more powerful H24-66 (Fairbanks Morse itself never used "Baby Train Master" to describe the H16-66). 
Both the Milwaukee and C&NW continued operating theirs well into the 1970's before finally retiring the units. 
Today, there is just one H16-66 known to exist, former Aluminum Company of America (Alcoa) #721001 although it is currently under Canadian ownership and stored in Ogden, Quebec by the Canadian Pacific.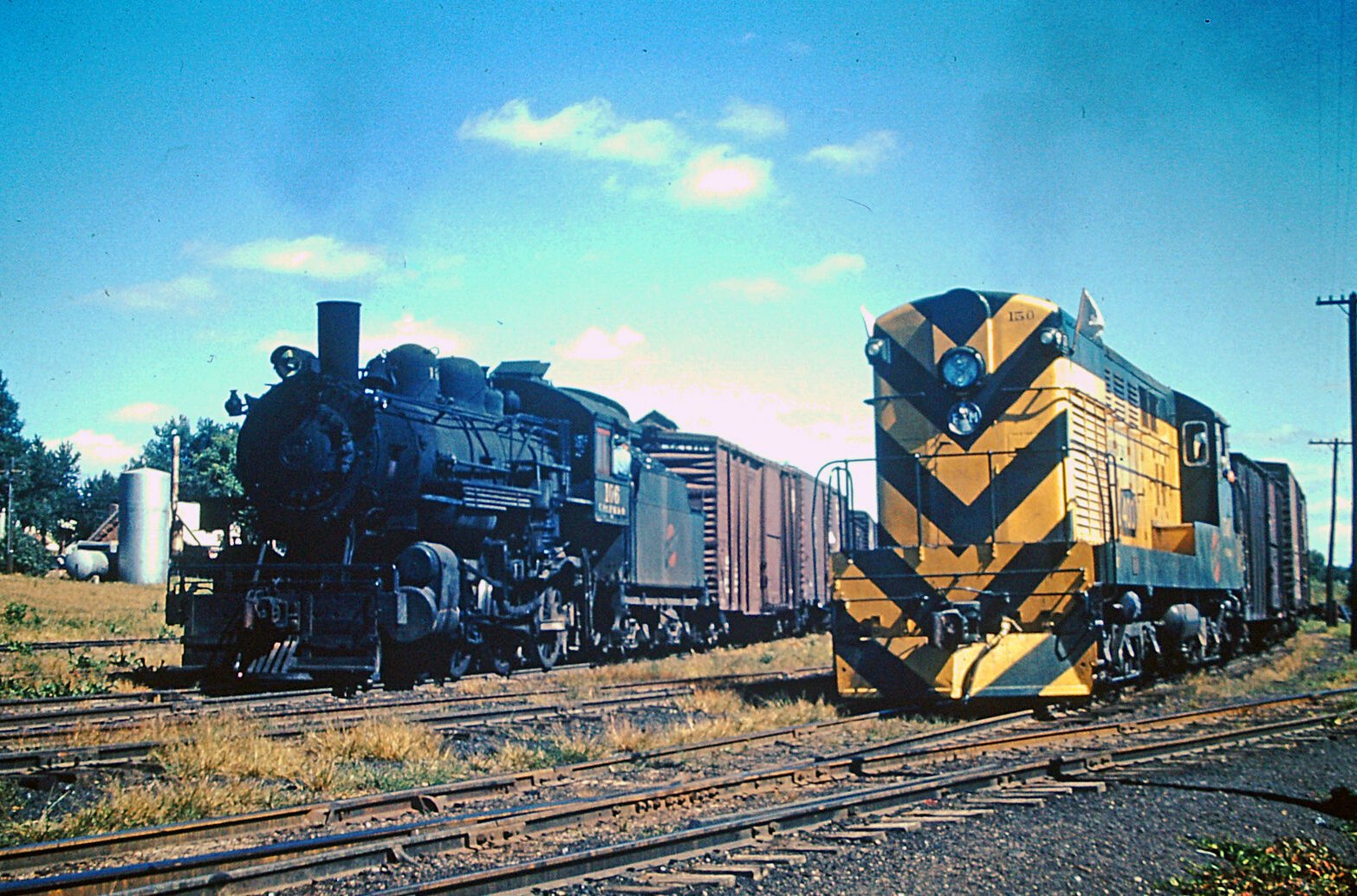 The "Transition Era" from steam to diesel was an interesting time in American railroading. Here, Chicago & North Western 4-6-0 #106 works alongside Fairbanks-Morse H16-66 #150 at Emerson, Nebraska on September 12, 1953. Rail service here has since been abandoned.
The Baby Train Master began production in January of 1951; the first orders taken for the locomotive was from the Chicago & North Western a regular buyer of Fairbanks Morse products.
The C&NW would ultimately own the most H16-66s, which were only slightly different from the H16-44 road switcher in that it featured C-C trucks, thus allowing for better tractive effort and a better distribution of weight on the rails.  
FM's four-axle road switchers utilized AAR Type B trucks while its six axle designs like the Baby Train Master used Baldwin-designed Commonwealth trucks.   During later years the company switched to Tri-Mount trucks.
Fairbanks-Morse's Catalog Of Diesels
H10-44 

H12-44

H15-44

H16-44 

H20-44

H24-66, "Train Master" 

FM's "Erie Builts" 

FM's "C-Liners" 

Most roads shied away from the Baby Train Master but the C&NW liked it so much they purchased a total of fifty-five examples between 1951 and 1956 (interestingly, the railroad never acquired the more powerful Train Master). 
The H16-66 could produce 1,600 horsepower utilizing the Fairbanks Morse 2-cycle 38D8 1/8 opposed piston prime mover. 
Through 1953 FM continued to employ Raymond Loewy-inspired carbody recommendations on the H16-66.  While only cosmetic in nature the styling did provide for a nice look with an off-set cab and clean lines.
However, later on the company scrapped Loewy's recommendations in an effort to reduce manufacturing costs.  
FM's classification system for its diesels somewhat followed Baldwin's designation. In regards to the H16-66; the "H" stood for Hood unit, "16" was for 1,600 horsepower, and each 6 referred to six axles and six traction motors.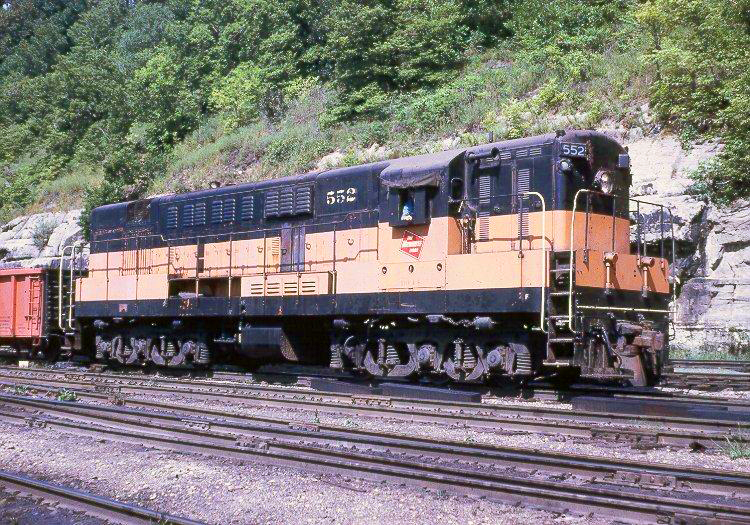 Milwaukee Road H16-66 #552 (built as #2127) works Pig's Eye Yard in St. Paul, Minnesota during the 1960s.
It should be noted that while the H16-66 sold poorly it is not necessarily because Fairbanks Morse's models in general were unreliable. 
This issue in regards to FM's diesels have often been questioned but I believe the primary obstacle was related to the builder's opposed-piston prime mover. 
The engine's design made it difficult to maintain and it was far different from the standard two or four-cycle diesels being employed by Electro-Motive and Alco.
For instance, in regards to the Train Master, it has been noted by John Kirkland in his book The Diesel Builders Volume 1 that the locomotives performed admirably for more than 20 years on the Southern Pacific due to a maintenance team that understood the engine and its intricate layout, despite taking a daily beating in freight/commuter service.
Fairbanks Morse H16-66 Production Roster
| Owner | Road Number(s) | Quantity | Date Built |
| --- | --- | --- | --- |
| Aluminum Company Of American (Alcoa) | 721001 | 1 | 1958 |
| Chicago & North Western | 1510-1514, 1605-1612, 1668-1683, 1691-1700, 1901-1906 | 55 | 1951-1956 |
| Chicago, St. Paul, Minneapolis & Omaha (C&NW) | 150, 168-172 | 6 | 1951-1953 |
| Milwaukee Road | 2125-2130 | 6 | 1953 |
| Tennessee Valley Authority | 24 | 1 | 1958 |
---
---
Another example of Milwaukee Road's H16-66 road-switchers, #548 (built as #2129 in 1953), is seen here with other power at Savanna, Illinois in May, 1970. Roger Puta photo.
The one major selling point for the Fairbanks Morse's Baby Train Master was its very high tractive effort offering just under 80,000 pounds of starting.
This made the locomotive an extremely capable puller although its extra weight at 187.5 tons compared to lighter models from EMD (SD7) and Alco (RSD4), both of which weighed around 180 tons or less, likely also hurt potential sales.
Overall the H16-66 carried a length of 66 feet, which was quite a bit longer than Alco's and EMD's models, and about 12 feet longer than the four axle H16-44.  Lastly, for more information about the FM H16-66 please refer to the chart above for a complete production roster.