Baldwin "DS-4-4-750" Locomotives

The Baldwin DS-4-4-750 was a lightly powered switcher locomotive built during just a few year stretch in the late 1940s and early 1950s. More powerful than its counterpart the DS-4-4-660 but less powerful than the DS-4-4-1000 the "specialized" model saw only lukewarm interest and was the company's worst selling design. The Baldwin Locomotive Works had a pessimistic view towards diesel locomotives as an inferior motive power type in comparison to steam, and as such mostly ignored it for main line service.  This, along with the fact that the company believed customizing orders to fit railroads' specific needs was more important than offering standard designs would ultimately cost it as a manufacturer.  
;
Baldwin would exit locomotive production during the 1950s. Today, at least two DS-4-4-750's are known to be preserved, Texas Mexican #510 at the Gulf Coast Railroad Museum and Warner Sand & Gravel #14 owned by the Reading Company Technical & Historical Society.

---
---
---
---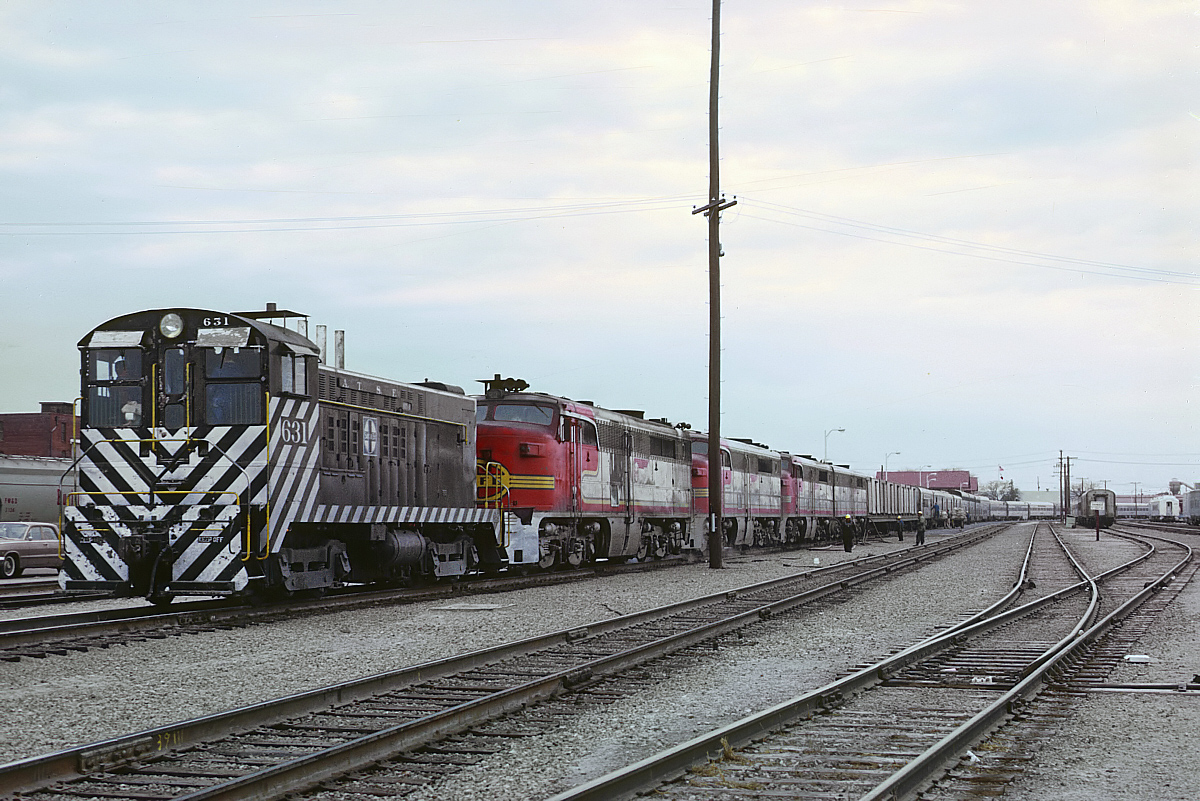 Santa Fe DS-4-4-750 #631 (built as #533 in July, 1949) switches train #1, the westbound "San Francisco Chief," at Amarillo, Texas during the mid-1960's. Note the train is powered by Alco PA's, which were nearing retirement by this date. Roger Puta photo.
The Baldwin DS-4-4-750 began production in the summer of 1949 using the builder's 606NA model prime mover. Producing 750 horsepower, the DS-4-4-750 was a mid-grade switcher as Baldwin also produced a 660 horsepower and 1,000 horsepower model. Using a B-B truck arrangement (i.e., two axles per truck) the model found a diversity of buyers from Class I railroads like the Pennsylvania, Erie, and Santa Fe to industrial companies like American Cynamid, Youngstown Sheet & Tube, and American Steel & Wire. As with the American Locomotive Company (Alco), Baldwin at the time still held a loyal following by some railroads that had worked with it for years during the reign of steam. Because of this it probably explains why roads like the Pennsylvania (an avid buyer of Baldwin products) and Erie purchased the DS-4-4-750. The PRR, for instance, purchased examples of nearly every Baldwin diesel it produced.
For more information about the DS-4-4-750 please click here.  Ultimately, however, few DS-4-4-750s actually purchased as only 53 were ever built through February, 1951 (three of which being the demonstrators #301, #750, and #751 that were eventually sold to Weyerhaeuser Timber). The locomotive was essentially a DS-4-4660/VO660 with slightly more horsepower. For instance, along with the above mentioned characteristics it was also 46 feet in length, offered the same tractive effort (49,625 pounds starting/34,000 pounds continuous), and featured the same general exterior carbody features (end cab and trailing long hood). Additionally, the model did not offer either dynamic braking or turbocharging (which to some extent could have also been a negative sales point as Alco, for instance, did offer both features in most of its switchers).

A Baldwin company photo (1950) of a new Pennsylvania Railroad DS-4-4-750, which has yet to receive its number. The PRR acquired 24 examples, #5595-5618.
After less than two years in production, Baldwin removed the DS-4-4-750 from its catalog, replacing it with the S-8 (the offered just slightly more horsepower) and the more powerful S-12. The DS-4-4-750 also ended the company's use of its confusing classification system. In 1950, after it released upgraded prime movers (the model 606 and 608) it likewise used a simpler system of model type and horsepower (for instance, the S-12 meant Switcher, 1,200 horsepower). Finally, for more information about the DS-4-4-750s please refer to the chart below.  
Baldwin DS-4-4-750 Production Roster
| Owner | Road Number(s) | Quantity | Date Built |
| --- | --- | --- | --- |
| American Cyanamid Company | 14 | 1 | 1950 |
| American Steel & Wire Company | 20 | 1 | 1949 |
| Baldwin (Demo) | 750-751 (To Weyerhaeuser, 101-102) | 2 | 1950 |
| Baldwin (Plant Switcher) | 301 (To Weyerhaeuser, 301) | 1 | 1950 |
| California Western Railroad | 51-52 | 2 | 1949 |
| Erie Railroad | 386-389 | 4 | 1949 |
| Pennsylvania | 5595-5618 | 24 | 1950 |
| Santa Fe | 525-533 | 9 | 1949 |
| Texas-Mexican Railway (Tex-Mex) | 509-510 | 2 | 1949 |
| Warner Company | 14 | 1 | 1950 |
| Weyerhaeuser Timber Companyr | 101-102, 301 | 3 | 1950, 1956 |
| Youngstown Sheet & Tube Company | 608-610, 700-702 | 6 | 1949-1951 |
---
---
For more information on Baldwin locomotives the book by the same name, a Brian Solomon title, provides an in-depth history of the company from its earliest days beginning in the 1930s to its final years constructing diesels during the mid-20th century.  It 160 pages in length and, as with every Solomon book, offers a rich collection of large, sharp photos to enjoy.  Another title of interest is Vintage Diesel Locomotives by noted author and historian Mike Schafer.  This one has been out for several years now and is a paperback title but highlights several classic models from the major builders of the era such as Electro-Motive, Baldwin, and the American Locomotive Company.
---
---
---