Alco "RS-36" Locomotives

Last Revised: December 19, 2021
By: Adam Burns
The Alco RS36 was the final design of the Road Switcher series the builder would produce. It also saw a reduction in horsepower from the previous design, the RS32.
Unfortunately, the model sold very poorly and only saw a two-year production run. Despite its limited sales numbers the RS36 was purchased by a larger selection of railroads many of which were already quite loyal American Locomotive Company (Alco) buyers.
The future of the Schenectady manufacturer was looking increasingly fuzzy, as by the time the RS36 entered production in the early 1960s a new competitor had arisen, General Electric. 

No longer known as a revolutionary and reliable locomotive builder, by the time second-generation models were being produced Alco was regularly releasing reactive designs in an attempt to remain competitive. 
Today, there are not only a handful of RS36's preserved but a few remain active, including a pair of Delaware & Hudson units.

Delaware & Hudson RS36 #5019 and Maine Central RS11 #802 perform switching work with a B&M caboose at SK Yard in Buffalo, New York on August 5, 1984. Doug Kroll photo.
RS36 History And Background

The Alco RS36 (listed by the builder as its DL701A), offering 1,800 horsepower, began production in 1962, just a year before the manufacturer would unveil its second line of road switcher, the Century series.
The model, while offering less horsepower was meant to compete with the Electro-Motive Division's GP30 (which boasted 2,250 horsepower) released at the same time as well as General Electric's U25B (offering 2,500 horsepower).
The RS36 used Alco's new 251C prime mover, a design that was used later in the Century series. Unfortunately, just like the RS32 the RS36 sold less than 50 units to seven different railroads; the Apache Railway, Delaware & Hudson, Atlantic & Danville, Chicago & North Western, Nickel Plate Road, Norfolk & Western, and Tennessee Central.
Other Alco "Road Switcher" Series Locomotives
Production ended on the line lasted for just two years, ending in 1963 when the Century series was rolled out (it may have sold somewhat better had Alco left it in the catalog).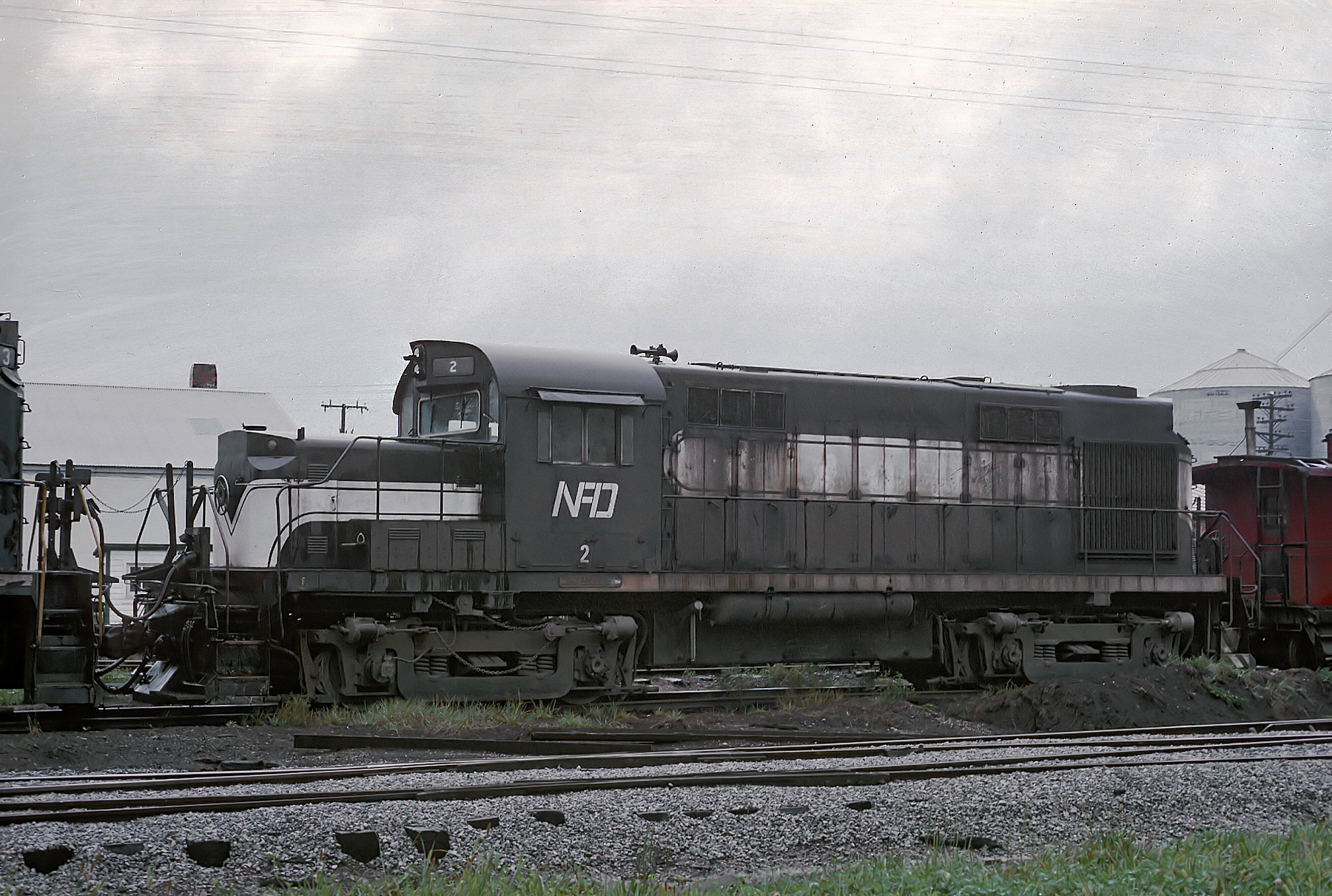 Norfolk, Franklin & Danville RS36 #2 is seen here at Suffolk, Virginia on November 24, 1968. This was one of two former Atlantic & Danville units the road acquired from the small Class I. Roger Puta photo.
Of the roads which bought the RS36, the D&H rostered the most, which included fifteen units. Despite the fact that Alco was slipping further behind EMD and, eventually, GE in the locomotive market some lines were loyal customers until the end like the D&H, Lehigh Valley, Norfolk & Western, C&NW, and others.

This was mostly due to the fact that Alco models were (even at the time) nearly iconic for their ability to pull heavy loads with relative ease (even though they generally were harder on the track because of their heavier weight). 

Nickel Plate Road RS-36 #875 arrives at Englewood Union Station (Chicago) with Train #5, the "City of Chicago," on April 21, 1965. Roger Puta photo.
Additionally, most Alco's came turbocharge-equipped and those which were not could be easily convertible.   Of special note, the builder offered something no one else could; better fuel mileage.
Alco's model 244 and 251 prime movers could get more horsepower using fewer cylinders than the competition. At the time, of course, such savings wasn't (generally) a high priority although in today's environment it would be a real marketing tool if the company were still in business.
Delaware & Hudson C420 #406 switches SK Yard in Buffalo, New York on August 5, 1984, while RS36 #5019 can be seen in the background to the left. Doug Kroll photo.
Unfortunately, by the early 1960s the sun was setting for the Schenectady builder. Unable to keep up with the competition (EMD's GP30 began yet another wave of highly successful models for that company as it sold thousands of GP35s, GP38s, GP40s, and their variants) Alco would be history before 1970.  

Alco RS36 Data Sheet



| | |
| --- | --- |
| Alco Class | 404-DL-240 |
| Entered Production | 2/16/1962 (Nickel Plate Road #865) |
| Years Produced | 2/16/1962-8/5//1963 |
| Model Specification | DL701 |
| Engine | 251C, V-12 |
| Horsepower | 1,800 |
| RPM | 1,025 |
| Carbody Styling | Alco |
| Length (Between Coupler Pulling Faces) | 57' 2.5" |
| Weight | 240,000 Lbs. |
| Dynamic Brakes | Optional |
| Trucks | B-B |
| Truck Type | Swing Bolster, Drop-Side Equalizer (AAR Type-B) |
| Truck Wheelbase | 9' 4" |
| Wheel Size | 40" |
| Traction Motors | GE 752 (4) |
| Traction Generator | GT581 |
| Steam Generator | Optional |
| Gear Ratio | 74:18 (65 MPH), 65:18 (75 MPH) |
| Tractive Effort Rating | 35,000 Lbs. at 8 MPH. |
| Top Speed | 75 MPH |
Production Roster Of Alco RS36s



| Owner | Road Number(s) | Quantity | Date Built |
| --- | --- | --- | --- |
| Apache Railway | 700, 800, 900 | 3 | 1962 |
| Atlantic & Danville | 1-2 | 2 | 1962 |
| Chicago & North Western | 904 | 1 | 1962 |
| Delaware & Hudson | 5012-5023 | 12 | 1963 |
| Nickel Plate Road | 865-875 | 11 | 1962 |
| Norfolk & Western | 407-412 | 6 | 1962 |
| Tennessee Central | 301-305 | 5 | 1962-1963 |
Sources:
Foster, Gerald. A Field Guide To Trains. New York: Houghton Mifflin, 1996.



Kirkland, John F. Diesel Builders, The:  Volume Two, American Locomotive Company And Montreal Locomotive Works. Glendale: Interurban Press, 1989.


Pinkepank, Jerry A. Diesel Spotter's Guide.  Milwaukee: Kalmbach Publishing Company, 1967.


Solomon, Brian. Alco Locomotives. Minneapolis: Voyageur Press, 2009.
---
---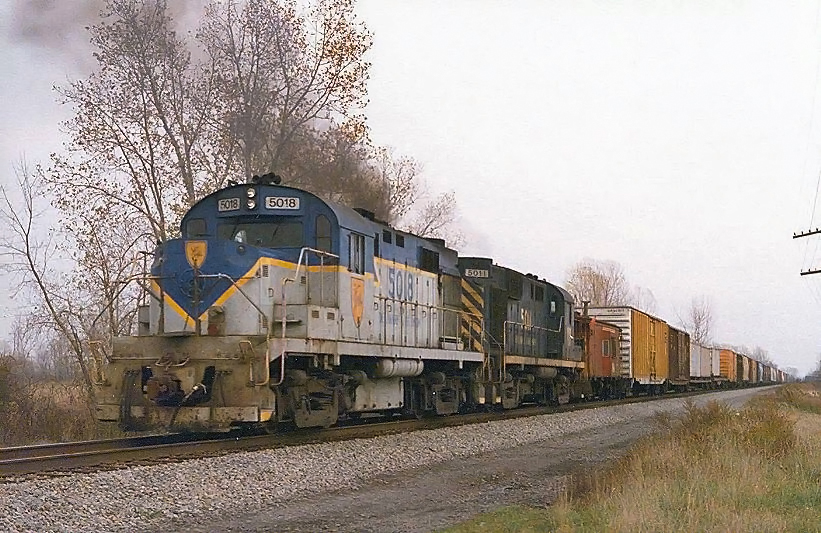 Delaware & Hudson RS36 #5018 and RS11 #5011 perform helper service pushing train NWED up the grade at Attica Hill near Depew, New York on October 28, 1984. Doug Kroll photo.
Finally, for more information about regarding a complete production roster of the RS36 please refer to the chart above.  From a historical perspective, at least two of these interesting and rare road-switchers are known preserved today. 
Both units are of Delaware & Hudson heritage, #5017 and #5019; the former is active and carries passengers on the Delaware & Ulster Railroad in upstate New York between Arkville and Roxbury while the latter is currently sidelined with mechanical issues at North Creek, New York (it's fate is uncertain at this time).