Fairbanks-Morse Locomotives

Last revised: May 19, 2023
By: Adam Burns

Fairbanks-Morse locomotives, commonly known as F-Ms, are true classics (their newest models are nearly 70 years old now), even by non-railfans!

While its opposed-piston engine was not as successful in railroading applications as in marine ships its locomotives were nevertheless revolutionary for their time.
So revolutionary that it would take twenty years after the builder's exit from the market for railroads to become interested powerful, six-axle designs.
Today the builder, now owned by EnPro Industries, continues to build marine engines and prime movers used in other applications. 

While Fairbanks-Morse has not built locomotives since February, 1959 it is interesting to wonder what the company may do in the future considering its past experience in the market.   
In some respects it was potentially on the verge of a major breakthrough with the H24-66 "Train Master."  The builder correctly foresaw railroads would eventually transition to six-axle power. 
Unfortunately, it was about a decade early in its forecast and few Train Masters were ultimately built.    

Photos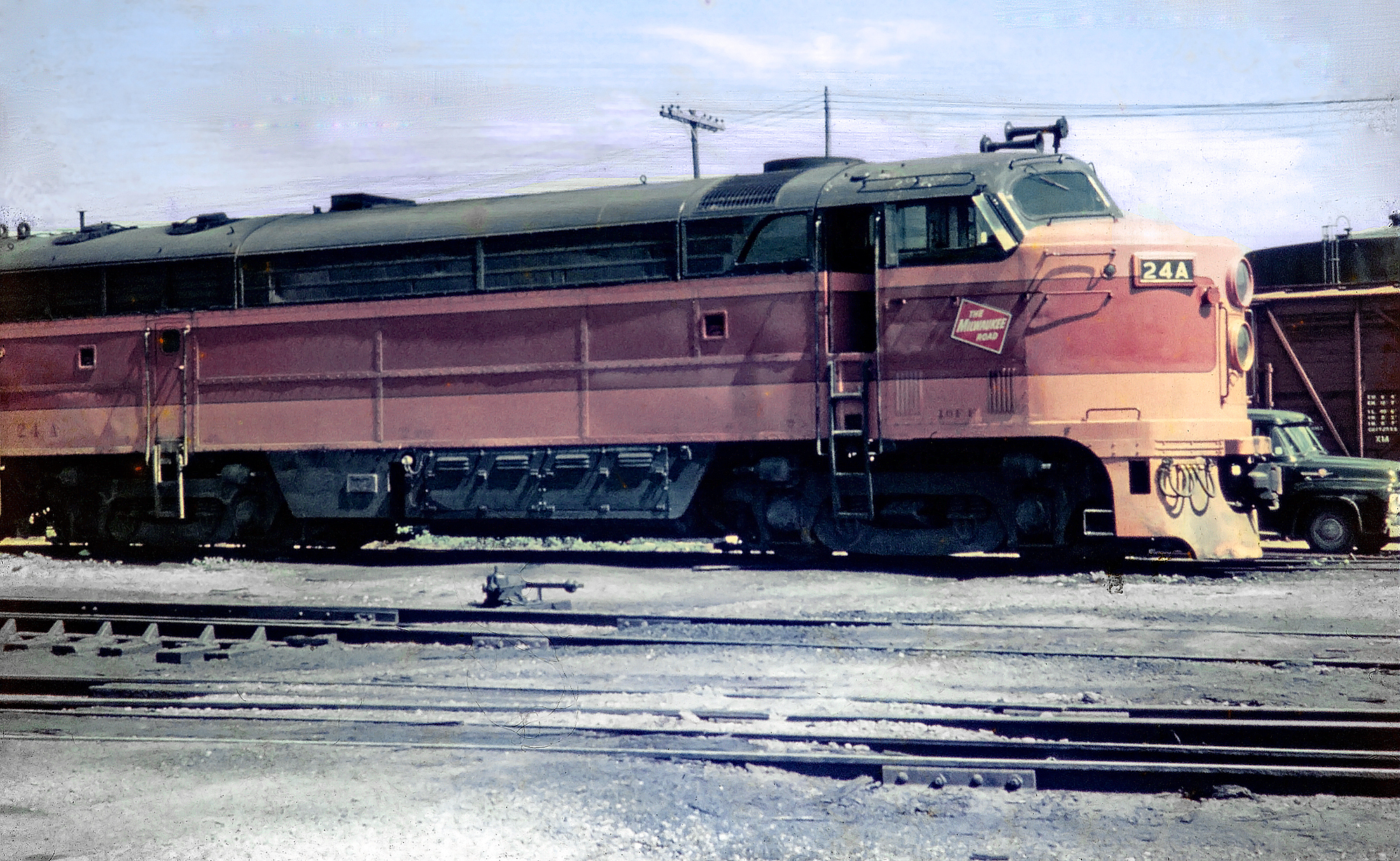 Milwaukee Road CFA16-4 #24-A ("C-Liner") at Bensenville, Illinois, circa 1965. American-Rails.com collection.
History
While Fairbanks-Morse was not originally in the business of diesel locomotive manufacturing they were quite familiar with diesel engines.
The company itself has been around since the 1830s and in the early 1920s it began to develop diesel engines aggressively. What resulted was a revolutionary new design, the opposed-piston (O-P) diesel engine developed by F.P. Grutzner, which allowed for fewer moving parts. 
The design became well-liked in marine applications, such as with the US Navy who ordered many O-Ps to power its early submarines during World War II.
At A Glance
Genesis

E&T Fairbanks Company: St. Johnsbury, Vermont (1830)

Founders

Erastus and Thaddeus Fairbanks

Early Production

Mechanical Scale Platforms

Promoted Railroads*

Connecticut & Passumpsic Rivers Railroad

Portland & Ogdensburg Railroad Company

Company Name Changes

The Fairbanks Company

Fairbanks, Morse & Company (1866)**

Early Acquisitions

Eclipse Wind Engine Company (1885)***

Sheffield Velocipede Car Company

Modern Plant

Beloit, Wisconsin

Early Production Line (1908)

Baggage Borrows

Ballast Loaders

Car Wheels

Cattle Guards

Coaling Stations

Drawbridge Machinery

Dump Cars

Express Wagons

Freight House Trucks

Gasoline Engine Cars

Gasoline Engine Industrial Locomotives

Logging Cars

Section Cars

Semaphore Lamps

Station Lighting Systems

Switches, Frogs, Crossings

Switch Lamps

Switch Stands

Track Tools

Water Cranes

Water Tanks

Water Pumps

Inspection Motorcars

Railmobile****

Trolley Cars

Diesel Engine Production

1922

Pioneering Engineer

Fritz P. Gruetzner

Primary Engine Design

38D8 1/8, Opposed-Piston

First Diesel-Powered Railcars (1939)*****

Southern Railway #1-4 (Motorcar/Doodlebug)

Alabama Great Southern #40-41 (Motorcar/Doodlebug)

Canadian Subsidiary

Canadian Locomotive Company (Kingston, Ontario)

First Locomotive

Reading center-cab switcher #35 (delivered, December 31, 1939)

First Production Model

H10-44 (Milwaukee Road #1802; August 21, 1944)

Most Successful Model

H12-44 (317)

Most Powerful Model

H24-66 "Train Master" (2,400 HP)

Final Locomotives Built

Ferrocarril Chihuahua al Pacífico H16-66 #603-604 (March, 1963)
*  The Fairbanks family's interest in railroads pertained solely to providing efficient transportation for their mechanical scale business.  Once these projects were completed ,and serving their original plant in St. Johnsbury, Vermont, the Fairbanks sold all interest in their iron horse enterprises to the Boston & Lowell Railroad on April 1, 1885.
**  The comma was replaced with a hyphen.
*** This company was based in Beloit, Wisconsin on the property that would later constitute Fairbanks-Morses' modern manufacturing plant.  What today is known as Fairbanks Morse Defense is still based here.
****  Only one demonstrator was ever complete, #22, in December of 1933.  It was a joint effort of Fairbanks-Morse, Chrysler Corporation, Goodyear Tire & Rubber Company, and Fitzjohn Manufacturing Company.  It used a Chrysler carbody, Dodge truck chassis, and powered by a Dodge six-cylinder, 65 horsepower engine (gasoline).  It was ultimately purchased by the Escanaba & Lake Superior Railroad.
***** Carbody produced by the St. Louis Car Company.
The Navy used the O-P so extensively at this time that FM's reached production capacity during the war effort.   So much so that the War Production Board enabled the company to find another market for its engines as the war wound down.
As a result, FM looked to the railroad industry and its switch from steam to diesel as the primary motive power for freight and passenger service.
After a few early trial designs (such as a railcar built for the Southern Railway) the builder began taking orders for its own locomotive line in the 1940s.

38D8 1/8 Engine Specifications
Type

Opposed Piston

Cycle

2 Stroke

Bore

8 ½"

Stroke

10"

RPM

850

Cylinders

5

6

8

10

12

Horsepower Ratings

1,000

1,200

1,600

2,000

2,400
Fairbanks-Morse locomotives were offered in an entire array of models from switchers to passenger and road units. Its switcher line consisted of a rather large design (as switchers typically go) which began with the H10-44 ("H" for Hood unit, "10" for 1,000 horsepower, and each 4 meant four axles and four traction motors).
Southern Pacific "Trainmaster" #3022 backs towards its train (#140) at San Francisco's 3rd & Townsend Depot; April, 1973. These units were ideal in commuter service on the SP thanks to their quick acceleration. American-Rails.com collection.
The switcher line would be offered in several horsepower variations ranging from 1,000 hp up to 1,600 hp. 
Fairbanks-Morse locomotives and its passenger models had basically the same carbody design only in differing horsepower arrangements (the carbody carried fine lines with a high short nose with a noticeable rounded point).
The first of these were built in the 1940s and known as simply the "Erie" line because of their carbody design lineage by General Electric at its Erie, Pennsylvania plant.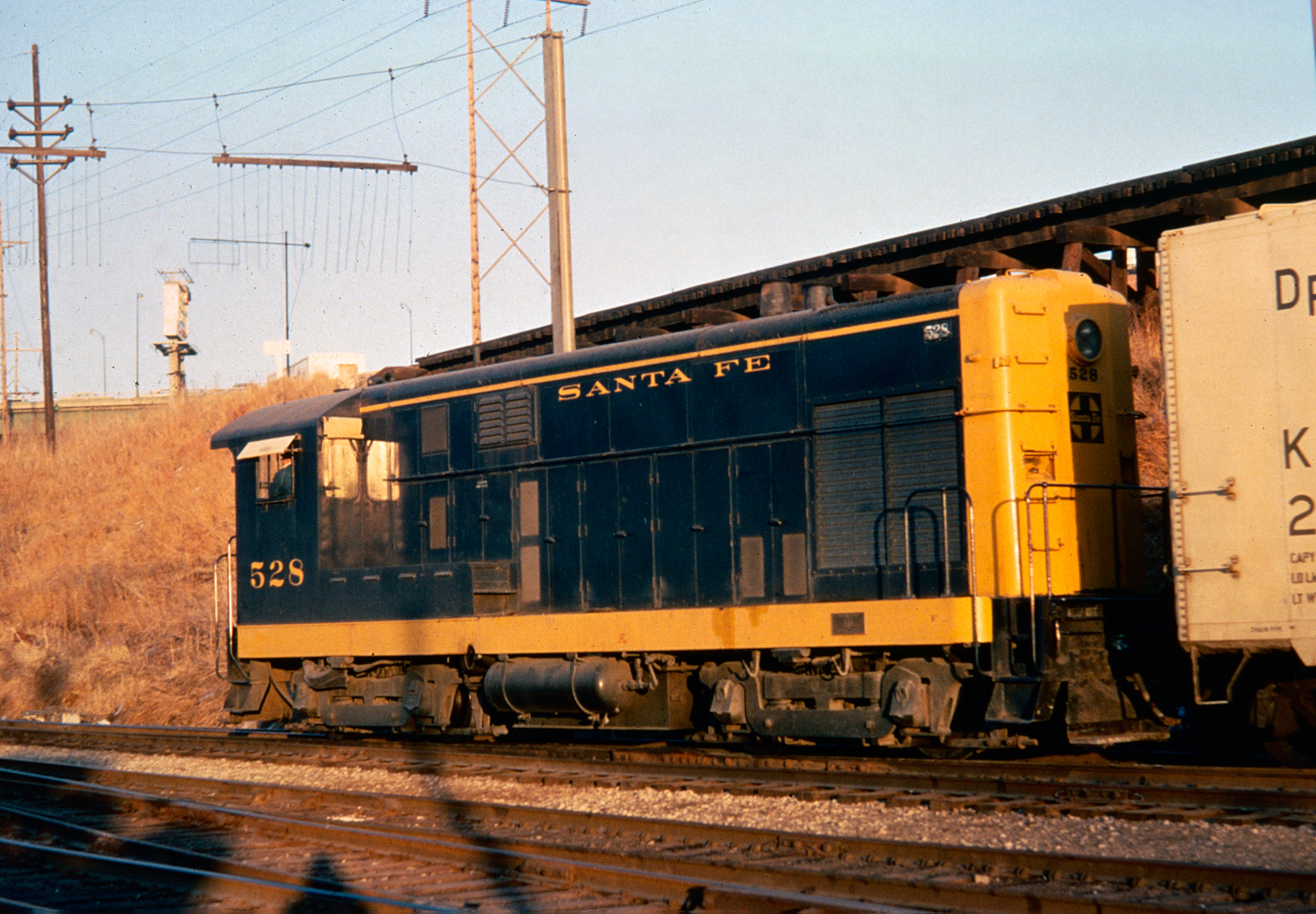 Santa Fe H12-44 #528 is seen here carrying out switching work in Kansas City during the 1960s. American-Rails.com collection.
The most famous of the Erie-Builts were those constructed for the Milwaukee Road in the late 1940s for the railroad's famous Olympian Hiawatha, which operated between Chicago and the Pacific Coast.
These units were adorned in Milwaukee's beautiful two-tone red/orange livery with chrome plating around the nose with Olympian Hiawatha included just under each side the cab. 
In 1950, however, they would introduce a formal line of passenger units known as their "Consolidated Line," commonly known today as C-Liners.
Milwaukee Road H16-44's #427 and #419 lead a westbound on the Kansas City Terminal as the train rolls past the Sheffield Interlocking Tower, circa 1970. American-Rails.com collection.
This model was available in three different horsepower variations of 1,600 hp, 2,000 hp and 2,400 hp of their CPA16-4, CPA16-5, CPA20-5, CPA24-5, CFA16-4, and CFA20-4 designs ("C" for Cab unit, "P" for Passenger, "A" for A unit, horsepower available [1600, 2000 and 2400] and 4 axles and traction motors).
Along with the CPA passenger line F-M also offered a CFA ("F" for freight unit) line for freight units, although these would only be built in 1,600 and 2,000 horsepower models.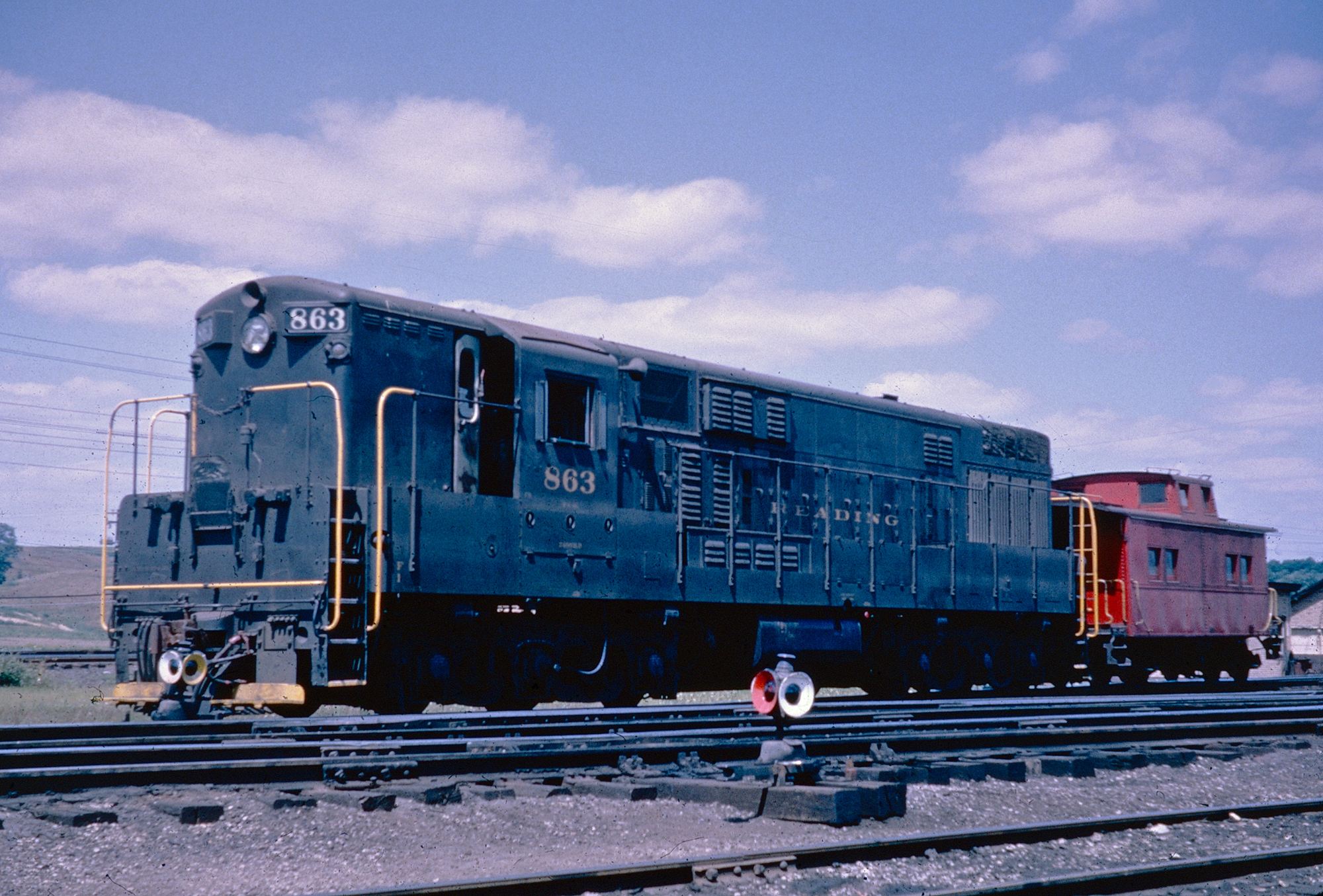 Reading "Train Master" #863 and a caboose rest for a moment at the railroad's terminal in Rutherford, Pennsylvania on August 9, 1964. Author's collection.
In all, F-M was not successful with its cab units, from the Erie design to the C-Liners as both only sold a few hundred units in total and nearly all of those to domestic customers only. 
The Fairbanks-Morse diesel locomotives perhaps best remembered is the H24-66, better known as the Train Master. While there were also other models of this design built none were as powerful as the Train Master, and it was truly years ahead of its time, which is perhaps why it was never successful.
The Train Master (or TM) was not only physically larger than all other diesel locomotives of the day, they were also built to haul! Not only could Train Masters out accelerate any other design but they also had much more power.
Santa Fe H12-44TS #543 at the 18th Street Shops in Chicago, circa 1970. The AT&SF requested this steam generator-equipped variant (541-543) for use in shuttling passenger trains and equipment around its Dearborn Station terminal in Chicago. American-Rails.com collection.
At 2,400 horsepower the unit was the most powerful of its day and it would be nearly another decade before other builders would begin offering units with similar horsepower ratios.  
Like nearly all of the Fairbanks-Morse locomotives (for many of the same reasons), sadly the Train Master was far too ahead of its time as railroads in the 1950s were not looking for locomotives with such power and ultimately only a little more than 100 units were ever sold. 
With only marginal success with its diesel designs, complaints by some that its O-P locomotive engines were troublesome to maintain and a market that was saturated with builders from Baldwin-Lima, EMD, Alco and later General Electric, Fairbanks-Morse decided to cut its losses.
The company exited the locomotive market officially in 1959 after which time it again focused primarily on marine and other engine designs. 
The question often arises, "Why did Electro-Motive enjoy such success in the manufacture of diesel locomotives, particularly in the transition era, while others failed?"
There is one simple explanation: EMD successfully demonstrated the diesel's ability in main line service with its pioneering FT of 1939.  By doing so, it gained a crucial PR advantage over all future competitors.
Was its 567 prime mover a solid engine that was easy to maintain?  Yes, but the favorable press EMD received also played a large part.
In his book, "The Diesel Builders: Fairbanks-Morse And Lima-Hamilton," author John Kirkland articulately explains how EMD achieved its early success:
"This then raises the question as to why, with the fine performance records that the O-P engine has consistently turned in when used as propulsion power for U.S. Navy submarines and also when used in locomotives as on the SP and the CP, were equally poor performance records turned in on some of the other locomotive applications of this engine.
The answer is very simple: it was a people problem and a mark of the frailty of humans.
On large properties where EMD power has predominated throughout the Diesel [sic] locomotive era, the man in the shop was either trained by EMD factory schooling or, as a newer employee, was trained by railroad personnel qualified on the maintenance of EMD engines.
Many of the shop supervisors were trained in EMD's training school at LaGrange.  These maintenance people have, with the passing of time, become experts at maintaining EMD equipment.
Now enter a handful of locomotives with an engine that has almost nothing in common with an EMD engine expect that is burns the same fuel.
It is impractical to send all the engine maintenance people on the system back to the Fairbanks-Morse plant at Beloit to attend classes on the O-P engine before placing the locomotives in service.
Only a very limited number of supervisory people constituting a small fraction of the mechanical force can be spared to be factory trained.
The result?  As far as the maintenance forces are concerned it is far more simple to leave the F-M maintenance manuals unopened and unread in the locker and to maintain the F-M locomotives as though they were EMDs, than to take the time and to display initiative in the job that is required to learn the specifics of how to maintain a second type of locomotive engine.
Other makes of locomotive Diesel [sic] engines have long suffered the same fate for the same reason.  When odd EMD locomotives find themselves maintained in shops where they are the Johnny-come-latelys, they too suffer from the same ill."
Locomotive Models
Switchers
| Model Type | Units Built | Date Built | Horsepower |
| --- | --- | --- | --- |
| H10-44 | 195 | 1944-1950 | 1,000 |
| H12-44 | 306 | 1950-1961 | 1,200 |
| H12-44TS | 3 | 1950-1961 | 1,200 |
Road Switchers
| Model Type | Units Built | Date Built | Horsepower |
| --- | --- | --- | --- |
| H15-44 | 35 | 1947-1949 | 1,500 |
| H16-44 | 241 | 1950-1963 | 1,600 |
| H16-66 (Baby Train Master) | 59 | 1951-1958 | 1,600 |
| H20-44 | 96 | 1947-1954 | 2,000 |
| H24-66 (Train Master) | 107 | 1953-1957 | 2,400 |
Cab Units
| Model Type | Units Built | Date Built | Horsepower |
| --- | --- | --- | --- |
| Erie-Built | 82 A Units/29 B Units | 1945-1949 | 2,000 |
| CFA16-4 | 36 A Units, 18 B Units | 1951-1954 | 1,600 |
| CPA16-5 | 6 A Units, 6 B Units | 1954-1955 | 1,600 |
| CFA20-4 | 12 A Units, 3 B Units | 1950-1952 | 2,000 |
| CPA20-4 | 8 A Units | 1950-1952 | 2,000 |
| CPA24-5 | 22 A Units | 1950-1953 | 2,400 |
---
While several Fairbanks-Morse locomotives can be found today at various railroad museums and on-display few, if any, are still operating in regular freight service.

Today F-M is still around although it is now owned by EnPro Industries. If F-M would ever decide to re-enter the diesel locomotive market it should be interesting to see what new revolutionary design they will come up with! 

Sources
Kirkland, John F. Diesel Builders, The:  Volume One, Fairbanks-Morse And Lima-Hamilton. Glendale: Interurban Press, 1985.
Marre, Louis A. Diesel Locomotives: The First 50 Years, A Guide To Diesels Built Before 1972.  Milwaukee: Kalmbach Publishing Company, 1995.
Pinkepank, Jerry A. Diesel Spotter's Guide.  Milwaukee: Kalmbach Publishing Company, 1967.
Schafer, Mike. Vintage Diesel Locomotives. Osceola: MBI Publishing, 1998.
Solomon, Brian. American Diesel Locomotive, The. Osceola: MBI Publishing, 2000.