EMD "FL9" Locomotives

Last revised: July 28, 2023
By: Adam Burns

The FL9 was one of the more unique locomotives ever conceived, developed by Electro-Motive for the New Haven (New York, New Haven, & Hartford).  A variant of the builder's FP9, the model was capable of operating as either a standard diesel-electric or straight electric via third-rail.
The NYNH&H's Boston - New York main line was partially electrified between New York and New Haven, Connecticut.  However, plans to complete its electrification into Boston never occurred due to the railroad's declining financial situation.
By the 1950s, its 11,000-volt, AC system needed a substantial overhaul, a project beyond the New Haven's means at that time.  To solve the issue, the railroad turned to EMD, which devised the dual service FL9.
While a sound theory, and reliable locomotive, the FL9 did have its operational drawbacks as will be explained in greater detail below.  Nevertheless, the fleet of 60 locomotives saw decades of service and several are preserved today.

Photos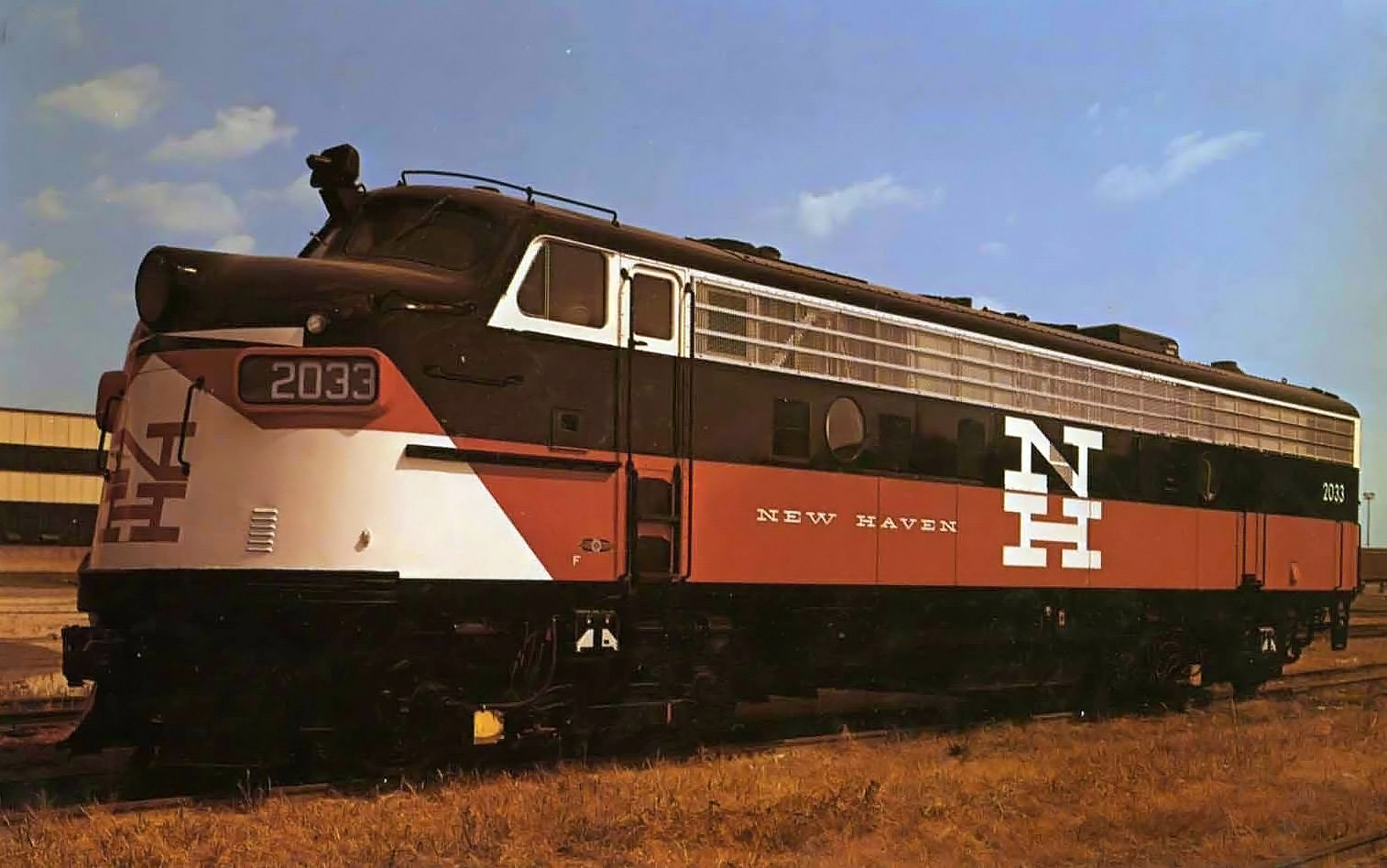 An Electro-Motive builder's photo featuring freshly outshopped New Haven FL9 #2033 in the fall of 1960.
Overview
As an F-model variant, the FL9 was the very last produced in the series with the final locomotive, #2059, rolling out of EMD's McCook, Illinois plant in November, 1960.  This locomotive solved a crucial need for the New Haven.
As Brian Solomon notes in his book, "Electro-Motive: E-Units and F-Units," by the 1950s the railroad's fleet of sixty DL-109s, Alco's early cab locomotives acquired in the early/mid-1940s, were worn out.
The railroad needed a new fleet quickly and the cash-strapped company felt a dual diesel-electric/straight electric design would solve multiple problems; allow it to operate trains into New York City over the 600-volt, DC third rail system into Grand Central Terminal as well provide through operation beyond New Haven directly into Boston.
As Bob Hayden goes on state in his book, "Diesel Locomotive Cyclopedia: Volume 2," New Haven's 11,000-volt, AC system between New York-New Haven also needed considerable work, money the railroad simply did not have during the 1950s.  
The solution was the FL9, a design based from the FP9, which itself was a variant of the F9.  This model was intended for use in passenger service, and like the FP7 was four feet longer than standard Fs to provide adequate space for the steam generator and accompanying water supply. 
There is no clear explanation from Electro-Motive denoting what the "L" in the FL9 designation described but most likely stood for "Lightweight."  This term was also used on other models, such as the GL8 export variant (a lightweight version of the G8) and the SDL39, a road-switcher built for the Milwaukee Road equipped with lightweight export trucks for use on secondary branch lines.
The FL9 was longer than even the FP9, measuring out at 58 feet, 8 inches.  The extra four feet was necessary to house the additional electrical equipment for third-rail pickup for third-rail operations in New York City.
The New Haven's first order of 30 FL9s featured GM's 16-cylinder model 567C prime mover (#2000-2029), capable of producing 1,750 horsepower.  The final 30 units featured EMD's latest 567D1 power plant, which offered a slightly greater 1,800 horsepower. 
The rear A1A road truck was an interesting design feature.  It was necessary due to axle-loading restrictions on New York's Park Avenue Viaduct, in part due to the large amount of equipment contained within the rear of the locomotive.  This included the steam generator, water tank, and previously-mentioned electrical equipment.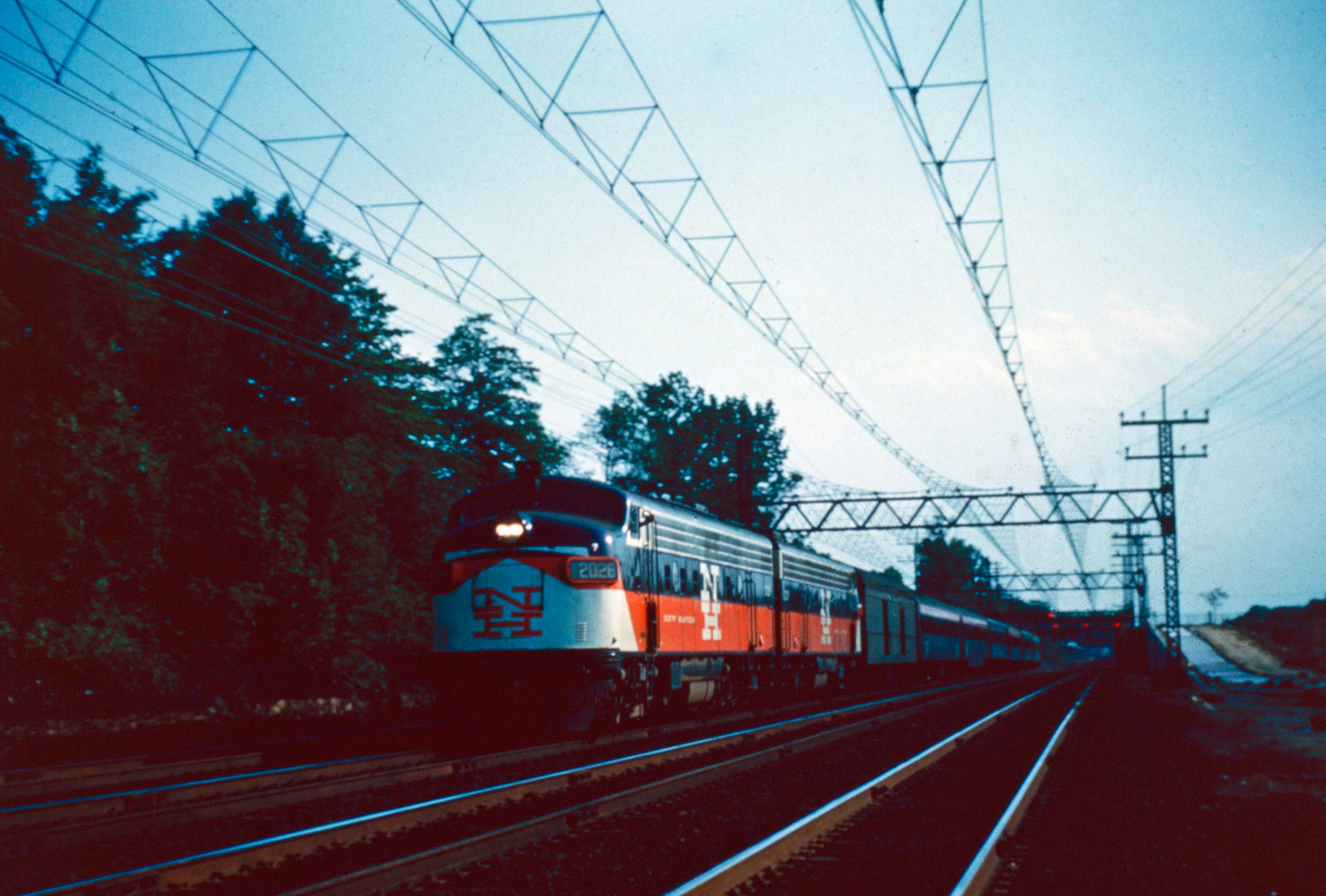 A pair of New Haven FL9's, led by #2028, work their way through New Rochelle, New York on the evening of May 30, 1958. Author's collection.
The two demonstrators initially sported a Blomberg four-axle truck, commonly found on all Fs.  However, it was soon discovered the truck's outside swing hanger design could not support a third rail shoe.  As a result, the next 28 examples (#2002-2029) were equipped with a redesigned four-axle Flexicoil truck.
Another interesting feature of the first thirty FL9s was their small pantograph.  As Mr. Solomon's book explains the intricate web of trackage in New York City, particularly near Grand Central Terminal, often resulted in gaps in the third rail at crossovers, slip switches, and other locations.
To maintain electrical contact the engineer could raise a small roof-mounted pantograph via a foot pedal.  It was only briefly needed when encountering these areas that lacked third rail.
Following its initial 30 delivered in 1957 (classed EDER-5s) the railroad returned for more in 1960.  It initially wanted a total of 98 units but could only afford 30 more, acquiring #2030-2059 between September and November, 1960.
These latest FL9s (classed EDER-5a) featured EMD's latest 16-cylinder model 567D1 engine, which sported an additional 50 horsepower.  It also featured an improved cooling circuit which no longer required roof-mounted piping.
Interestingly, the final units also bore some downgrades due to New Haven budget constraints; they did not include the pantographs, dynamic brakes, or head-end MU (multiple unit) connections.
One final feature was the addition of a narrow walkway on the outside of the cab, between the cab access door and nose, near the numberboard.  These were later added to the original units.
Operation
The FL9s were a successful and reliable design from an operational standpoint.  Nevertheless, the New Haven quickly discovered the locomotives had their drawbacks, as the potential cost-savings was not as intended.
Its heavy third-rail shoe, and other electrical equipment, was only utilized for about 10 miles in New York City.  Otherwise, it deadheaded the remaining 220 miles to Boston. 
As a result, in later years FL9s often operated only between New Haven and Boston, and the railroad continued assigning standard electrics west of New Haven.  In the Penn Central era, that began after January 1, 1969, GG-1s, and later Metroliners, were often used in electrified territory.
Data Sheet and Specifications
| | |
| --- | --- |
| Entered Production | 1/1957 (Demonstrators #2000-2001) |
| Years Produced | 1/1957 - 11/1960 |
| Engine | 567C (#2000-2029) |
| Engine | 567D1 (#2030-2059) |
| Engine Builder | GM |
| Horsepower | 1750 (567C) |
| Horsepower | 1800 (567D1) |
| RPM | 835 |
| Cylinders | 16 |
| Length | 58' 8" |
| Height (Top Of Rail To Top Of Cab) | 14' 8" |
| Width | 10' 6" |
| Weight | 259,000 Lbs |
| Fuel Capacity | 1,200 Gallons |
| Steam Generator Manufacturer | Vapor-Clarkson (Model OK4625) |
| Steam Generator Capacity | 2,000 Lbs/Hr |
| Air Compressor | Gardner-Denver |
| Air Compressor Model | WBO |
| Air Brake Manufacturer | Westinghouse |
| Air Brake Schedule | 24RL |
| Trucks | B-A1A |
| Truck Type (B Truck Only) | Blomberg (#2000-2001) |
| Truck Type (B Truck Only) | Flexicoil (#2002-2059) |
| Truck Wheelbase (Front) | 9' |
| Truck Wheelbase (Rear) | 11' 2 9/32" |
| Wheel Size | 40" |
| Traction Motors | D37B (4), GM |
| Primary Generator | D32, GM |
| Auxiliary Generator | Delco (A8102) |
| Alternator | D14 |
| MU (Multiple-Unit) | Yes |
| Dynamic Brakes | Yes |
| Gear Ratio | 62:15 |
| Tractive Effort (Starting) | 53,200 Lbs at 25% |
| Tractive Effort (Continuous) | 29,500 Lbs at 9.3 mph |
| Top Speed | 65 mph |
Production Roster
Total Built = 60
| Owner | Road Number(s) | Serial Number(s) | Order Number | Date Built |
| --- | --- | --- | --- | --- |
| Electro-Motive (Demonstrator) | 2000-2001 | 21946-21947 | 3192 | 1/1957 |
| Electro-Motive (Demonstrator) | 2002-2029 | 21948-21975 | 3193 | 7/1957-11/1957 |
| Electro-Motive (Demonstrator) | 2030-2059 | 21976-22005 | 3198 | 9/1960-11/1960 |
---
Preservation
While unsuccessful for the New Haven, the  FL9 was a reliable and low maintenance locomotive, which remained in commuter service until the early 2000s. 
Metro-North continue to employ a few until 2009 and the remainder of the fleet was subsequently sold to ConnDot.  These units continued in commuter service until the 2010s when they were donated to various museums for preservation.   A number of these are either operational or under various states of restoration.  
Sources
Foster, Gerald. A Field Guide To Trains

. New York: Houghton Mifflin, 1996.
Hayden, Bob. Diesel Locomotives: Cyclopedia, Volume 2 (Model Railroader). Milwaukee: Kalmbach Publishing Company, 1980.
Marre, Louis A. Diesel Locomotives: The First 50 Years, A Guide To Diesels Built Before 1972.  Milwaukee: Kalmbach Publishing Company, 1995.
Pinkepank, Jerry A. Diesel Spotter's Guide.  Milwaukee: Kalmbach Publishing Company, 1967.
Solomon, Brian.  EMD Locomotives.  Minneapolis: MBI Publishing Company, 2006.
Solomon, Brian.  Electro-Motive E-Units and F-Units: The Illustrated History of North America's Favorite Locomotives.  Minneapolis:  Voyageur Press, 2011.