Alco "RSC2" Locomotives

The RSC2 was the Alco's six-axle version of its RS2 design. It's purpose, as with all of the builder's RSC models, was to decrease the locomotive's axle loading for light branch line work.
In other words, the weight was spread over a wider area (six axles instead of four). A number of railroads were pleased with the concept as the locomotives could work light branch lines.
Interestingly, the American Locomotive may have never developed a six-axle road switcher had it not been for the US Army, which requested such as a variant of RS1 model known as an RSD-1.
During the time Alco cataloged the RSC2 many railroads still did not see a need for a six-axle locomotive and as such, few sold.  Of note, after producing the RSD-1 for the Army Alco did not offer another six-axle Road Switcher model in its catalog until 1951. 
The RSC3 of the early 1950s was the final A1A-A1A design the builder offered to domestic railroads (its Montreal Locomotive Works branch did offer an RSC13 and RSC24 for Canadian lines through the late 1950s).
Today, at least one RSC2 is preserved, Milwaukee Road #988 at the Mid-Continent Railroad Museum in North Freedom, Wisconsin (where members are attempting to restore the locomotive to operation).
Seaboard Coast Line RSC2 #1100 (built as Seaboard Air Line #1502 in 1947) is seen here in Hamlet, North Carolina on January 24, 1974. Warren Calloway photo.
RSC-2 History And Background
The Alco RSC2 began production alongside its sister model, the RS2, in 1946 using the same model 244 prime mover.  Railroads still had yet to embrace such a design in diesels and even market leader Electro-Motive had difficulty selling its SD7 and SD9. 
Still, after the success Alco saw with the Army's interesting RSD-1 it decided to offer a similar version in the more powerful RS2.   At 1,500 horsepower the RSC2's one advantage was advertised as the distribution of its weight spread over a large area.
Alco's Road-Switcher Models
From a historical perspective, Alco never cataloged an "RSD-1."  The manufacturer simply listed it as a six-axle RS-1.  The term "RSD-1" was coined solely by railfans.
This point is explicitly stated in John Kirkland's book, "The Diesel Builders" Volume Two."  If you are able, locate a copy of this out-of-print resource.   It not only offers an in-depth look on Alco's diesel production but also how railfans of the era came up with model designations the builder never actually used. 
Unfortunately, those efforts have led to confusion and misidentification into the modern era. The advantage with this setup meant that the already lightweight model (at just 117.5 tons) could more easily negotiate secondary and branch lines that were laid with lighter rail. 
One railroad that found the model quite useful was the Milwaukee Road.  
The Milwaukee was the first railroad to begin receiving its batch of RSC2s in November, 1946 wishing to test its usefulness and effectiveness on its own secondary lines, in this case its Valley Division in north-central Wisconsin (and headquartered in Wausau).

Interested in the maintenance savings and retire its fleet of steam locomotives but worried about weight restrictions the Milwaukee employed its first 18 RSC2s on the route and they proved to be quite adept in such a capacity.
The railroad would go on to roster twenty-two RSC2s and in future years returned to Alco purchasing many of its six-axle Road Switcher models.  
In later years the locomotives were replaced by Electro-Motive's SDL39, a special variant built only for the Milwaukee that was used in a similar fashion.  The Seaboard Air Line turned out to be the largest  buyer of the RSC2. 
However, unlike the Milwaukee the SAL assigned theirs to various tasks.  The first thirty-one delivered between 1947 and 1949 (#1500-1530) were used in light branch work.  The rest, however, including #1531-1536 were all equipped with steam generators and used in passenger service.
Alco RSC2 Data Sheet
| | |
| --- | --- |
| Alco Class | 606-DL-250 |
| Entered Production | 10/2/1946 (Milwaukee Road #975) |
| Years Produced | 10/2/1946-4/11/1950 |
| Model Specification | E1661/A/B/C |
| Engine | 244, V-12 |
| Horsepower | 1,500 (Increased to 1,600 HP in variant E1661C.) |
| Carbody Styling | Alco |
| Length (Between Coupler Pulling Faces) | 55' 11.75" |
| Weight | 250,000 Lbs. |
| Dynamic Brakes | Optional |
| Trucks | A1A-A1A |
| Truck Type | C-Type |
| Truck Wheelbase | 10' 6" |
| Wheel Size | 40" |
| Traction Motors | GE 726 (4): (Later upgraded to GE 752 [4].) |
| Traction Generator | GT564 (Upgraded to GT564C in variant E1661A.) |
| Steam Generator | Optional |
| Gear Ratio | 74:18 |
| Tractive Effort Rating | 34,000 lbs. at 13.5 MPH (Later increased to 42,500 lbs. at 11 MPH.) |
| Top Speed | 65 MPH |
 Alco RSC2 Production Roster
| Owner | Road Number(s) | Quantity | Completion Date |
| --- | --- | --- | --- |
| Alco Demonstrator | 1190 (Became Union Pacific #1190) | 1 | 2/14/1947 |
| Algerian Railways | 040DD5 | 1 | 2/1950 |
| Milwaukee Road | 975-996 | 22 | 10/2/1946-2/1949 |
| Portuguese Railways | 101-106, 1101-1106 | 12 | 1948 |
| Seaboard Air Line | 1500-1536* | 37 | 1947-1950 |
| Soo Line | 368-371 | 4 | 1949 |
| Union Pacific | 1180-1190 | 11 | 1947-1948 |
* #1532 - #1536 were of the E1661C variant boasting 1,600 horsepower.  These were the only RSC2's manufactured with the additional 100 horsepower rating.
Sources:
Foster, Gerald. A Field Guide To Trains. New York: Houghton Mifflin, 1996.



Kirkland, John F. Diesel Builders, The:  Volume Two, American Locomotive Company And Montreal Locomotive Works. Glendale: Interurban Press, 1989.


Pinkepank, Jerry A. Diesel Spotter's Guide.  Milwaukee: Kalmbach Publishing Company, 1967.


Solomon, Brian. Alco Locomotives. Minneapolis: Voyageur Press, 2009.
---
---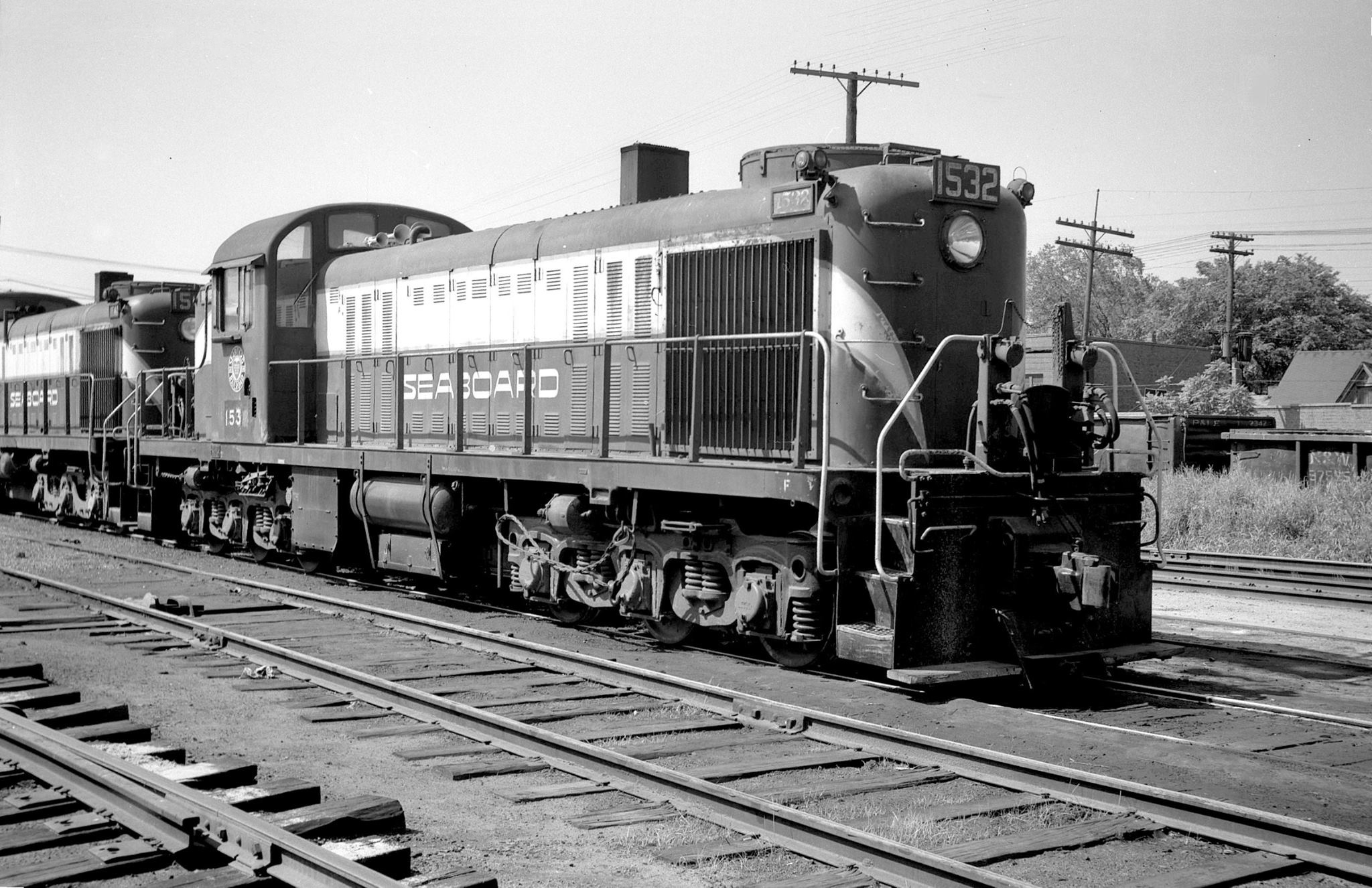 A pair of Seaboard Air Line RSC2's are seen here in Durham, North Carolina on August 25, 1960. The SAL purchased a large batch of this six-axle variant. Wiley Bryan photo/Warren Calloway collection.
Interestingly, after less than a decade of service the Seaboard re-trucked several to four axles after they began experiencing wheel slip issues.  Only eleven remained in service after 1965 and all were retired by the Seaboard Coast Line after 1974. 
Mechanically, the RSC2 was all but identical to its four-axle cousin save for just a slight increase in length at 55 feet, 11 inches. The RSC2 was produced until 1950 but sold less than 100 units (whereas the RS2 sold over 400).
Still, four Class I railroads purchased the RSC2 with the Seaboard Air Line owning the most, 37 (the Soo Line owned four units and the Union Pacific purchased another 10 with the rest purchased by foreign lines).