"Black Maria" Diesel Locomotive

Last revised: June 13, 2023
By: Adam Burns

Such a curiously and morbidly named locomotive, the Black Maria, was actually the American Locomotive Company's (Alco) entrance into the diesel road market. 

The name, curiously enough, was coined by railfans since Alco always left this three-unit set in standard black paint. For Alco, the locomotive was known by its specification number as the DL-203-1 for the two A units and DL-203-2 for the single B unit. 
The A-B-A set was the only ever built, which also carried the experimental model 241 prime mover that likewise never entered full-scale production.  The Maria tested on several different railroads in the Northeast before being pulled from service and scrapped a few years after the war.
Ultimately, the builder gained several important insights with the Black Maria as the locomotive set led to the development of its future FA/FB series, Alco's most successful line of freight cab models. 
Photos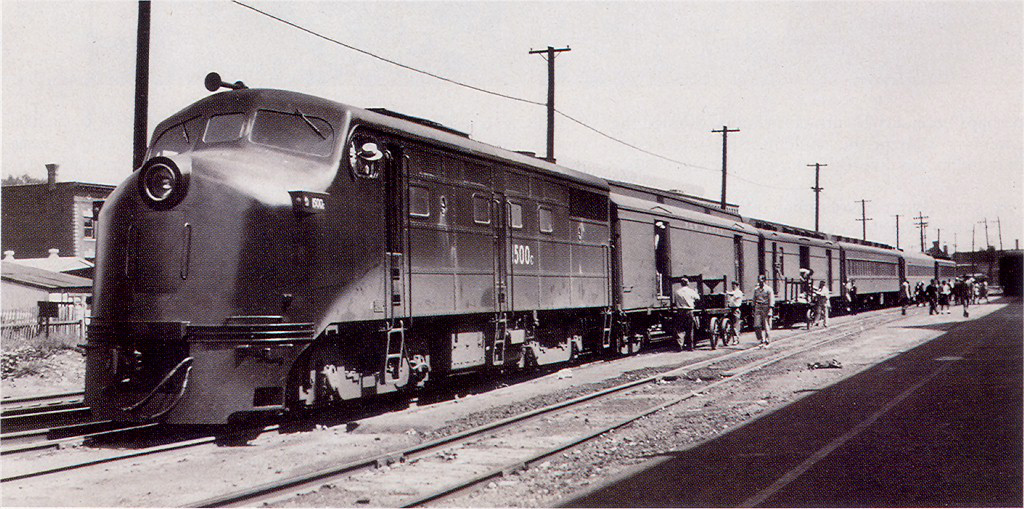 "Black Maria" A unit #1500C boards passengers at New Britain, Connecticut with westbound train #131 (Hartford-Waterbury) at 12:45 P.M. while testing on the New Haven Railroad on August 31, 1946.
When World War II struck America in December of 1941 the United States government, through the War Production Board (WPB), curtailed the-then three primary locomotive manufacturers, Baldwin, Alco, and EMD, from building new diesels in an effort to focus on the war effort.
During those trying years, and in an attempt to continuing pushing technological development, Alco and Baldwin pushed the WPB to allow experimental designs for R&D purposes. 
For Electro-Motive, it already held a significant advantage through its FT cab model, which had already been in production since 1939 and had convinced railroads that diesels were the future.  Alco was looking to replicate EMD's success by creating its own version of the groundbreaking FT.
In the fall of 1943 it was given permission to built a 4,500 horsepower, 3-unit set, of freight diesels for testing.  The company began a new prime mover that was meant to replace its model 539/T.  This power plant had been used in its early switchers (the S1, S2, S3, and S4), as well as its new RS1, the very first road-switcher to enter the market. 
The model 241 (designated by the last two digits that referred to the year in which it entered production) was a four-cycle engine that used a 9 x 10.5-inch bore and stroke produced by McIntosh & Seymour of Auburn, New York.
The prime mover was a 12-cylinder version and could produce 1,500 horsepower, which was slightly more powerful than a single-unit FT, although EMD's later F3 of 1945 offered a 1,500 rating as well.  Curiously, in 1944 Alco began designing yet another diesel engine, the model 244 that would go on to power its production cab models, the FA and PA.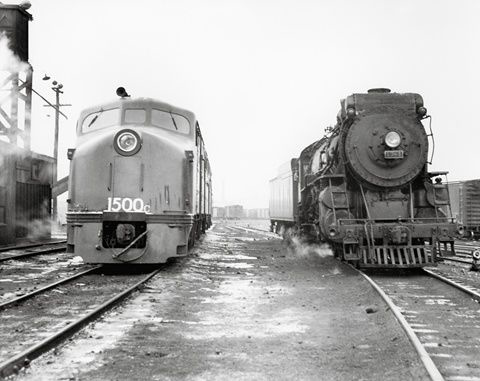 An American Locomotive publicity photo of "Black Maria" A unit #1500C and New Haven 4-6-2 while testing on the NYNH&H circa 1946.
However, the builder stuck with the 241 for its experimental A-B-A set which was released in September of 1945.  The cab units were known simply by their specification numbers, DL-203-1 for the two As and DL-203-2 for the single B. 
The locomotives were given road numbers as #1500A, #1500B, and #1500C.  It has often been stated they resembled Alco's earlier DL-109/DL-110 series built during the early 1940s.  These variants were built for passenger service, featuring A1A-A1A trucks and powered with the 538T/539T prime movers.  A handful of railroads purchased the DL model, most going to the New Haven where they spent more than 20 years in service.  
In this author's opinion, aside from the angle of the windshield, and its three-piece design, the Black Maria actually more closely resembled EMD's F3 with a similar carbody, overall length (51 feet, 6 inches that was 23 feet shorter than the DL-100s), and four-axle truck arrangement.
Data Sheet and Specifications
| | |
| --- | --- |
| | A Units |
| Road Numbers | 1500-A, 1500-C |
| Completion Date | 9/18/1945 (#1500-A), 9/27/1945 (#1500-C) |
| Model Specification | DL203-1 |
| Engine | 241, V-12 (1) |
| Horsepower | 1,500 |
| Carbody Styling | Alco |
| Length (Between Coupler Faces) | 51' 6" |
| Dynamic Brakes | Yes |
| Trucks | B-B |
| Truck Type | Swing Bolster, Drop-Side Equalizer (Designed by James G. Blunt) |
| Truck Wheelbase | 9' 4" |
| Traction Motors | GE 726 |
| Traction Generator | GT564A |
| Gear Ratio | 65:18 |
| Top Speed | 75 MPH (#1500-C later re-geared for 80 MPH, circa 1946, to match New Haven's DL-109's.) |
| | B Unit |
| Road Numbers | 1500-B |
| Completion Date | 9/1945 |
| Model Specification | DL203-2 |
| Engine | 241, V-12 (1) |
| Horsepower | 1,500 |
| Carbody Styling | Alco |
| Length (Between Coupler Faces) | 50' 2" |
| Dynamic Brakes | Yes |
| Trucks | B-B |
| Truck Type | Swing Bolster, Drop-Side Equalizer (Designed by James G. Blunt) |
| Truck Wheelbase | 9' 4" |
| Traction Motors | GE 726 |
| Traction Generator | GT564A |
| Gear Ratio | 65:18 |
| Top Speed | 75 MPH |
Testing (1945)
The Black Maria tested extensively as a set, as well individually, on the Bangor & Aroostook, New Haven, Erie Railroad, and Delaware & Hudson. 
During this time it was used in both freight and passenger service.  In the end, Alco opted not to put the 241 engine into full-scale production, believing the later 244 was a more reliable prime mover.  Interestingly, only months after it began testing, Alco released its new FA/B-1 freight model in December of 1945, equipped with the 244 engine. 
This new cab design sported an entirely new, different look that was quite appealing yet completely distinctive from EMD, and everyone else.  As a prototype, and not a true demonstrator, the Maria set was stored after the FA's debut.
Postscript
It sat at Alco's plant in Schenectady, New York for some time before finally being scrapped in September of 1947.  By then the FA, and its passenger counterpart the PA, were in full production. 
Both models initially sold well, but as the 244 engine experienced numerous mechanical issues, a result of Alco's failure to carry out extensive research and development, sales quickly faded.  Ultimately, the 244's problems harmed Alco's reputation as a locomotive builder.
---
244 Power Plant
The company would later release the much more reliable model 251 power plant during the mid-1950s but by then railroads had turned away from the builder in favor of Electro-Motive's popular GP7 and GP9 models.. 

In hindsight one wonders if Alco should not have stuck with the 241 engine over the 244.  This very argument is made by John Kirkland in his book, "The Diesel Builders: Volume Two."  It appears the 241 engine actually proved quite successful in freight service.
However, Alco management, having already decided on the 241, which had entered full production by that time, apparently did not want the embarrassment of a testbed model outperforming its "proven" engine.
It was odd and curious decision to ever carry out tests on an engine the builder never intended to use.  In any event, the Black Maria is an interesting historical footnote in the development of first-generation diesel locomotives.

Sources
Kirkland, John F. Diesel Builders, The:  Volume Two, American Locomotive Company And Montreal Locomotive Works. Glendale: Interurban Press, 1989.
Solomon, Brian. Alco Locomotives. Minneapolis: Voyageur Press, 2009.
Solomon, Brian. American Diesel Locomotive, The. Osceola: MBI Publishing, 2000.