Baldwin "AS-16" Locomotives


The AS16 began a new series and designation system for Baldwin's diesel line, one which was much simpler and easier to grasp than the complicated hyphens and numbers used before.
Interestingly, this new series also found Baldwin becoming a bit more successful as a locomotive manufacturer, although it remained well behind the American Locomotive Company (Alco) and Electro-Motive in the market. 
Interestingly, this improvement was likely not a coincidence. With the unveiling of its Standard Line in 1950 the company released an updated prime mover with the goal of becoming a more dominant player in the locomotive market once more. 
While the Baldwin's latest designs were still not of the quality cataloged by Electro-Motive they were certainly a step in the right direction and an improvement over earlier designs. Unfortunately, with its purchase by the Westinghouse Electric Company, Baldwin's direction was steered away from locomotive manufacturing thus ending any ideas of remaining a major competitor.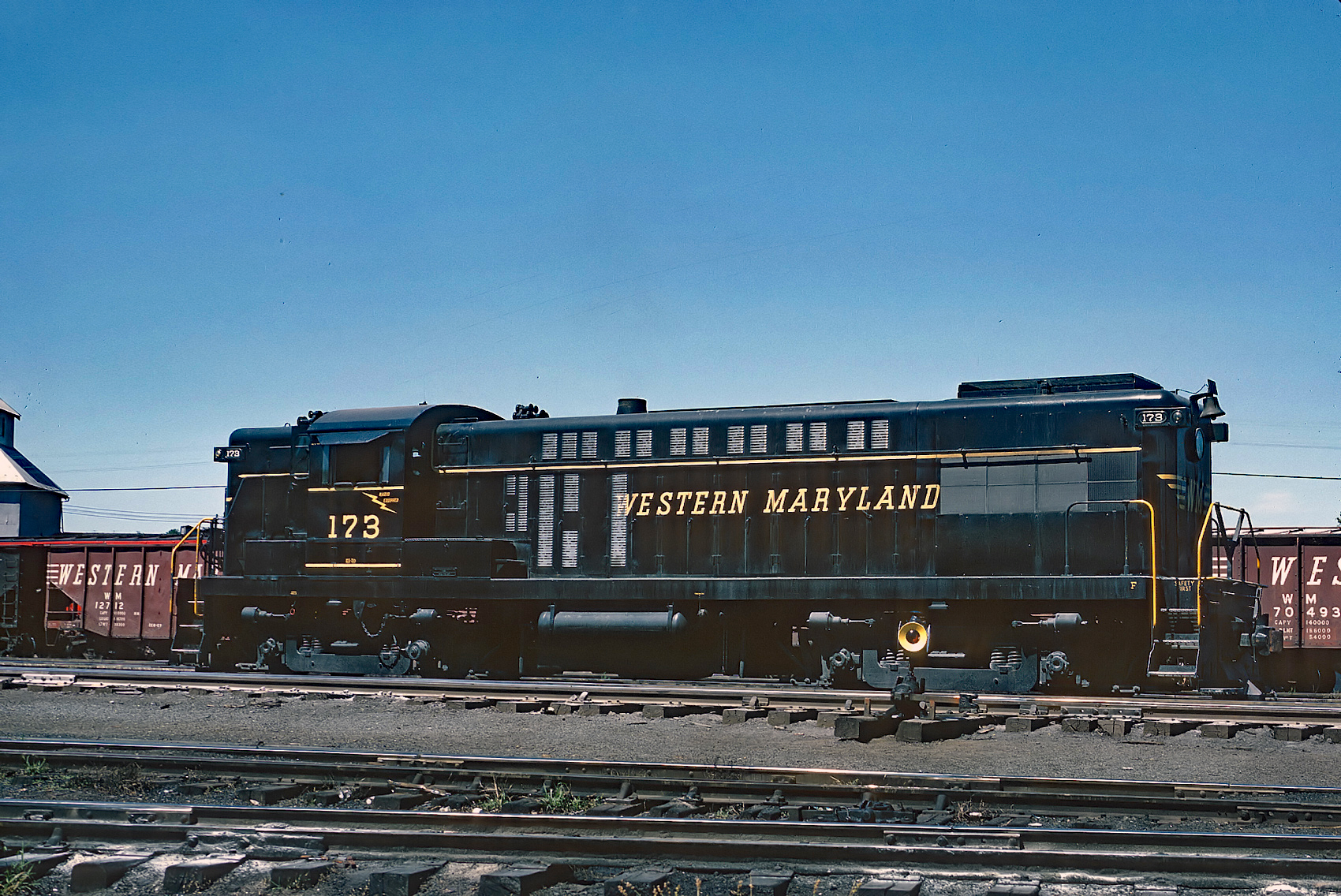 Western Maryland AS16 #173 is seen here between assignments in Hagerstown, Maryland during September of 1964. The WM purchased just four examples of the model. Roger Puta photo.
The Baldwin AS16 began production in 1950 and it introduced the manufacturer's new Standard Line of diesels. "Standard" most definitely is an understatement as the new designations were easier to understand and far simpler than previous descriptions for its locomotives. 
Taking direction from Alco and EMD, Baldwin used a plain one or two letter designation for each model followed by two or three numbers.
In part, this was due to its discontinuance of manufacturing steam locomotives after 1949, realizing the motive power could no longer compete in the market.  Its new designations were as follows: AS stood for All Service, RS for Road Switcher, RF for Road Freight, and RT for Road Transfer.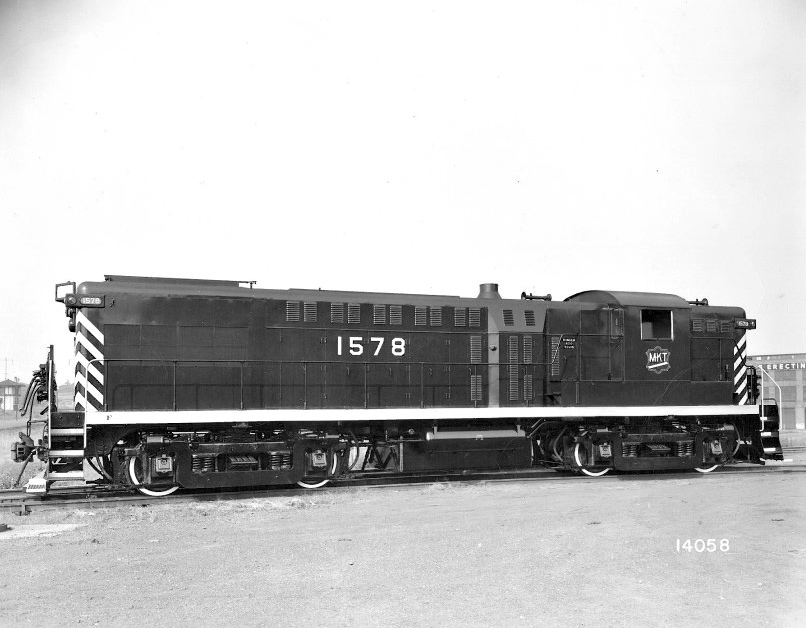 A Baldwin company photo of new Missouri-Kansas-Texas Railroad (Katy) AS16 #1578 taken in the early 1950s.
The system included the number of powered axles and horsepower, although the AS16 was the only Standard Line road switcher not to include the former in its designation.
For instance, the AS416 meant All Service road switcher that featured 4 powered axles and 1,600 horsepower. Utilizing Baldwin's updated 608A SC prime mover, the AS16 sold relatively well at least when considering the builder's diesel line as a whole.
In terms of its road switchers the AS16 was the second highest seller with 127 sold to  several Class I railroads including the B&O, Erie, Katy, St. Louis Brownsville & Mexico (Missouri Pacific), Nickel Plate, Pennsylvania-Reading Seashore Lines (PRSL), Soo, Reading, and Western Maryland (the Reading purchased the most, 43).
The AS16 was produced between 1950 and 1955, after which time the Baldwin-Lima-Hamilton Corporation (a formation of the Baldwin Locomotive Works and Lima-Hamilton Corporation) called it quits.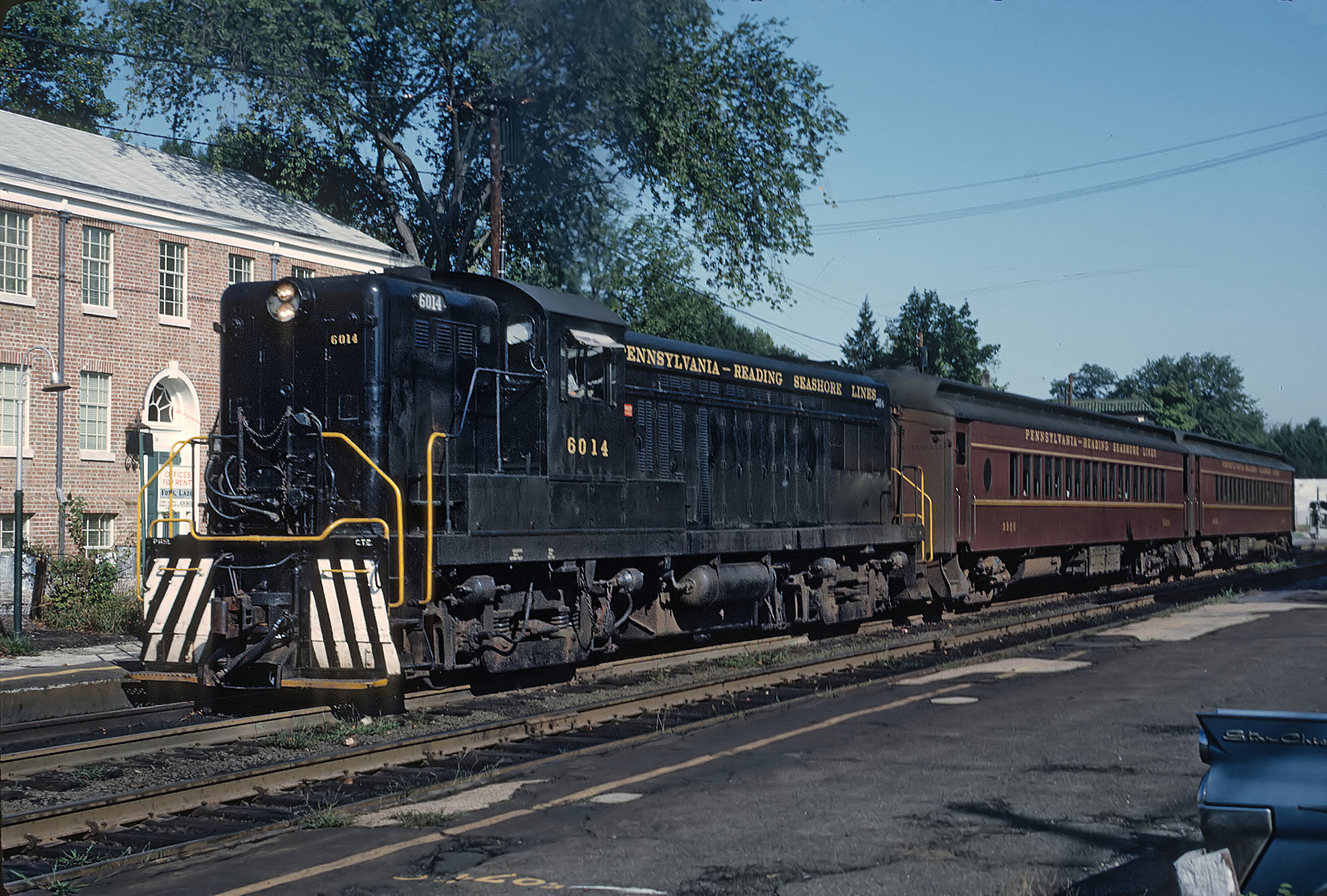 Pennsylvania-Reading Seashore Lines AS-16 #6014 has train #1001 arriving at Haddonfield, New Jersey on September 2, 1965. Roger Puta photo.
While the AS16 was not nearly as popular as Alco's RS3 or EMD's GP7, both four axle road switchers in production at the same time, it did feature comparable tractive effort ratings; 59,000 pounds starting and 52,500 pounds continuous.
As usual, all internal components were supplied by Westinghouse and once again, BLH failed to offer the AS16 with dynamic braking. Why the company elected to preclude this option has always remained a mystery considering the benefits it offered, particularly in heavy freight/drag service on stiff grades, and the fact that both the RS3 and GP7 offered the feature.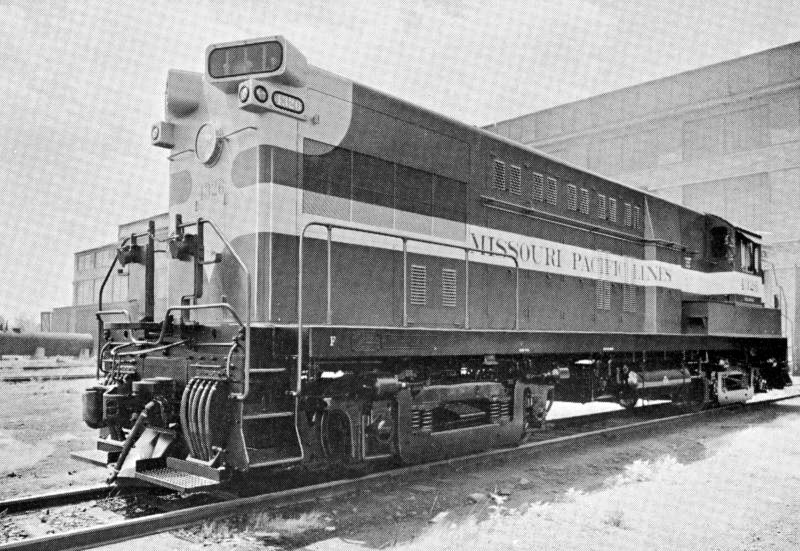 A Baldwin company photo of Missouri Pacific AS16 #4326 taken during 1954. The MoPac owned eight AS16s in all; #4195-4196 and #4326-4331.
Baldwin AS16 Production Roster
| Owner | Road Number(s) | Quantity | Date Built |
| --- | --- | --- | --- |
| Baltimore & Ohio | 890-905 | 16 | 1952-1955 |
| Erie Railroad | 1106-1120, 1140 | 16 | 1951-1952 |
| International-Great Northern Railroad (MP) | 4195-4196 | 2 | 1950-1953 |
| Missouri-Kansas-Texas Railroad (Katy) | 1571-1586, 1787-1788 | 18 | 1950-1953 |
| Nickel Plate Road | 320-323 | 4 | 1953-1954 |
| Pennsylvania-Reading Seashore Lines (PRSL) | 6007-6016, 6022-6027 | 16 | 1953-1956 |
| Reading | 530-554, 560-589 | 55 | 1951-1953 |
| Soo Line | 379-380 | 2 | 1951 |
| St. Louis, Brownsville & Mexico Railroad (MP) | 4326-4331 | 6 | 1954 |
| Western Maryland | 173-176 | 4 | 1951 |
---
---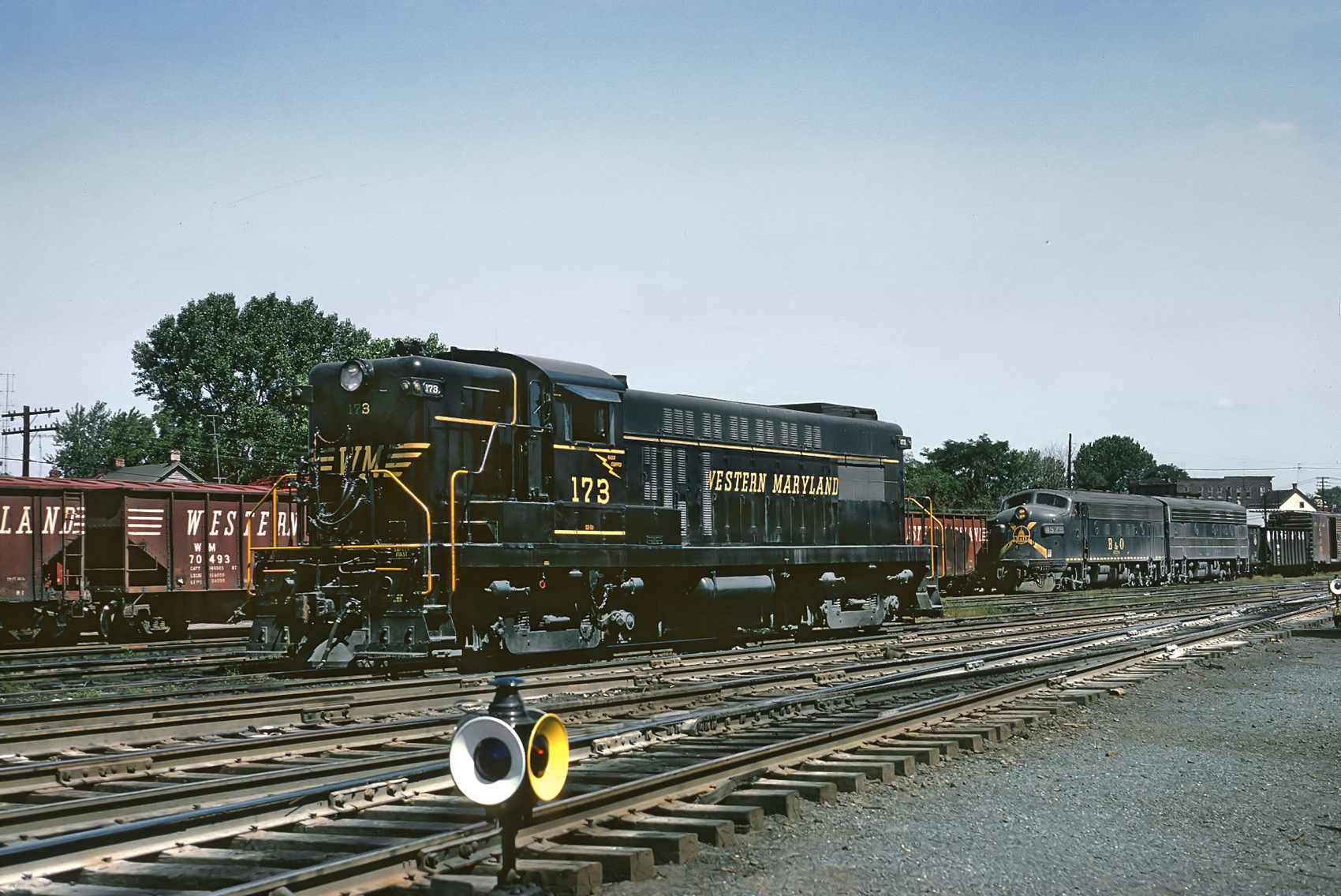 Western Maryland AS-16 #173 was captured here by Roger Puta in the Hagerstown Yard during September of 1964. Note the Baltimore & Ohio F7's in the background.
Ultimately, none of Baldwin-Lima-Hamilton's road switcher models included dynamic braking, something which was certainly not overlooked by railroads and another reason why the AS16 saw fewer sales compared to the competition. 
Still, the one selling point for the locomotive that many did like was its impressing lugging ability, a Baldwin trademark that also helped Alco's marketing as well. 
Unfortunately, today, none of the AS16s manufactured are known to be preserved or in operation.  Lastly, for more information about the AS16s and a complete production roster please refer to the chart listed above.