GE "C40-9/W" Locomotives


The GE C40-9 and C40-9W was essentially a de-rated C44-9W built specifically for Norfolk Southern from the mid-1990s through the mid-2000s. Also per NS's desire at the time the railroad's first order of 4,000 horsepower "Dash 9s" all came equipped with standard cabs instead of the more traditional wide, safety cabs. Eventually the company was required by the FRA to purchase the wide cab design and was only able to roster about 125 units with the common standard cab. The "Dash 9" series followed the previous "Dash 8s" in the mid-1990s with upgraded electronics and other components, and NS would come to own more than 1,200 of the C40-9s. They served the railroad well for nearly 20 years.  While most remain on the active roster hauling freight they have since entered a rebuild program.
Working in conjunction with General Electric, NS began upgrading the locomotive in 2015 to offer 4,400 horsepower, thus giving them a C44-9W rating.  They also began testing a DC to AC conversion that year beginning with #8879.  As part of the overhaul it received a GE wide nose/cab and locomotive speed limiter (LSL) installed, as well as cab signals. It was reclassified as a AC44C6M.  It appears Norfolk Southern's entire fleet, both old C40-9's and C40-9W's, will eventually be overhauled to receive these new upgrades with work continuing through the early 2020's.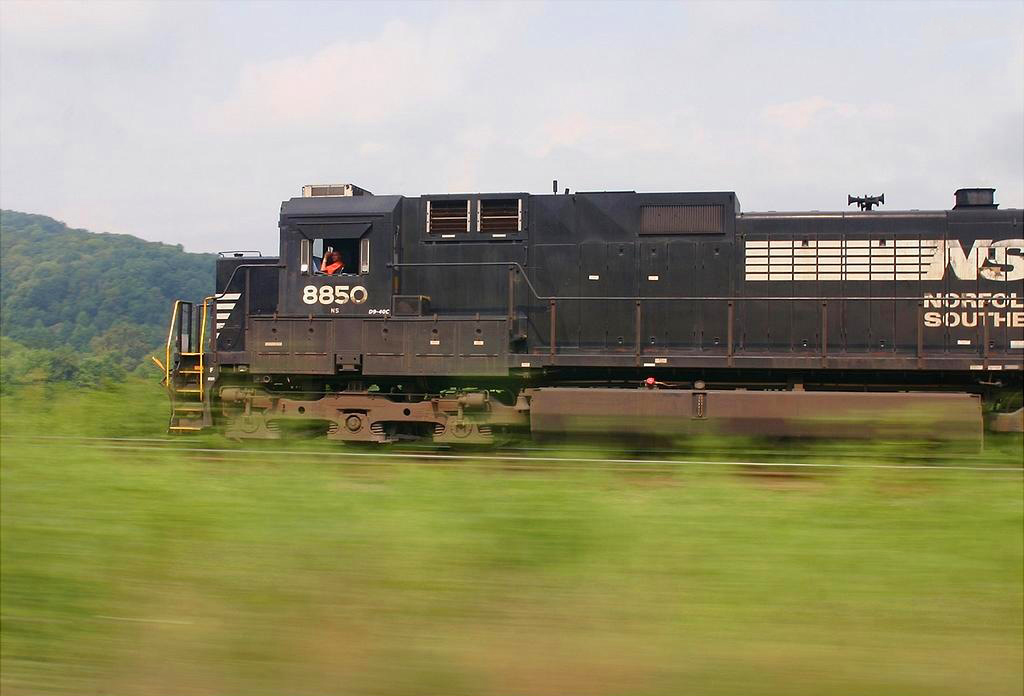 The photographer receives a wave from the conductor in Norfolk Southern C40-9 #8850 as it leads an eastbound freight near Cyrus, West Virginia on the Kenova District of the Pocahontas Division on July 1, 2004. Wade Massie photo.
The C40-9 and C40-9W built for Norfolk Southern were actually constructed a year after the C44-9W debuted in 1994. Essentially the two are nothing more than less powerful C44-9Ws. The model was a step up from the "Dash 8s" in that it featured upgraded components and electronics such as new traction motors and a redesigned generator. The GE model B13B traction motor, which replaced the model 752 (a design that had been used by the company dating back to the Universal series), although the new design was just as reliable if not more so than the former. The C40-9/W was one of the first GE locomotives to be equipped with the relatively new high-adhesion (or HT-C) truck, which helped to improve wheel-to-rail contact. The "Dash 9s", however, still carried GE's model 16FDL prime mover.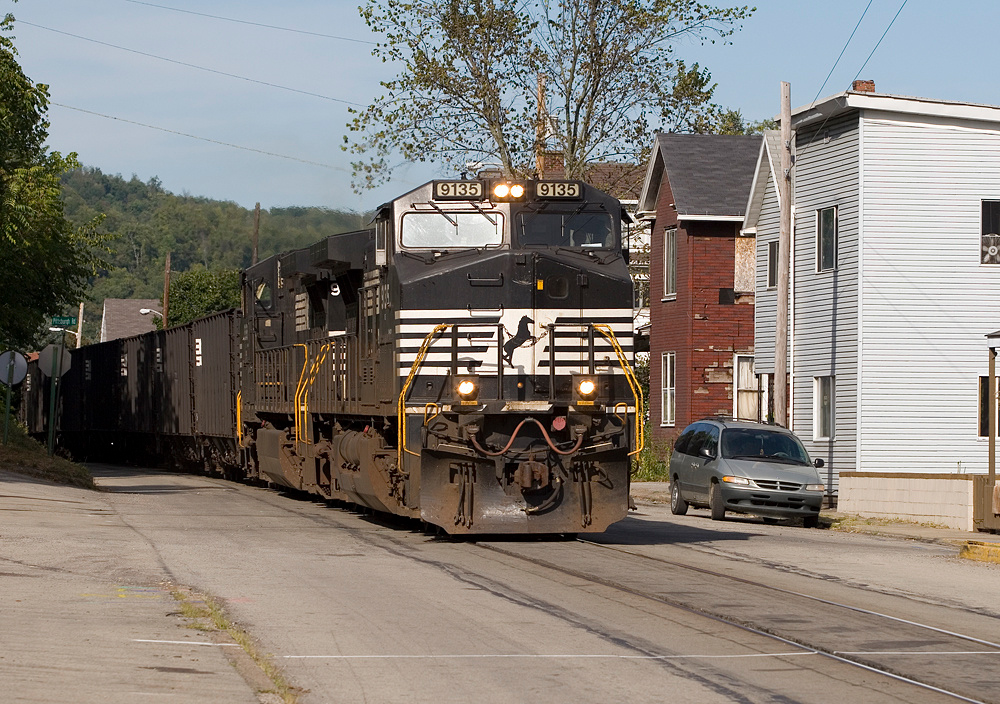 Norfolk Southern C40-9W #9135 leads empties down Main Street in West Brownsville, Pennsylvania over the old Monongahela Railway on August 25, 2008. Wade Massie photo.
One of the design's notable selling points was the incredible tractive effort it offered (140,000 pounds starting and 109,000 pound continuous), which also included the more powerful C44-9W model. Production of the locomotive began in early 1995 and all 125 purchased by NS were completed that year. Very happy with this first batch and desperately needing power to keep up with the traffic demands of the economic boom occurring in the U.S. at the time; a year later, in early 1996 NS returned for more, in this case the C40-9W model, which featured the wide, safety cab.
Before being forced to buy wide-cabs, NS purchased 125 C40-9 standard cabs in the mid-1990s. Here, #8803 leads a string of coal hoppers northbound near Pittsburgh on November 2, 2005. Wade Massie photo.
While NS did go on to purchase GE models like the C44-9W for nearly ten years it continued to order C40-9Ws as needed, through late 2004 until GE ended production on the model. When the manufacturer released the more energy efficient Evolution Series (ES) models in 2005 NS continue to purchase the design in the new series. Today, the road continues to buy Evolutions with 4,000 horsepower known as ES40DCs. In any event, by the time GE had closed out the C40-9W order for NS it owned nearly 1,100 units, and more than 1,200 in all. Up to that time it was one of the largest ever single orders for a particular model by a railroad.  While it is tough to tell given the similarities between GE's present day models nearly all of Norfolk Southern's original fleet of C40-9/Ws continue to remain in regular freight service, either in their original form or as the upgraded AC44C6M.
Norfolk Southern C40-9W #9191 and a former Conrail unit have freight 19G near Vandyke, Pennsylvania on June 23, 2008. Rob Kitchen photo.
GE C40-9/W Production Roster
| Owner | Road Number(s) | Quantity | Date Built |
| --- | --- | --- | --- |
| Norfolk Southern | 8764-8888 (C40-9) | 125 | 1995 |
| Norfolk Southern | 8889-9978 (C40-9W) | 1090 | 1996-2004 |
---
---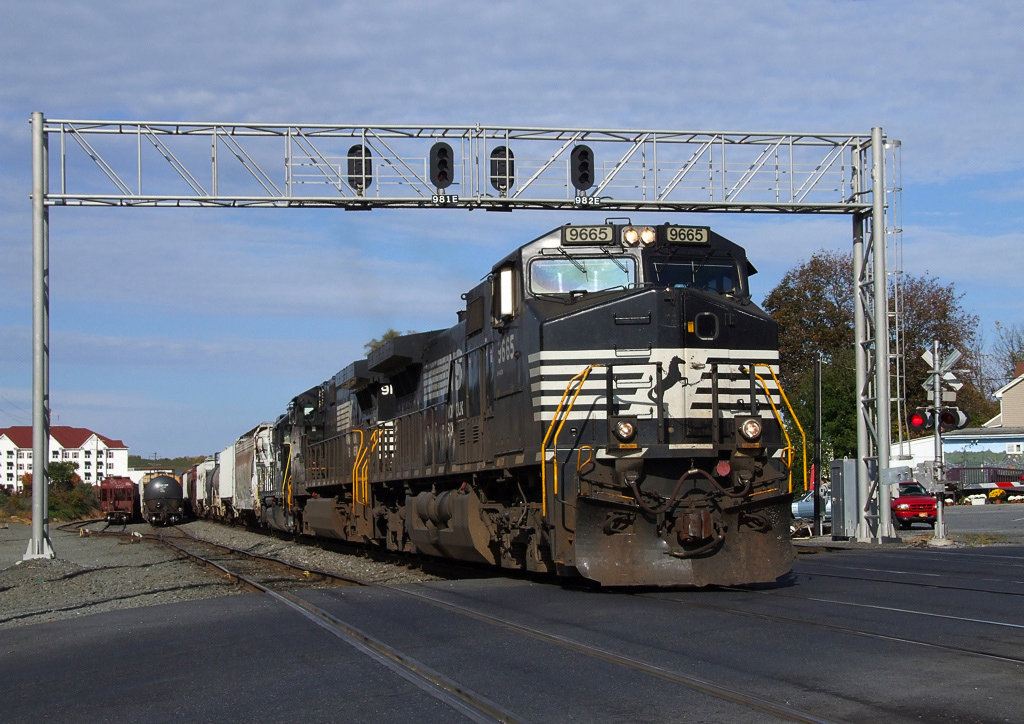 A pair of Norfolk Southern C40-9Ws, led by #9665, exit the Hershey Chocolate Yard in Hershey, Pennsylvania after completing their switching chores with train 19G on October 18, 2008. Rob Kitchen photo.
For more reading about General Electric diesel locomotives there are a few books written by noted historian Brian Solomon worth mentioning which highlight the history and background of the company.  First, is GE Locomotives, a title that provides a thorough history of its locomotive line from the earliest days of building electrics and experimental diesels to the latest models built through the early 2000s.  Second, is GE And EMD Locomotives: The Illustrated History, which generally highlights the history of both company's designs.  As with virtually all of Mr. Solomon's you can expect well-written titles with large, crisp, and sharp photographs featured throughout.