EMD "710" Engine

Last revised: March 14, 2023
By: Adam Burns

It may be hard to believe but Electro-Motive's current power plant, the model 710, was in production from the early 1980s until 2014. 

At that time EMD was a division of General Motors but after a few changes in ownership the builder is now part of Caterpillar. 
The development of the prime mover came about largely because of the failure of the model 645F, which was plagued with reliability issues particularly powering the SD50. 
This cost EMD the top spot as lead locomotive manufacturer, losing out to General Electric, a scenario which has remained unchanged after more than 30 years.  The last variant of this model, 710G, was featured in the SD70ACe, manufactured until 2014.

Naturally, the relatively recent development of the 710 means the engine remains in widespread use across the industry. 
The future of Electro-Motive as a manufacturer is uncertain.  It survives in name only as part of Progress Rail and has struggled to find many sales.
Photos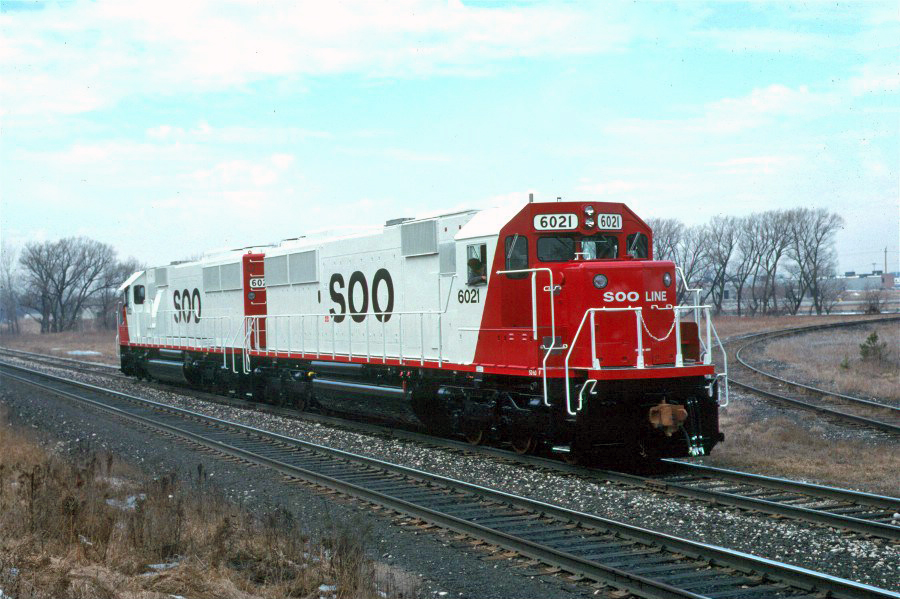 A pair of new Soo Line SD60's are on the test track at Electro-Motive's (General Motors Diesel) London, Ontario plant on March 11, 1989. Brian Rackley photo.
History
In 1981 EMD released its next road-switcher to succeed the highly successful SD40-2 (which was still in production at the time), the SD50. 
This locomotive carried the builder's latest prime mover the 16-cylinder, model 645F3B.  For the first time since Electro-Motive cataloged diesels, beginning with the FT of 1939, reliability became a problem in the SD50. 
Despite its power and new microprocessor controls the model's latest 645F engine, which had been so reliable on the SD40-2 and other earlier designs, was riddled with mechanical trouble and the electrical system was difficult to maintain. 
When EMD pulled the plug on the SD50 in 1985 just 361 units had been manufactured, less than 10% of the sales of the SD40-2.  General Motors' subsidiary knew it needed a new power plant, and quickly, to not only repair its reputation but also keep pace with General Electric.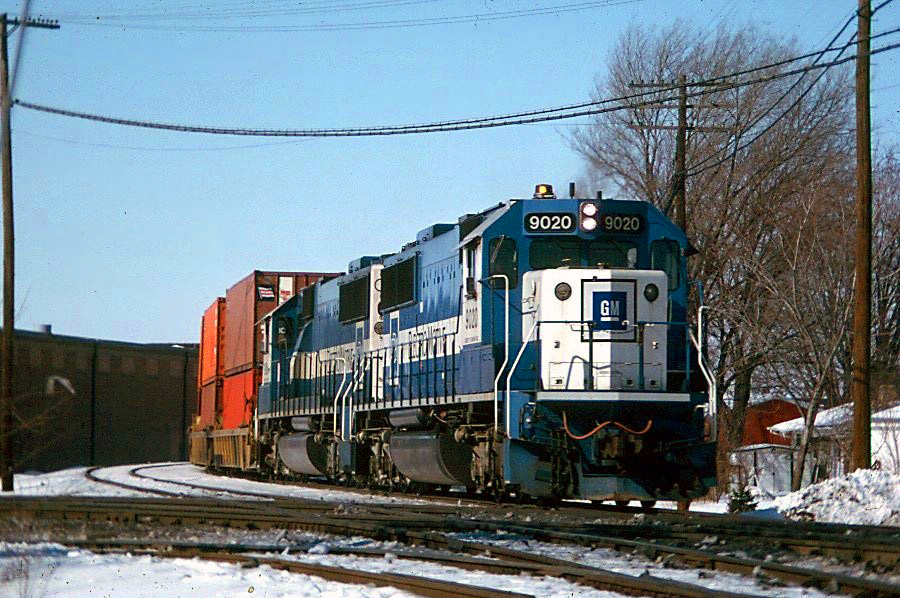 During the 1990's, General Motors operated a locomotive leasing division. Here, a pair of SD60's have train #12, an eastbound intermodal, about to cross the Chicago & North Western at Rochelle, Illinois on February 18, 1990. Brian Rackley photo.
Development
After going back to the drawing board EMD released the SD60 in 1984, which carried the new model 710 prime mover. 
This diesel engine corrected the flaws of the 645F while offering more power by further increasing displacement to 710 cubic inches. 
However, the power plant still carried a two-stroke, "V" design that has always been uncommon in the world of diesel locomotives. 
Its engine speed of 900-950 rpm stayed true to the 645 model although horsepower took a jump to 3,800 over the 3,600 normally offered among EMD's standard line up until that time. 
The 710 did usher in two new features from all earlier Electro-Motive prime movers; it was offered only with turbocharging and had electronically-controlled unit injectors (the previous 645 and earlier 567 used mechanically-controlled unit injectors).
Specifications
Builder

Electro-Motive Division (General Motors)/Progress Rail

Years Produced

5/1984 - Present

Type

2-Stroke, "Vee"

Bore & Stroke

9 3/16" x 11"

Cylinder Displacement

710 Cubic Inches

Length

143" (8-cylinder)

181" (12-cylinder)

219" (16-cylinder)

253" (20-cylinder)

Width

68"

Height

108"

Weight

24,912 Lbs (8-cylinder)

32,187 Lbs (12-cylinder)

39,683 Lbs (16-cylinder)

42,297 Lbs (20-cylinder)

RPM

900-950

Cylinders

8

12

1620

Horsepower Ratings

2000, 3800, 4000, 4300, 5000

Models Utilizing

SD60/SD60F/SD60I/SD60M, SD70/SD70I/SD70M, SD75M/SD75I, SD60MAC, SD70MAC, SD80MAC, SD70M-2, SD70ACe Series
Success
The improvements to the SD60 paid off as railroads returned to EMD in larger numbers albeit the manufacturer would not recover its status as top locomotive builder, which was lost to GE following the SD50 debacle.  
There were several variants of the original including the SD60I (featuring the "Whisper Cab" or Isolated Cab), SD60F (ordered only by Canadian National with a cowl carbody), SD60M (sporting a wide-nose cab), and the SD60MAC (a wide nose cab with AC traction). 
Among them all Electro-Motive sold more than 1,000 examples before production ended in 1995.  Buyers included Conrail, CN, Union Pacific, CSX, Chicago & North Western, Burlington Northern, Kansas City Southern, and Soo Line. 
The '60 line was also the last to be cataloged as a four-axle Geep.  Built from 1985 through 1992 it sold surprisingly well with more than 300 outshopped.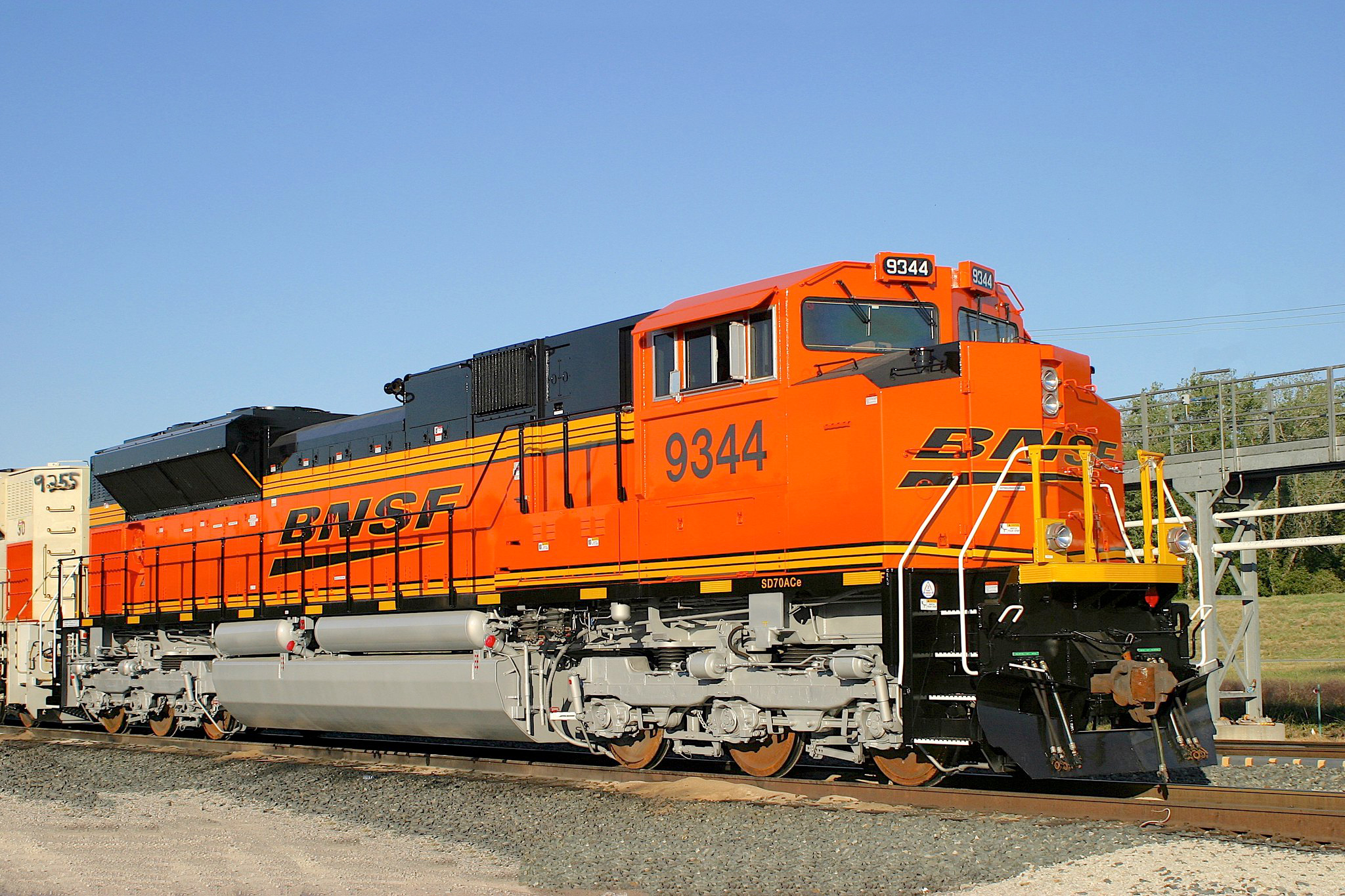 A brand new BNSF Railway SD70ACe is seen here in Kansas City on October 10, 2006. Warren Calloway photo.
Following this was EMD's SD70 line.  It was first introduced in 1992/3 as simply the SD70 featuring 4,000 horsepower using the 710G3B prime mover. 
The original model sold just a few hundred examples but its many variants during the last 20+ years have been far more successful.  One reason for this is, of course, the much improved 710G prime mover. 
However, new EMD products like the HTCR truck (high-traction, six-axle, radial) that steers itself through curves has also been instrumental in keeping customers returning to the builder. 
Among Electro-Motive's more successful models from the mid-1990s through 2003 included the SD70M that sold more than 1,500 units and the SD70MAC that saw over 1,000 sales. 
These designs offered between 4,000 and 4,300 horsepower, which has become the accepted industry standard in recent times.

SD70ACe Series
During the mid-2000s, Electro-Motive released the SD70ACe to meet EPA "Tier II" mandates on diesel emissions. 
To do so the builder employed its 16-710G3C-T2 engine, capable of producing 4,300 horsepower (its DC version is the SD70M-2).  The 'ACe remained a respectable competitor to General Electric's Evolution Series for many years in the domestic, U.S. marketplace.  
---
Union Pacific SD70M #4056 leads containers near Daggett, California in March, 2002. Warren Calloway photo.
However, by 2015, new Electro-Motive owner Caterpillar/Progressive Rail was not able to make its 710 prime mover compliant with the new EPA Tier IV standards that went into effect that year.  
As a result the SD70ACe, EMD's primary road-switcher model, was shelved.  In it place, Progressive Rail released the SD70ACe-T4, which debuted in October of 2015.  The manufacturer hopes this new, emissions-compliant model will provide GE with significant competition in the coming years.
Sources
Boyd, Jim. American Freight Train, The. Osceola: MBI Publishing, 2001.
Marre, Louis A. and Pinkepank, Jerry A. Contemporary Diesel Spotter's Guide, The: A Comprehensive Reference Manual To Locomotives Since 1972.  Milwaukee: Kalmbach Publishing Company, 1989.
Marre, Louis A. Contemporary Diesel Spotter's Guide, The: A Comprehensive Reference Manual To Locomotives Since 1972, Including Rebuilding, Upgrading, And Leasing Programs (2nd Edition).  Milwaukee: Kalmbach Publishing Company, 1995.
McDonnell, Greg. Locomotives: The Modern Diesel & Electric Reference, 2nd Edition. Buffalo: Boston Mills Press/Firefly Books, 2015.
Solomon, Brian. American Diesel Locomotive, The. Osceola: MBI Publishing, 2000.
Solomon, Brian. 

EMD Locomotives

.  Minneapolis: MBI Publishing Company, 2006.
Solomon, Brian.  GE and EMD Locomotives:  The Illustrated History.  Minneapolis:  Voyageur Press, 2014.