EMD "F" Units, Defining A New Era

Last revised: June 6, 2023
By: Adam Burns

Along with the Electro-Motive Corporation's E series, the later EMD F series, built primarily for freight service, would become the principal diesel-electric model to spell  the end for steam.

The Electro-Motive Corporation (EMC) has its beginnings in 1922 being based out of Cleveland, Ohio building inexpensive motorcars.
With the purchase of the company in 1930 by General Motors, and more resources at its disposal, the company began developing the precursor of the modern-day diesel-electric road unit, the streamlined trainset.
It consisted of a powered car permanently attached to a few coaches (usually two or three cars). The most famous of these streamlined trainsets was the Burlington Zephyrs, a beautiful stainless steel creation that was extremely lightweight and fast. 
History
The original trainset, the Zephyr 9900, made headlines in 1934 when it completed a non-stop journey from Denver to Chicago in a little over 13 hours. 
Today, numerous F units remain preserved around the country, either in operation or as static displays.  A few even continue to pull freight trains!

Photos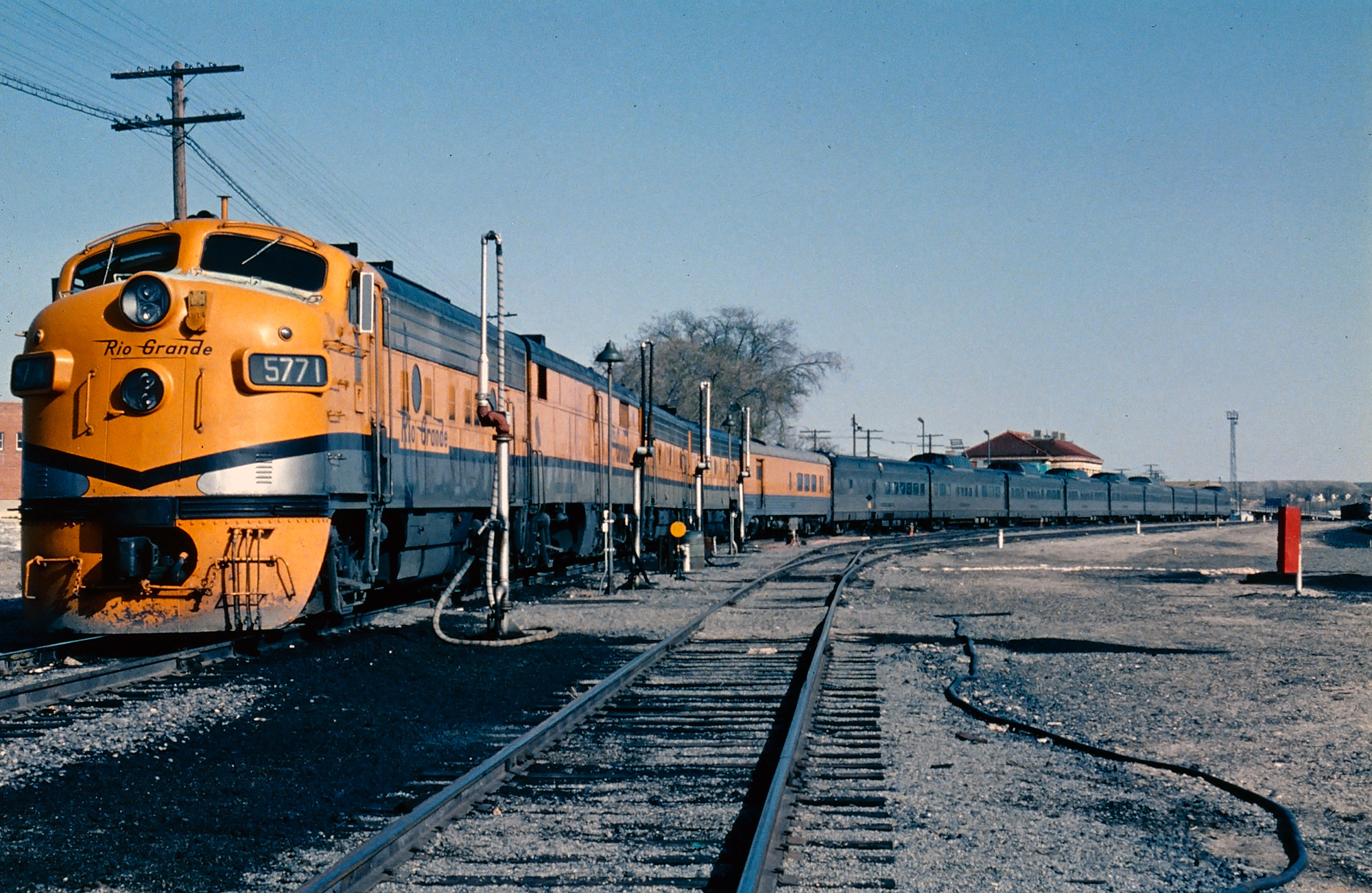 Rio Grande F9A #5771 leads one of the final runs of the "Rio Grande Zephyr" as the train is serviced at Grand Junction, Colorado in the early spring of 1983. Mike Bledsoe photo. American-Rails.com collection.
Because the power cars with these trainsets were permanently attached to the coaches EMC sought to design a locomotive free of this articulated setup but designed in such a manner that a railroad could still attach it to any passenger train and obtain the same, smooth streamlined look.
This it did with the unveiling of the EA model in 1937, the first in a long line of passenger diesel locomotive designs that would come to be known as the E series. 
Not surprisingly, soon after the EA unveiling the company decided to take things a step further and develop the first true diesel locomotive road unit, capable of pulling long freights in main line service.
In 1939 it came out with the FT model, the first in EMC's F series, and one of the most success diesel-electric designs of all time.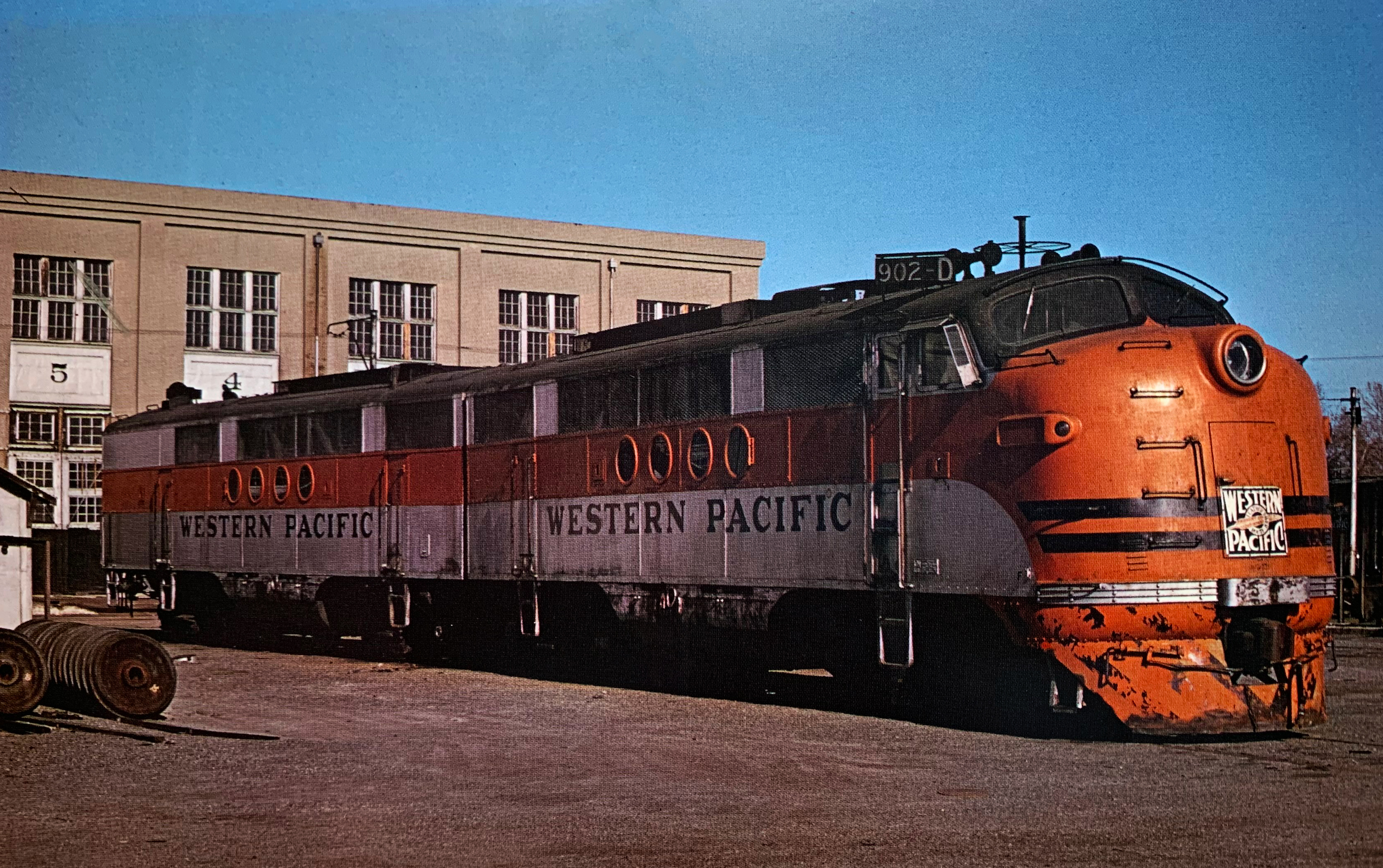 A Western Pacific FT set lays over outside the shops in Sacramento, California during January of 1963. These locomotives were retired on April 23, 1964, having racked up 2.024 million miles in service. Dr. Denny Anspach photo. Author's collection.
EMC's FT
The FT design also employed the new dynamic braking system, which essentially was another means of braking that temporarily employed the traction motors as generators and used the resulting electromotive force to retard (or slow) the train. 
The F series model would come to define American railroading for years and you can still catch Fs in regular use even today!
The FT (which stood for Freight, Twenty-seven hundred horsepower) was a superb locomotive and although its 2,700 horsepower came from an A-B setup of a cab (A) plus booster (B), each rated at 1,350 horsepower, the model would be embraced by the rail industry for the efficiencies it held over steam power as well as being rugged and easy to maintain.
Like with the EA model, the Santa Fe was the first to jump on the bandwagon with the FT and ordered a whopping 320 A and B units just by itself (it single-handedly purchased more FTs than Alco's entire line of PAs).
The FT became so successful that before 1950 EMC had sold over 1,000 units! The FT essentially became the standard by which all other similar cab models were designed by other manufacturers and it instantly made EMC the industry leader in diesel locomotives.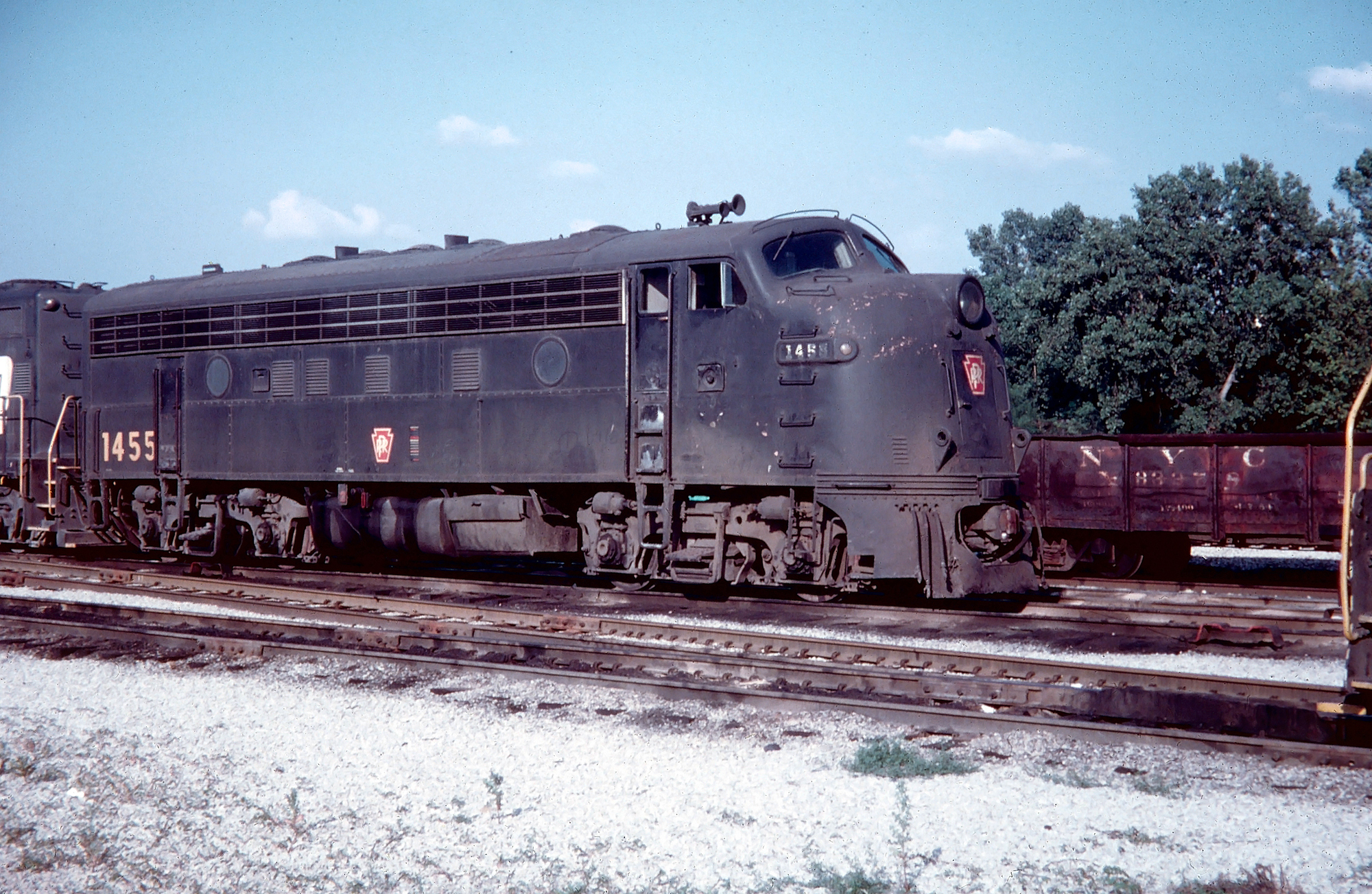 In a scene probably taken in the summer of 1968 or 1969, a former Pennsylvania F7A, #1455, is seen here in Cincinnati, Ohio during the early Penn Central era. Fred Byerly photo. American-Rails.com collection.
The FT's success was only the beginning for the EMD F series. With the end of World War II wartime restrictions were lifted and EMC, by now known as General Motors' Electro-Motive Division (EMD), was able to once again produce locomotives.
The builder wasted no time ramping up production and soon unveiled the F3 (that followed the initial FT model) which sold some 1,111 units; the F7 followed next and sold 2,366 units; and last was the F9 which sold 87 units.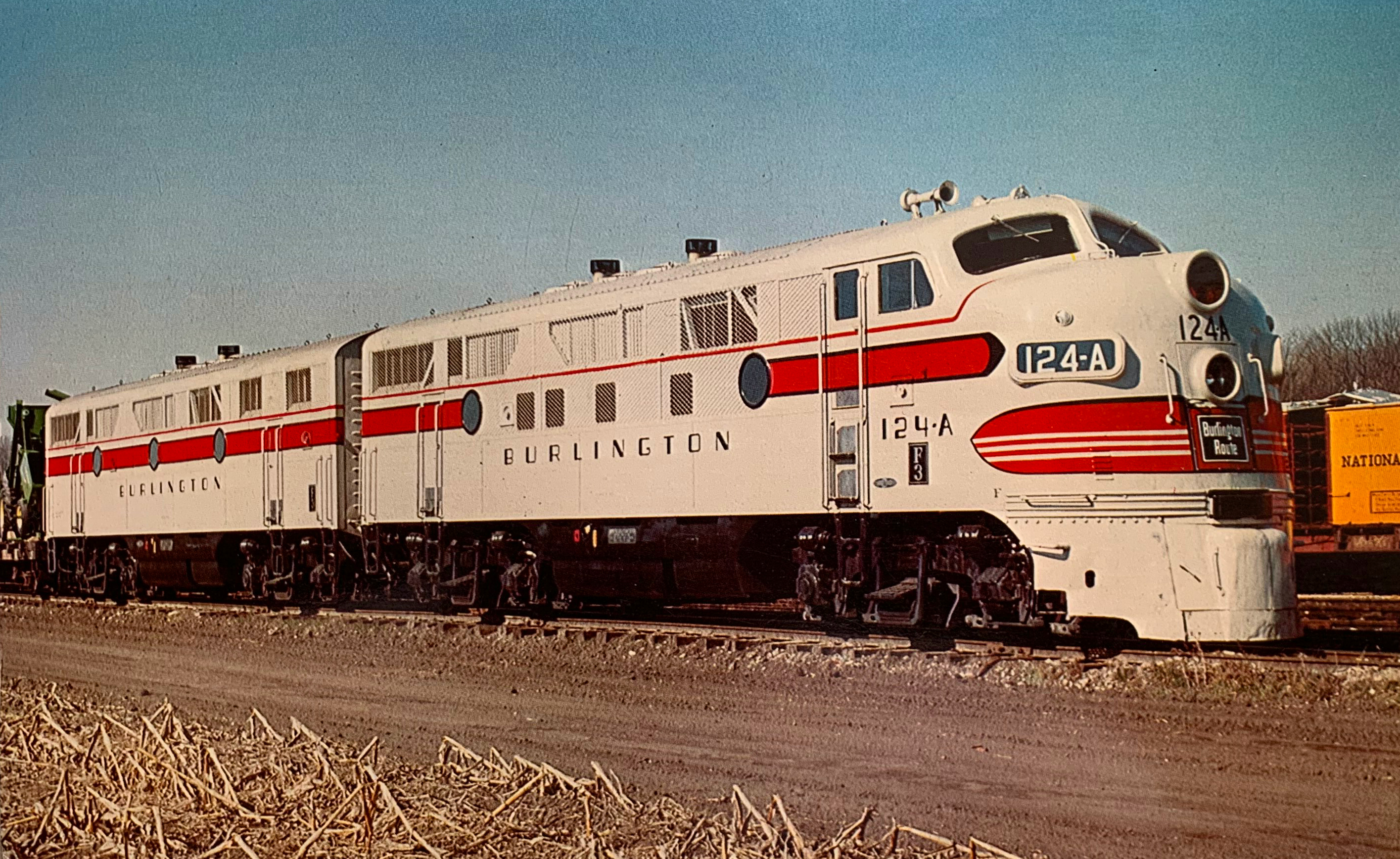 A Chicago, Burlington & Quincy publicity photo featuring an A-B set of recently delivered F3's (#124-A/B) with new John Deere farm equipment in 1948 (location not provided). Author's collection.
Other than being upgraded to 1,500 horsepower (and 1,750 with the F9) over the FT's 1,350 hp there were minor differences between the F3, F7 and F9 except for small overall changes and tweaks here and there.
Amazingly all of these units were built in a time frame of a little over a decade, between 1945 and 1957. 
F Series Line
| Model Type | Units Built | Date Built | Horsepower |
| --- | --- | --- | --- |
| FT | 555 A Units/541 B Units | 1939-1945 | 1,350 |
| F2 | 74 A Units/30 B Units | 1946 | 1,350 |
| F3 | 1,111 A Units/696 B Units | 1945-1949 | 1,500 |
| F7 | 2,366 A Units/1,483 B Units | 1949-1953 | 1,500 |
| FP7 | 324 | 1949-1953 | 1,500 |
| F9 | 100 A Units/154 B Units | 1954-1960 | 1,750 |
| FP9 | 90 | 1954-1959 | 1,750 |
| FL9 | 60 | 1956-1957 | 1,750-1,800 |
| F40C | 15 | 1974 | 3,200 |
| F40PH | 411 | 1976-1992 | 3,000-3,200 |
| SDP40F | 150 | 1973-1974 | 3,000 |
| F45 | 86 | 1968-1971 | 3,600 |
| FP45 | 14 | 1967-1968 | 3,600 |
| F59PH | 83 | 1988-1994 | 3,000 |
| F59PHI | Still In Production | 1994-Present | 3,200 |
| F69PH-AC | 2 | 1989 | 3,000 |
---
Chicago, Burlington & Quincy F3A #166-C, circa 1965. Location not listed. This unit was built as #138-D and features the lateral grills commonly found on F7's. American-Rails.com collection.
Later Designs
Interestingly, later F series designs included an FP model, the FP7 and FP9, which were essentially F7s and F9s except for an increased frame that allowed for a steam generator for passenger service use.
There were several built, over 400, but their numbers were far less when compared to the thousands of standard Fs manufactured. 
The success of the EMD F series is still incredible, even today, as its sales only fell slightly below that of its later sister models; GP7s, GP9s and SD40-2s.
Like those models, Fs continue to roam the rails and likely will continue to do so for many years to come; not only because of their rugged nature and ease of maintenance but also because of the unit's clean and timeless streamlined design, allowing it to be a good choice even today for freight and passenger service.

Sources
Foster, Gerald. A Field Guide To Trains

. New York: Houghton Mifflin, 1996.
Hayden, Bob. Diesel Locomotives: Cyclopedia, Volume 2 (Model Railroader). Milwaukee: Kalmbach Publishing Company, 1980.
Marre, Louis A. Diesel Locomotives: The First 50 Years, A Guide To Diesels Built Before 1972.  Milwaukee: Kalmbach Publishing Company, 1995.
Pinkepank, Jerry A. Diesel Spotter's Guide.  Milwaukee: Kalmbach Publishing Company, 1967.
Solomon, Brian.  EMD Locomotives.  Minneapolis: MBI Publishing Company, 2006.
Solomon, Brian.  Electro-Motive E-Units and F-Units: The Illustrated History of North America's Favorite Locomotives.  Minneapolis:  Voyageur Press, 2011.