The B Unit

Header Photo: Drew Jacksich
---
The B unit, sometimes referred to as a cabless or booster unit, was a locomotive that as the previous term suggests did not utilize a cab.  The design was first introduced during the early diesel era by Electro-Motive on its first freight and passenger models as a means of offering more horsepower via a set, such as an A-B-A or A-B-B-A.  It was copied by other major locomotive builders at the time such as Baldwin, American Locomotive Company (Alco), and Fairbanks Morse.  The Bs were primarily developed for cab models, a different term for a type of diesel design that featured a streamlined body and cab on one end.  However, they were built for other designs as well, such as first-generation road-switchers and even newer models.  By the 1950s B units fell out of favor as railroads began purchasing more utilitarian road-switchers.  Today, however, you can still find some in use such as those in service with Norfolk Southern's business train.

---
---
---
---
---
Denver & Rio Grande Western F7B #5583 is seen here in Denver, Colorado on June 11, 1967. In the spring of 1953 this unit received a steam generator from an FTB for passenger service.
The first B units first appeared with the introduction of Electro-Motive Corporation's original EA series diesel model (the "E" was short for eighteen-hundred horsepower while the "A" meant that also utilized a cab and controls) of 1937.  The locomotive featured two 900-horsepower, 12-cylinder 201-A Winton prime movers and sported a beautifully streamlined carbody that was designed for use in passenger service.  The Baltimore & Ohio was the first railroad to purchase the new concept in 1937, as well as the Atchison, Topeka & Santa Fe (whose units were classified as E1s).  To increase the horsepower output and available tractive effort without requiring an additional crew Electro-Motive came up with the idea of a cabless, "B" unit.  The concept sold a few examples between the B&O and Santa Fe as well as the later early models including the E3, E4, and E5 of 1940. 
Notable Cab Models With "B" Units
---
---
---
---
However, Bs really became popular in freight service where the horsepower was truly needed.  In 1939 Electro-Motive introduced the new FT (that stood for Freight, Twenty-seven hundred horsepower), which was similar to the early Es but featured a less slanted, more rounded nose.  Additionally, it featured the builder's new 12-cylinder model 567B prime mover that was capable of producing 1,350 horsepower replacing the earlier Winton design that had used two power plants on one frame.  The FT was first designed by chief engineer Richard "Dick" Dilworth who also took the concept of applying an additional prime mover within its own frame.  His A-B FT set offered twice the horsepower (2,700) and was semi-permanently coupled using a drawbar similar to what steam locomotives used with tenders.  Pleased with the concept Dilworth added two more units for even more horsepower giving the set an A-B-B-A designation.

It was this setup that first toured the country in May of 1939, listed wholly as #103; A units #103 and #103A and B units #103(b) and #103A(b).  The set proved a sensational success for Electro-Motive and orders for the FT began flooding in. By the time production ended on the model in 1945 it had sold some 555 As and 541 B units.  Future models like the very successful F3 and F7 also sold large numbers of cabless examples with the former seeing sales total 696 units while the latter outshopped an incredible 1,483 locomotives.  Electro-Motive's late era Es including the E7, E8, and E9 had modest sales of B units but nothing compared to their F series counterparts; among the three models there were only 172 examples sold between 1945 and when EMD ended the line in 1964.
Other builders not only followed EMD's lead in cataloging their own cab designs but also offered B examples as well.  For Alco, the then second-largest builder of diesels it only offered two models, the passenger PA and freight FA.  The former sold less than 50 units while the latter was somewhat more successful with a few hundred sold.  For both Baldwin and Fairbanks Morse these manufacturers cataloged several cab variants with corresponding B units.  However, neither FM's C-Liners and Erie-Builts nor Baldwin's numerous models saw much success; most sold just a few each.  As the 1950s progressed railroads began to show a greater interest in the road-switcher, introduced by Alco in 1941 with the RS1 and made popular by EMD with its GP7 and GP9 models marketed between 1949 and 1963 that sold nearly 7,000 examples!
For many the advantage of the Bs in the way of lower costs and fewer crewman lost its appeal as railroads realized that their operational flexibility, or lack thereof, was a growing issue (without a cab, Bs could not be used unless in conjunction with an "A" unit).  By the time second-generation models began to appear in the early 1960s few lines continued to order B units although some did for road-switchers such as the GP30B, SD24B, and SD45-2B.  Additionally, some lines like the Chicago & North Western rebuilt B units into As such as with their famous "Crandall Cab" variants constructed from former E8Bs and E9Bs that featured custom-made cabs.  The Santa Fe was one of the only major railroads to continue ordering Bs all of the way through the modern era acquiring new GP60Bs until 1991.  Today with so many Bs built within EMD's F series from the 1930s through the 1950s, you can still find some in service (such as part of Norfolk Southern's Office Car Special consist mentioned at the beginning of this article).  For more reading about the B unit please click here.

---
---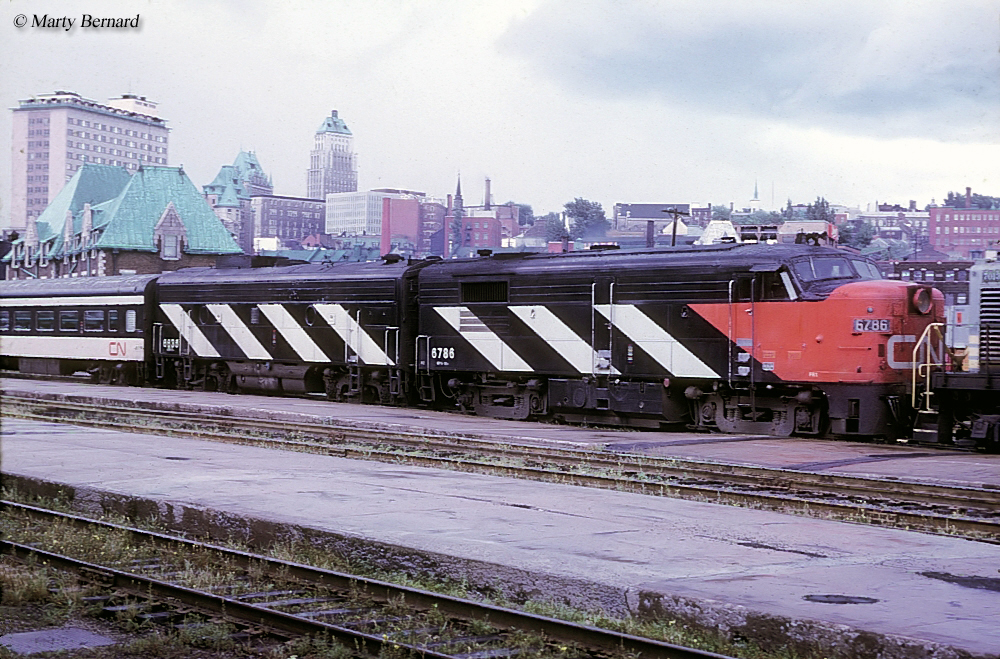 For more information on the history of Electro-Motive's covered wagons noted historian Brian Solomon has published a book entitled, Electro-Motive E-Units and F-Units: The Illustrated History of North America's Favorite Locomotives, which superbly details the entire line from its early days in the mid-1930s to the end of production.  He also has another entitled, EMD Locomotives, which generally highlights the history of EMD from its earliest beginnings in the 1920s and phenomenal successes in the mid-20th century to its decline during the 1980s at which time it fell behind General Electric and was eventually sold by General Motors in 2005.  Finally, Mike Schafer's Vintage Diesel Locomotives offers a look at classic models built during the early diesel era from Electro-Motive products to Alcos.

Home

›
Diesel Locomotives
› B-Units