Alco's "DL Series" Diesel Locomotives

The American Locomotive Company's first true production diesel was the DL series (the "DL" stood for Diesel Locomotive), a streamlined cab design similar to then-Electro-Motive Corporation's EA model of 1937. The series would come in four different "models" (more on that below) but ultimately proved itself as an ungraceful and problematic design that was not one of Alco's better models.  The prime mover turned out to be the most notable issue, which was not particularly well-suited for heavy road service.  In any event, it can be argued that despite their issues some railroads found theirs useful, which continued operating them for more than two decades.  
When production had ended in 1945 to make way for the new FA/PA series (which also struggled to ignite sales) less than 100 DLs had been sold.  Unfortunately, today, there are no known original Alco DL  units preserved as most were scrapped following their years of service.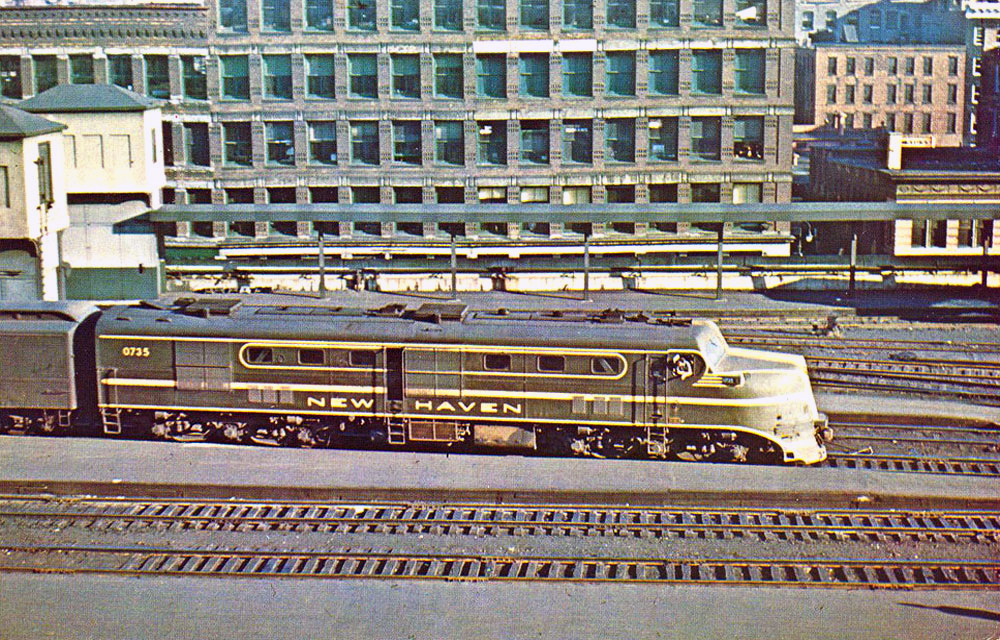 A rare New Haven DL-109 departs Springfield Union Station with a passenger consist, perhaps the "Nathan Hale" or "Bankers," in 1952.
The Alco DL series essentially kicked off the builder's entrance into the mainstream diesel locomotive market. The American Locomotive Company had been dabbling in this markett dating back to 1918 when it teamed up with General Electric and Ingersoll-Rand to design a motor car.  However, the company continued to remain focused on steam designs, believing this form of motive power would always remain the prevalent type even as Electro-Motive, later purchased by General Motors, began developing successful diesels as early as the 1920s. At first EMC only constructed trainsets and small switchers but by the late 1930s it unveiled the passenger EA cab design, followed soon after by the freight FT model that revolutionized the industry.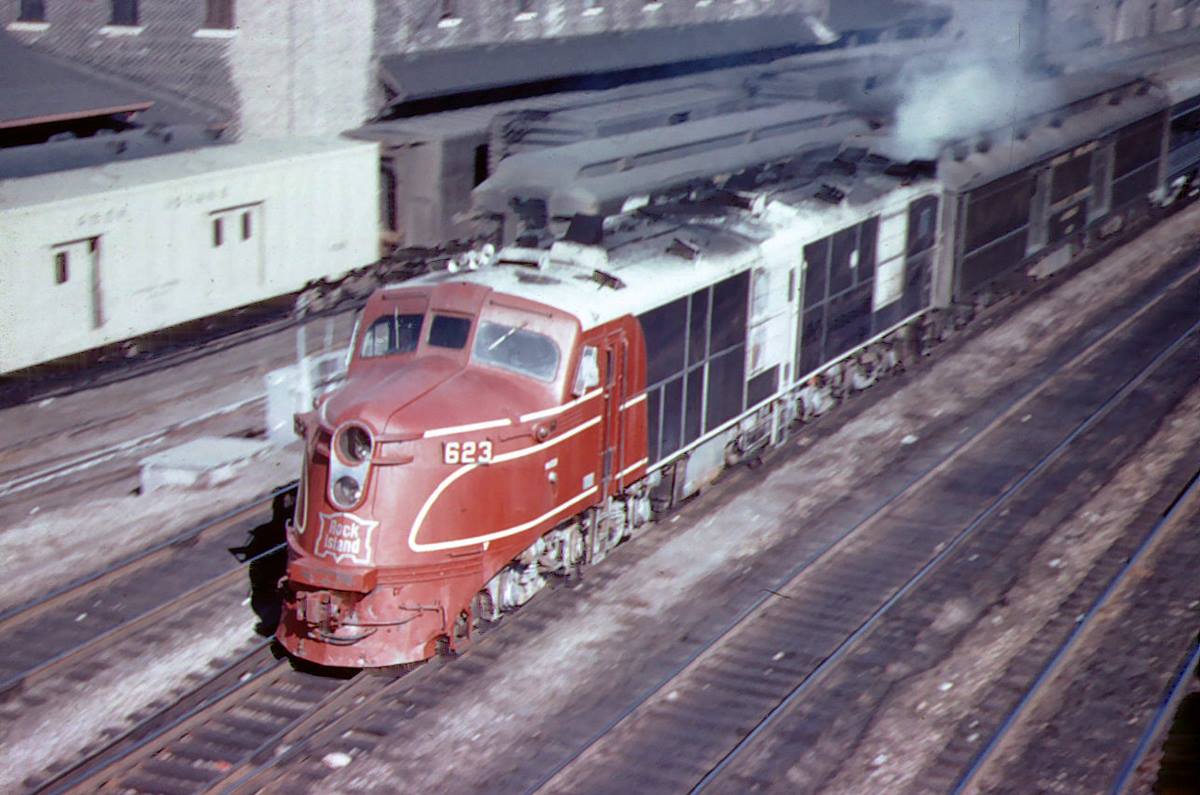 Rock Island DL-107 #623 appears to have a passenger consist near Chicago's La Salle Street Station, circa 1950s.
This left Alco somewhat scrambling to unveil their own diesel locomotive. While the company proved it could manufacture a reliable, rugged, and efficient switcher their main line examples could simply never match what their competitor was producing. The very first model was designated the DL-103b (it would later be sold  to the Chicago, Rock Island & Pacific and given #624) and used a pair of the company's 538T prime mover, which was a four-stroke diesel that produced 2,000 horsepower combined. This engine was a product of Alco subsidiary McIntosh & Seymour and while their diesels performed well in early switchers Eventually Alco would produce four different models, which varied slightly. Aside from the DL-103b they included the DL-105, DL-107, and DL-109. Alco also produced two models of cabless "B" units the DL-108 and DL-110 that only saw four total sales.
According to Brian Solomon's book Alco Locomotives, the model designations described here are for clarification only as the Schenectady builder never actually assigned the variants any particular designation.  He goes on to state that the specification numbers were given to the locomotives after the fact.  The styling of the DL was thanks to noted industrial designer Otto Kuhler.  Solomon states that Alco's cab model was essentially a mirror of Electro-Motive's save for the unique features Kuhler applied that sat it apart from its competitor. The DL-103b, for instance, was the original demonstrator that Rock Island acquired followed by the DL-105 with the DL-107 being the next produced, both of which used Alco's slightly updated model 539T prime mover which offered the same horsepower. Due to World War II restrictions Alco had difficulty in further developing not only the DL series but also diesel locomotive designs in general.
Rock Island DL-109 #621 (named "Christine" after being re-engined with an Electro-Motive 567) hustles a long freight westbound under the Elgin, Joliet & Eastern at Minooka, Illinois on January 18, 1967. Roger Puta photo.
This was the case across the industry as the U.S. government, through the War Production Board (WPB), limited domestic production (especially in regards to passenger locomotives) in general and asked all manufacturers to focus efforts on producing goods strictly for the war effort.  It is somewhat interesting to wonder, had Alco been able to further refine its DL design could it have better competed with EMC/EMD?  Despite the restrictions the builder was able to convince the board in allowing it to produce some 60 DL-109s for New Haven between 1942 and 1945, #0700–#0759.  This was only allowed as the locomotives were intended for dual passenger/freight assignments and given a 19:64 gear ratio according to Solomon while sporting General Electric's model GE-726 traction motors enabling 80 mph running. 

The breakdown in sales for the DL series was as follows; the DL-105 design saw three units sold, one to the Rock Island as #622 and two others to the Gulf, Mobile & Ohio as #270 and #271.  Additionally, the DL-107 saw five units sold: Atchison Topeka & Santa Fe #50; Chicago & North Western #5007A; Rock Island #621, #623; and Cincinnati, New Orleans & Texas Pacific (Southern Railway) #6400-#6401.  The DL-107 also included its booster cousin (the DL-108) with one unit going to the Santa Fe (#50A) and two others as Southern/CNO&TP #6400B-#6401B.   The final model was, of course, the DL-109 built between 1942 and 1945; nearly all of which these as mentioned above went to the New Haven. Additionally, the GM&O purchased one (#272) as did the Southern (#2904) while the Milwaukee Road acquired two, (#14A-#14B).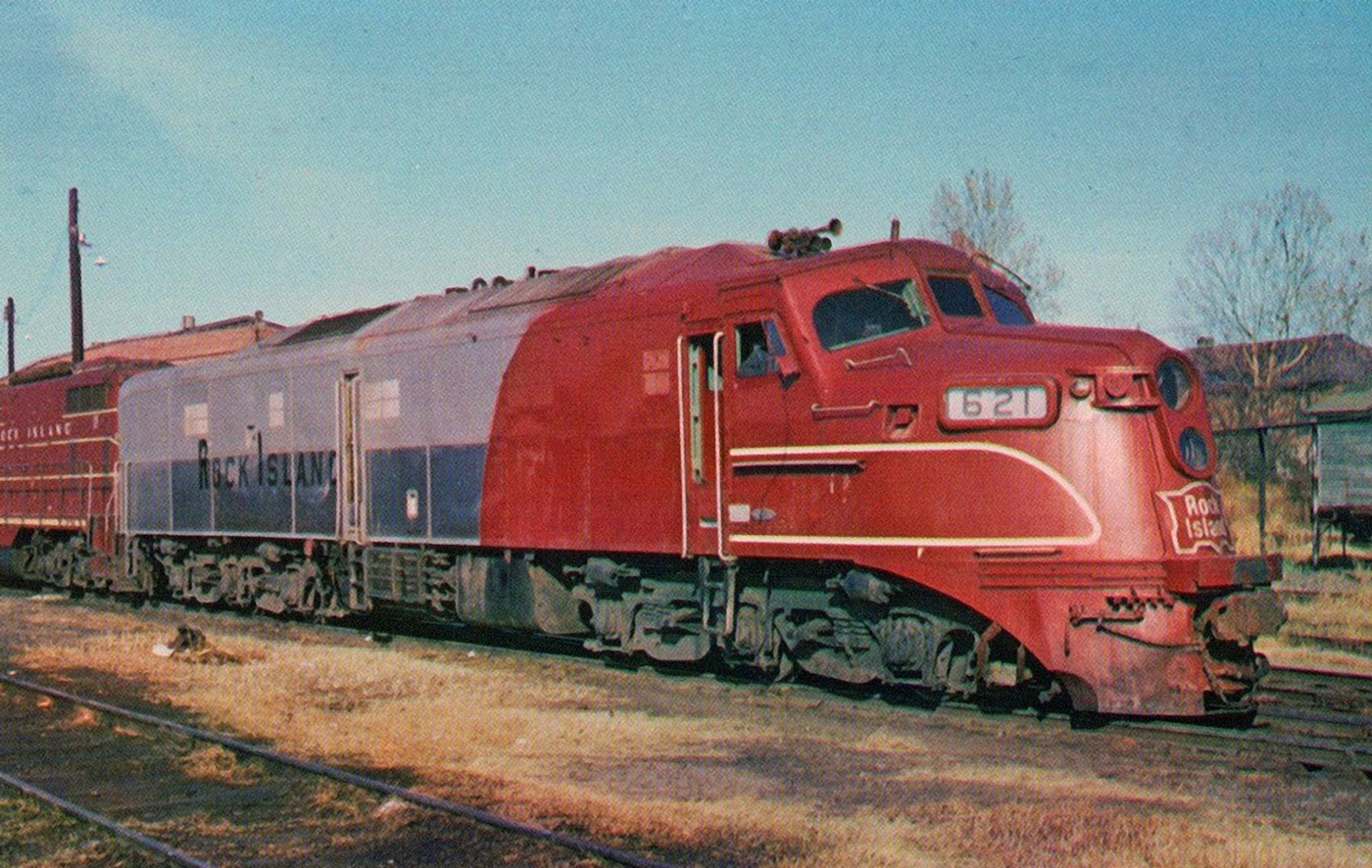 Rock Island DL-109 #621, re-powered with Electro-Motive 12-cylinder/1,000 horsepower 567B prime movers and nicknamed "Christine," is seen here at Memphis, Tennessee on December 1, 1966. The locomotive is ahead of westbound Train #21, which will run the now largely abandoned 875-mile "Choctaw Route" from Memphis to Tucumcari, New Mexico. William White, Jr. photo.
There was also one DL-110 sold to Southern, #2954.  Overall, there were only minor differences among all of the DL locomotives produced.  According to Solomon the DL-109 carbody was 74 feet, 4 inches long while the cabless DL-110 measured 72 feet, 4 inches.  They were 9 feet, 10.5 inches wide and 13 feet, 6 inches tall.  Additionally, the locomotives included turbo-charging and featured an A1A-A1A truck setup (meaning the two outside axles were powered with an unpowered center axle).  The New Haven, which always liked Alco products, also enjoyed their DL-109s, which were adorned in a gorgeous deep green with gold trim.  According to Solomon since the locomotives were geared for duel service the New Haven assigned them to the 157-mile New Haven to Boston route running two daily passenger assignments and then had them handle freights overnight.    

Alco DL Series Production Roster
| Model Type | Units Built | Date Built | Horsepower |
| --- | --- | --- | --- |
| DL-103b | 1 | 1939 | 2,000 |
| DL-105 | 3 | 1939-1942 | 2,000 |
| DL-107 | 5 | 1939-1942 | 2,000 |
| DL-108 | 3 | 1941 | 2,000 |
| DL-109 | 64 | 1942-1945 | 2,000 |
| DL-110 | 1 | 1942 | 2,000 |
---
---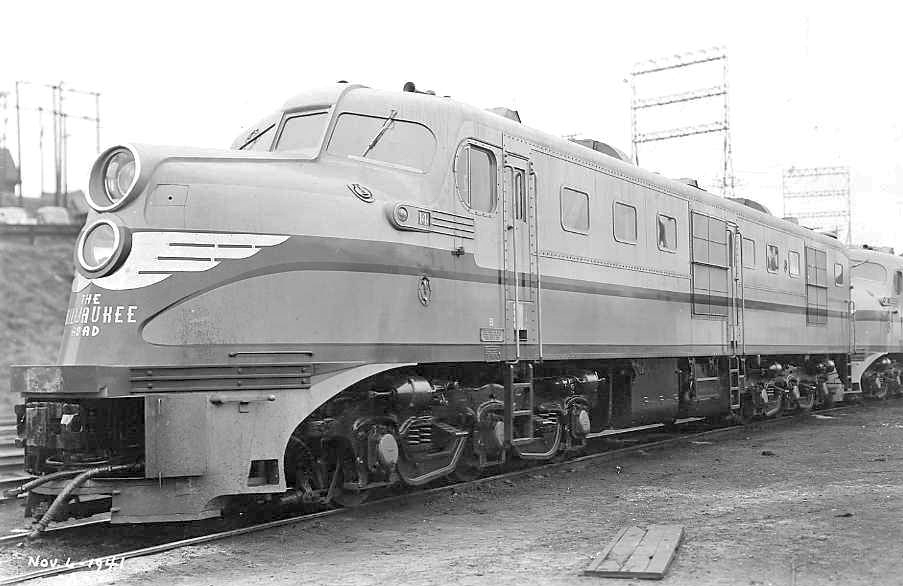 The Milwaukee Road's only pair of the design, DL-109s #14A and #14B, are seen in this stock photo of the locomotives shortly following their completion in November of 1941.
Interestingly, the Milwaukee Road is said to have used their DL-109s in service until the mid-1960s, logging more than 3 million and was rebuilt at least once and sported an Electro-Motive cab giving it the appearance as a GM-product.  The table listed above highlights each DL model and their total sales numbers.   From a sales standpoint the DL series would be considered rather unsuccessful selling only 77 A and B units total, and was a microcosm of Alco's problems with main line passenger and freight diesel locomotives. Railroads often found the company's prime movers, particularly the 539T (which the DL-100 series was powered with), 241, and 244 models unreliable, troublesome, and rather complicated to maintain. Even in later years when Alco developed a more reliable prime mover, the model 251, it appears the damage was already done among railroads, with most shying away from purchasing later models.   To read more about other Alco models please visit the Diesel Locomotives section of the site, which can be reached from the top of this page.
---
---
---