EMD "Blomberg" Trucks

Last revised: June 27, 2023
By: Adam Burns

What has arguably been described as the best engineered, four-axle suspension system ever put into service on a locomotive was the Blomberg Truck, named after its designer Martin P. Blomberg. 

He was born in Sweden during the late 19th century during which time he attended college. 
At the beginning of the 20th century he moved to Canada and later into the United States taking a job with the Pullman Company in the mid-1920s (after enlisting in the U.S. Army during World War I) as an engineer designing truck frames and passenger carbodies. 
A decade later he helped with the design of early streamliners like Union Pacific's M-10000 (the first ever of its kind). 
However, it was his employment with Electro-Motive where Blomberg truly became noted for his work.  While the truck named after him gained the engineer acclaim he also helped design several others over the years.
Electro-Motive's success as a manufacturer went beyond its rugged prime movers.  The company was long known for the smooth ride of its first and second-generation locomotives thanks to their trucks such as the Blomberg and Flexicoil. 
In its prime, EMD did everything to the highest degree and its designs were built to last.  As a result, many locomotives built 40 or 50 years ago still remain in service today.
Photos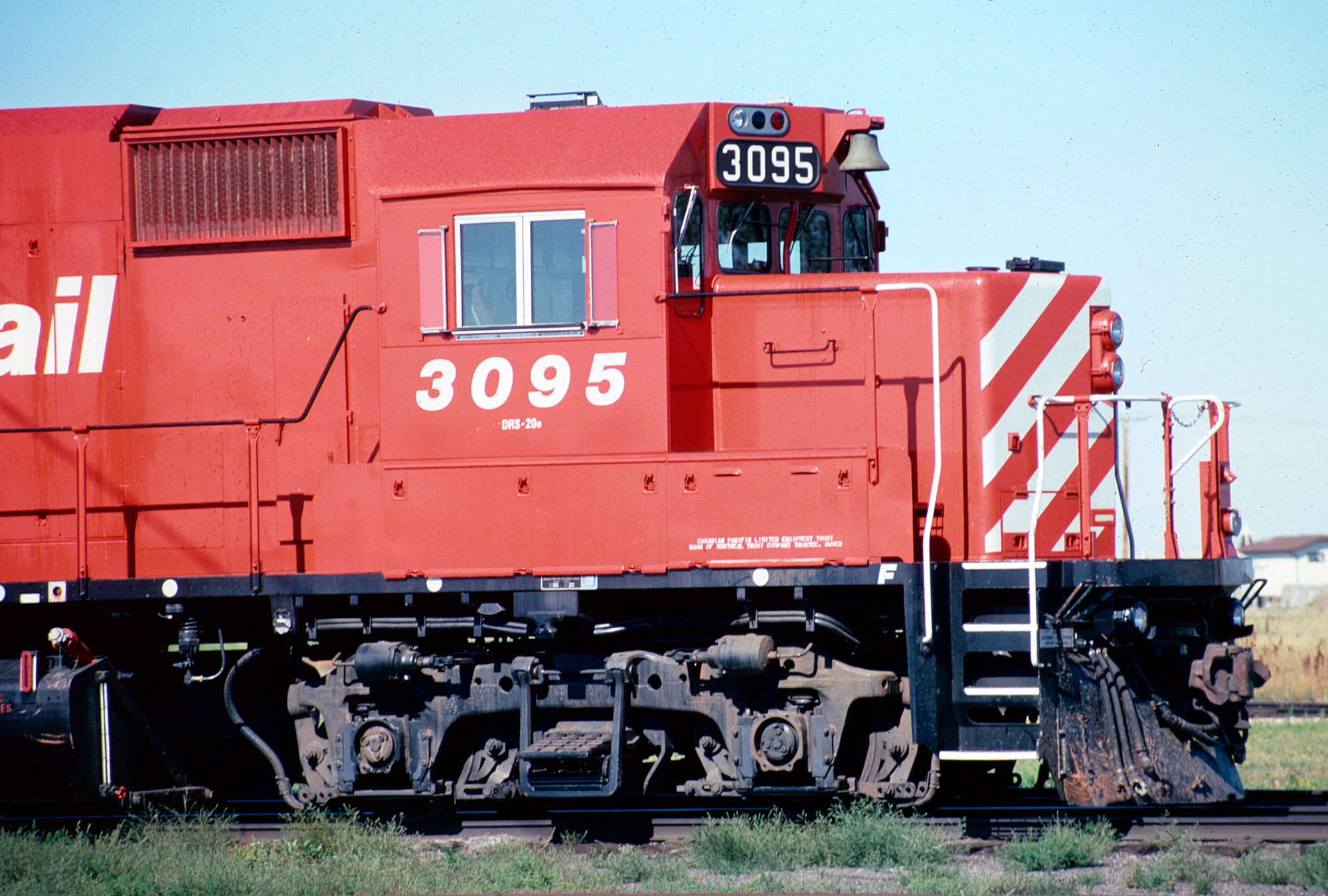 CP Rail (Canadian Pacific) GP38-2 #3095, sporting EMD's classic Blomberg trucks, is seen here in August, 1988. At the time of this photo the locomotive was only a few years old. Scott Russell photo. American-Rails.com collection.
Martin Blomberg
On September 1, 1935 Martin Blomberg moved from Pullman to the Electro-Motive Corporation (before it became an official division of General Motors) and it is here where his legend as a great contributor to railroad engineering began. 
At EMC he was responsible for essentially the same areas while employed at Pullman, carbodies and trucks. 
During these early years Blomberg either had a hand in or was responsible for a number of Electro-Motive projects including the A1A truck used under the first E units, as well as the E4 which he helped design (built for the Seaboard Air Line and its new Silver Meteor streamliner that debuted in 1939). 
The engineer was helped design the AAR Type A, a two-axle truck used on Electro-Motive's early switchers such as the NW2, SW1, and NW3 of 1939.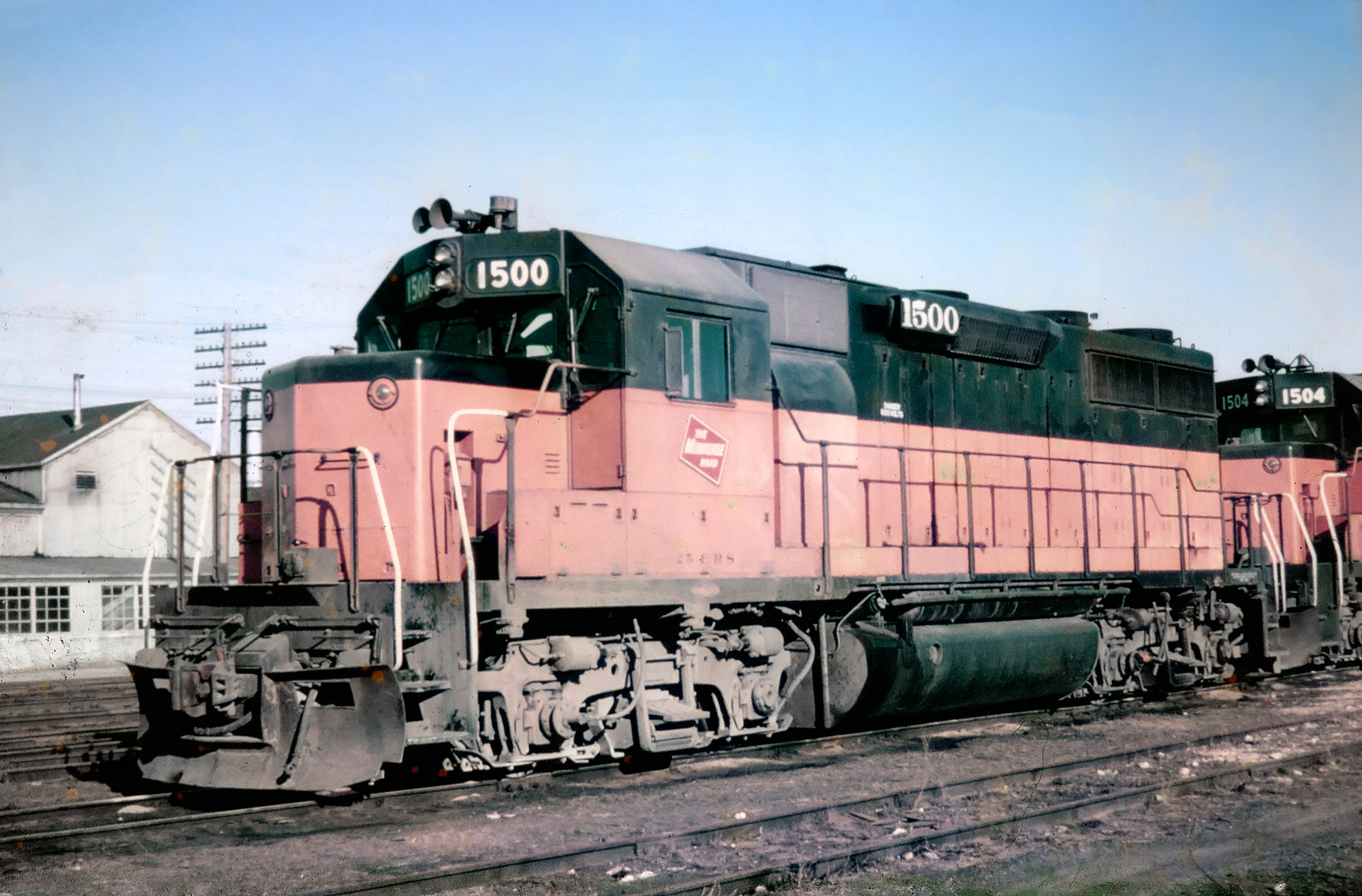 Milwaukee Road GP35 #1500 at Minneapolis; April, 1968. Fred Byerly photo. American-Rails.com collection.
Design
Since this suspension system was not really designed for standard road service it was not meant for high-speed operations.  However, the truck did use coil and leaf springs to provide a good balance of dampening (shock absorption). 
Also in 1939 Blomberg readied a new type of truck for use on Electro-Motive's revolutionary diesel, the FT.   The locomotive sported a cab carbody (sometimes referred to as a "covered wagon") and was engineered to compete directly against steam. 
For use in road service, such a locomotive would need a high quality truck to provide a smooth and stable ride not only for the crew but also to reduce wear and tear (because, after all, a diesel that rode poorly would not help in convincing the always-conservative industry that steam should be replaced for some newfangled type of power).

A former Southern Railway GP38AC, #2861, is seen here in service on a Norfolk Southern freight at East Toledo, Ohio during February of 1989. Its shortened fuel tank makes the truck beneath the short hood appear somewhat out of place. American-Rails.com collection.
Electro-Motive's "FT"
Since the FT was a four-axle locomotive Blomberg modified his three-axle A1A truck (meaning the two outside axles were powered with traction motors while the center was not) into a two axle version. 
What became known as the Blomberg B carried an arched chassis with outside swing hangers that produced a higher quality ride (arguably the best among all early types). 
Additionally, it used a combination of stiff and soft coil springs to reduce dampening.  All Blombergs were also equipped with roller bearings, an upgrade that first appeared on late era steam locomotives to greatly reduce wear and tear on the running gear. 
While it is unknown if railroads ever addressed the matter given everything else the new FT showcased, the high quality of the Blomberg was almost certainly another factor in railroads choosing diesel over steam.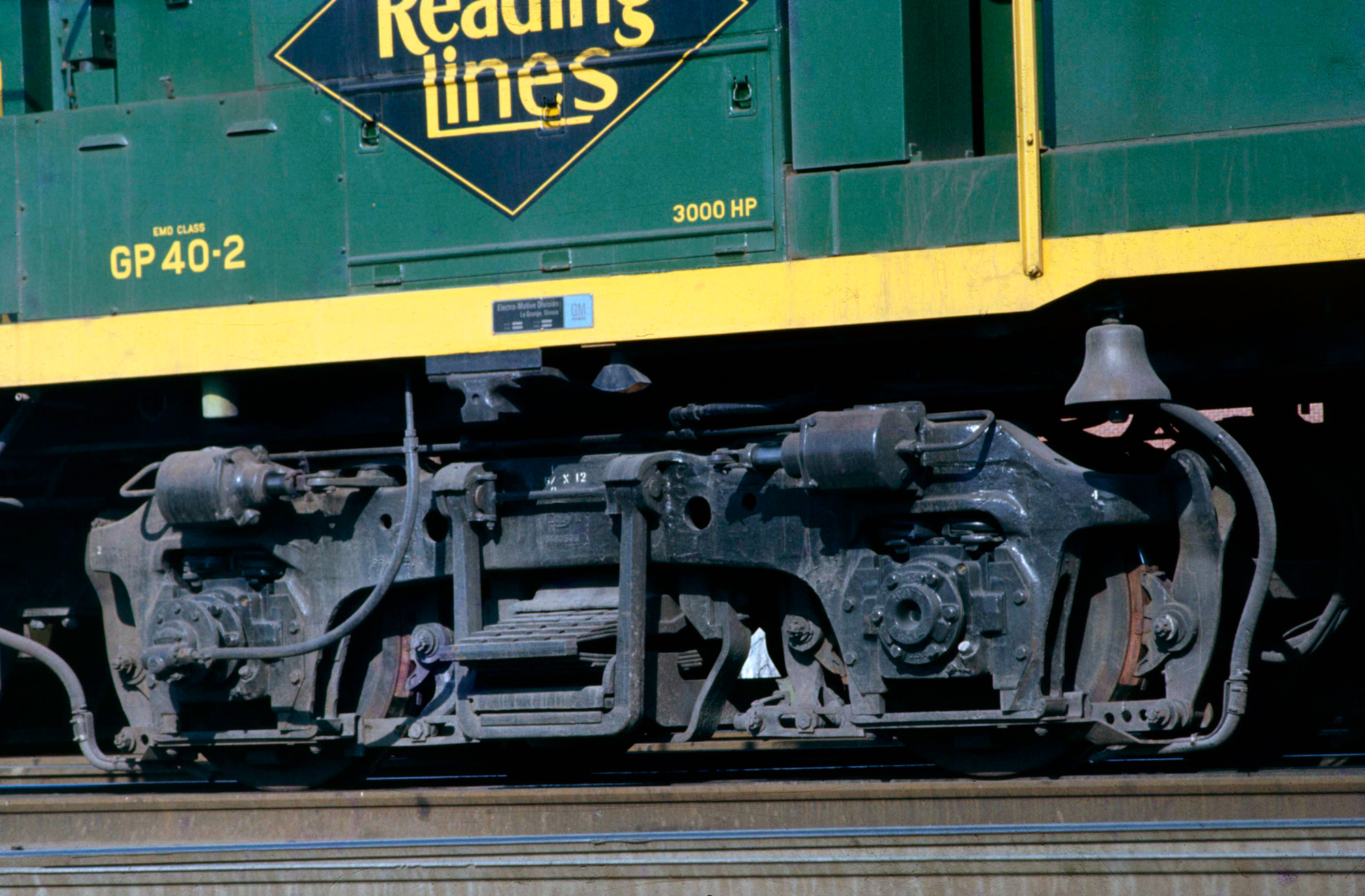 A closeup, detailed view of the two-axle Blomberg truck is seen here on this Reading GP40-2 photographed on February 24, 1974. Author's collection.
Usage
This original Blomberg truck remained EMD's standard on its entire four-axle, F series and later General Purpose (GP, or Geep) series through the early second-generation models. 
These included all of the builder's popular designs that solidified its standing as top manufacturer during that era such as the F3, F7, FP7, F9, GP7, GP9, GP30, GP35 and many others. 
The popularity of the Blomberg could also be seen in the number of railroads which preferred them over AARs, sometimes even requesting that General Electric use them on its early road-switchers. 
Of course, Blombergs tended to be more expensive than their counterparts and some roads elected to have trade-in Alcos, Baldwins, or Fairbank Morse models reuse the truck chassis (which typically carried AAR Type Bs).
When EMD added its "Dash 2" line to its catalog during early 1972 (which, among other improvements, featured upgraded electronics for easier maintenance) it also slightly updated the Blomberg truck to further enhance ride quality and reduce maintenance. 
The Blomberg M used hydraulic shocks on opposing ends of each journal box and rubber pads also replaced the leaf spring suspension system. 
---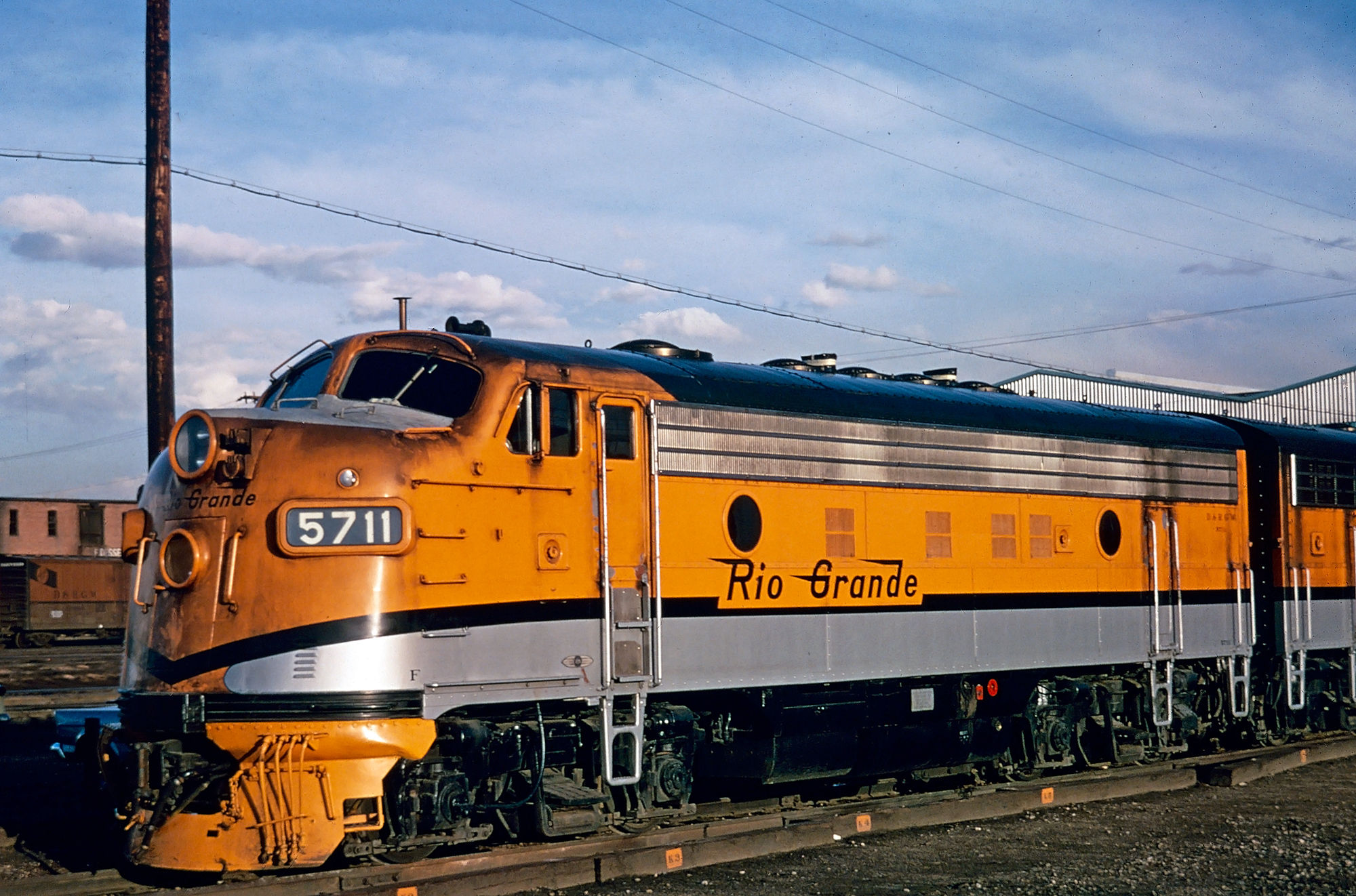 Rio Grande F7A #5711 at Denver, Colorado, circa 1970. Robert Eastwood, Jr. photo. American-Rails.com collection.
Additionally, the truck was simplified by using only four brake cylinders instead of eight since these still offered adequate stopping abilities (several railroads had already modified their B types like this to save on maintenance). 
The GP60 was the last production-scale EMD locomotive to sport Blombergs, appearing on Santa Fe's final order in 1989. 
Today, since the truck was equipped on thousands of EMDs during a 50-year period Blombergs remain in wide-scale use all over the country. 
Sources
Foster, Gerald. A Field Guide To Trains

. New York: Houghton Mifflin, 1996.
Hayden, Bob. Diesel Locomotives: Cyclopedia, Volume 2 (Model Railroader). Milwaukee: Kalmbach Publishing Company, 1980.
Marre, Louis A. Diesel Locomotives: The First 50 Years, A Guide To Diesels Built Before 1972.  Milwaukee: Kalmbach Publishing Company, 1995.
Pinkepank, Jerry A. Diesel Spotter's Guide.  Milwaukee: Kalmbach Publishing Company, 1967.
Solomon, Brian.  EMD Locomotives.  Minneapolis: MBI Publishing Company, 2006.
Solomon, Brian.  Electro-Motive E-Units and F-Units: The Illustrated History of North America's Favorite Locomotives.  Minneapolis:  Voyageur Press, 2011.