Alco "DH643" Diesel Hydraulic Locomotives

Last revised: March 3, 2022
By: Adam Burns
The Alco DH643 (also referred to as the "C643-H" or "C643DH") was one of the builder's most powerful locomotive designs. Built for the Southern Pacific the model was similar to UP's massive C855 design in that it was essentially two locomotives merged into one. 
However, it differed in using a diesel hydraulic main generator.  At the time both SP and UP were experimenting with large, powerful single unit locomotives to reduce operating expenses.
In addition, both been quite loyal customers to American Locomotive for decades, dating well back to the steam era.   Unfortunately, the C643DH was plagued with many of the same problems that UP experienced with its experimental C855. 

Aluminum wiring, for instance, was one such issue.  It displaced copper in a cost-savings attempt.  However, it was completely inadequate and often caught fire. 
Following about a decade of service Southern Pacific retired their fleet of three during the 1970s. UP's version lasted no longer and as all three '855's were off its roster around the same time.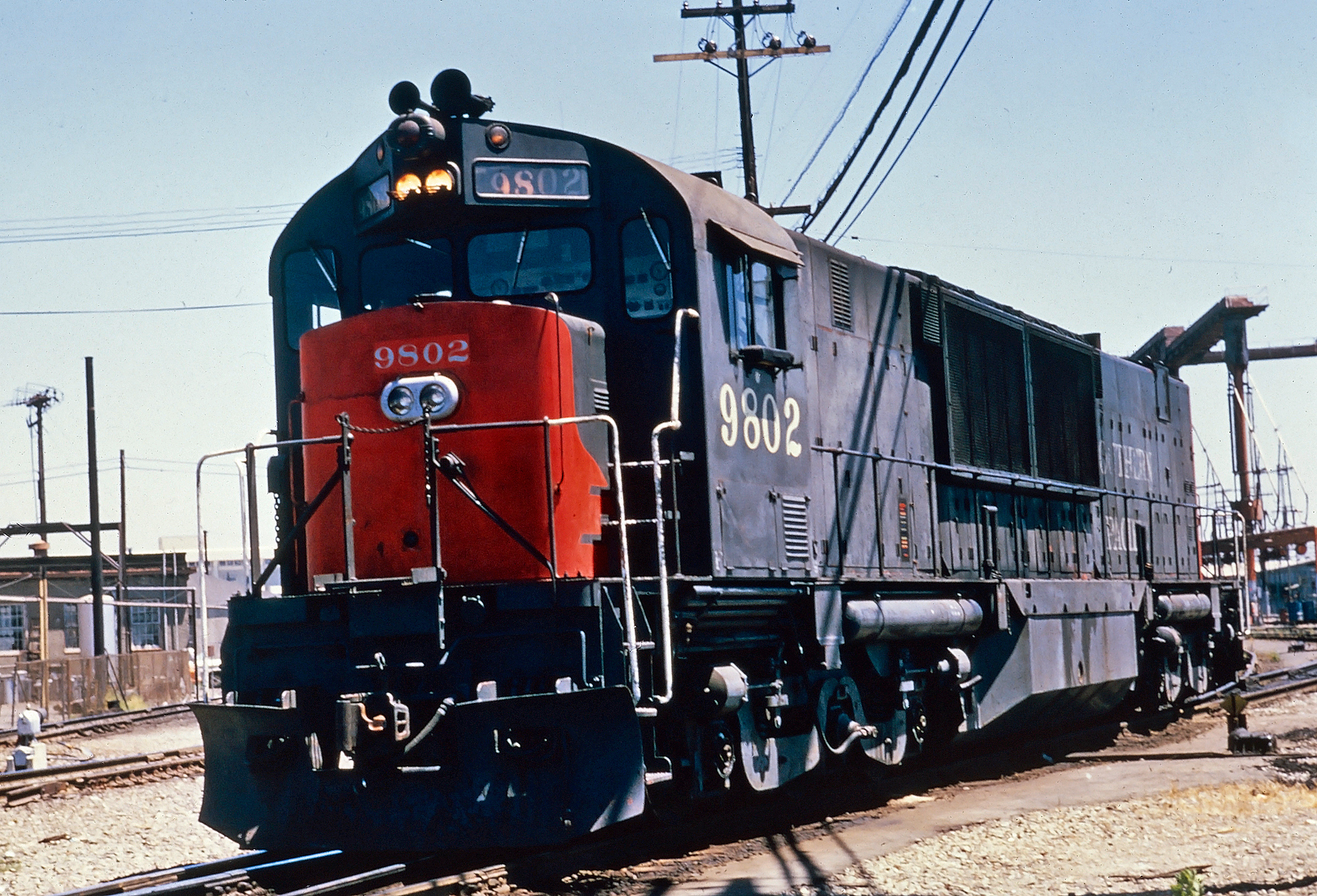 Southern Pacific DH643 #9802 runs light through the engine terminal at Oakland, California, circa 1970. American-Rails.com collection.
DH-643 History And Background
The DH643, classed by Alco as the DL-643, was produced in the early fall of 1964 as the builder manufactured a set of three for Southern Pacific who, like rival Union Pacific, often tested big horsepower in an attempt to see if they could reduce the number of locomotives needed per train.
The SP took this a step a bit further by testing diesel hydraulic designs during the 1960s, which included Alco's design (the railroad also acquired or purchased new 21 German-built, Krauss-Maffei ML-4000s).
The C643DH could produce 4,300 horsepower using two 251C model prime movers rated at 2,100 horsepower each.
Unlike the C855 which used four B-B trucks, the C64H carried two, standard C-C trucks and weighed much less at only 378,000 pounds (interestingly, at 189 tons the model even weighed less than its six-axle Century line which topped out at over 200 tons).
As you might expect, the C643DH was not a standard model in Alco's catalog although the company would certainly build and test any type of experimental locomotive a railroad requested.
Internally, the C643DH was basically two C628s merged together. The model used traction motors (model 752) from General Electric although its main generator was produced by Voith Hydraulic, its notable characteristic.  Additionally, air components came from Westinghouse (brakes and compressor).
The locomotive was one of the longest the company ever produced (the C855 ranked first in this category) at nearly 75 feet, 10 inches and was capable of producing an incredible 95,000 pounds of tractive effort, on par with some of the largest and most powerful steam locomotives ever built.

Only three C643DHs were ultimately constructed for Southern Pacific, originally numbered #9018-#9020 (the railroad later classed them as #9150–#9152 and finally #9800-#9802).
Unfortunately, the locomotive was not particularly successful. First, the diesel hydraulic transmission performed poorly and due to the fact that it was foreign-made meant parts were expensive and took time to arrive. 
Alco DH643 Data Sheet
| | |
| --- | --- |
| Entered Production | 9/1964 |
| Years Produced | 9/1964 |
| Model Specification | DH-643 |
| Engine | 251C, V-12 (2) |
| Horsepower | 4,300 (2,150 per engine) |
| RPM | 1,050 |
| Carbody Styling | Alco |
| Length (Between Coupler Pulling Faces) | 75' 10" |
| Weight | 378,000 Lbs. |
| Dynamic Brakes | Yes |
| Trucks | C-C |
| Truck Type | Trimount |
| Truck Wheelbase | 12' 6" |
| Wheel Size | 40" |
| Traction Motors | GE 752 (6) |
| Gear Ratio | 78:22 |
| Main Generator | German Voith Hydraulic |
| Tractive Effort Rating | 95,000 Lbs |
| Top Speed | 77 MPH |
Alco DH643 Production Roster
| Owner | Road Number(s) | Construction Numbers | Completion Date |
| --- | --- | --- | --- |
| Southern Pacific | 9018-9020* | S-3374-01 thru S-3374-03 | 9/1964 |
* Renumbered 9150-9152 (1966), and finally 9800-9802 (1970).
Sources:
Foster, Gerald. A Field Guide To Trains. New York: Houghton Mifflin, 1996.



Kirkland, John F. Diesel Builders, The:  Volume Two, American Locomotive Company And Montreal Locomotive Works. Glendale: Interurban Press, 1989.


Pinkepank, Jerry A. Diesel Spotter's Guide.  Milwaukee: Kalmbach Publishing Company, 1967.


Solomon, Brian. Alco Locomotives. Minneapolis: Voyageur Press, 2009.
---
---
Other issues evolved around a lack of proper research and development, similar to the C855.  As a result, the '643s experienced numerous problems and trouble-shooting issues while in service, particularly in regards with the two prime movers functioning as one (timing issues). 
Because of the locomotives' problems, crews came to loathe operating them, which provided for an incredibly jarring ride. 
Dissatisfied with their performance Espee pulled the group from service after less than ten years and all were retired in September, 1973.  Interestingly, UP had scrapped their fleet of C855s a year earlier in 1972.