GE "U33C" Locomotives


The GE U33C was one of the company's most powerful six-axle models, and one of the last it would build before introducing the upgraded "Dash 7" line.
Once GE had gotten its foot in the door, so to speak, with the popular U30C model, its sales began to take off for future models like the U33C.
While GE still had issues of reliability with its Universal line it worked to improve these and by the time it introduced the "Dash 7" line most mechanical and electrical issues with its locomotives had been worked out (the company already had earned high praise for its traction motors).
For most Class Is who purchased the large and powerful U33Cs they remained in revenue service through the 1980s.
However, as General Electric continued to catalog new and more reliable designs, particularly the Dash 7 line being unveiled at around the same time, railroads began retiring their older U33C fleets. 
There was another reason, however.  GE's have consistently lacked the durability of their EMD counterparts; most were gone by the early 1990s.

The GE U33C began production in January, 1968, a few years after the U30C. The model featured a slight increase in power to 3,300 horsepower using the company's standard 4-cycle model FDL16 prime mover.
With a tractive effort rating of 91,650 pounds starting and 92,500 pounds continuous this was on par with earlier models like the U30C and U28C.
Perhaps the biggest difference of the U33C from earlier models was the addition of a flared rear radiator. It first appeared on the sister U33B model as well and gave the units the appearance of wings.
The purpose of this design was for the increase in horsepower and the feature became a trademark of GE's locomotives, which remains to this day.
General Electric's Fleet Of "U-Boats"
U18B, "Baby Boat" 

U25B 

U28B

U30B 

U33B 

U36B 

U23C 

U25C 

U28C 

U30C 

U36C 

50 

U50C 

While sales for the U33C were not as brisk as that of the U30C it still sold relatively well, 375 units to 11 different Class Is by the time production had ended in January, 1975.
Overall the roads to purchase the model included the Santa Fe (25), Burlington Northern (39), Delaware & Hudson (9), Erie Lackawanna (55), Great Northern (15), Illinois Central (10), Milwaukee Road (4), Northern Pacific (10), Penn Central (34), Southern (6), and Southern Pacific (194).
Over time, the Santa Fe acquired increasingly more power from General Electric. This proved vital as the AT&SF was one of America's most respected and successful railroads. Here, U33C is tied up with other power at Argentine Yard in Kansas on December 16, 1970. Roger Puta photo.
Some lines like the Milwaukee and Santa Fe had become regular buyers of GE products by the 1970s. This time, however, the AT&SF did not purchase a variant of the U33C for use in passenger service given the reliability issues that plagued the earlier U30CG and U28CG.
In terms of history the success of GE's late model U-boats essentially put Alco out of business as it closed its plant in Schenectady, New York in early 1969.

One of Great Northern's just-delivered U33C's, wearing the road's "Big Sky Blue" livery, is seen here at the Dale Street Shops in St. Paul, Minnesota on April 26, 1969. Myron Gilbertson photo.
As with the U30C, early built models of the U33C were not particularly reliable from an overall standpoint as railroads complained of regular maintenance issues.
However, General Electric vowed to correct these problems and in the company's favor it offered a very reliable traction motor, the model 752A that kept roads coming back to buy the late series Universals.
By the last few years of production on the locomotive GE had corrected most of the early problems and the U33C by that point was nearly a "Dash 7" model, the first of which the company released in 1976 with the C30-7 (issues had certainly been corrected by then as GE sold more than 1,100 examples of the C30-7). 
Today, there are no known GE U33Cs known to be either in operation or preserved.
GE U33C Production Roster
| Owner | Road Number(s) | Quantity | Date Built |
| --- | --- | --- | --- |
| Burlington | 5725-5763 | 39 | 1971 |
| Delaware & Hudson | 754-762 | 9 | 1970 |
| Erie Lackawanna | 3301-3315 | 15 | 1968-1969 |
| Great Northern | 2530-2544 | 15 | 1968-1969 |
| Illinois Central | 5050-5059 | 10 | 1968 |
| Milwaukee Road | 8000-8003 | 4 | 1968 |
| Northern Pacific | 3300-3309 | 10 | 1969 |
| Penn Central | 6540-6563 | 24 | 1968 |
| S.J. Groves & Sons Company | 507-508 | 2 | 1969 |
| Santa Fe | 8500-8524 | 25 | 1969 |
| Southern Pacific | 8585-8796 | 212 | 1969-1975 |
| Southern Railway | 3805-3814 | 10 | 1970-1972 |
---
---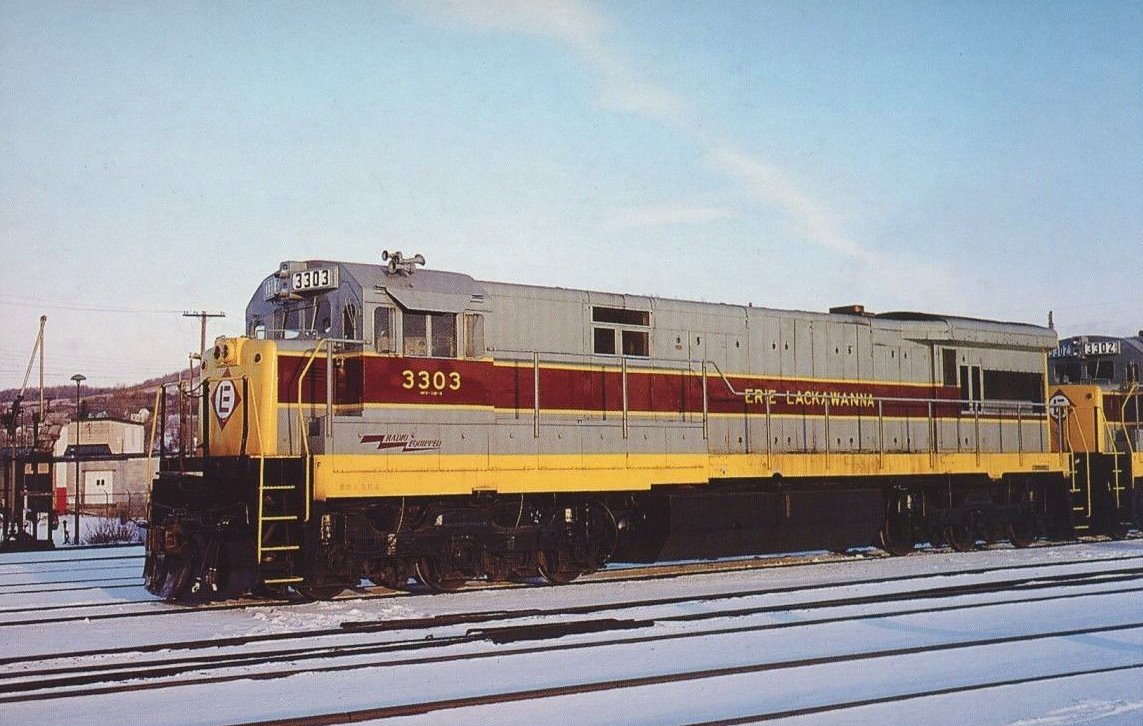 Erie Lackawanna U33C's seen here after being returned from the Delaware & Hudson, once more wearing their EL livery at Hornell, New York on January 15, 1976. Carl Sturner photo.
For more reading about GE's U-boat line the book U-Boats: General Electric's Diesel Locomotive by author Greg McDonnell provides a complete history of the company's first production diesel models.  
Also, noted historian Brian Solomon has authored a number of books covering the history and background of GE's locomotives.  
Two, which provide a general but thorough coverage include GE Locomotives and GE And EMD Locomotives: The Illustrated History.  As with virtually all of Mr. Solomon's you can expect a well-written title with large, crisp, and sharp photographs.