FM "H24-66" Locomotives (Train Master)


Of all the locomotive models Fairbanks Morse produced during its short stint in the market the Train Master was by far its most revolutionary and best remembered.
Officially cataloged by the builder as its H24-66 the locomotive was a serious puller that was well built and very powerful.
Unfortunately, its undoing was simply that it was too far ahead of its time as railroads had yet to realize the benefits of powerful, six-axle locomotives that offered high amounts of tractive effort.
It is one of the truly unique aspects of diesel locomotive history.  Had things been different, and the locomotive cataloged more than a decade later, the Train Master may have been the SD40-2 of its day.  
Going further, had that happened Fairbanks-Morse may have blossomed into a major rival of Electro-Motive.  Today, there is one H24-66 preserved although it was built by FM's Canadian arm, the Canadian Locomotive Works; Canadian Pacific #8905. The locomotive is currently on display at the Canadian Railway Museum in Saint-Constant, Quebec.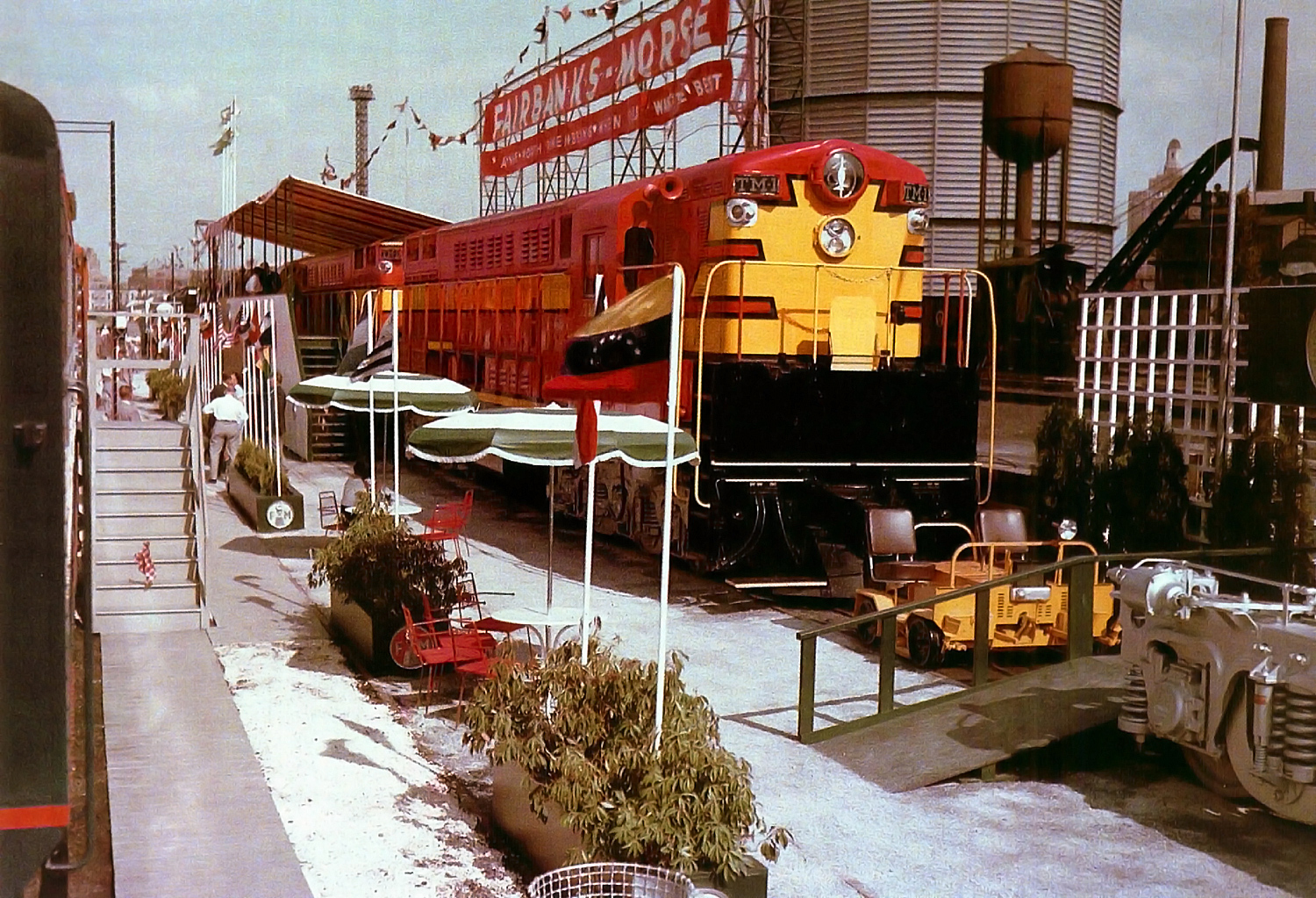 Two of Fairbanks-Morse's H24-66 "Train Master" demonstrators, TM-1 and TM-2, are showcased at the Railway Supply Manufacturers' Association trade show in Atlantic City, New Jersey in late June of 1953.
The Train Master began production in April of 1953 and proved itself as the most "successful" locomotive on the market at the time, even if railroads didn't realize it.
The H24-66 utilized Fairbanks Morse's 2-cycle 38D8 1/8 opposed piston prime mover that could produce a hefty 2,400 horsepower using C-C trucks (the model was equipped with the Tri-Mount design).
The TM offered the most horsepower of any locomotive in its class at that time and despite its size it could also out accelerate any comparable locomotive, even making it ideal in some types of passenger service (a trait not missed by the Southern Pacific).
The locomotive offered unparalleled tractive effort; 79,500 pounds starting and an even better 82,500 pounds continuous!
As such it had incredible acceleration and could pull just about anything to which it was assigned.  Unfortunately, when the locomotive debuted in the early 1950s railroads had yet to grasp the diesel as a high horsepower commodity.
Fairbanks-Morse's Catalog Of Diesels
H10-44 

H12-44

H15-44

H16-44 

H20-44

H16-66, "Baby Train Master" 

FM's "Erie Builts" 

FM's "C-Liners" 

As such, most saw the H24-66 as too powerful for their needs, not to mention the complicated maintenance issues accompanying Fairbanks Morse's odd opposed piston prime movers.

A pair of Southern Pacific's "Train Masters" are again seen at San Francisco's 3rd & Townsend Depot in commuter service wearing the road's "Black Widow" livery during the 1950s.
In the end when production had ended on the Train Master in June of 1957 just 127 had been built for a handful of Class I railroads.
FM also built four demonstrators; TM-1 and TM-2 went to the Wabash while the Southern picked up TM-3 and TM-4.  By the time the Train Master was released in 1953 Fairbanks Morse had ended Raymond Loewy's recommendations in styling its road switchers.
However, it did continue to lean on some of his ideas giving the TM a clean look and soft, beveled edges (at 66 feet it was basically an elongated version of its smaller four axle road switchers).
Perhaps the only truly negative aspect of the Train Master was its weight; at just over 194 tons it was quite heavy and hard on the track and infrastructure.

Jersey Central H24-66 "Train Master" #2410 works commuter service as it performs a station stop at Matawan, New Jersey in the summer of 1967. Randy Kotuby collection.
Despite the Train Master's weight issues and complicated opposed-piston design many railroads that purchased it found that the model lived up to FM's hype.
The locomotive took a beating on lines like the Reading and Virginian where it was used in heavy coal drag service.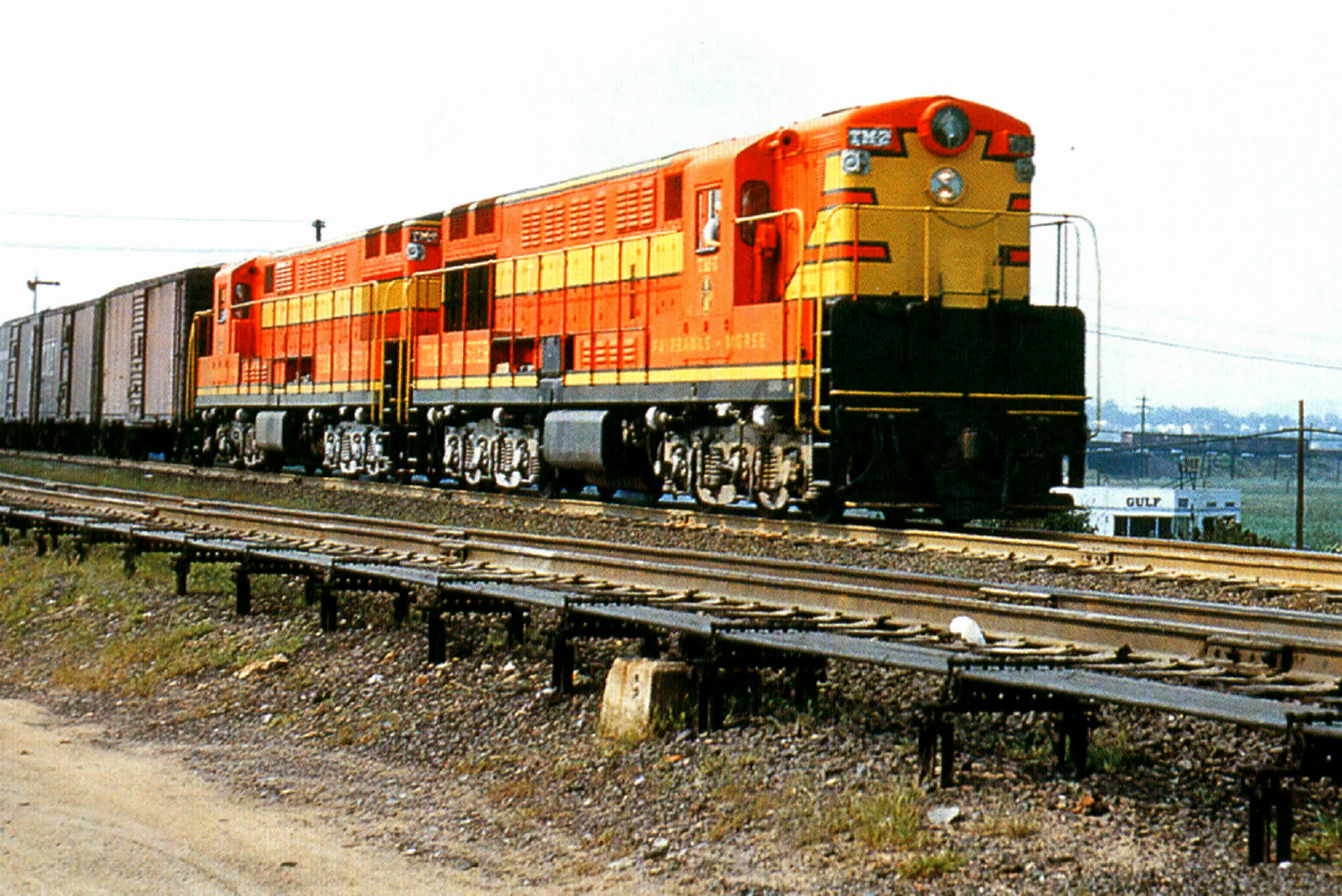 Fairbanks-Morse "Train Master" demonstrators #TM-1 and #TM-2 in service somewhere in New Jersey, circa 1953.
On the other hand the Southern Pacific liked theirs so well, particularly its fast acceleration, that after newer models replaced the TMs in freight service the railroad continued using them in commuter operations well into the 1970s.
t should be noted that while the Train Master only saw cool sales numbers it is not necessarily because Fairbanks Morse's models in general were unreliable.
Fairbanks Morse H24-66/Train Master Production Roster
| Owner | Road Number(s) | Quantity | Date Built |
| --- | --- | --- | --- |
| Canadian National | 3000 | 1 | 1955 |
| Canadian Pacific | 8900-8920 | 21 | 1956 |
| Central Railroad Of New Jersey (CNJ) | 2401-2413 | 13 | 1954-1956 |
| Fairbanks Morse (Demo) | TM-1, TM-2, TM-3, TM-4 | 4 | 1953 |
| Lackawanna | 850-861 | 12 | 1953-1956 |
| Pennsylvania | 8699-8707 | 9 | 1956 |
| Reading | 800-808, 860-867 | 17 | 1953-1956 |
| Southern Pacific | 4802-4815 | 14 | 1953-1954 |
| Cincinnati, New Orleans & Texas Paific (Southern) | 6300-6304 | 5 | 1954 |
| Virginian Railway | 50-74 | 25 | 1954-1957 |
| Wabash Railroad | 552-554, 552A-554A | 6 | 1956 |
---
---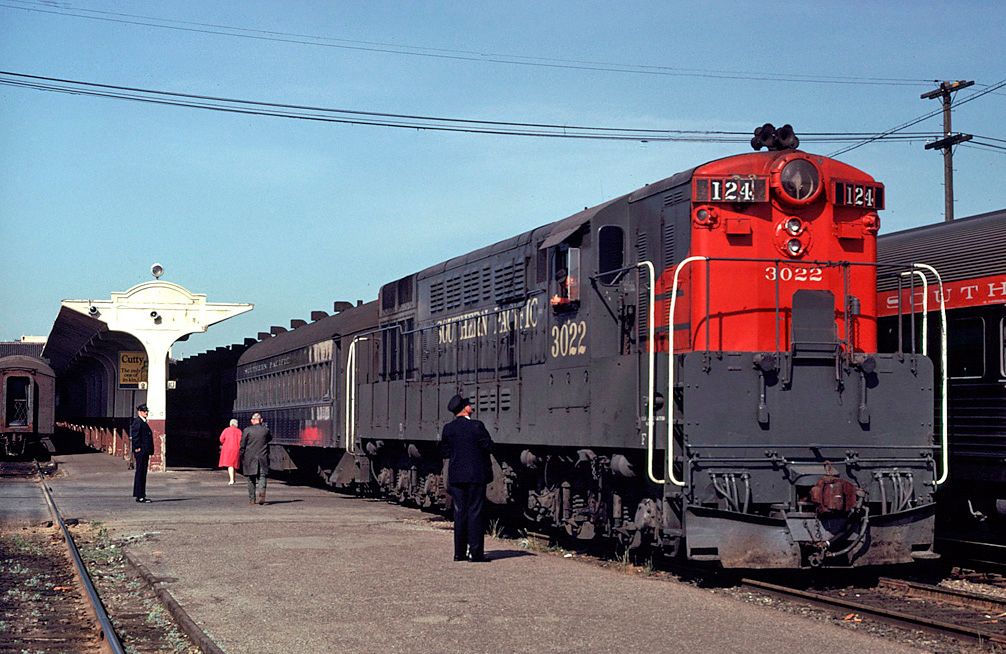 Southern Pacific H24-66 #3022 readies to leave San Francisco's 3rd & Townsend Depot with commuter train #124 on the morning of April 30, 1971. The Espee, unlike most roads, came to like the Train Master and other Fairbanks Morse products. Drew Jacksich photo.
Reliability with FM's diesel locomotives has often been questioned but the primary issue seems primarily due to the complexity of the opposed-piston prime mover to maintain; it was far different from the standard designs offered by the other builders.
For instance, it has been noted by John Kirkland book The Diesel Builders Volume 1 that the Train Master performed admirably for more than 20 years on the Southern Pacific due to a maintenance team that understood the model and its mechanical inner workings, despite taking a daily beating in freight service.