Early EMC Switcher Locomotives

Often forgotten due to their brief stint as an independent manufacturer before becoming an official division of General Motors was the Electro-Motive Corporation's (EMC) short catalog of switchers, built during the latter half of the 1930s and included four different series.  In just a three-year stretch EMC out-shopped more than one hundred examples of its switcher line during ranging among four different models; the SW, NW, SC, and NC. Interestingly, General Motors continued half of EMC's original catalog.  In particular was the SW series, which proved so successful that it remained in production until the 1970s!  Today, EMC's heritage not only survives in the locomotive designs it inspired but also its name which carries on as Electro-Motive Diesel, Inc. albeit not as a GM division.  

While Electro-Motive products have always been regarded for their reliability and longevity, perhaps that was best exemplified in its switchers.  Incredibly, some of their SW1's survived on Class I's until the 1990's!   Today, you can still find early variants like the NW2, SW7, SW8, and others at work on short lines or pulling excursions.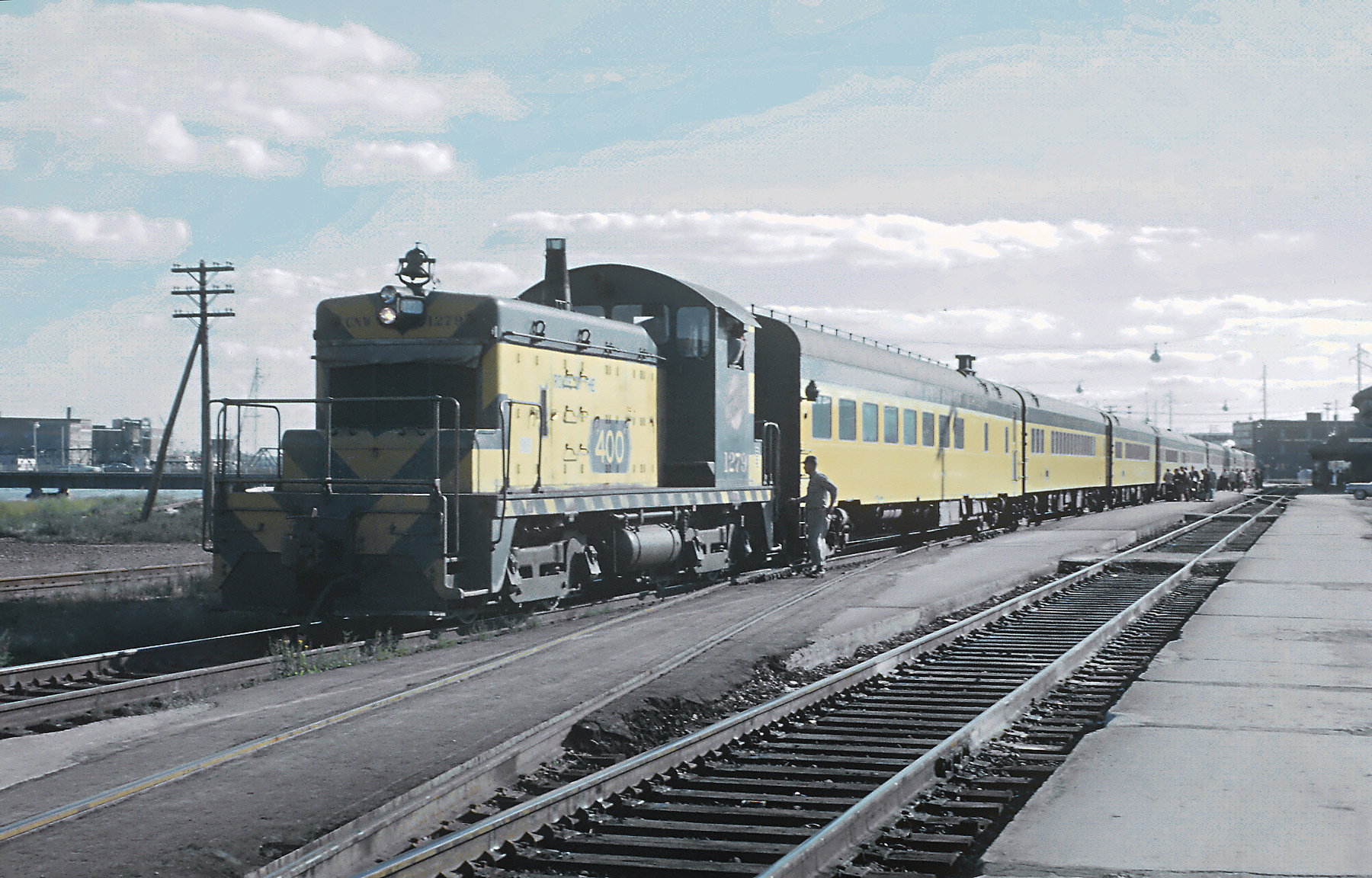 Chicago & North Western SW1 #1279 is busy at work in Green Bay, Wisconsin adding a diner and a pair of coaches to the "Shoreland '400'" at Green Bay, Wisconsin in September 1963. Roger Puta photo.
What is today known as Electro-Motive Diesel has a history that can be traced back to the early 20th century. EMD originally began as the Electro-Motive Corporation, a privately owned company based out of Cleveland, Ohio manufacturing inexpensive motorcars starting in 1922. With its purchase by General Motors in 1930 and with more resources at its disposal EMC began developing lightly-powered switcher locomotives for use in industrial and light branch operations. EMC's basic design would become the standard upon which other manufacturers emulated their models; an end-set cab followed by a short hood with B-B trucks (or two axles per truck). EMC's first model was known as the "SC" built between May, 1936 and early 1939 at the company's new LaGrange, Illinois production facility. The letter designation simply stood for six-hundred horsepower with a cast frame. 
Chicago Great Western NW2's #20 and #24, along with DS-4-4-1000 #38, layover at the Chicago Transfer Yard on May 2, 1963. Roger Puta photo.
The SC model was quite short at only about 44-feet and was powered by Winton's 201-A prime mover (which powered all of EMC's early locomotives).  Interestingly, the SC was equipped with traction motors built by General Electric, who roughly thirty years later would be a major Electro-Motive competitor.  The SC was rather unsuccessful selling just 43 units and despite poor sales was tested by several Class Is like the New York Central, Jersey Central, Missouri Pacific, and Santa Fe.  EMC's other 600 horsepower model was the famed SW.  The original model was virtually identical to the SC except that it featured a welded frame (hence the "W" designation) instead of a cast design. The switcher was built at the same time as the SC and sold a bit better with 76 units produced and several other railroads testing it. These two early locomotives proved reliable and useful in yard, industrial and branch line settings, explaining why future versions like the NW2, SW9, and others were so successful.

Monon NW2 #17 is shoving on a boxcar and caboose at what appears to be Hammond, Indiana in September, 1963. Roger Puta photo.
The two other examples EMC developed included the NC and NW.   These were also manufactured during the same era as their counterparts.  The designations here were also same; "C" and "W" again stood for cast and welded frame. The "N," however, referred to nine-hundred horsepower. These two models were not nearly as successful as the SC and SW, although their future successor, the NW2 sold more than 1,000 units.  The four basic models (of which EMC sold a total of 175 examples) were the only switchers the company developed under its own name; two years later on January 1, 1941 the Electro-Motive Corporation and Winton Engine Company officially became General Motors' Electro-Motive Division. This division also spelled the end of the Winton 201-A prime mover as all future Electro-Motive locomotives used GM's new and much more reliable model 567 engine, which was already employed in early E and F cab models. Today, you can still find a few examples of these early EMC switchers preserved around the country.
EMC Switcher Locomotives
| Model Type | Units Built | Date Built | Horsepower |
| --- | --- | --- | --- |
---
---
Baltimore & Ohio Chicago Terminal SW1 #8416 goes about its business with a cut of cars in East Chicago, Indiana during January, 1965. Roger Puta photo.
For more reading about early EMC switcher locomotives Mike Schafer's Vintage Diesel Locomotives highlights virtually all of the classic builders and models from Alco PAs to early EMD Geeps. If you're interested in classic EMDs, or diesels in general, this book gives an excellent general history of both.  You might want to also consider the book EMD Locomotives from author Brian Solomon. Solomon's book highlights the history of EMD from its earliest beginnings in the 1920s, to its phenomenal successes in the mid-20th century, and finally its decline into second spot behind General Electric in the late 20th century and eventual sale by General Motors in 2005. The book features 176 pages of EMD history and is filled with excellent photography and illustrations.  Finally, Mr. Solomon's Electro-Motive E-Units and F-Units: The Illustrated History of North America's Favorite Locomotives provides an in-depth history of the the builder's classic covered wagons.