Alco "C-420" Locomotives

One of the first of the American Locomotive Company's (Alco) new Century models was the C420. It was a four-axle design that offered sufficient horsepower. However, to some extent Alco continued to catalog custom models when a universal design would have sufficed, such as what EMD and General Electric had been doing for years (particularly the former). For instance, the C420 was meant to be a less powerful version of the C424, which was being produced at the same time. The Alco C420 had modest sales but the first design of the Century series did little to improve Alco's standing in the locomotive manufacturer's race. 
On a broader perspective, the C420 did prove one of Alco's more successful in the Century line and could be found on numerous railroads.  Interestingly, despite lukewarm sales, several C420s are preserved today.  In addition, a handful even remain in freight service at various short lines around the country.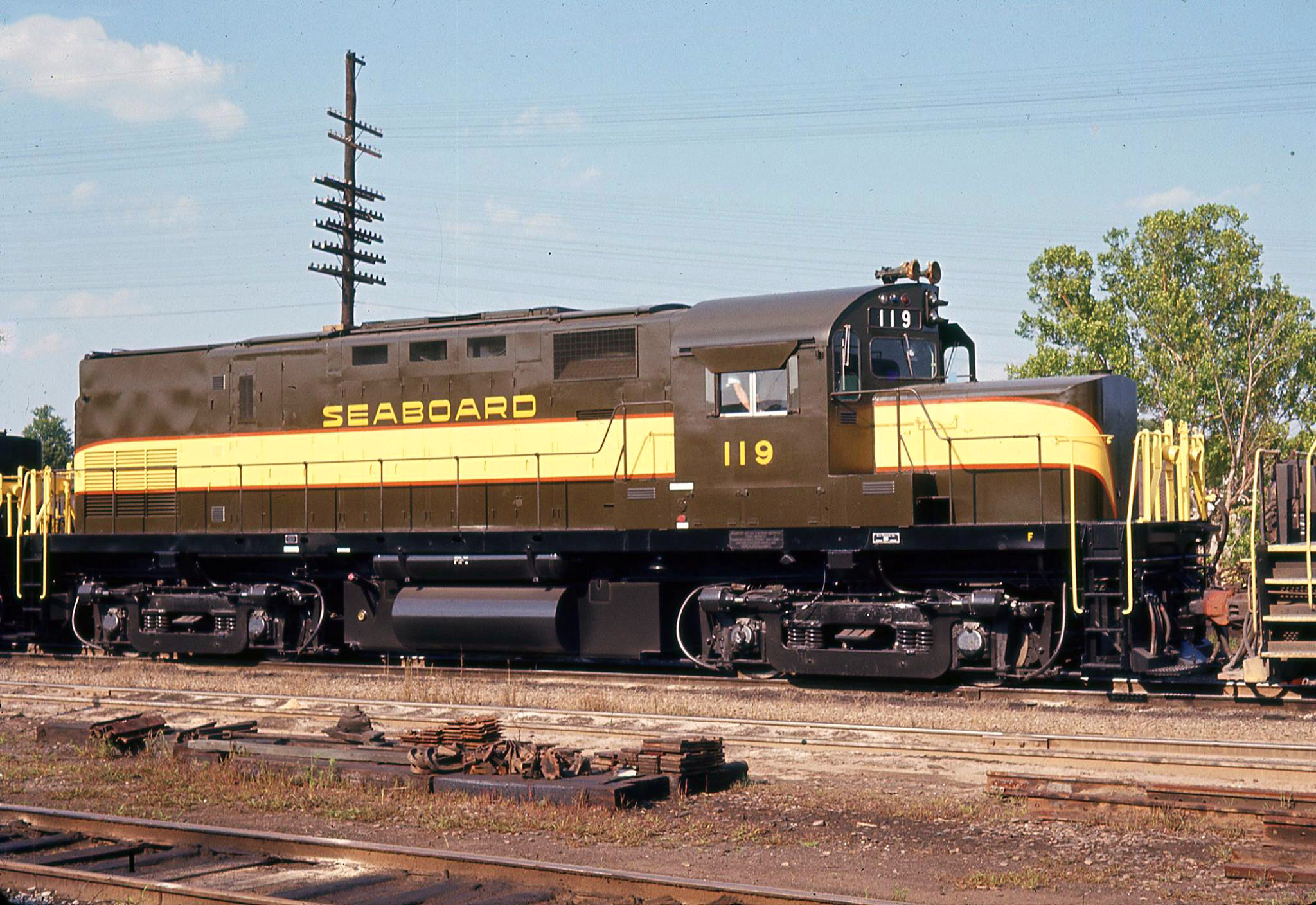 A new Seaboard Air Line C420 is seen here in Raleigh, North Carolina circa 1965. Warren Calloway photo.
The Alco C420 used the builder's new 261C prime mover that was much more reliable over its earlier designs. The model began production in June of 1963 and as was the case with late RS designs, the C420 featured a standard low nose (high nose units were only built on request, and some were built on the C420 model), similar to the Standard Cab design first employed by EMD on its GP30 model. As the designation suggests (which was a completely new system unveiled by Alco whereby the "C" stood for Century, "4" regarded the number of axles, and "20" referred to the horsepower), the C420 was capable of producing 2,000 horsepower and found buyers among a number of Class I railroads such as the Lehigh Valley, Norfolk & Western, Louisville & Nashville, and Monon. Interestingly, the largest buyer of C420s was the Pennsylvania-owned Long Island Rail Road, which owned thirty.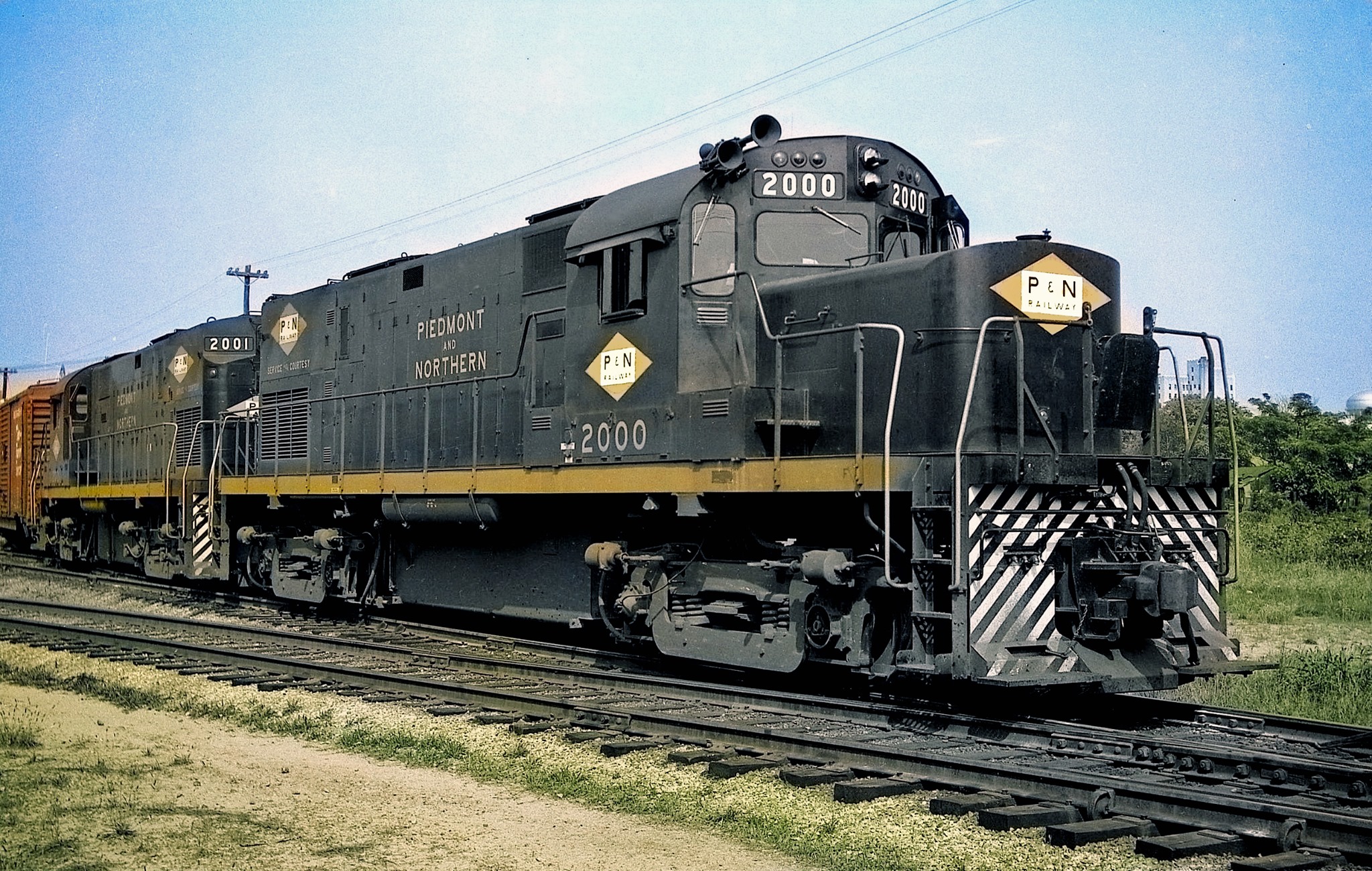 The Piedmont & Northern's only pair of C420's are seen here at work in Spartanburg, South Carolina on July 5, 1966. Warren Calloway photo (colorized).
Once again, the C420 was more of a reactionary release by Alco in an attempt to remain competitive with newcomer General Electric and its U25B which debuted in 1959. It's rather unfortunate that by the early 1960s Alco was generally looked upon with resignation by the industry as the Century series, particularly the four axle models, were quite adept locomotives which were very reliable. Additionally, they continued to offer incredible pulling power (an Alco trademark) and fuel efficiency. Surprisingly, despite GE now being an Alco competitor, the Schenectady manufacturer continued to purchase from its one-time ally internal components as it always had such as traction motors and generators.

Lehigh Valley C-420 #409, GP18 #302, and other power layover at the yard in Pittston, Pennsylvania on June 29, 1969. Roger Puta photo.
From a technical standpoint the Alco C420 was meant to replaced the RS32 model and while it offered less starting tractive effort (57,200 pounds) provided more continuous effort (38,000 pounds). Interestingly, neither Alco nor GE sold many models during the mid-1960s as EMD was once again dominating the market with its 2,500 horsepower GP35 of 1963 (which would go on to sell well over 1,000 examples).  By the time production had ended in 1968 only a little over 100 Alco C420s had been built. However, aside from the large Class Is who purchased the model several smaller lines did as well such as the Piedmont & Northern, Tennessee Central, Lehigh & Hudson River, Erie Mining, Mississippi Export, and even the Secratario de Communicaciones Y Transportes of Mexico.  For more information regarding the C420 model please click here.  
Monon C420 #507 leads a southbound manifest across the Penn Central (ex-New York Central) and Elgin, Joliet & Eastern at Dyer, Indiana on March 27, 1971. David Hawkins collection.
Alco C420 Production Roster
| Owner | Road Number(s) | Quantity | Date Built |
| --- | --- | --- | --- |
| Erie Mining | 600-602 | 3 | 1965 |
| Lehigh & Hudson River | 21-29 | 9 | 1963-1966 |
| Lehigh Valley | 404-415 | 12 | 1964 |
| Long Island Rail Road | 200-229 | 30 | 1963-1968 |
| Louisville & Nashville | 1300-1315 | 16 | 1964-1966 |
| Mississippi Export | 63 | 1 | 1965 |
| Monon | 501-518 | 18 | 1966-1967 |
| Nickel Plate Road | 578 | 1 | 1964 |
| Norfolk & Western | 413-420 | 8 | 1964 |
| Piedmont & Northern | 2000-2001 | 2 | 1965 |
| Seaboard Air Line | 110-136 | 27 | 1965 |
| Secratario de Communicaciones Y Transportes | 7123-10, 7123-11 | 2 | 1965 |
| Tennessee Central | 400-401 | 2 | 1966 |
---
---
Perhaps most fascinating with this model, in terms of its history, is how many continued to find usefulness in freight service long after they were sold by their original owner. Today, close to 40 of this relics remain preserved with the most famous in operation on the Apache Railway.  Unfortunately, those in operation on short line Arkansas & Missouri (the fabled Alco line) have an uncertain future after the railroad announced in July it was acquiring three new EMD SD70ACes and would retiring much of its Alco fleet.   To read more about other Alco Century models please visit the Diesel Locomotives section of the site, which can be reached from the top of this page.
---
---
---