GE "U25B" Locomotives


The GE U25B was the builder's entry, independently, into the main line diesel locomotive market.
Part of General Electric's "Universal" road switcher series the U25B was a simple, no frills locomotive that provided ample pulling power and was generally reliable and easy to maintain.
The success of the U25B, although still far behind leader Electro-Motive Division, proved to General Electric that it could compete in the market and the company would go on to develop an entire line of Universals.
For the American Locomotive Company (Alco), however, the release of the U25B was a major blow that would eventually put the company out of the locomotive market.
Today the GE U25B has mostly been bumped out of freight service but at least seven locomotives remain preserved around the country. 
One particular unit you may want to check out is Southern Pacific #3100 which has been lovingly restored into SP's "Bloody Nose" livery at the Orange Empire Railway Museum.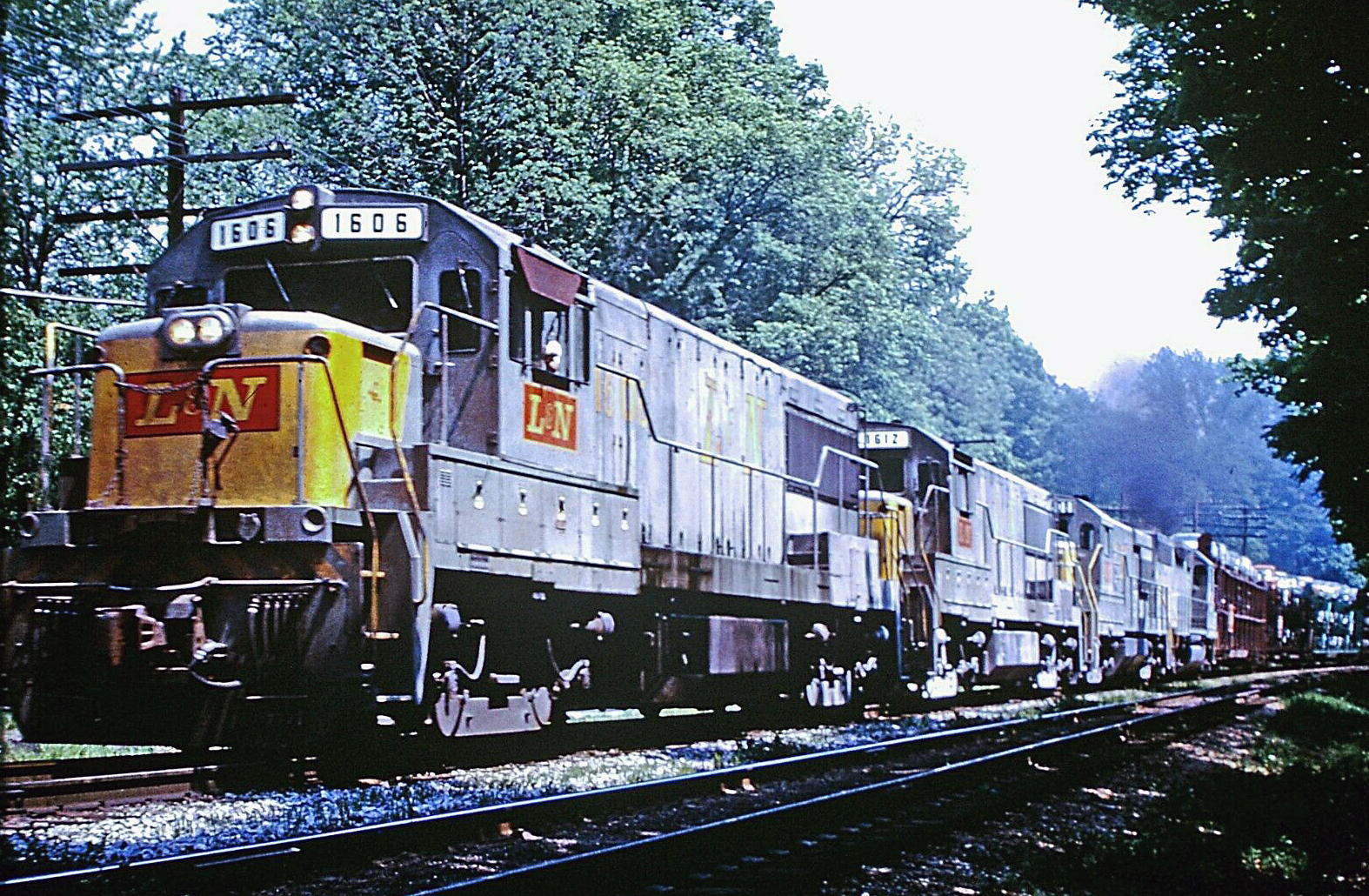 A pair of Louisville & Nashville U25B's, a U30B, and an Electro-Motive unit, are eastbound at Anchorage, Kentucky (a suburb of Louisville) with loaded autoracks in May, 1969.
For Alco, the company was somewhat abruptly surprised in 1954 when GE decided to end its decades long partnership, which dated back to the 1918 development of the first diesel-electric boxcab locomotive.
After severing ties GE ramped up production at their Erie, Pennsylvania facility to develop a reliable road switcher based from designs being released at the time by Alco and EMD.
The very first design it built was the GE 750, an A-B-B-A set of cab units that somewhat resembled an EMD F model (although with a less graceful carbody).
The locomotives used a 12-cylinder Cooper-Bessemer FVBL-12 prime mover and each could produce 1,200 horsepower giving them the name of UM-12 (although GE never actually called the locomotive this).
General Electric's Fleet Of "U-Boats"
U28B 

U30B 

U33B 

U36B 

U23C 

U25C 

U28C 

U30C 

U33C 

U36C 

U50 

U50C

In June, 1956 GE began selling a short batch of its first commercial design, the UD18. The company built two demonstrators of this locomotive, #1800 and #1801 (with an eye-catching red and white livery).
These test-bed units looked somewhat like EMD's GP7 and GP9 designs with a high short hood, offset cab, and long trailing hood.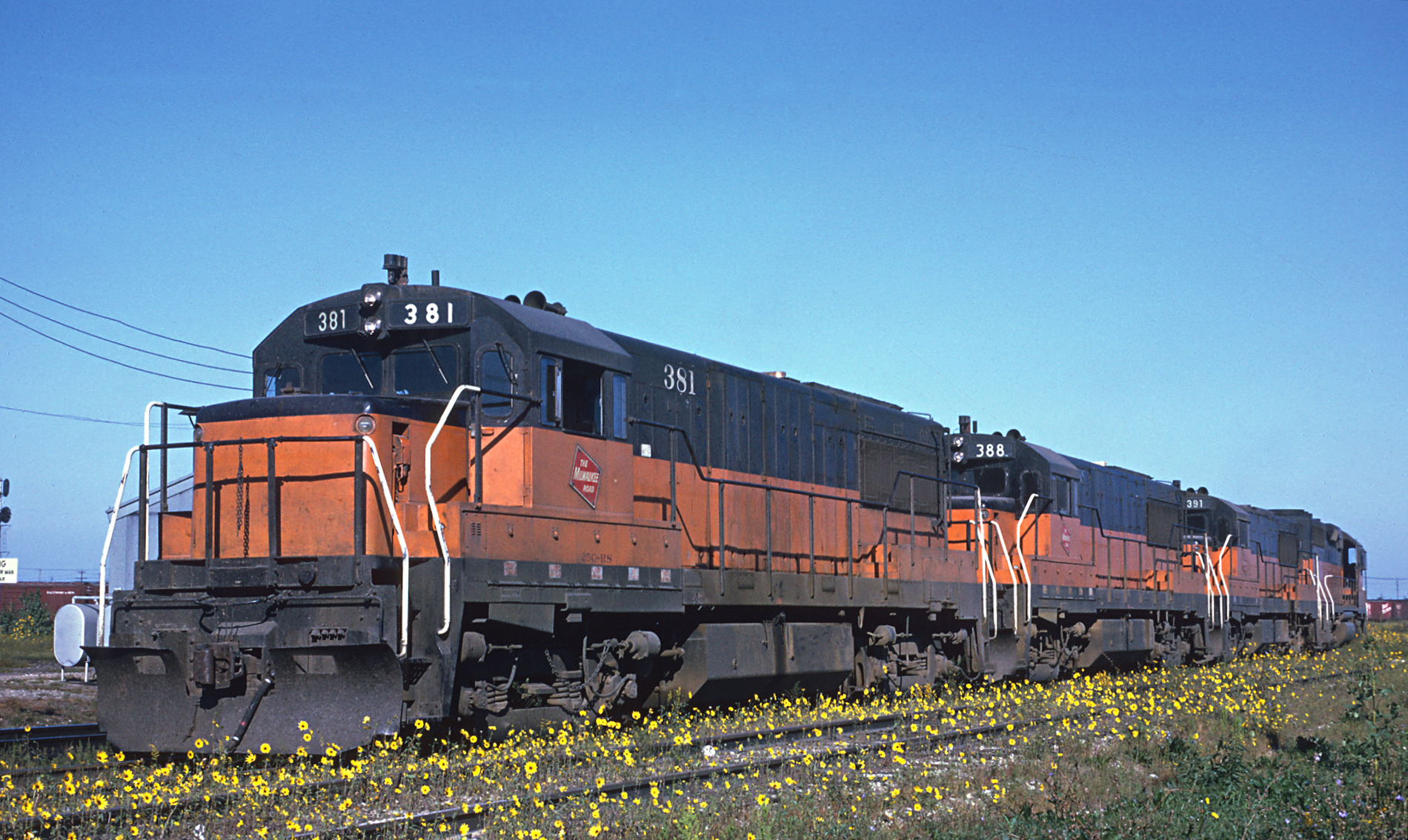 A trio of Milwaukee Road U25B's are seen here at the company's Bensenville, Illinois terminal on September 10, 1967. As the railroad's financial condition worsened it began acquiring large batches of GE power, which was cheaper than comparable EMD units. Roger Puta photo.
It could produce 1,800 horsepower using GE's own FDL12 prime mover. No American railroads ever found interest in the design although Mexican line Nacionales de Mexico did.

After purchasing GE's two demonstrators the company ordered eight more (altogether numbered 8000-8009) receiving its entire batch by November, 1956.
After the release of the UD18, GE began manufacturing short batches of similar designs for foreign lines through 1959 before releasing the U25B such as the U4B, U5B, U9B/C, and the U12B/C.
In April, 1959 it released the U25B and again attempted to gain interest from U.S. lines for its latest road switchers.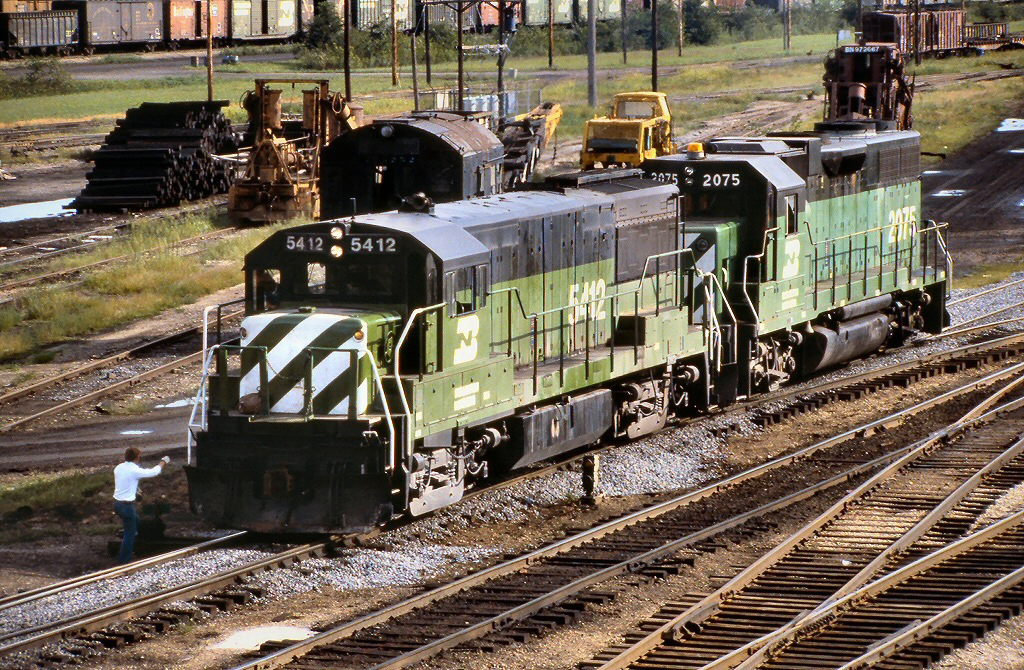 Burlington Northern U25B #5412 and GP38-2 #2075 run light towards the engine terminal in Galesburg, Illinois during August of 1978. The U-boat was built as Great Northern #2512 in 1965. Rob Kitchen photo.
The "U" was designated by GE as its Universal series and the U25B was the first to be labeled as a "U-boat" by railfans.
The company's classification system was very straightforward; "U" of course, regarded Universal; "25" designated the horsepower rating, 2,500; and "B" referred to the unit being a four-axle, B-B truck design.
The locomotive utilized an updated version of the company's standard prime mover, the 4-cycle FDL16 prime mover. Railroads quickly came to like the model's simplicity, horsepower, and ease of maintenance as sales quickly took off.  
A relatively light locomotive for a road switcher, weighing just 126 tons, it could produce excellent tractive effort for its size; 75,000 pounds starting and 64,000 pounds continuous.  
By the time production had ended on the U25B in February, 1966 GE had built some 478 units (including two demonstrators that were never purchased) sold to numerous Class I railroads (the Southern Pacific would come to own the most, 68).
GE U25B Production Roster
| Owner | Road Number(s) | Quantity | Date Built |
| --- | --- | --- | --- |
| Burlington | 100-105 | 6 | 1965 |
| Chesapeake & Ohio | 2500-2537 | 38 | 1963-1964 |
| Erie Lackawanna | 2501-2527 | 27 | 1964-1965 |
| General Electric (Demo) | 51-54, 751-756, 2501-2504 | 14 | 1959-1963 |
| Great Northern | 2500-2523 | 24 | 1964-1965 |
| Louisville & Nashville | 1600-1626 | 27 | 1963-1964 |
| Milwaukee Road | 380-391 | 12 | 1965 |
| New Haven | 2500-2525 | 26 | 1964-1965 |
| New York Central | 2500-2569 | 70 | 1964-1965 |
| Norfolk & Western | 3515 | 1 | 1965 |
| Pennsylvania | 2500-2548, 2649-2658 | 59 | 1962-1965 |
| Rock Island | 200-238 | 39 | 1963-1965 |
| Santa Fe | 1600-1615 | 16 | 1962-1963 |
| St. Louis San Francisco Railway (Frisco) | 800-831 | 32 | 1961-1966 |
| Southern Pacific | 7500-7567 | 68 | 1962-1964 |
| Union Pacific | 625-640 | 16 | 1961-1962 |
| Wabash Railroad | 500-514 | 14 | 1962 |
---
---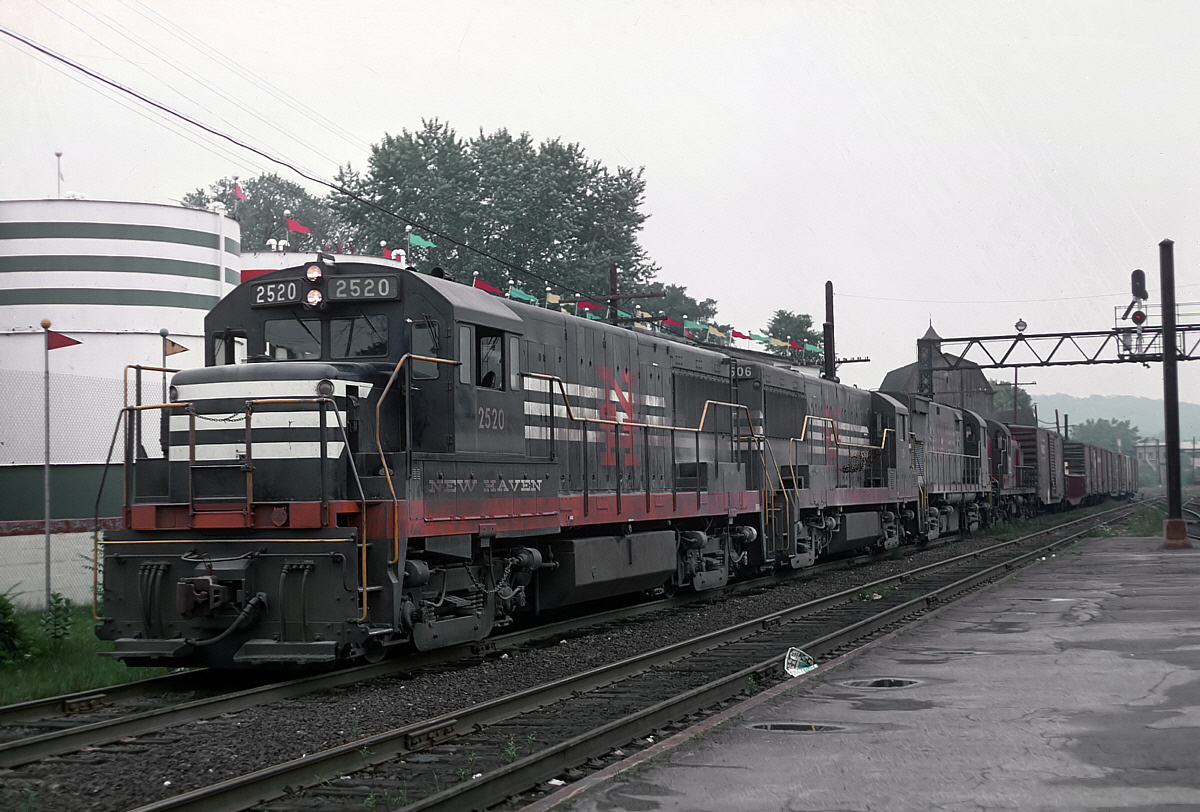 New Haven U25B's lead a manifest freight past the station at Danbury, Connecticut on July 28, 1968. Roger Puta photo.
Interestingly, the locomotive outsold the EMD model released at the same, the GP20, which only sold about 260 examples.
The U25B jump-started GE's entry into the locomotive market and future models sold just as well if not better (particularly their six-axle U-boats). 
For Alco, of course, the U25B was the beginning of the end. GE had done their homework and ever the reactionary, Alco slipped into third place and would eventually exit the market altogether by 1969.
Today, at least seven GE U25Bs remain preserved around the country; Louisville & Nashville #1616, Milwaukee Road #387-388, New Haven #2525, New York Central #2500 and #2510, and Southern Pacific #7508.