Alco "T-6" Locomotives

The Alco T6 can be classified within the S series because the design is basically an S6 with an additional 100 horsepower and intended for use in slow, drag service (the "T" designation simply stood for Transfer switcher). This type of locomotive dated back to the 1940s with the Baldwin Locomotive Works' DT-6-6-2000 and later RT624 models believing that there was a market for this type of switcher moving cuts of cars or freight over short distances (such as terminal operations or between yards). However, the idea never really caught on as railroads saw little use for a such a specialized design believing (quite correctly) that standard switchers or small road switchers (like early Geeps and RS models) could perform that task just as well. 
;
From a broader perspective, Alco did have more success than Baldwin's models, which were simply too long, bulky and inefficient to be particularly useful.  Today, at least four Alco T6s are preserved; Norfolk & Western #41 is the most notable, which is owned by the Roanoke Chapter of the National Railroad Historical Society.
---
---
---
---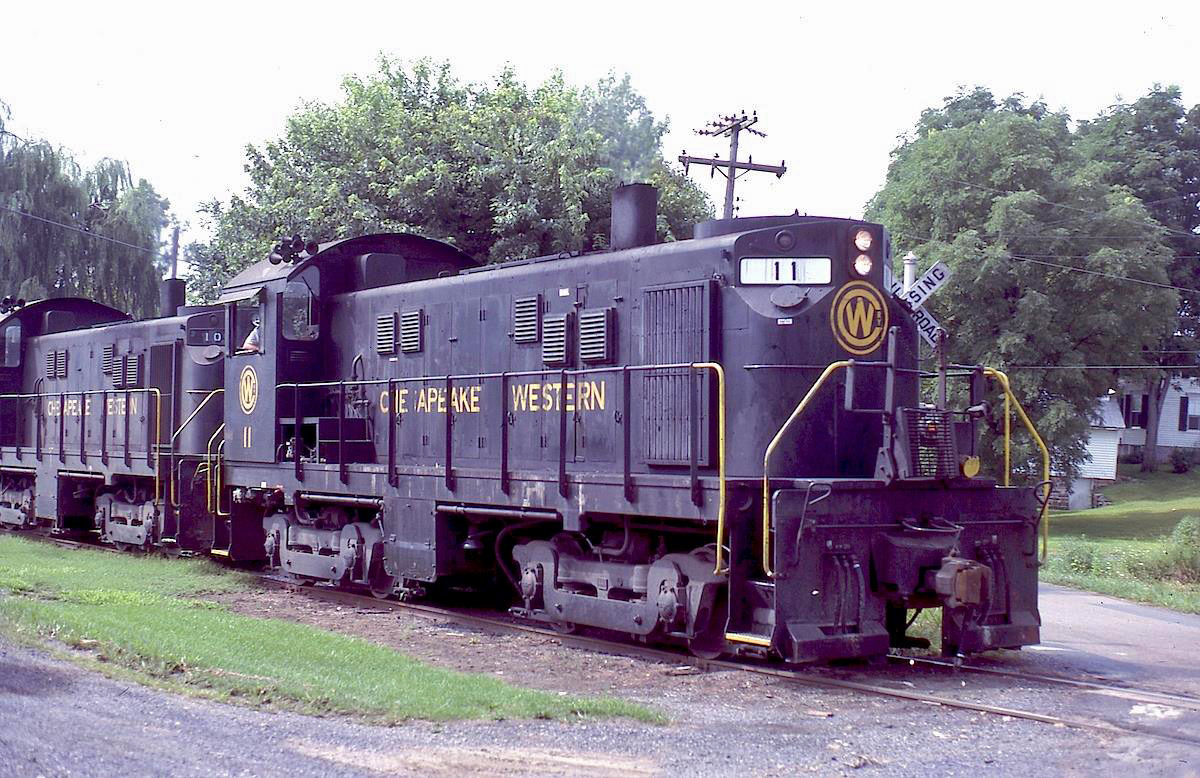 Chesapeake & Western's T6's rumble through the small town of Keezletown, Virginia with a short freight on August 27, 1979. Warren Calloway photo.
The American Locomotive Company (Alco), despite knowing of Baldwin's unsuccessful earlier models went ahead and released the T6 in late 1958 still believing that there would be a market for such a locomotive. Even the Electro-Motive Division, the industry leader since main line diesels first hit the market in the late 1930s, understood that there was not a significant market for transfer switchers. The Alco T6 debuted in March, 1958 and as can probably be guessed was most successful with industries and in mining applications including Brewster Phospahtes, Kaiser Steel, Portland Terminal Railroad, Newburgh & South Shore, and the Monongahela Connecting Railroad. However, a few Class Is also found an interest in the model including the Norfolk & Western and Pennsylvania railroads purchased the T6. Additionally, Altos Hornos de Mexico, S.A. also picked up two units.
The Alco T6 (which was designated by the company as its DL440) was almost identical to the S6 save for its notched number boards, a later Alco hallmark (particularly for the Century line) that no other model within the S series featured. The T6 also differed from previous models in that it was a foot longer at 46 feet, 5 inches and also featured a slightly taller hood. Aside from these differences the transfer design was about the same internally; it featured a B-B truck setup using General Electric traction motors and generators as well as Westinghouse components. Interestingly, the locomotive's tractive was a bit less than the S6; 60,000 pounds starting and 46,000 pounds continuous.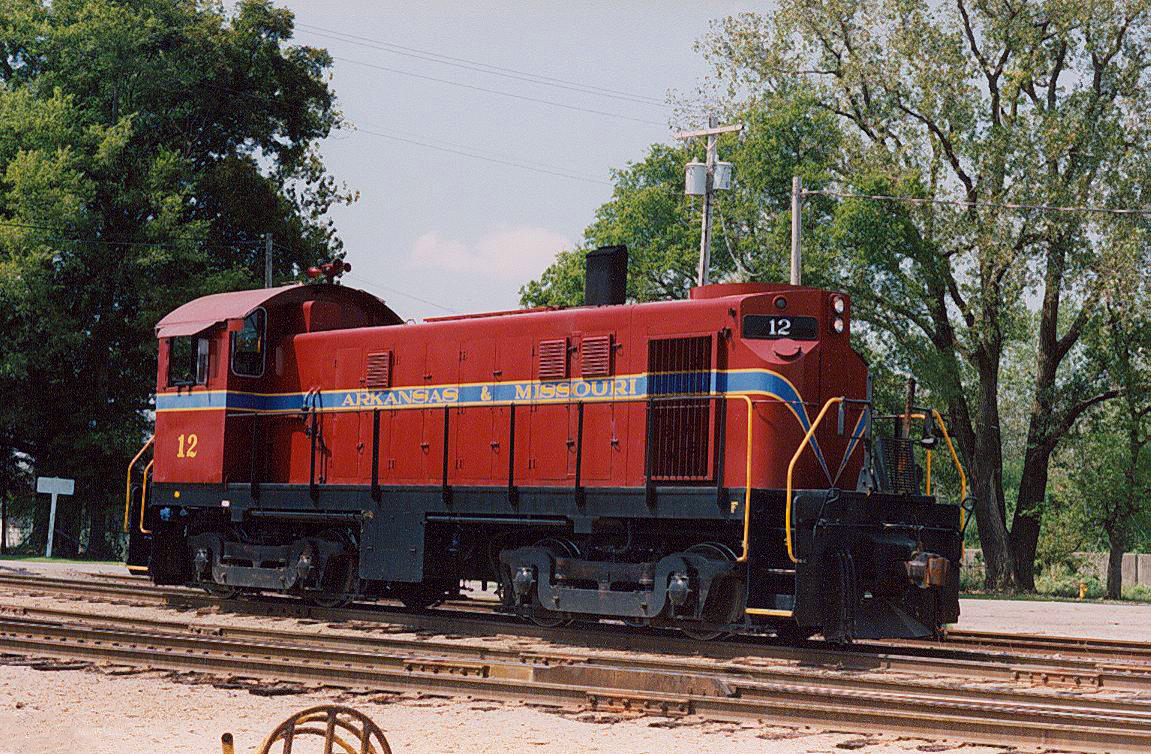 Arkansas & Missouri T6 #12 is seen here in Fort Smith, Arkansas during 1992. The unit was built as Norfolk & Western #46 in 1959. Doug Kroll photo.
For the 57 examples of Alco T6s built they were apparently well liked, particularly by the Norfolk & Western, which purchased 40 of them. The N&W found them especially useful along the extreme eastern region of their system near the ports of Norfolk, Virginia. There they were used for years shuffling empty and loaded coal hoppers, and other relevant freight, around the docks located there. Some of the units even continued to operate into the early Norfolk Southern years although all were retired soon afterwards.  Interestingly, despite the few T6s ever built there are actually numerous examples still operational aside from the one N&W unit preserved.   For more technical information related to the T6 please click here.  
Alco T6 Production Roster
| Owner | Road Number(s) | Quantity | Date Built |
| --- | --- | --- | --- |
| Altos Hornos de México, S.A. (Mexico) | 126-127 | 2 | 1964 |
| American Cyanamid Company | 16-17 | 2 | 1966 |
| Chesapeake Western Railway | 10-11 | 2 | 1959 |
| Kaiser Steel Corporation | 1022-1023 | 2 | 1959 |
| Monongahela Connecting | 400 | 1 | 1968 |
| Newburgh & South Shore | 1016-1017 | 2 | 1969 |
| Norfolk & Western | 12-49 | 38 | 1959 |
| Pennsylvania | 8424-8429 | 6 | 1958 |
| Portland Terminal (Oregon) | 46-47 | 2 | 1968 |
---
---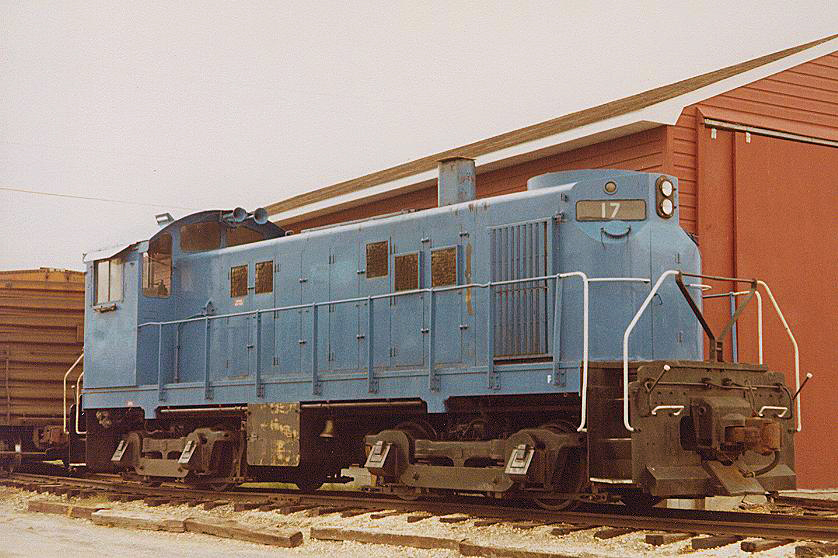 Maryland & Delaware T-6 #17 is seen here at Federalsburg, Maryland on September 24, 1980. The unit began its career as Pennsylvania #8424 in 1958 and later as Penn Central #9844. It carried the same number under Conrail and was still in its blue paint when this photo was taken. Doug Kroll photo.
These units include Middletown & Hummelstown #1016 is an original Newburg & South Shore unit; Arkansas & Missouri operates six, #12, #14, #16, and #18 are original N&W units while #15 and #17 are of Pennsylvania Railroad lineage; and International Terminals #9624.  From a historical standpoint, the T6 was the final locomotive ever outshopped by the American Locomotive Company when Newburgh & South Shore Railroad #1016 and #1017 rolled out of the Schenectady plant in January, 1969.  To read more about other Alco switchers please visit the Diesel Locomotives section of the site, which can be reached from the top of this page.
---
---
---