EMD "SD50" Locomotives

Last revised: June 1, 2022
By: Adam Burns
Electro-Motive Division's SD50 was only marginally successful and the model ran into numerous problems. The design fell far short of the high quality, reliable, long-lasting locomotives that railroads had become so used to purchasing from EMD.
The locomotive was released by the company in the early 1980s and was another attempt to provided a higher-horsepower model to keep pace with General Electric's increasing competition and its C36-7 model that offered more power than the SD40-2.
Unfortunately, EMD rushed the SD50 into production and it not only suffered mechanical problems but also did irreparable damage to the company's reputation as a respectable locomotive builder. 
Interestingly, after the issues with the SD50 were corrected the locomotive did prove quite reliable..  As a result, many many remain in use today. 
Those found on Class I operations, however, no longer operate in their original configuration; CSX has rebuilt their units to SD50-2 and SD50-3 specifications while Norfolk Southern has de-rated theirs to what is termed an SD40E.

When the EMD SD50 hit the market in 1980 GE was already well established and was providing EMD more competition with every passing year.
Overall the SD50 was very similar to the SD40 series in terms of its layout and design (although it was a bit longer at just over 71 feet and included an extra 600 hp), and its most striking difference was not in appearances at all but what was under the "hood" as the locomotive carried new microprocessors and electronics.
In essence, the locomotive was a transition to the present-day highly computerized models from the then "Dash 2" line that providing EMD with so much success. Unfortunately for EMD the SD50 was not the answer to quelling GE's increasing market share.
While the locomotive provided sufficient power, rated at 3,600 using General Motors' 16-cylinder model 645F3B prime mover, it was habitually unreliable and prone to numerous mechanical troubles.
Using General Motors' latest D87 traction motor the locomotive could produce tractive effort ratings on par with the SD40-2; 92,000 pounds starting and 82,100 pounds continuous.
To make matters worse the locomotive had a very complicated electrical system and was a headache for maintenance and shop crews.
Not surprisingly because of the SD50's setback it was mostly a failure in terms of sales and only sold over 400 units when production ended in 1985.
A pair of new Seaboard System SD50's at Dolton, Illinois in April, 1984. John Eagan, Jr. photo. Author's collection.
To correct the flaws with the prime mover EMD moved quickly to launch the SD60 model, which it released in 1984.
While the locomotive was more fuel efficient, featured EMD's new 710-G3A engine, and was much more reliable the failures of the SD50 haunted the original design with less than 600 built.
However, EMD manufactured several variants through 1995 which sold relatively well and by the time production had ended on the SD60 more than 1,100 had been built. In any event, buyers for the SD50 included the Baltimore & Ohio (20, numbered 8576-8595), Chicago & North Western (35, numbered 7000-7034), Chesapeake & Ohio (43, numbered 8553-8575, 8624-8643), Conrail (135, numbered 6700-6834), Rio Grande (17, numbered 5501-5517), Kansas City Southern (11, numbered 703-713), Missouri Pacific (60, numbered 5000-5059), Seaboard System (81, numbered 8500-8552, 8596-8623), Southern (20, numbered 6506-6525).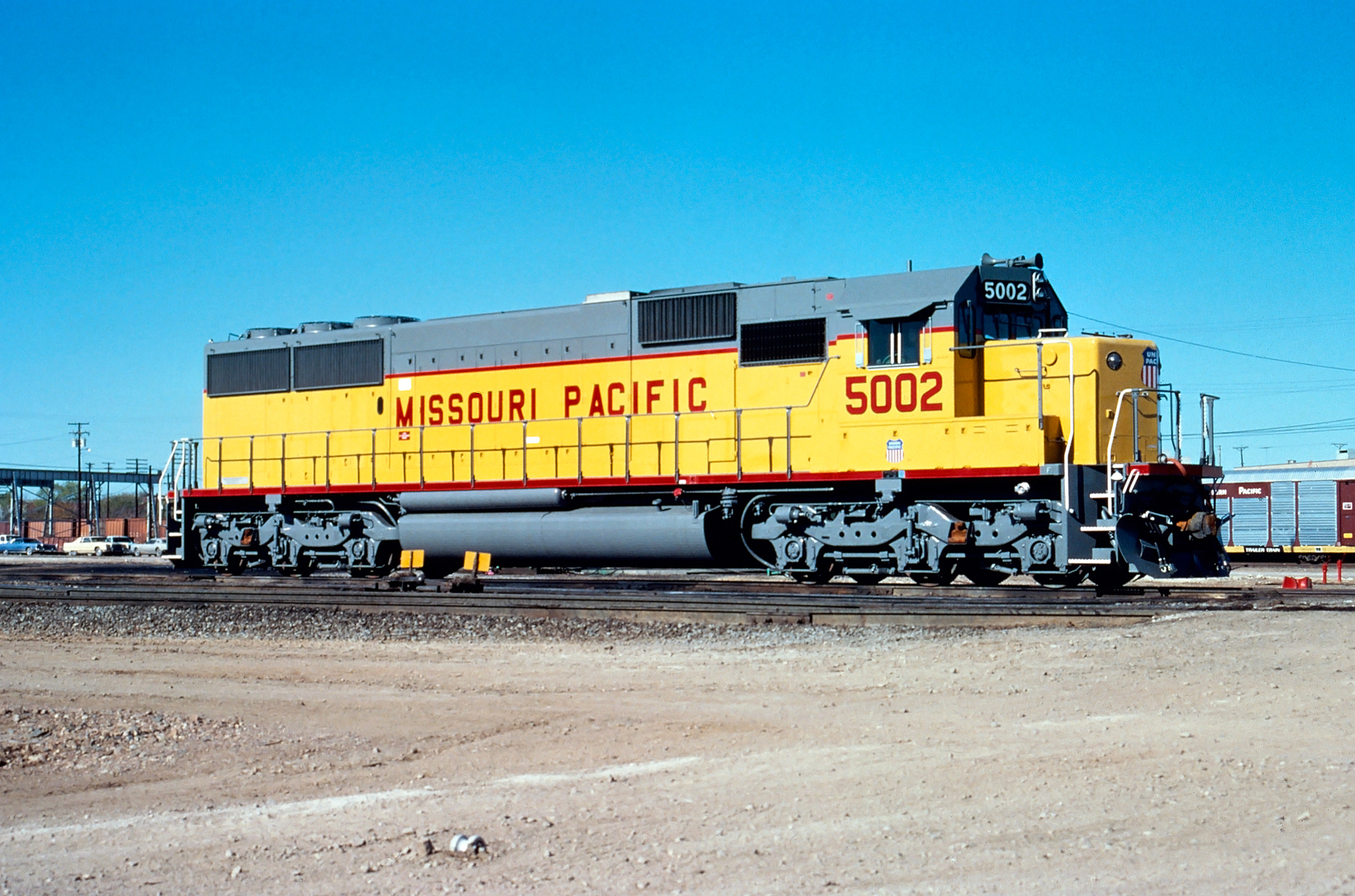 Missouri Pacific/Union Pacific SD50 #5002, only a few months old, lays over in Fort Worth, Texas in March, 1985. Steve Bledsoe photo. American-Rails.com collection.
While both models were only marginally successful and the market had already turned heavily in favor of GE-built locomotives, the SD50 and SD60 can continue to be found on railroads all across the country, including Class Is.
The SD50 was also the last EMD to be built solely with the standard cab design as the SD60 was offered with the now popular (and mandatory) wide-cab "safety" design (the SD70 was the last EMD locomotive to receive any standard cabs and most were purchased by Norfolk Southern).
It should be also be noted that EMD released the SD50F in 1985. This model was built solely for the Canadian National Railway as a "cowl" design with 60 ultimately constructed. However, like the original SD50 design the SD50F continues to have reliability issues today even though many remain in service.
EMD SD50 Production Roster
| Owner | Road Number(s) | Quantity | Date Built |
| --- | --- | --- | --- |
| Baltimore & Ohio | 8576-8595 | 20 | 1984 |
| Chesapeake & Ohio | 8553-8575, 8624-8643 | 43 | 1984-1985 |
| Chicago & North Western | 7000-7034 | 35 | 1985 |
| Conrail | 6700-6834 | 135 | 1983-1986 |
| Denver & Rio Grande Western | 5501-5517 | 17 | 1984 |
| Kansas City Southern | 704-713 | 10 | 1981 |
| Missouri Pacific | 5000-5059 | 60 | 1984 |
| Norfolk Southern | 6506-6525 | 20 | 1984 |
| Seaboard System | 8500-8552, 8596-8623 | 81 | 1983-1985 |
SD50S Production Roster
| Owner | Road Number(s) | Quantity | Date Built |
| --- | --- | --- | --- |
| Norfolk & Western | 6500-6505 | 6 | 1980 |
---
A group of new Missouri Pacific/Union Pacific SD50's, about a month old, at Fort Worth, Texas on December 2, 1984. Steve Bledsoe photo. American-Rails.com collection.
Another variant of the locomotive was the SD50S built just when production on the model was beginning. The "S" regarded a shorter frame making them just over 69 feet length.
All six were purchased the Norfolk & Western (numbered 6500-6505) and its order was completed by December of that year.
In any event, be on the lookout for the locomotives, while together they can hardly be distinguished, compared against other EMDs they can easily be picked out with their extremely long frames compared to others like the SD40 and SD45 series.
Non-Class I operators of the SD50 today include the Reading & Northern, Hudson Bay Railway, and Utah Railway among many others.