FM "Erie-Built" Locomotives


The Erie-Built's were Fairbanks Morse's first cab design it ever cataloged. They were meant for use in passenger service and compete primarily against Electro-Motive's successful E series. 
In addition, they rivaled Alco's beautiful PA design.  When the Erie-Built was released directly after World War II, Fairbanks Morse worked incredibly hard to market a passenger model that could effectively hold its own with the leading manufacturers.
Incredibly, in spite of this effort FM never really gave the locomotive a formal name and it was simply referred to by the location where it was built, General Electric's plant in Erie, Pennsylvania. 
Fairbanks Morse did make several initial sales with the Erie-Built but overall failed to truly compete against either EMD or Alco.
In an ironic twist, both FM and American Locomotive cataloged passenger models which were quite aesthetically pleasing, featuring a long nose, sloped windshield, and clean streamlining. 
Unfortunately, neither could rival Electro-Motive's "E" series, which dominated the market until it was retired in the late 1950's.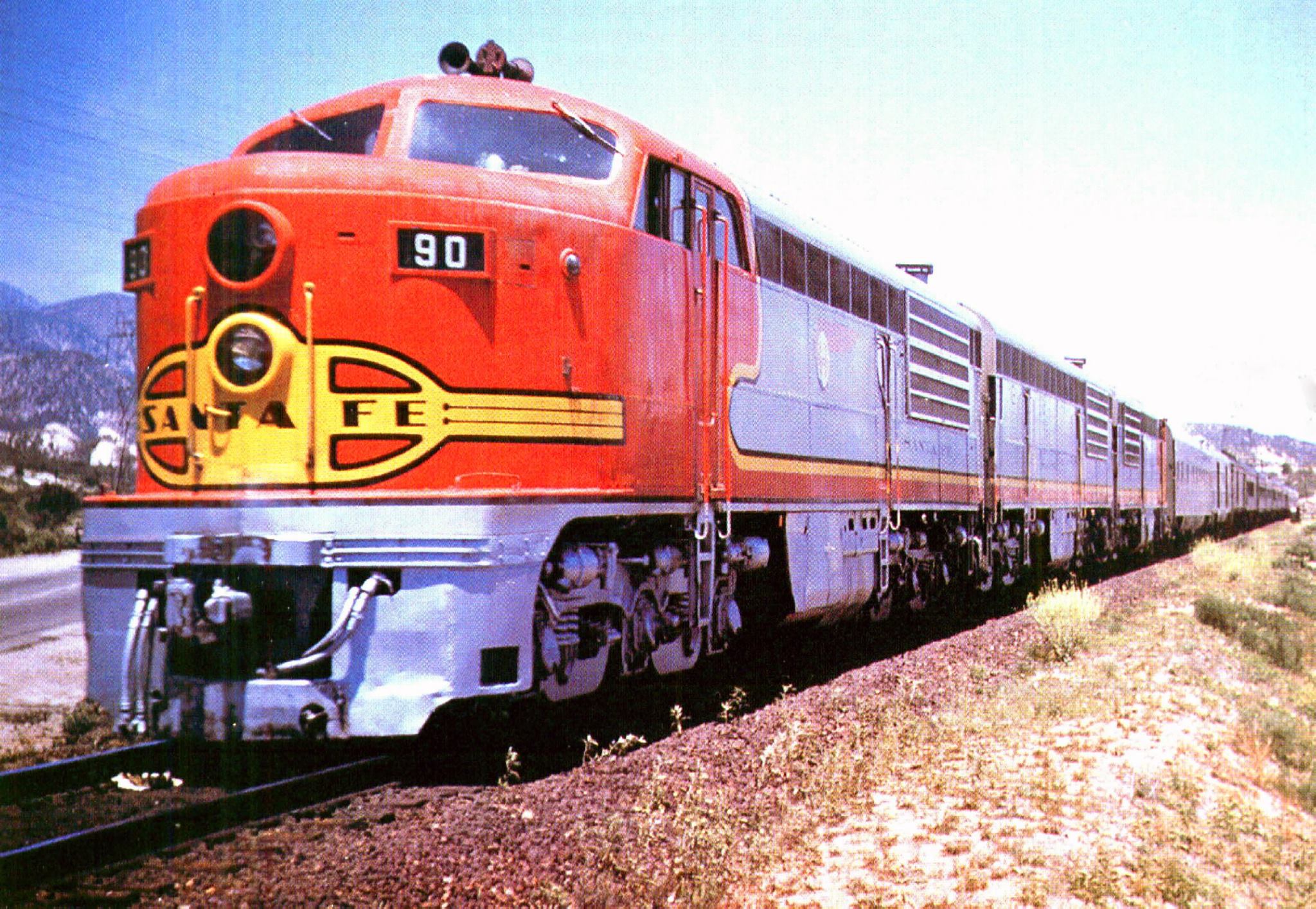 A postcard featuring the Santa Fe's only three Erie-Built's (A units #90 and #90-B along with B unit #90-A), which was Fairbanks-Morse's attempt to enter the passenger locomotive market just after World War II.
Fairbanks Morse's cab models basically all carried a similar appearance, not unlike Alco's FA and PA.  As was the case with other two builders FM introduced its cab line to compete with Electro-Motive's highly successful E and F series.
The first of these models was known simply as the "Erie-Built" because the carbody, as previously mentioned, was manufactured by General Electric at its Erie, Pennsylvania plant.
In 1950, however, the company introduced a formal line of passenger units known as the "Consolidated Line," commonly referred today as C-Liners.
These models were available in three different horsepower variations of 1,600 hp, 2,000 hp and 2,400 hp. 
The Erie-Builts began production in December of 1945; they featured a look somewhat similar to the PA in that it sported a long, graceful nose ahead of the cab with a sweeping, streamlined body. Overall, it was a very classy and elegant locomotive.
Fairbanks-Morse's Catalog Of Diesels
H10-44 

H12-44

H15-44

H16-44 

H20-44

H16-66, "Baby Train Master" 

H24-66, "Train Master" 

FM's "C-Liners" 

The Erie-Builts utilized an A1A-A1A truck setup (meaning the two outside axles were powered while the inside was not) and produced a hearty 2,000 horsepower equipped with the builder's 2-cycle 38D8 1/8 opposed-piston prime mover (FM became legendary for the power these engines could produce).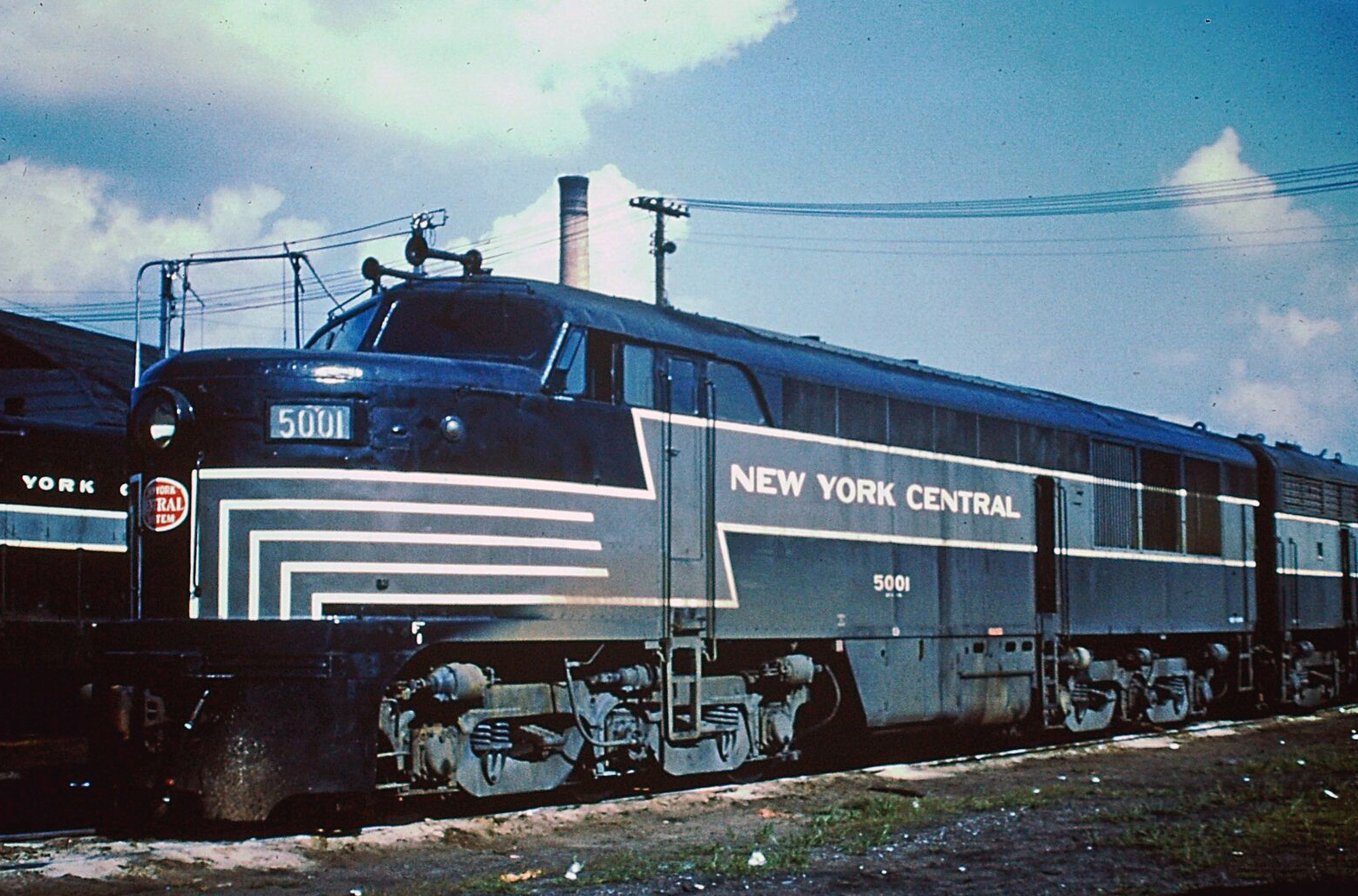 A New York Central "Erie-Built" lays over between assignments in Jackson, Michigan on July 29, 1961.
With a tractive effort of 55,000 pounds starting and 27,500 pounds continuous the Erie-Built offered slightly less than EMD's E7.  

Aesthetically, some of the best remembered Erie-Builts were those constructed for the Milwaukee Road. 
Manufactured between December of 1945 and March of 1947 the locomotives powered the famous Olympian Hiawatha between Chicago and the Pacific Coast at Seattle.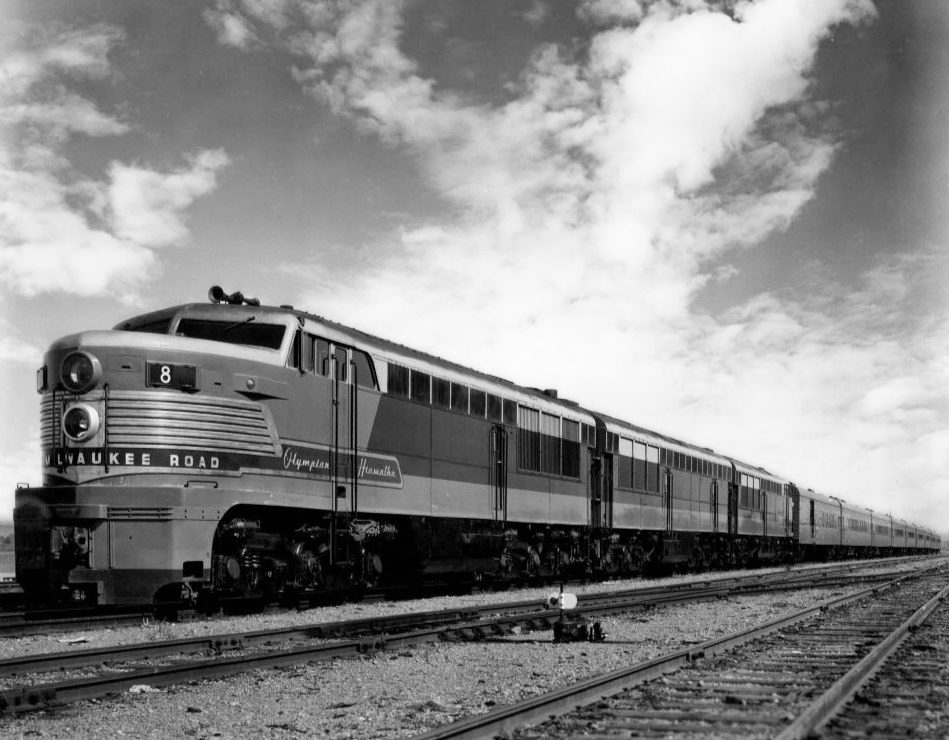 A publicity photo from the mid-1940s featuring Milwaukee Road's all new "Olympian Hiawatha" (Chicago - Seattle) powered by an A-B-A set of Erie-Builts.
They were clad in Milwaukee's beautiful two-tone red/orange livery with chrome plating around the nose with Olympian Hiawatha included just under each side the cab. 
It was a very elegant, albeit brief look.   Surprisingly, the Erie-Builts sold relatively well (by Fairbanks Morse standards anyway) with 111 units outshopped by the time the builder had ceased construction in April of 1949.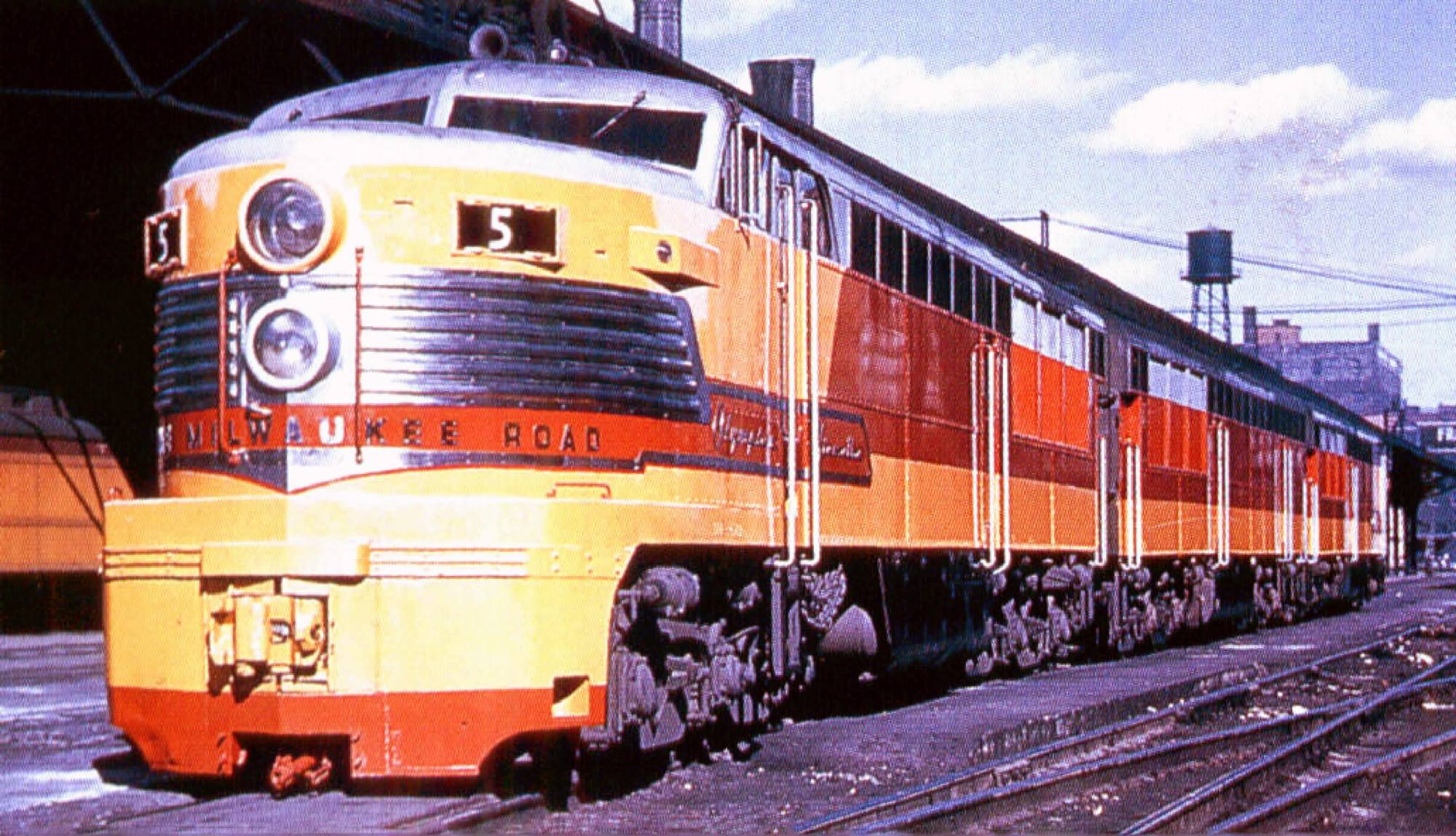 An A-B-A set of Milwaukee Road's "Erie-Built" locomotives, which powered the original transcontinental "Olympian Hiawatha" (Chicago - Seattle), are seen here in Milwaukee during the late 1940s.
In all, seven Class Is purchased the diesel including the Santa Fe, Chicago & North Western, Milwaukee Road, New York Central, Kansas City Southern, Pennsylvania, and Union Pacific.
In this Union Pacific publicity photo an A-B-A set of "Erie Builts" have the eastbound "Pony Express" in Nevada's Rainbow Canyon south of Caliente during the mid-1950's.
The Canadian roads never did bite on the design and as such no orders were taken through subsidiary Canadian Locomotive Works.    

Fairbanks Morse Erie-Built Production Roster
| Owner | Road Number(s) | Quantity | Date Built |
| --- | --- | --- | --- |
| Chicago & North Western | 6001A-6002A, 6001B-6002B | 4 | 1947 |
| Kansas City Southern | 60A-62A, 60C-62C (As) | 6 | 1946-1947 |
| Kansas City Southern | 60B-62B (Bs) | 3 | 1946-1948 |
| Milwaukee Road | 5A-14A, 11B-14B (As) | 14 | 1945-1947 |
| Milwaukee Road | 5B-10B (Bs) | 6 | 1945-1947 |
| New York Central | 5000-5005 (As) | 6 | 1948-1949 |
| New York Central | 5100-5101 (Bs) | 2 | 1947-1948 |
| Pennsylvania | 9456A-9491A (As) | 36 | 1948 |
| Pennsylvania | 9456B-9491B (Bs) | 36 | 1948 |
| Santa Fe | 90, 90B (As) | 2 | 1947 |
| Santa Fe | 90A (B) | 1 | 1946 |
| Union Pacific | 700-707 (As) | 8 | 1945-1948 |
| Union Pacific | 700B, 702B-704B, 706B (Bs) | 6 | 1945-1948 |
---
---
Chicago & North Western "Erie Built" #6001-A boards at the Lake Front Depot in Milwaukee, Wisconsin with what is likely a '400' consist in June, 1956.
The later C-Liners were a bit unorthodox as passenger locomotives with an odd B-A1A truck arrangement resulting in very few railroads purchasing it. 
The freight model, offered in a range of horsepower ratings, did a little better but in the end, FM gave up on the cab design altogether by 1953. 
Today, no Erie-Builts are known to survive. However, a piece of this unique model lives on in Doyle McCormack's restored Alco PA #190.
The unit's trucks (designed by General Steel Castings) were salvaged for the restoration as they came from a scrapped Erie-Built, which had been converted for use by the Canadian Pacific in rail trains to lay continuous welded rail (CWR). Today, that PA is once again operational.