Baldwin's "Baby Face
" Locomotives

Perhaps the most unique diesel locomotive ever constructed was the Baldwin Baby Face model of the DR6-4-20, DR-6-4-15, DR 12-8-3000 "Centipede", DR-6-4-1000, DRX-6-4-2000, and DR4-4-15 models. The carbody design gained its nickname through its low, sloped nose and large front windows. For the Baldwin Locomotive Works the "Baby Face" design was not all that attractive and to make matters worse it was regarded as a cheap knock-off from the Electro-Motive Division's popular carbody for its E and F series cab units. The design was so bad that Baldwin eventually hired famed industrial designer Raymond Loewy to update its carbody look, which resulted in the now classic "Sharknose" look. 
This carbody proved to be far more successful, just from an aesthetics standpoint and Baldwin wound up selling far more locomotives shrouded as Sharks than it ever did with the Baby Face. Because so few were ever built no Baby Face models are known to be preserved today.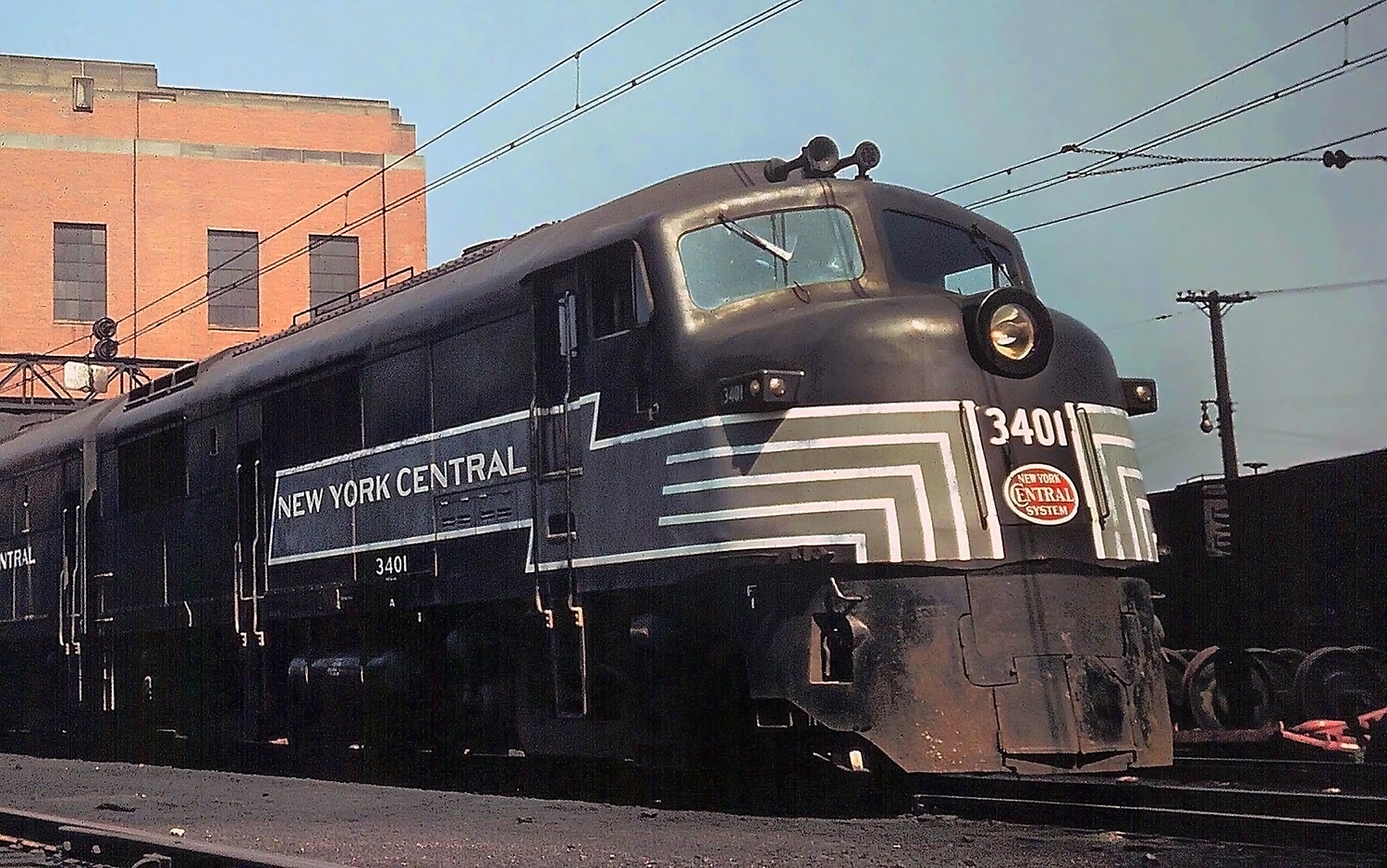 New York Central DR-4-4-1500 #3401 sits outside the shops at the railroad's massive terminal in Collinwood, Ohio during May of 1950. Ed Nowak photo.
While the Baldwin Locomotive Works had a difficult time carving a niche for itself in the diesel locomotive market it found cab units especially difficult to sell. There were three significant reasons for this; first was the simple fact that Baldwin waited nearly ten years after EMD released its E and F series in the late 1930s and thus was already well established (not to mention impeccable reliability); second, the company's early prime movers in its main line models were troublesome and difficult to maintain by shop forces; and third, the "Baby Face" as mentioned above was very unpopular with railroads. Why buy a "cheap" look-alike of a locomotive already on the market and much more reliable?
The very first model to feature the "Baby Face" design was the unique DR-12-8-1500/2 (or DR12-8-3000), "Centipede", released in 1945. This monstrous locomotive was maintenance nightmare not to mention that it was incredibly hard on the track structure. However, it produced phenomenal tractive, the highest of any diesel locomotive ever built, and found several buyers early on. However, its flaws soon became exposed and most railroads had scrapped their Centipedes after less than 10 years of use.   Baldwin also produced four different versions six axle cab units, and one four axle model, that were featured with the Baby Face design; the DR-4-4-1500, DR-6-4-1000, DR-6-4-1500, DR-6-4-2000, and the DRX-6-4-2000.  All were constructed in the late 1940s between 1946 and 1948 just before the company released its Standard line, which offered a more reliable prime mover and a much more redundant classification system.

The most famous model to wear the "Baby Face" carbody was the DR-12-8-3000 "Centipede." Seen here is a builder's photo of new Seaboard Air Line #4500 circa 1947.
Remember that during the late 1940s Baldwin was not only still building some steam locomotives (which is why it classed its diesels so oddly) but also constructed so many cab variants as it believed customization trumped standardization (since steam models had always been tailored to each individual railroad).    While such practices kept customers happy, at least in regards to the design they wanted, maintaining and building diesels this way became a real headache and very expensive. Ultimately that and other factors (such as management's steadfast view on steam as a viable source of locomotive power, they were unwilling to develop diesel-electric technology more extensively) made for Baldwin's quick exit from the locomotive market altogether.
Baldwin's 1,500 horsepower cab models featured the builder's 608 SC prime mover while the only DR-6-4-1000 built for the Chicago & North Western and the 2,000 horsepower designs featured the VO 6c SC prime mover, an example of the company's predecessor I.P. Morris & De La Vergne (which it had purchased in 1931 and specialized in diesel engines). The DR6-4-20 model was meant to compete with the likes of EMD's E series and the American Locomotive Company's PA, both of which were built for passenger service. While all of Baldwin's cab models were offered in "B" units few sold. Along with the double-ended Baldwin Baby Face model, a design exclusively developed for the Central Railroad of New Jersey the company also produced the singe, cab only version known as the DR4-4-15.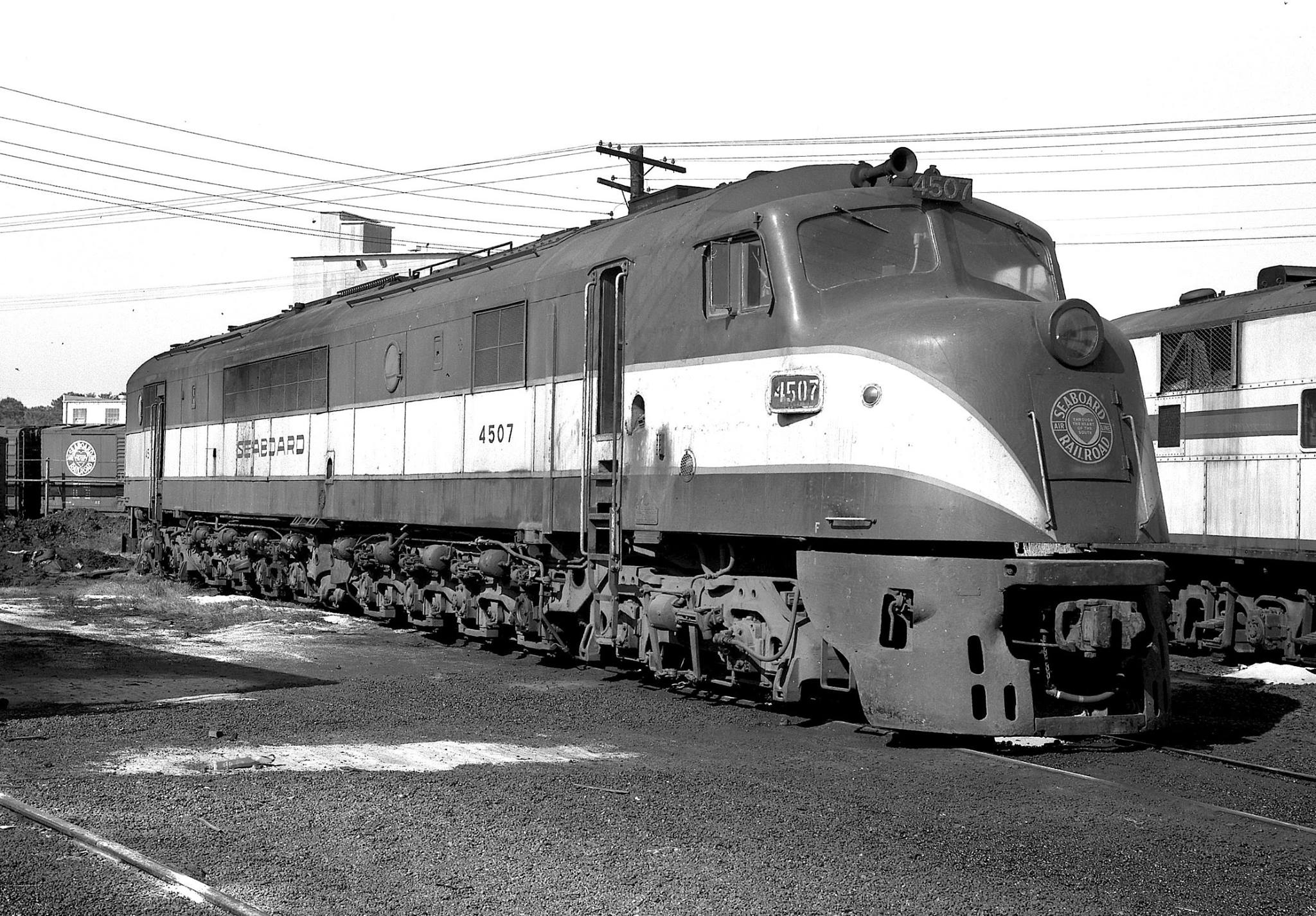 The Seaboard's fleet of Baldwins spent many years in service, as seen here with "Centipede" #4507 laying over between assignments at Jacksonville, Florida in 1960. Felix Brunot photo/Warren Calloway collection.
Baldwin "Baby Face" Variants
| Model Type | Units Built | Date Built | Horsepower |
| --- | --- | --- | --- |
| DR-4-4-1500 | 22 A Units/11 B Units | 1947-1948 | 1,500 |
| DR-6-4-1000 | 1 C&NW Only) | 1948 | 1,000 |
| DR-6-4-1500 | 7 A Units/3 B Units | 1947-1948 | 1,500 |
| DR-6-4-2000 | 2 (GM&O Only) | 1947 | 2,000 |
| DRX-6-4-2000 "Dual Cab" | 6 (CNJ Only) | 1946-1948 | 2,000 |
---
---
A Baldwin company photo of Seaboard Air Line DR-12-8-3000 "Centipede" #4501 taken in March of 1947. Interestingly, the SAL bought 14 examples of this locomotive, #4500-4513, between 1947 and 1948.
This model was built for CNJ, Missouri Pacific, and New York Central with a total of 22 A units and 11 B units constructed. In any event, the Baldwin Baby Face design was mostly unsuccessful and all were retired by the 1960s (due to mechanical  troubles and other problems) as mentioned above. In 1950 Baldwin was merged with the Lima-Hamilton Corporation to form Baldwin-Lima-Hamilton by parent Westinghouse Electric. This coincided with Baldwin releasing a new line of diesels, the Standard line. While the company offered a freight cab unit, the RF16, it gave up in the passenger market and instead kept its focus in the freight market. If you would like to learn more about the history of Baldwin and its Baby Face designs please click here.