EMD "GP15"/"GP15T"/"GP15AC" Locomotives

Last revised: February 3, 2022
By: Adam Burns
The GP15, technically listed by the builder as the GP15-1, was a late model of the General Purpose series intended by Electro-Motive to be, essentially, an updated version of their GP7, GP9, or GP20 for light duty use (such as on branch lines or yard service).
Those models were also being rebuilt during the GP15's era, the late 1970s, and EMD's intent with the design was also to provide railroads the option of just purchasing new.
The GP15 sold relatively well for a four-axle model during the time that railroads were beginning to heavily favor six-axle units (the phenomenally successful SD40-2 was in production at the time), although just a handful of Class Is ultimately purchased it. It also came offered in two different variants; the GP15T and GP15.  
Today, several GP15s remain in service on Class I systems (such as Union Pacific and CSX Transportation) as well as smaller lines. 
In an era where locomotive manufacturers rarely offer switchers or variants for light-duty service, these Geeps are perfect for such assignments.   Ironically, they have outlived newer road-switchers on Class I rosters built some 15 to 20 years later.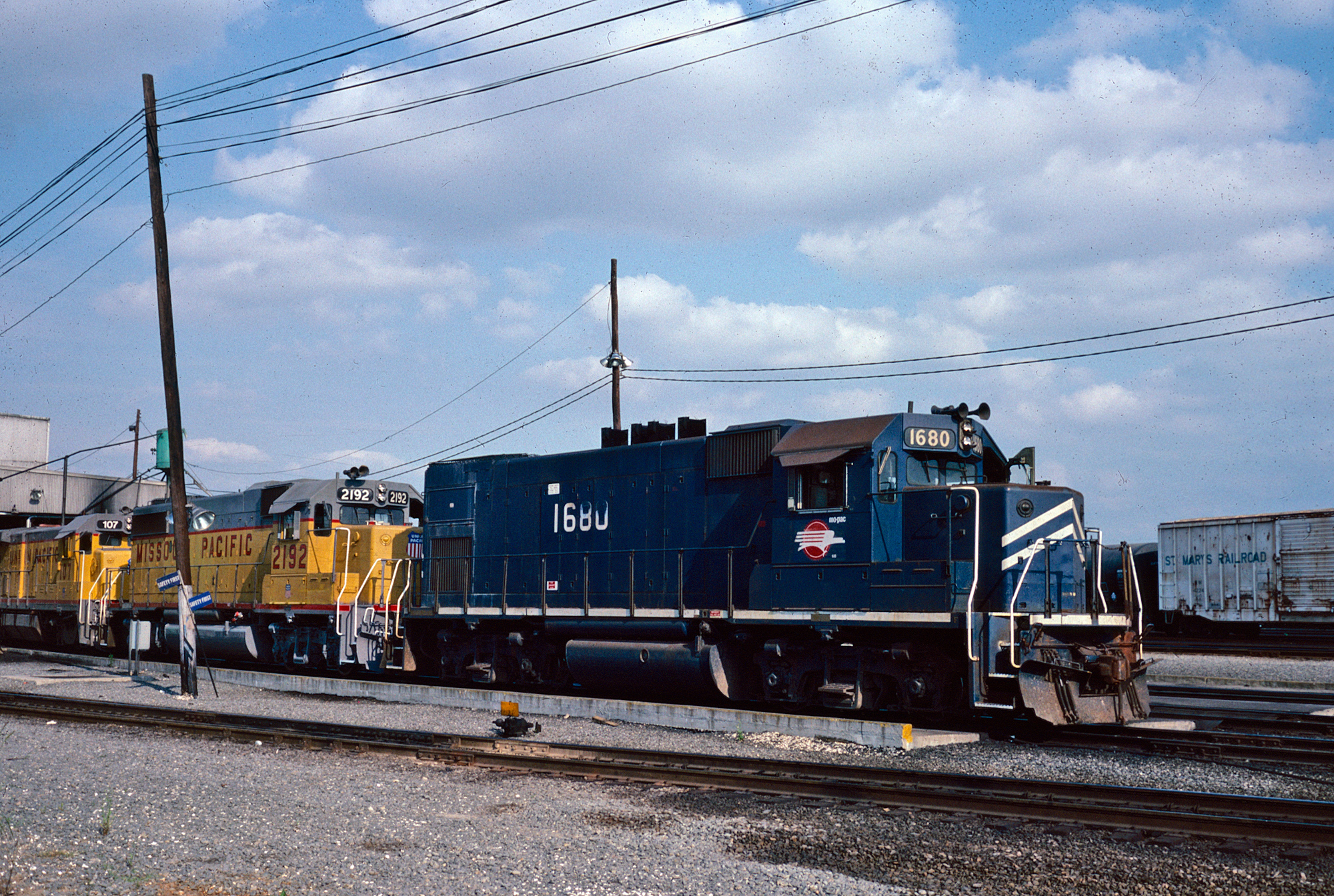 Missouri Pacific GP15-1 #1680 lays over with Union Pacific (MP) GP38-2 #2192 and B36-7 #107 (built as Missouri Pacific #2296) at the shops in New Orleans; November, 1988. American-Rails.com collection.
The EMD GP15 (also known as the GP15-1) began production in the early summer of 1976 as an updated version of the builder's early GP models like the GP7 and GP9.
It featured General Motors' latest prime mover at the time, the 12-cylinder model 645E, which could produce a respectable 1,500 horsepower.
Using a B-B truck setup (as did all GP series locomotives) and GM's model D77 traction motor the GP15 could produce 48,000 pounds of continuous tractive effort and 61,000 pounds continuous.
Visually, the EMD GP15 looked like a shorter version of the more powerful GP38-2/GP39-2, which were being manufactured during the time.
The model was only a little less than 55-feet in length but featured EMD's low-nose, "Spartan Cab" (also known as the standard cab).
Union Pacific GP15-1 #1701 (built as Missouri Pacific #1701) and Missouri Pacific GP15-1 #1619 in Kansas City at work in December of 1987. American-Rails.com collection.
Constructed during the height of EMD's reign of manufacturing leader, the company intended the GP15 to be an alternative for railroads looking to rebuild older Geeps like their first generation GP7s and GP9s.
It is very likely that EMD realized that their would not be a high demand for such a specialized model like the GP15 understanding that many lines would probably find it cheaper to simply rebuild older units.
And, to a greater degree the company was correct as few Class Is ultimately purchased the GP15. When production had ended on the variant GP15T (which was turbocharged) in the spring of 1983 just five Class Is purchased 338 examples.
Overall buyers for all variants of the GP15 included the Chesapeake & Ohio (28 GP15Ts), Apalachicola Northern (3 GP15Ts), Chicago & North Western (25), Conrail (100), Missouri Pacific (160 GP15s and 30 GP15ACs), IAFFE of Venezuela (4 GP15ACs), and the Frisco (25).
Missouri Pacific GP15-1 #1577 was photographed here in Memphis, Tennessee on July 20, 1981. Author's collection.
As mentioned above there were two variants of the GP15; the GP15T and the GP15AC. The former model was offered by EMD with an 8-cylinder model 645 prime mover that featured a turbocharger (thus the "T" designation).
Equipped with fewer cylinders but offering the same horsepower as the standard GP15 it was far more fuel efficient, thus an operational savings to the railroads that purchased it, the C&O/Chessie System and Apalachicola Northern (of note, the former's GP15Ts were equipped with dynamic brakes while the AN's were not).
It was built between October, 1982 and April, 1983 with a total of 34 constructed.
EMD GP15-1 Production Roster
| Owner | Road Number(s) | Quantity | Date Built |
| --- | --- | --- | --- |
| Chicago & Eastern Illinois (MP) | 1570-1574 | 5 | 1976 |
| Chicago & North Western | 4400-4424 | 25 | 1976 |
| Conrail | 1600-1699 | 100 | 1979 |
| Missouri Pacific | 1555-1569, 1575-1714 | 155 | 1976-1979 |
| St. Louis San Francisco Railway (Frisco) | 100-124 | 25 | 1977 |
GP15AC Production Roster
| Owner | Road Number(s) | Quantity | Date Built |
| --- | --- | --- | --- |
| Missouri Pacific | 1715-1744 | 30 | 1982 |
GP15T Production Roster
| Owner | Road Number(s) | Quantity | Date Built |
| --- | --- | --- | --- |
| Chesapeake & Ohio | 1500-1524 | 25 | 1982 |
| Apalachicola Northern Railroad | 720-722 | 3 | 1983 |
---
---
Union Pacific GP15-1 #1638 lays over at the former Missouri Pacific shops in New Orleans, Louisiana; November, 1988. American-Rails.com collection.
The latter model, the GP15AC, was requested by the MoPac to feature the model AR10, alternating current (AC) alternator instead of the standard General Motors' model D32 direct current (DC) generator.
The railroad purchased 30 examples of the locomotive while foreign line IAFFE of Venezuela picked up another 4.
Interestingly, while few railroads purchased the EMD GP15, many remain in service today as the Class Is which inherited those purchased by their predecessors continue to find the model a reliable and useful light duty unit, notably in yard service.
Places you can GP15s in service include UP, CSX, California Northern, Dallas, Garland & Northeastern, Wisconsin Northern, Gulf, Colorado, & San Saba, Puget Sound & Pacific, Utah Central, and Larry's Truck & Electric.