Genset/Green Goat Locomotives

Last revised: March 9, 2022
By: Adam Burns
RailPower Technologies' fleet of Green Goats, a division of RJ Corman from 2009-2020, made the company a well-known name within the industry. 
Never before had there been a battery-powered locomotive designed for general service (test bed examples had been around since the 19th century).  Unfortunately, sales for this "green" motive power remained lackluster during its entire 12-year run. 
RailPower began in the summer of 2001 offering yard and road-switcher locomotives rebuilt from the frames of former diesel-electric variants, notably those manufactured by Electro-Motive. 
The company found early success with its environmentally friendly models. However, reliability issues caused sales to slow and RailPower entered bankruptcy in early 2009.  
Shortly thereafter it was acquired by RJ Corman Railroad Group.  In 2020 the company announced it was ceasing all operations at the plant in Erie, Pennsylvania. 
Today, you can find Green Goat locomotives at work in yards and large cities, notably California where emission standards are quite strict.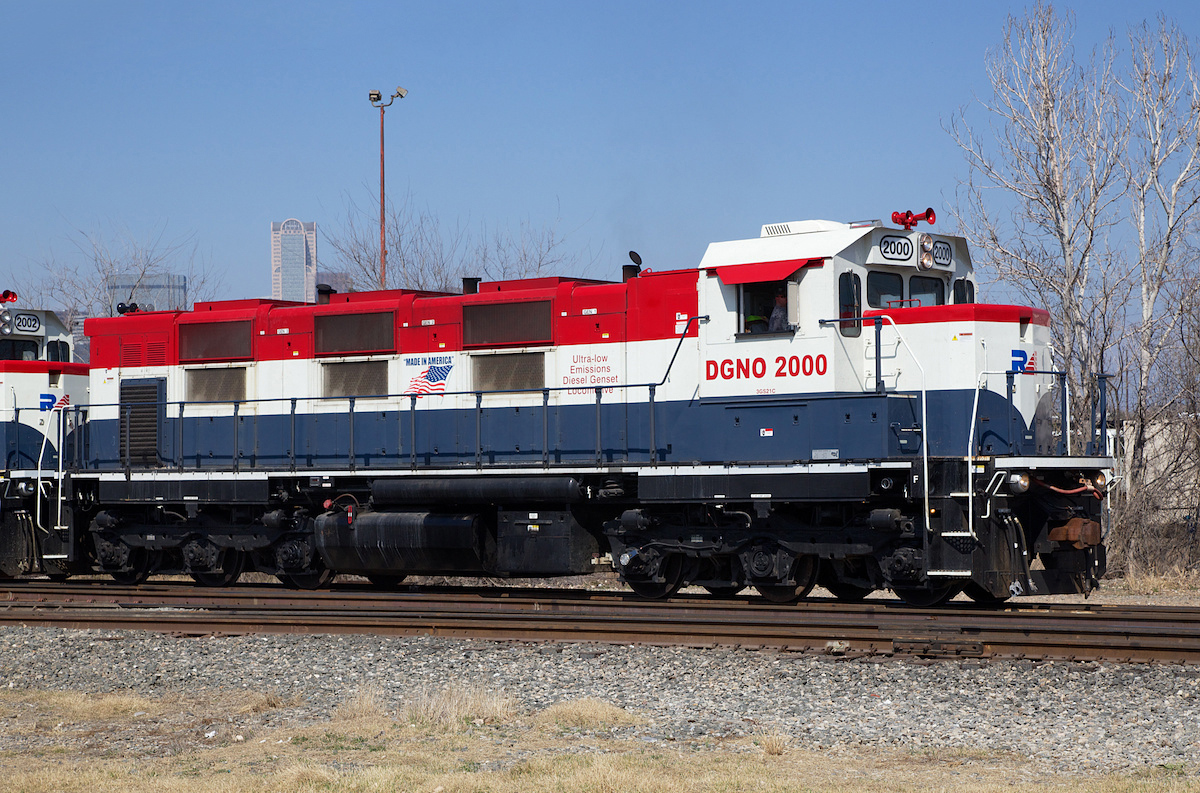 Dallas, Garland & Northeastern #2000, a National Railway Equipment model 3GS21C genset, is on Union Pacific's Dallas Subdivision near Cadiz, Texas on March 1, 2014. David Hawkins photo.
On June 18, 2009 the RJ Corman Railroad Group purchased the struggling RailPower organization but not its liabilities.  This meant that railroads, which had either already entered into service or order contracts had to do so through the new owner.
For Corman, it saw the RailPower Technologies Corporation name as a new asset in the genset market.  The company was viewed as a pioneer and leader in its field.  In addition, it appeared there would be growing interest in the locomotives due to their environmentally friendly emissions. 
Such issues were becoming increasingly important across the United States, particularly in states like California.  As it turns out, demand for gensets never materialized, and continue to remain lukewarm to date. 
There were many reasons for this from previously mentioned reliability issues to railroads rebuilding their own locomotives to meet environmental standards. 
Norfolk Southern has a been a particular proponent of increasing the service lives of aging locomotives while having them meet expected EPA requirements.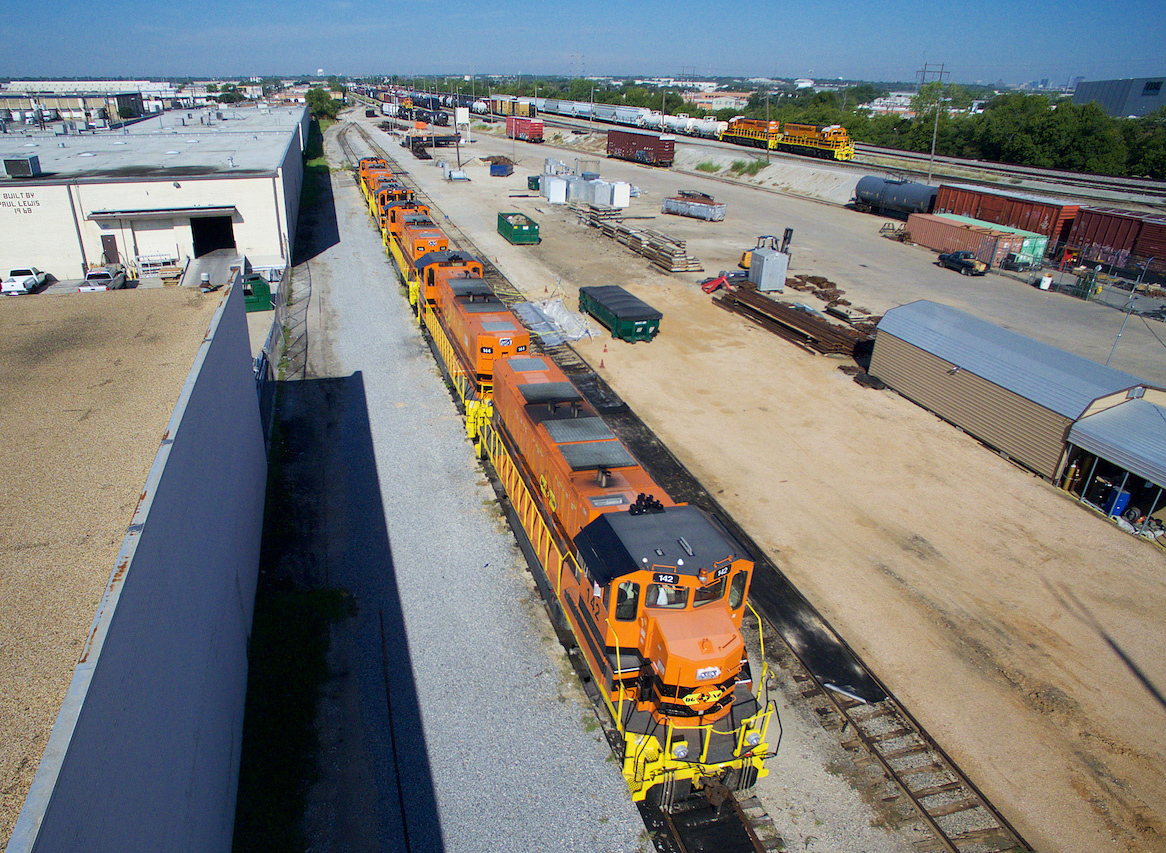 Dallas, Garland & Northeastern RP20BD's, products of RailPower, are tied down at Mockingbird Yard in Dallas on September 17, 2016. David Hawkins photo.
RailPower's Green Goat, or GG Series (the term "Goat" is nickname for a switcher), worked by using small, diesel generators (called gensets) for power only when the locomotive's large bank of batteries required a recharged. 
Essentially, the batteries acted as the locomotive's prime mover while the generator was auxiliary power. 
What's more, the locomotive did not idle; according to the company, it "delivered 20-60% cuts in diesel fuel use and greenhouse gases emissions and 80-90% reductions in smog-precursor oxides of nitrogen (NOx) and particulates." 
Like with any new, untested locomotive, railroads are leery to carry out large orders until its proven in service.  Such was the case with RailPower's models. 
A few Class I's made purchases, such as BNSF and Canadian Pacific, but interest quickly waned after the reliability issues began. 
Building a locomotive for long-term service is an incredibly difficult prospect requiring years of research and development. 
It took a major Fortune 500 company, General Electric, over a decade and millions of dollars to finally catalog a road-switcher railroads continued to buy year after year.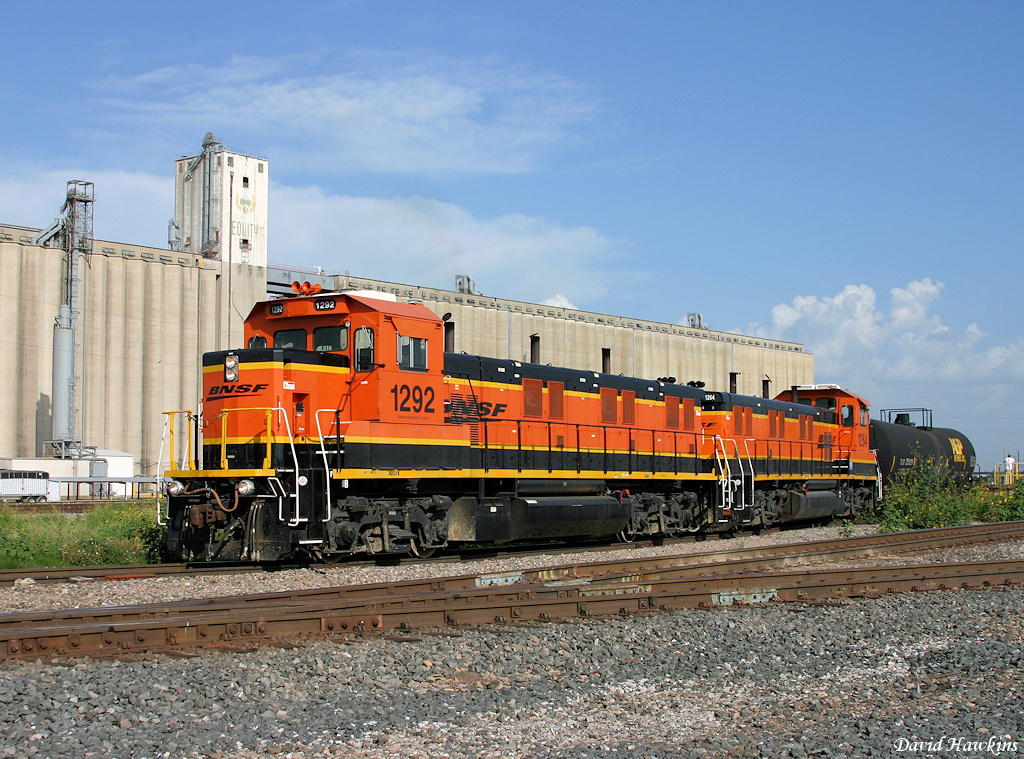 A pair of BNSF 3GS21B gensets appear to be working local service at Saginaw, Texas on July 18, 2010. David Hawkins photo.
There have also been famous names go under such as American Locomotive, Fairbanks-Morse, Baldwin Locomotive, and Lima Locomotive. 
Even as of this writing, neither Electro-Motive nor General Electric remain in the market; the former survives in name-only as a Progressive Rail subsidiary (a Caterpillar company) while GE sold its locomotive division to Wabtec Freight.  The locomotive market is extremely cyclical, which no doubt led to GE's exit (the industry leader). 
RailPower likely would have left the market itself years ago were it not for Union Pacific's large order of 135 units, which far and and away has been the largest buyer. 
Mixed feelings about its gensets have resulted in few other buyers.  Under Corman's ownership RailPower focused exclusively on genset models and discontinued production of hybrid variants.
Green Goat/Genset Locomotives
Perhaps, though, what is most impressive about this little switcher is that for all of the emission savings it provides Green Goat locomotives can be purchased in either 1,000 hp or 2,000 hp models! The current models available for purchase are:
· GG10B - Green Goat: 1,000 hp, B-B wheel arrangement
· GG20B - Green Goat: 2,000 hp, B-B wheel arrangement
· GK10B - Green Kid: 1,000 hp, B-B wheel arrangement
· RP14BD – Road Switcher: 1,400 hp, B-B wheel arrangement, three engine diesel
· RP20BD – Road Switcher: 2,000 hp, B-B wheel arrangement, three engine diesel
· RP20BH - Road Switcher: 2,000 hp, B-B wheel arrangement, two engine hybrid
· RP20CD - Road Switcher: 2,000 hp, C-C wheel arrangement, three engine diesel
· RP20CH - Road Switcher: 2,000 hp, C-C wheel arrangement, two engine hybird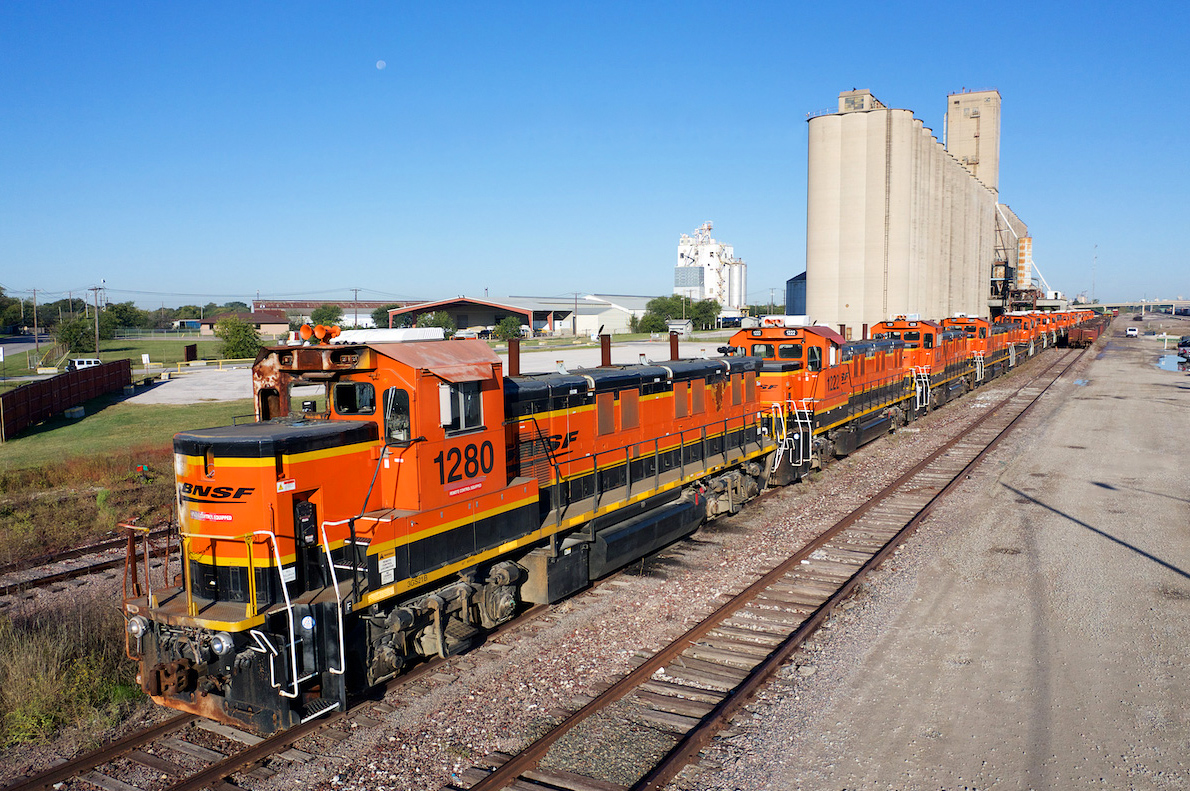 The genset movement appears to have been a quick fad as Class I's have largely disposed of their units; seen here are BNSF 3GS21B's in the dead line at Saginaw, Texas (North Yard) on October 27, 2018. David Hawkins photo.
The entire Green Goat series sold just over 100 units since production began in 2001 when the first prototype was unveiled to the public.
Another issue with the genset model was its specialized nature; railroads love redundancy and hate needing more locomotives than necessary to carry out a task. 
They especially dislike variants that can only perform individual tasks or lack the necessary power.  It could be argued the genset would never have even existed if not for stricter environmental policies, especially in California. 
It appears after twelve years of ownership, and nearly twenty in the marker as a builder, RJ Corman elected to pull the plug on RailPower in 2020.  
---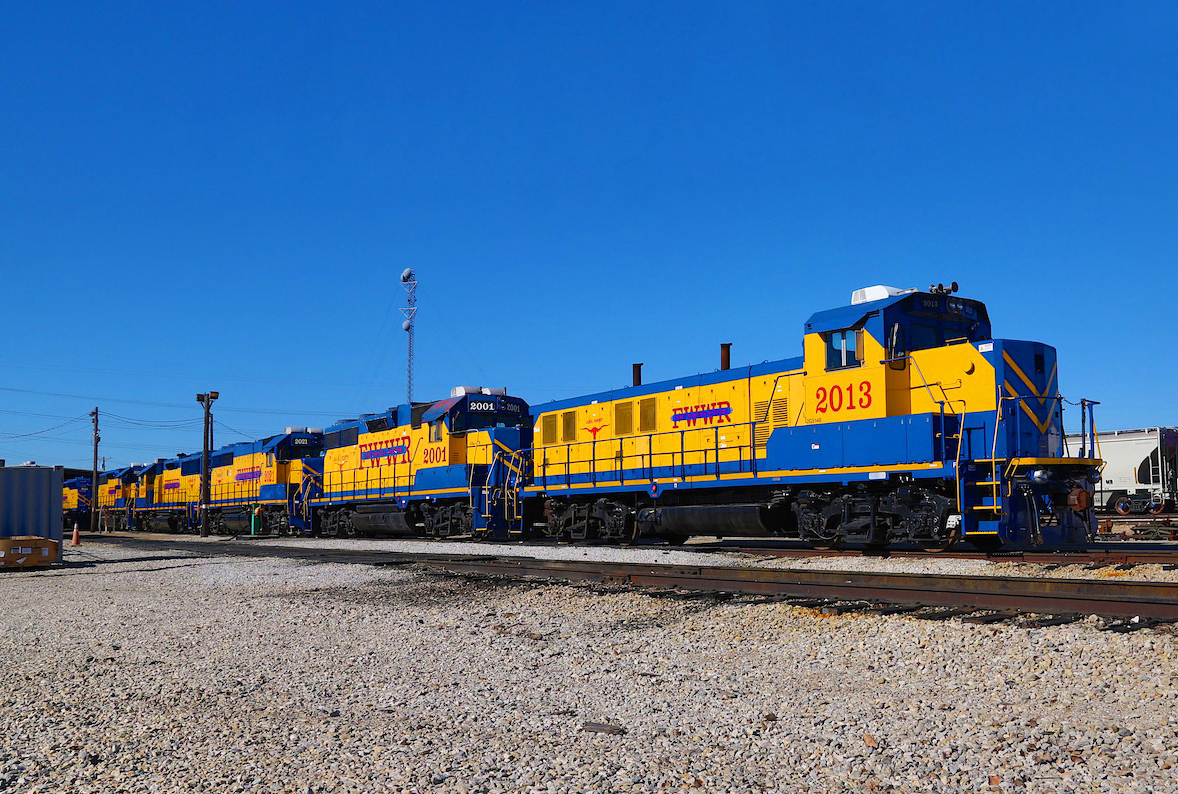 Fort Worth & Western genset #2013, National Railway Equipment's model 2GS14B, lays over with other power at Hodge Yard in Fort Worth, Texas on January 3, 2016. David Hawkins photo.
The company released this statement on January 8, 2020:
"After careful deliberation, discussions about the R. J. Corman core business drivers, and mapping further strategic plans for the future, the decision has been made to shut down the R. J. Corman Railpower Locomotives operation in Erie, PA.
In the landscape of market trends, continuing to produce genset locomotives is not viable. Remaining works in progress will be completed, and the final closure of the company will take effect on February 29, 2020.
This decision has been made in order to align priorities with core competencies. Although this was a hard decision, it was contemplated and planned with strong consideration given to our employees and customers.
R. J. Corman's overall business outlook for the future is strong, and we look forward to continuing to serve a key role in the railroad and related industries." 
The future of genset locomotives is an interesting one: the market for these unique variants does not appear to currently exist although refinements in battery life and power may change that going forward.