FM "H16-44" Locomotives


The FM H16-44 would prove the builder's most successful road-switcher of the five it ultimately cataloged.  
Not only did this particularly locomotive see strong sales but the company also found a variety of buyers including foreign lines in Mexico as well as orders through its subsidiary, the Canadian Locomotive Company.
The H16-44 was virtually identical to its sister model, the H15-44, save for a slight increase in horsepower, which came to be a strong selling point for the model.
FM's four axle road switchers were actually quite similar to its standard switcher line except for the location of the cab; switchers always had theirs set to one end of the carbody while road switchers' were off-set allowing for a short, high front nose. 
The success of this model is somewhat surprising given FM's struggles in the road-switcher market. 
It attempted to offer the very powerful H24-66 "Train Master" but the model failed to gain much interest, along with the builder's other road-switchers. 
Baldwin and American Locomotive saw similar struggles attempting to break Electro-Motive's monopoly of that era.  Despite the many H16-44s built and sold just three remain preserved today; none of which are extant in the United States.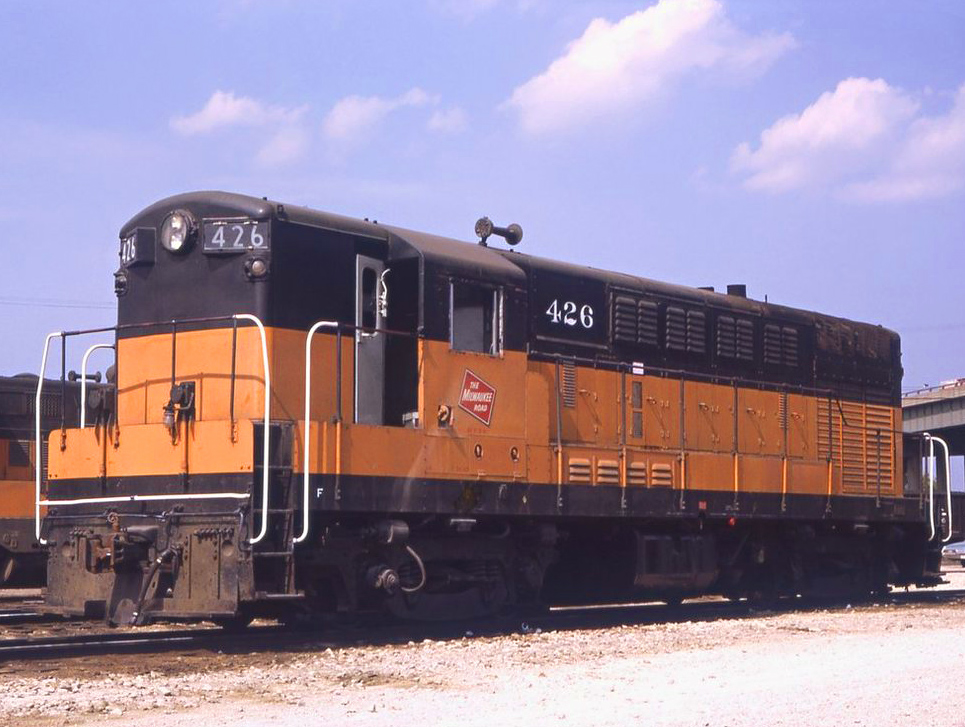 Milwaukee Road H16-44 #426 (built as #2506) lays over in the road's terminal at Bensenville, Illinois in 1968.
The FM H16-44 began production in the spring of 1950, following the early H15-44 model. It utilized Fairbanks Morse standard 2-cycle 38D8 1/8 opposed piston prime mover which could produce a slight increase of 1,600 horsepower.
It used AAR Type-B trucks, commonly found on all of its four-axle road switchers. One reason that many railroads came to like this particular locomotive was its significantly increased tractive effort; 72,000 pounds starting and 52,500 pounds continuous.
While the continuous rating was about the same the starting effort was an increase of 12,000 pounds, greater than models being offered by either Electro-Motive or the American Locomotive Company (Alco). Unfortunately, the H16-44 faced a similar problem that Baldwin encountered with its road switchers.
Fairbanks-Morse's Catalog Of Diesels
H15-44

H20-44

H16-66, "Baby Train Master" 

H24-66, "Train Master" 

FM's "Erie Builts" 

FM's "C-Liners" 

FM did not provide the locomotive with dynamic braking, which even by the early 1950s was a valuable asset, as railroads understood the importance it played in heavy freight/drag service.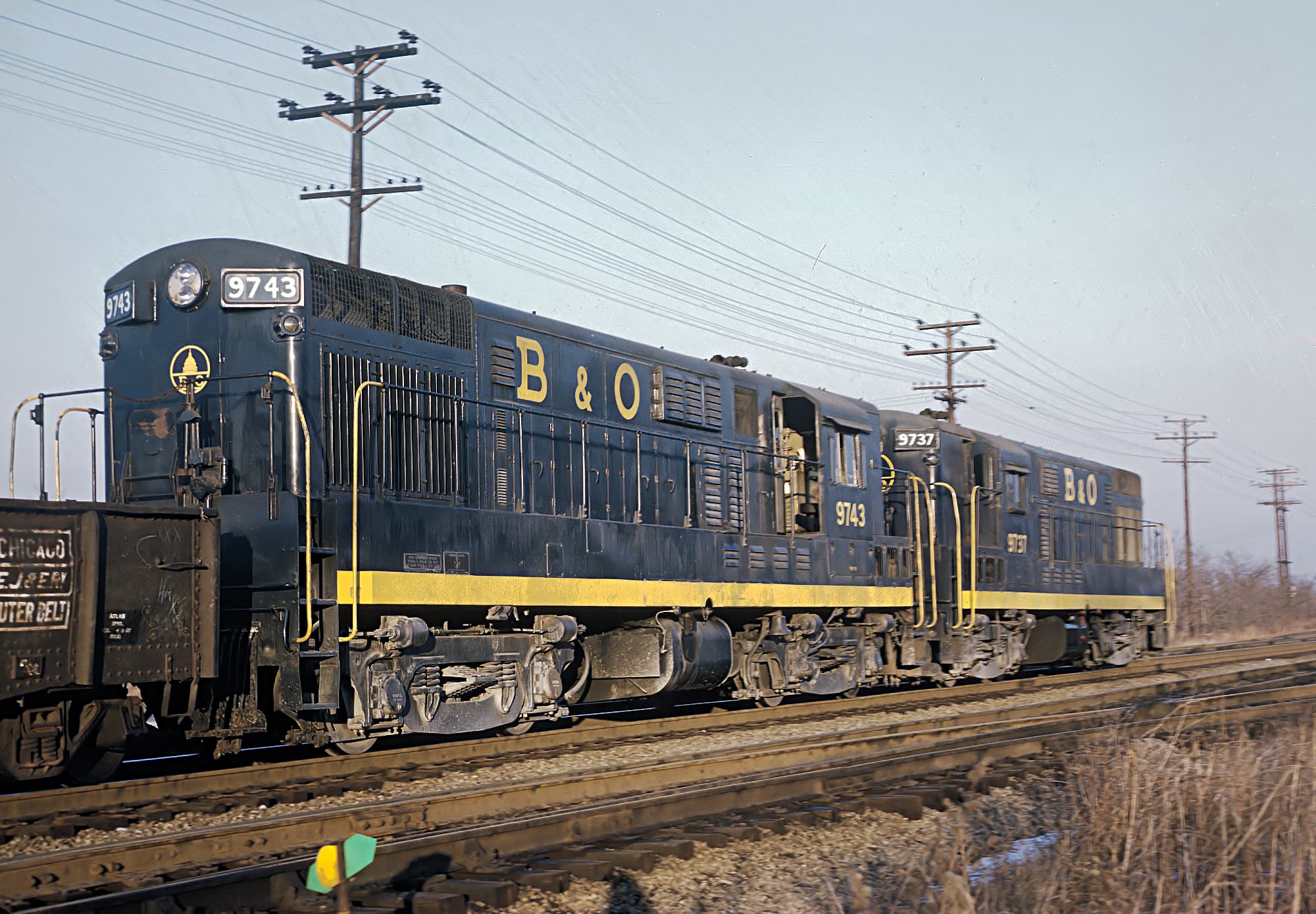 A pair of Baltimore & Ohio's H16-44's roll away from the photographer on the line to Port Covington in Baltimore, Maryland on December 14, 1969. Roger Puta photo.
Both models then offered by EMD and Alco, the GP7 and RS3, included dynamic braking and both sold very well.  As mentioned above, the H16-44 was virtually identical to its predecessor featuring the same basic frame and carbody setup.
The exterior design of the locomotive was thanks to industrial designer Raymond Loewy who gave the road switcher soft, beveled touches and clean lines.
It actually looked quite nice and overall was similar to the enhancements Loewy applied to Baldwin-built road switchers, such as its Standard line of the early 1950s.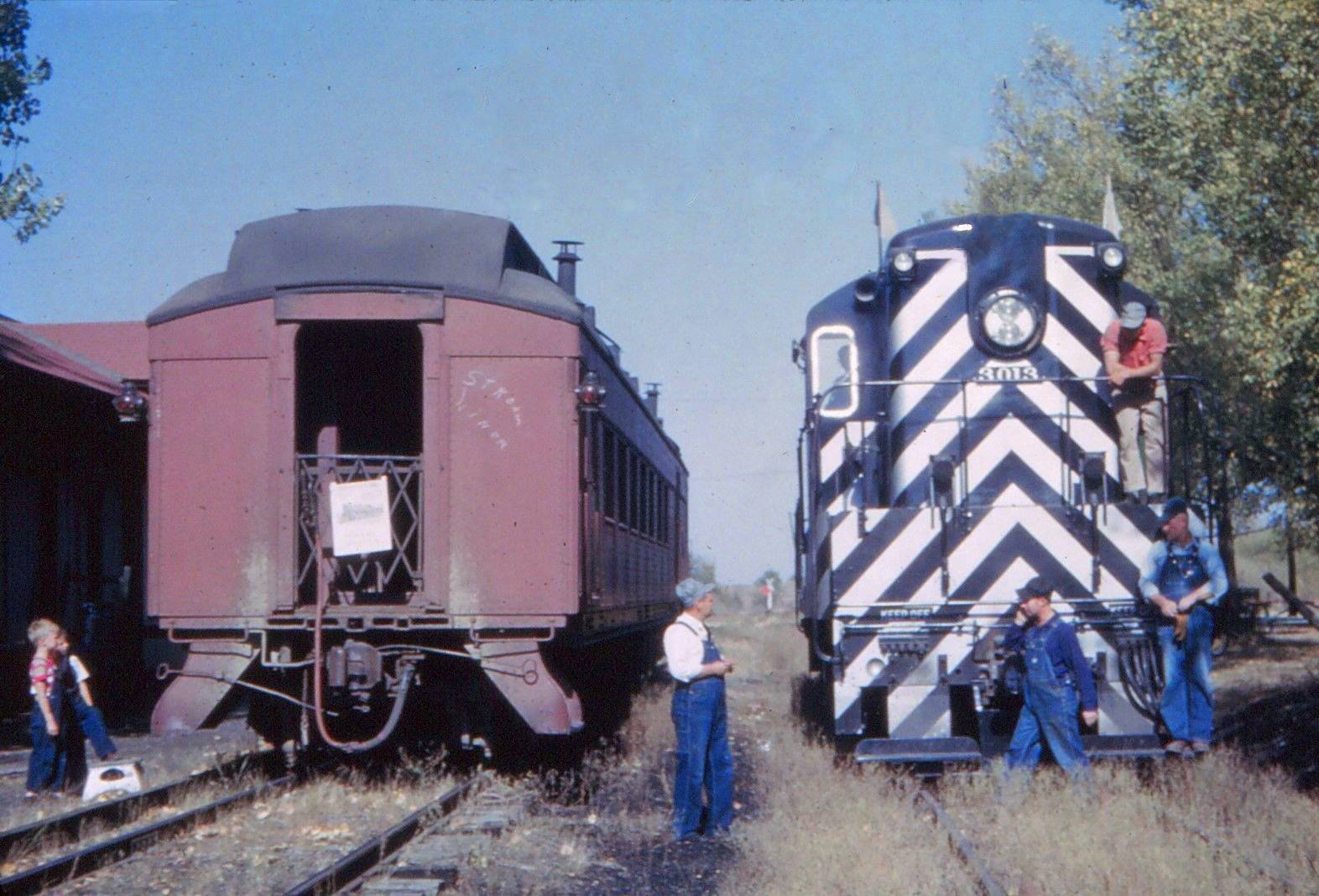 A classic scene from the 1950s... A five-man Santa Fe crew aboard H16-44 #3013 (acquired new from Fairbanks-Morse in July, 1952) discuss their next move on the weed-choked Gridley Branch (abandoned in 1971) at Gridley, Kansas in October, 1952 as two young lads closely watch the ongoing conference. The crew was leading an NRHS fall special on this day. Note the handwriting on the old combine's vestibule, "Stream Liner." Ray Hilner photo.
While the H16-44 found success, in general Fairbanks Morse locomotives sold poorly.  However, this is not necessarily because the models in general were unreliable, as was usually the case with Alco (early on anyway) and particularly Baldwin.
Reliability with FM's diesel locomotives has often been questioned but I believe the issue was mostly due to the fact that FM's opposed-piston prime mover was difficult to maintain and far different from the standard designs being offered by the other builders.
For instance, in regards to the Train Master, it has been noted by John Kirkland in his book The Diesel Builders Volume 1 that the locomotives performed admirably for more than 20 years on the Southern Pacific due to a maintenance team that understood the model, despite taking a daily beating in freight service.
Fairbanks Morse H16-44 Production Roster
| Owner | Road Number(s) | Quantity | Date Built |
| --- | --- | --- | --- |
| Akron, Canton & Youngstown | 201-208 | 8 | 1951-1957 |
| Alabama Great Southern Railroad (Southern) | 6545-6550 | 6 | 1950 |
| Bosque de Chihuahua (Mexico) | 501, 1000 | 2 | 1955-1961 |
| Baltimore & Ohio | 906-907, 925-927, 6705-6709 | 10 | 1952-1957 |
| Canadian National | 1841-1858 | 18 | 1955 |
| Canadian Pacific | 8547-8556, 8601-8610, 8709-8728 | 40 | 1955-1957 |
| Central Railroad Of New Jersey (CNJ) | 1514-1517 | 4 | 1950 |
| Chihuahua-Pacific Railway (Mexico) | 501-525, 600-604 | 30 | 1955-1963 |
| Lackawanna | 930-935 | 6 | 1952 |
| Long Island Rail Road | 1501-1502, 1504-5109 | 8 | 1951 |
| Milwaukee Road | 2450-2469, 2500-2516 | 37 | 1954-1956 |
| Missouri-Kansas-Texas Railroad (Katy) | 1591, 1731-1734 | 5 | 1950-1951 |
| New York Central | 7000-7012 | 13 | 1951 |
| New Haven | 560-569, 1600-1614 | 25 | 1950-1956 |
| Pennsylvania | 8807-8816 | 10 | 1956 |
| Pittsburgh & West Virginia | 90-93 | 4 | 1956-1957 |
| Santa Fe | 2800-2819 | 20 | 1951-1952 |
| Southern Railway | 2146-2155 | 10 | 1951 |
| Union Pacific | DS1340-DS1342 | 3 | 1950 |
| Virginian Railway | 10-49 | 40 | 1954-1957 |
---
---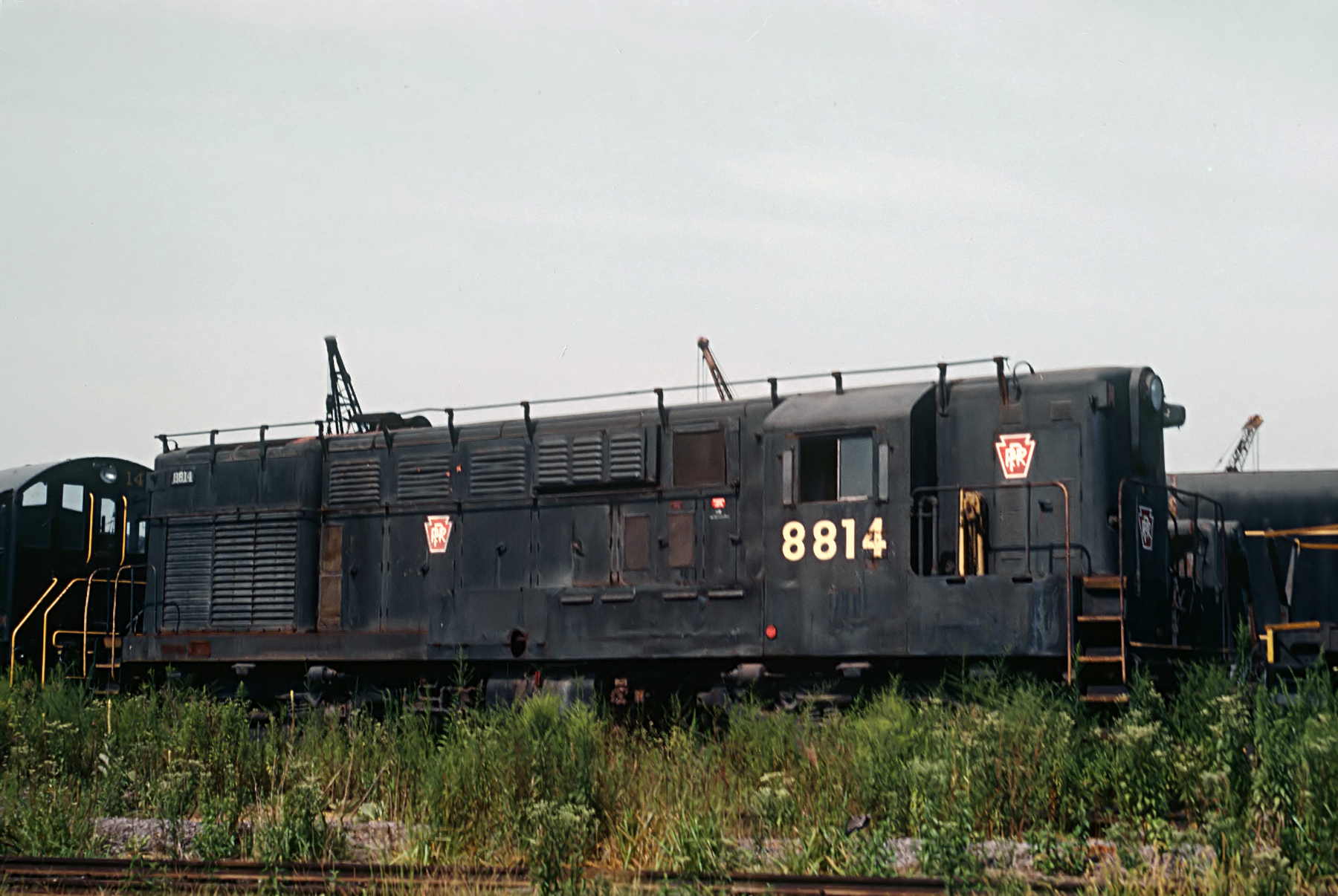 A former Pennsylvania Railroad H16-44 has been put out to pasture, seen here sitting in a dead line in Baltimore, Maryland on August 22, 1970. The locomotive by this point was owned by a scrap dealer, Ed Streigel, who purchased many retired locomotives from the PRR, Reading, and Baltimore & Ohio. Roger Puta photo.
When production began on the H16-44 it quickly found a following and by 1950 some like the Akron, Canton & Youngstown and Pittsburgh & West Virginia had become loyal FM customers.
In total, nearly two dozen lines purchased the H16-44 including the AC&Y, P&WV, Santa Fe, Baltimore & Ohio, Jersey Central, Milwaukee Road, Lackawanna, Katy, New York Central, New Haven, Pennsylvania, Southern, Union Pacific, and Virginian.
Additionally, Mexican lines Bosque de Chihuahua and Chihuahua-Pacific Railway purchased 32 total examples. Finally, the Canadian Locomotive Works built 58 units for the Canadian National and Canadian Pacific, the former of which apparently really liked the model buying 40 examples. 
Interestingly, while there were many FM H16-44s built few remain preserved, one of which is a former CP unit (#8554 in Calgary, Alberta at the Locomotive & Railroad Historical Society of Western Canada and two former Chihuahua Pacifico units in Mexico, #524 and #525.