GE "Super 7" Locomotives (Super-7N And Super-7R)

The GE Super-7 series was a variant of the "Dash 7" line. There were two types of Super-7s; the Super-7N built from C30-7s and C36-7s for Mexican carrier Ferrocaril Nacionales Mexicano and the model best known by us here in the United States the Super-7R. The latter model included several variants itself and was rebuilt from many earlier GE U-boat models like the U23B, U30C, and U36C that were first released by the company from the early 1960s through the 1970s (the U-boats were replaced by the newer "Dash 7" models mentioned above). The primary difference in these rebuilt locomotives were upgraded components and electronics that extended their running years and increased operational efficiencies.  
This practice continues through the modern era although today many railroads, notably Norfolk Southern, perform the rebuilds themselves.  Only one American line went on to operate the Super 7s and today a few remain in operation on regional Providence & Worcester as well as Ohio Central and Arkansas & Oklahoma (the "A-OK").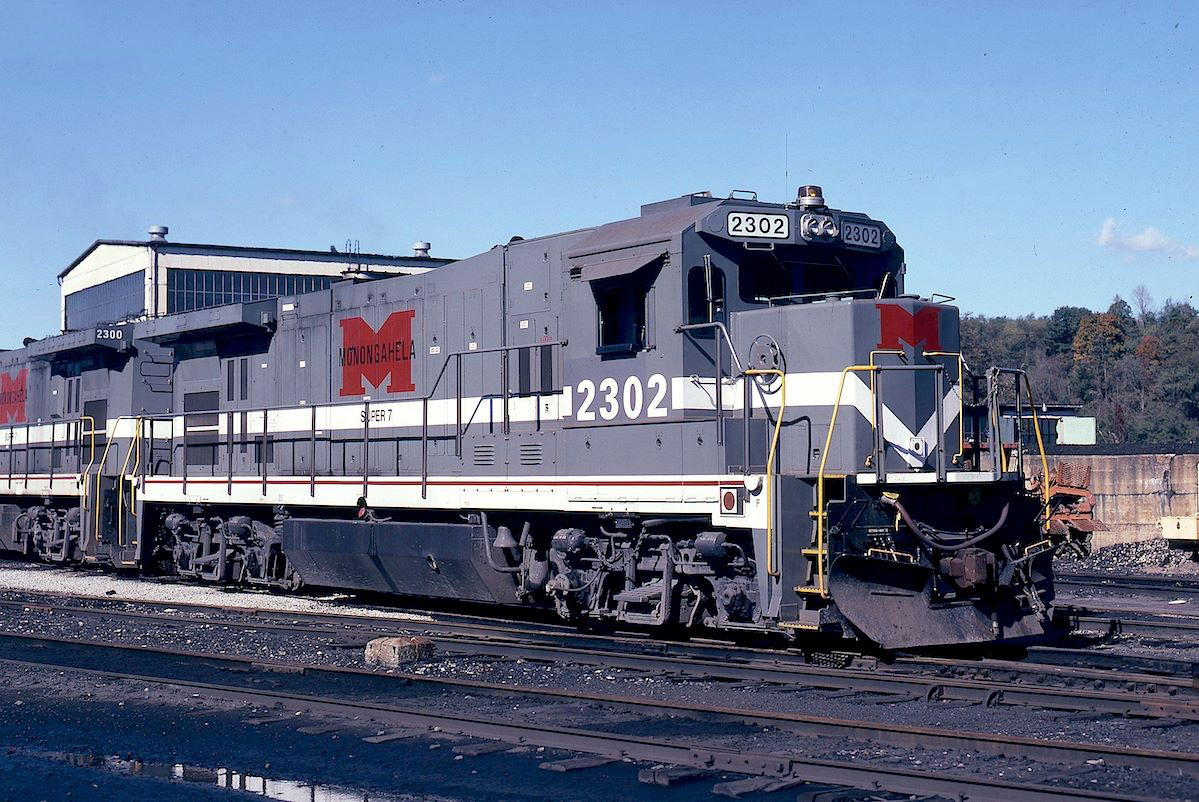 Monongahela "Super 7's" layover between assignments in Brownsville, Pennsylvania on October 5, 1990; #2302 began its career as Western Pacific U23B #2252 while #2300 as Western Pacific U23B #2254. Warren Calloway photo.
The General Electric Company has a history that dates back to the late 1870s and today is one of the largest corporations in the world building everything from jet engines to kitchen appliances and light bulbs. Their introduction into the locomotive manufacturing market began as early as 1918 and they built modest diesel switchers during the 1930s and 1940s. The company also built locomotives in conjunction with the Alco during this time, which partly explains why GE did not more vigorously compete in the market.  After the end of World War II GE followed up the success it was having with its 44-tonner model with two heavier models, a 70 and 95-tonner, both end-cab designs. The switchers were meant for branch line work on main line railroads and GE would wind up selling 385 of both models by the time production ended in 1959.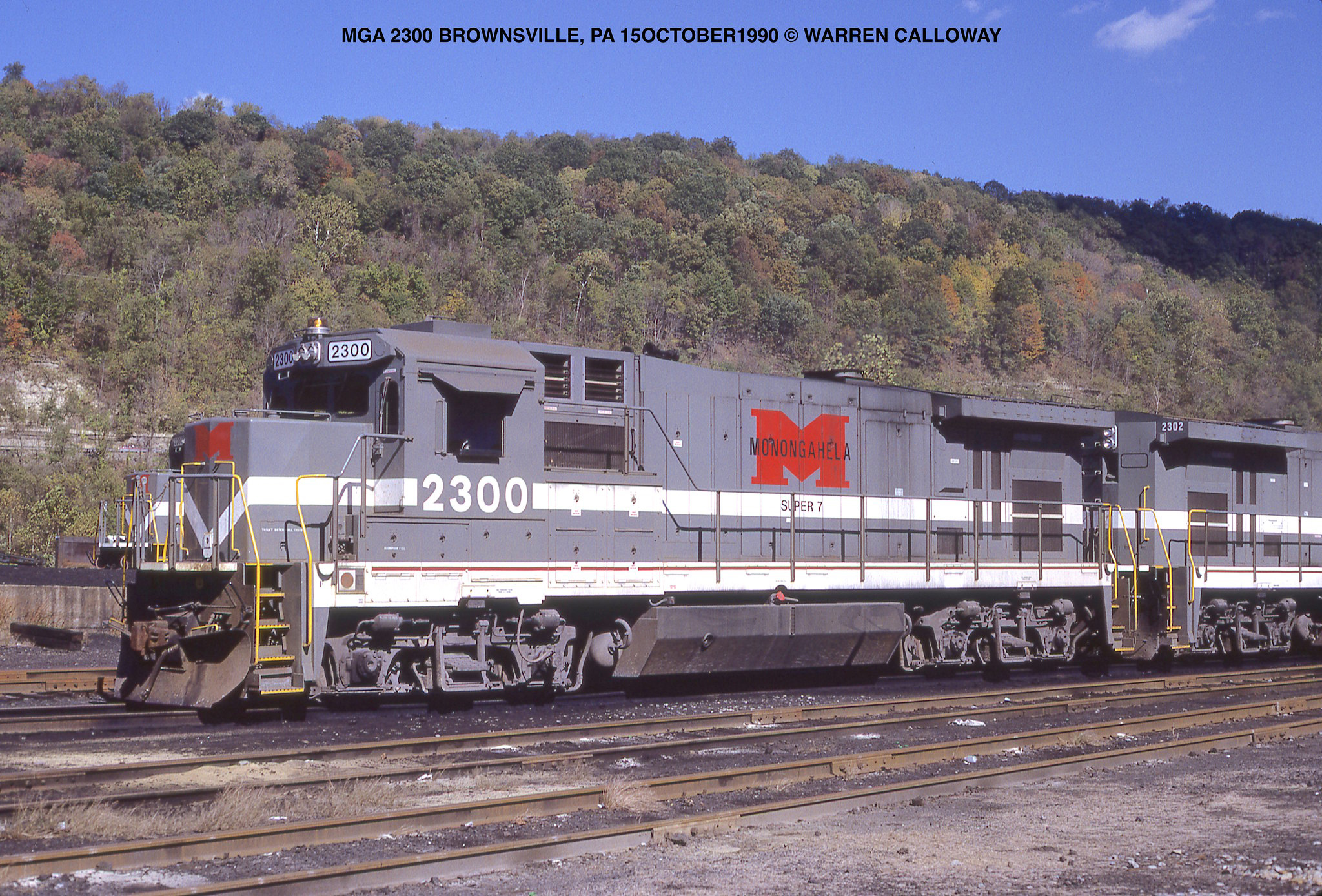 Monongahela Railway "Super 7" #2300 was photographed in Brownsville, Pennsylvania by Warren Calloway between assignments on October 15, 1990.
In 1954 GE ended its partnership with Alco and for the rest of the 1950s the company experimented with different road unit designs (such as an A-B-B-A set of cab units known simply as GE 750) selling a short batch of its first commercial design the UD18 in 1956. The model, however, that would be the stepping stone for GE becoming the industrial leader was its U25B, first tested in 1959.  As a way to extend the service lives of older models, in the late 1980s GE, in conjunction with Morrison-Knudsen (MK), began rebuilding several U-boats (and, as mentioned earlier, Ferrocaril Nacionales Mexicano wanted some of their C30-7s and C36-7s rebuilt into Super-7s) and reclassifying them in their "Dash 7" line as "Super-7s". The models featured mainly upgraded microprocessors and electronics but also included new traction motors, generator, and air compressor (among other components).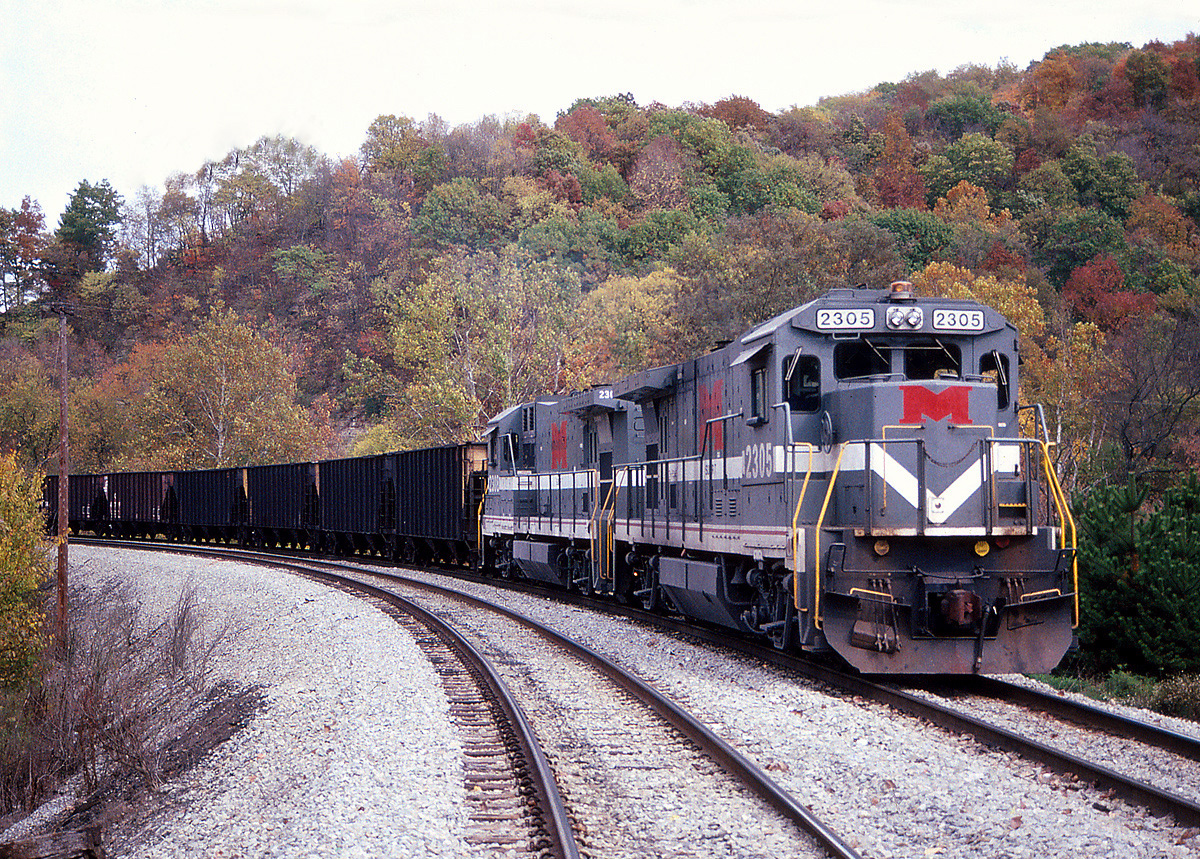 Seen here at rural Clarksville, Pennsylvania are Monongahela B23-7R's moving an empty string of hoppers towards Emerald Mine on October 14, 1991. The lead unit began its career as Western Pacific U23B #2264. Wade Massie photo.
There was only one U.S. railroad which ultimately used designs of the GE Super-7 series, the coal-hauling Monongahela Railway. In late 1989 and early 1990 the Monongahela purchased eleven Super-7Rs (the "R" stood for rebuild) which were classified as a B23-S7, all but one of which was ex-Western Pacific U23Bs (the other was an ex-GE demonstrator). Six other Super-7Rs/B23-S7s were ultimately built by GE and MK, three GE demonstrators and three for Roberval & Saguenay Railway, a line in Quebec, Canada. As with the U23B the new models remained rated at between 2,250 and 2,300 horsepower.
The other Super-7s were either ordered by Ferrocaril Nacionales Mexicano or became GE demonstrators (of which 11 were built), between 1989 and 1994. Known as Super-7Ns, FNM wound up with 223 units of various classifications (Super 7-C30, Super 7N-C30, and 7N-C30MP). Rated at 3,000 horsepower the units were rebuilt from U30Cs, U36Cs, C30-7s, and C36-7s (GE's eleven were rebuilt from U30Cs, U33Cs, and a U36C owned by the Southern, UP, and Milwaukee Road). Just as with the Super-7Rs FNM's versions received similar component and electronic upgrades.  Lastly, for more information about the GE Super-7 series and all variants of the model produced please refer to the chart below.
GE Super-7 Series Production Roster
| Model Type | Units Built | Date Built | Horsepower |
| --- | --- | --- | --- |
| B23-S7 | 17 | 1989-1991 | 2,250 |
| Super 7-C30 | 100 | 1989-1993 | 3,000 |
| Super 7N-C30 | 100 | 1990-1991 | 3,000 |
| Super 7N-C30MP | 34 | 1994 | 3,000 |
---
---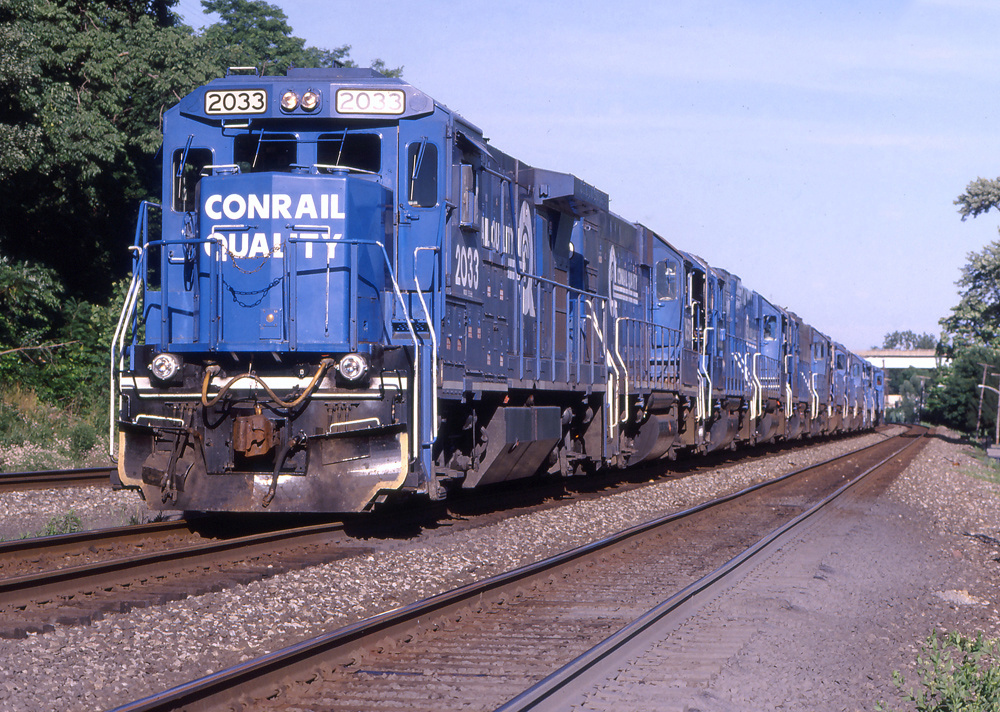 Now in Conrail colors, a former Monongahela "Super 7" unit leads a long string of local power towards Conway Yard as the consist rolls through Glenfield, Pennsylvania for light maintenance servicing on June 22, 1997. Wade Massie photo.
For more reading about General Electric diesel locomotives there are a few books written by noted historian Brian Solomon worth mentioning which highlight the history and background of the company.  First, is GE Locomotives, a title that provides a thorough history of its locomotive line from the earliest days of building electrics and experimental diesels to the latest models built through the early 2000s.  Second, is GE And EMD Locomotives: The Illustrated History, which generally highlights the history of both company's designs.  As with virtually all of Mr. Solomon's you can expect well-written titles with large, crisp, and sharp photographs featured throughout.