Alco "RSD-12" Locomotives

The RSD12 was one of the final six-axle designs produced in the Road Switcher (RS) series. The locomotive sold relatively well for the American Locomotive Company (Alco) considering most six-axle models were lucky to see more than 50 sales. The RSD12 was essentially an extension of the RS11, which was Alco's attempt to compete with EMD's four-axle GP9.  Unfortunately, once again the builder was late to the game as EMD's SD9 (the six axle version of its GP9) had already been in production for two years.  As such, despite railroads continued reluctance to purchase six-axle locomotives in large numbers EMD sold three times the SD9s in comparison to Alco's RSD12. Today, there are at least three preserved although it is unknown whether any are currently operational.
A trio of rugged Lake Superior & Ishpeming RSD-12's (#1803, #1804 and #1801) pull a string of taconite to the Chicago & North Western interchange at Eagle Mills Junction, Michigan on September 26, 1987. All three were built new for the road. Doug Kroll photo.
With the woefully unsuccessful RSD7, which attempted to compete against Fairbanks Morse's H24-66 "Train Master" the Schenectady builder switched directions back to a more traditional model with the RSD12. The road-switcher began production in the spring of 1956 and was one of the few RS models to utilize Alco's newer (and more reliable) 251B prime mover capable of producing 1,800 horsepower (the same as the RS11).  The locomotive remained in the company's catalog until 1963 and while it ultimately sold more than 150 units less than half of those sales went to domestic (American) railroads including the Pennsylvania, Southern Pacific, Chesapeake & Ohio, and Nickel Plate Road (the small Lake Superior & Ishpeming also purchased a few).
The RSD12 featured the highest continuous tractive effort of any Alco diesel locomotive it had offered up until that time; 78,500 pounds (continuous) that included dynamic braking.  In comparison, EMD's SD9 provided just 75,000 pounds. The high tractive effort was actually an Alco trademark; its locomotives had gained quite a reputation for pulling more tonnage far above what the builder would rate its products and many railroads used this to their advantage employing their units in heavy-haul service (coal, ore, etc.).  Despite the fact that General Electric was just a few years away from releasing its own line of diesels, a result of Alco's continual loss of market share to EMD, the RSD12 still used traction motors and generators built by them.

Penn Central RSD-12 #6862 works the north side of Frontier Yard near Buffalo, New York on January 17, 1974. Doug Kroll photo.
The road-switcher was one of Alco's first to offer a low, short nose as an option although only the Southern Pacific ultimately purchased the model with such. In general, the builder's six axle models were meant to provide a sizable increase in traction and used on light branch/secondary lines allowing the locomotive's weight to be distributed more evenly over additional axles. While most railroads that went on to purchase the RSD12 retired their fleets within a decade or so these unique beasts were beloved by the Lake Superior & Ishpeming for their amazing ability to pull just about anything. After receiving their batch of four from Alco between 1956 and 1963 the LS&I later acquired six, second-hand RSD15 Alligators from the Santa Fe.  For more technical information related to the RSD12 please click here.  
A trio of Lake Superior & Ishpeming RSD12s perform switching duties together at the yard in Eagle Mills, Michigan on September 26, 1987. Doug Kroll photo.
Production Roster Of Alco RSD12s
| Owner | Road Number(s) | Quantity | Date Built |
| --- | --- | --- | --- |
| Chesapeake & Ohio | 6700-6709 | 10 | 1956 |
| Lake Superior & Ishpeming | 1801-1804 | 4 | 1956-1963 |
| Nickel Plate Road | 325-333 | 9 | 1957 |
| Pennsylvania | 8655-8679 | 25 | 1957-1958 |
| Southern Pacific | 7000-7020 | 21 | 1961 |
---
---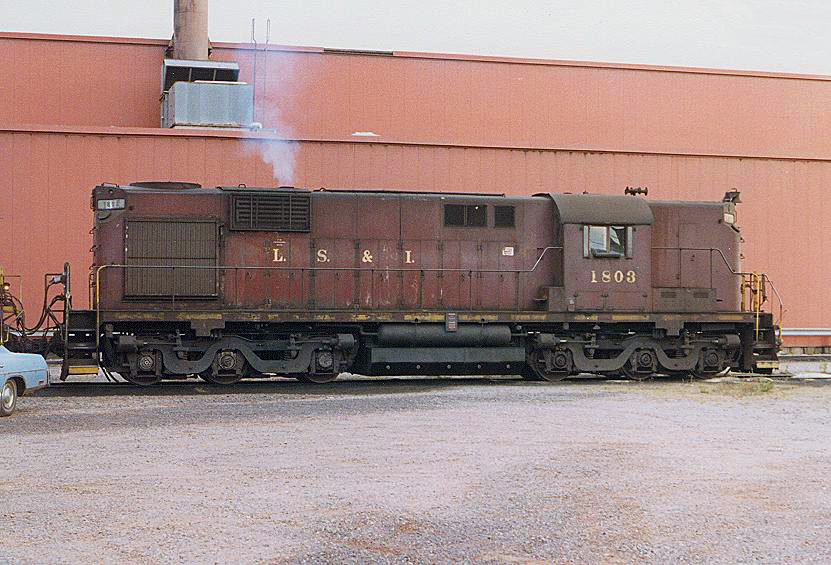 Getting ready for another day of service is Lake Superior & Ishpeming RSD12 #1803 at the Eagle Mills shops on September 26, 1987. Doug Kroll photo.
During the 1960s Alco released its Century line to replace the floundering RS series.  Unfortunately, it saw no rebound in sales or recovering interest in its products and left the market entirely before 1970.  Lastly, for further reading about the history of the American Locomotive Company manufacturing locomotives from the steam era through the days of the diesel you might enjoy Brian Solomon's book Alco Locomotives.  The title features an excellent general history of this fabled company and offers superb photography, a trademark of Mr. Solomon's books.    To read more about other Alco Road-Switcher (RS) models please visit the Diesel Locomotives section of the site, which can be reached from the top of this page.
---
---
---