EMD "GP50" Locomotives

Last revised: February 19, 2022
By: Adam Burns
The Electro-Motive Division's GP50 was only marginally successful when compared to earlier designs like the GP40 and GP38 series.
By the time the models were released by EMD beginning in 1980 railroads had begun to prefer six-axle power over four-axles and only a few hundred of each were ever built for six different Class I systems.
Of course, during that time poor sales for B-B trucked locomotives wasn't the only issue EMD was dealing with. General Electric was providing stiffer competition to the once entrenched industry leader, particularly with its C30-7 and C36-7 models in production at the time. Unfortunately, EMD likely due to complacency, would eventually lose its lead role to GE before the 1990s. 
Despite few GP50s built most remain in service; only BNSF operates the locomotive essentially in its as-built configuration. 
Those handed down to Union Pacific (ex-Missouri Pacific and Chicago & North Western locomotives) are no longer on the roster and Norfolk Southern has rebuilt their former Southern Railway units into GP59ECO's, rated at 3,000 horsepower.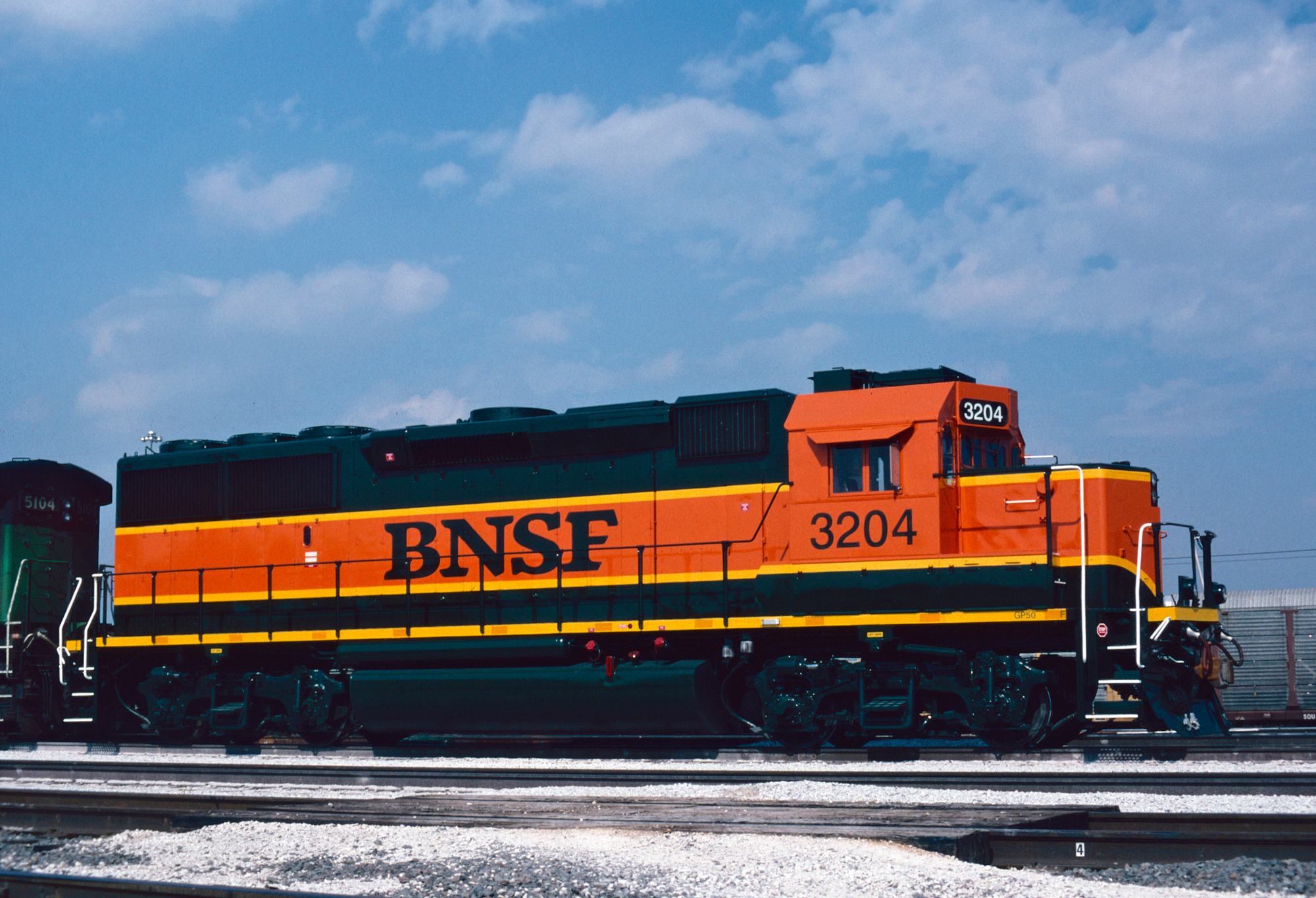 Recently repainted Burlington Northern Santa Fe GP50 #3204, sporting the railroad's original "Heritage I" livery, is seen here in Kansas City on October 11, 1997. This unit was built as Santa Fe #3851 in 1985. Lon Coone photo. American-Rails.com collection.
The EMD GP50 all but ended the run of the builder's four-axle road-switchers although it cataloged the GP60 design in the mid-1980s which was a bit more successful.
By the time the GP50 debuted in 1980 railroads were much more interested in six-axle power because of their advantages. For instance, with the two extra axles the locomotive's weight was more evenly distributed over the rails causing less wear on them and it also allowed for increased traction with more axles in contact with the rail.
The EMD GP50, like GP40s and GP40-2s, was built from the body and frame of the GP38 series. The design featured EMD's latest prime mover at the time, the 16-cylinder model 645F3B, which could produce 3,500 horsepower.
It utilized GM's D87 traction motor enabling it to produce a continuous tractive effort of 62,400 pounds and 65,000 pounds continuous.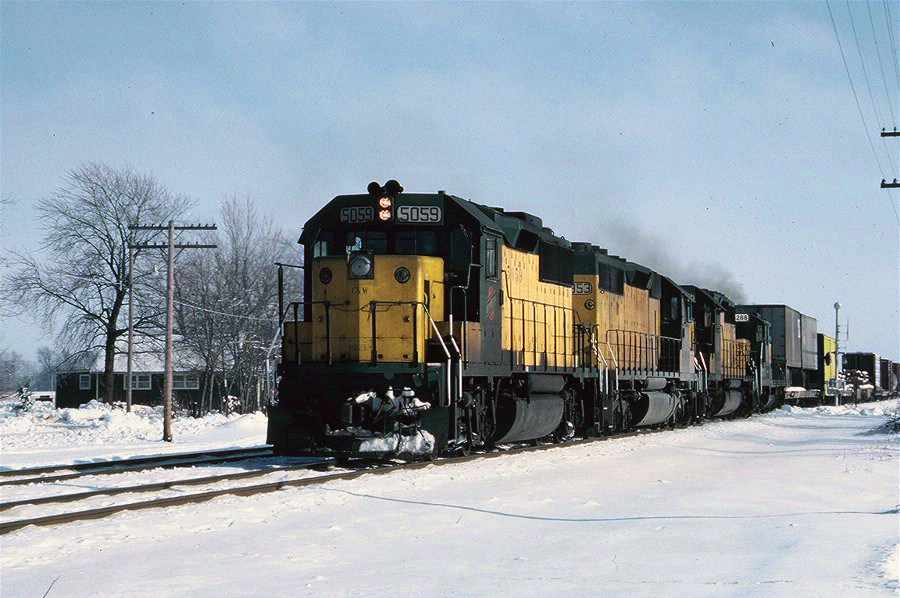 Chicago & North Western GP50 #5059 leads a general merchandise freight westbound at Creston, Illinois on December 18, 1987. Brian Rackley photo.
The most significant difference in the GP50 from earlier designs like the GP40 was upgraded components (like a turbocharger silencer and new type of blower housing) and increased horsepower.
It also included features already common on earlier models such as dynamic braking (a system for temporarily employing traction motors as generators and using the resulting electromotive force to slow the train), and an airtight hood that kept out dust, dirt and other particles from reaching internal components. 
Interestingly there was also a GP59 model cataloged by EMD built between 1985 and 1989.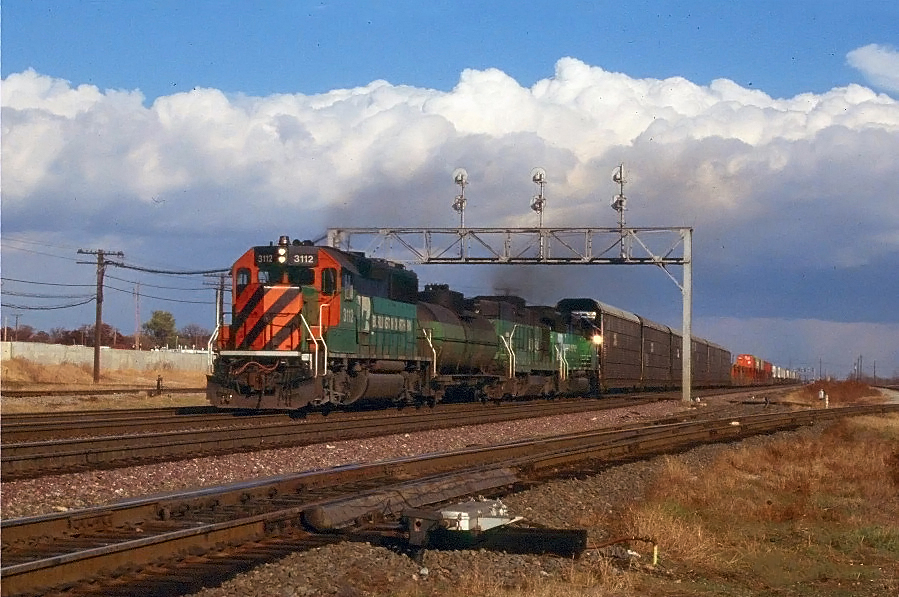 Burlington Northern GP50 #3112, a few helpers, and a fuel tender move intermodal containers and autoracks through Eola, Illinois on October 16, 1987. Brian Rackley photo.
At only 12-cylinders, using a 710G3A model prime mover, compared to the standard 16-cylinders, the unit was rated at 3,000 hp.
Despite the decrease in horsepower the locomotive was also more fuel efficient.  All were purchased by Norfolk Southern (a total of 36 units) and save for one, the fleet remains in active service for the railroad.
Perhaps the most famous of the units is #4610 which was commissioned by NS to commemorate the Southern Railway and was adorned in the predecessor's beautiful green, white and gold livery.
In the end, EMD found just six buyers for the GP50 that who purchased 278 examples of the locomotive.

EMD GP50 Production Roster
| Owner | Road Number(s) | Quantity | Date Built |
| --- | --- | --- | --- |
| Burlington Northern | 3100-3162 | 63 | 1980-1985 |
| Chicago & North Western | 5050-5099 | 50 | 1980 |
| Missouri Pacific | 3500-3529 | 30 | 1980-1981 |
| Santa Fe | 3810-3854 | 45 | 1981-1985 |
| Southern Railway | 7003-7092, 7071-7072 (2nd) | 92 | 1980-1981 |
| St. Louis San Francisco Railway (Frisco) | 790-799 | 10 | 1980 |
---
These railroads included the Santa Fe (45, numbered 3810-3854), Burlington Northern (63, numbered 3100-3162), Chicago & North Western Railway (50, numbered 5050-5099), Missouri Pacific (30, numbered 3500-3529), St. Louis–San Francisco Railway (10, numbered 790-799), and the Southern who purchased the most (90, numbered 7003-7092, they were the only units equipped with high hood compared to the common low hood).
All the companies that purchased the GP50 have now been absorbed into other systems. However, their successors continue to operate the units and as far as is known none have yet to be sold or scrapped.   
While the GP50 was not considered a success railroads could count on their reliability and dependability, which made EMD legendary. In any event, be on the lookout for them, as there are still many roaming around out there!