Baldwin "Sharknose" Locomotives

Last revised: October 12, 2023
By: Adam Burns

One thing cannot be questioned about Baldwin's Sharknose design, it was unmistakable! Baldwin was a mainstay of the industry, known far and wide. It's earliest heritage can be traced back to the industry's genesis and over the next century established itself as the preeminent steam locomotive manufacturer, alongside American Locomotive.

Unfortunately, Baldwin did not embrace the diesel and found itself playing catchup behind Alco and Electro-Motive in the immediate postwar  period. 
During the course of production Baldwin cataloged several cab units in the Sharknose carbody including the DR-4-4-1500, DR-6-4-2000, and RF16.
Today, the last model it constructed, the RF16, is the only domestic version that still survives. 
Two examples (former New York Central units which later worked on the Monongahela Railway and Delaware & Hudson) are locked away at a Michigan short line. 
The owner states they will be donated to a preservation group at some point in the future.
Photos
A pair of the Pennsylvania's handsome Baldwin cab units in the "Sharknose" carbody, including RF16 #2022 and DR-4-4-1500 #9076, layover in Detroit, Michigan in April, 1961. Fred Byerly photo. American-Rails.com collection.
Overview
Although Baldwin never made the successful switch from steam to diesel, one of its more popular cab models was the unique carbody design of the Sharknose.
In total, Baldwin would offer three different units with the Sharknose carbody:
DR-4-4-1500 (1949)


DR-6-4-2000 (1949)


RF16/RF615E (1950)
The creation of the new carbody was actually out of necessity. When Baldwin began cataloging cab units after World War II it used what only can be described as a knock-off Electro-Motive design with a low nose and large windows similar to the "Bulldog" look of E and F units.
In an era when streamlining was still important it was not attractive.  Its poor appearance only further hurt its sales. As a result, the company began looking for something new.
As John Kirkland points out in his book, "The Diesel Builders: Volume Three (Baldwin Locomotive Works," Baldwin contracted with Hadley, Ryder & Pedersen for a complete carbody redesign.
The company came up with the classic "Sharknose" concept, which gave Baldwin's late-era cab locomotives an entirely unique look.  
Hadley, Ryder & Pedersen
Hadley, Ryder & Pedersen was also tasked with arranging the interior equipment, stress analysis of the carbody, and working with Baldwin in the final overall design.

Contrary to popular railfan belief, the Sharknose was not a Raymond Loewy design.  This idea likely derived from the carbody's similarity to Pennsylvania Railroad's streamlined 4-4-4-4 "Duplex Drive" T-1's.
The angular nose of these famous steam locomotives, which as a Lowey inspiration, bore a striking resemblance to the Sharknose carbody.
While somewhat similar to EMD's E and F series, and Alco's PA, whereby the cab was situated to one end and behind the nose, the Sharknose was very unique.
The nose had much sharper angles as opposed to EMD's and Alco's rounded curves, and it was tapered towards the headlight, giving the unit its nickname.
Like the cab area, the Sharknose's carbody styling was also more sharply angled than either EMD's or Alco's designs; the final three feet nearest the roofline was also tapered.
Overall, the locomotive featured clean lines and good looks, allowing it to be utilized in either freight or passenger service.  In this author's opinion, the Sharknose was on par with either the F/E series or PA/FA models in terms of appearance.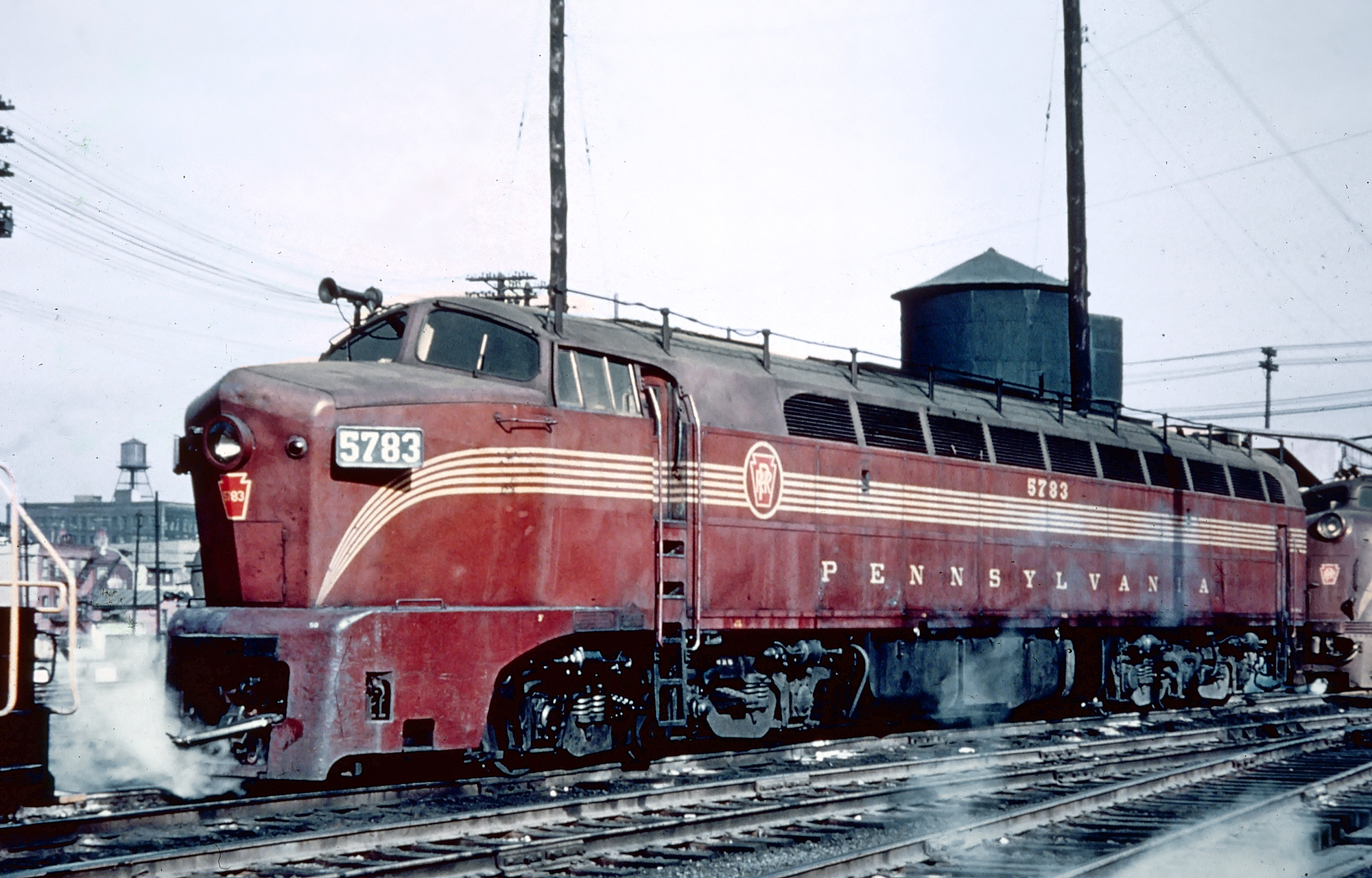 Pennsylvania DR-6-4-2000 #5783 was photographed here in Pittsburgh, Pennsylvania, circa 1953. American-Rails.com collection.
Types
From a historical standpoint, the Sharknose can be a bit confusing when describing a particular Baldwin cab model since the builder featured it on three different variants.  These included the previously mentioned DR-4-4-1500, DR-6-4-2000, RF16/RF615E
The latter was the only model to feature the carbody exclusively.  Interestingly, it was also Baldwin's most successful cab design. In 1950 the RF16 model was released, which included a new 608A, 1,600 horsepower prime mover.
It was part of the company's new Standard Line as it dropped the confusing letters and numbers previously used to classify its diesels, a system that harkened back to the steam era and "Whyte Notation."
It is interesting to wonder what would have became of Baldwin had the builder been allowed to continue refining its products throughout the 1950's, 1960's, and beyond.
Its Standard Line was growing in demand (although still lagged behind even Alco) and management expressed strong interest in remaining a major player.
Alas, parent Westinghouse had other ideas and forced Baldwin-Lima-Hamilton to end locomotive production in 1956.
Preservation
Today the  Sharknose no longer survives in either regular freight service or preserved. However, two units of the RF16 model, last used on the Delaware & Hudson Railway (numbered 1205 and 1216, which were originally purchased by the New York Central) in the 1970s, still survive in upper Michigan.
They are owned by short line Escanaba & Lake Superior, which has no interest in railfans looking over the locomotives.
Variants
| Model Type | Units Built | Date Built | Horsepower |
| --- | --- | --- | --- |
| DR-6-4-2000 (PRR Only) | 18 A Units/9 B Units | 1948 | 2,000 |
---
Until recently, one could sometimes catch a glimpse of these units, as they were stored outdoors but were reportedly moved indoors after the units' builder plates were stolen by vandals.
While the owner of the E&LS states the locomotives will be donated to a museum, their mechanical condition is quite poor.  One unit is believed to have a broken crankshaft and the other is also not running.
Any hope of seeing at least one example restored to operating condition would take a considerable amount of restoration but would be possible.