FM "H20-44" Locomotives


The FM H20-44 was the most powerful four-axle road switcher the builder ever produced.
Ironically, for the locomotive's high horsepower it more closely resembled Fairbanks Morse's switcher line in that it featured an end-cab design instead of the common off-set cab that FM used on its road switchers.
This styling difference would hurt the locomotive's marketing attractiveness as railroads were simply not interested in a switcher-type model for use in even light freight duty.
With the GP7 model offered by 1949 and the American Locomotive Company already producing the popular RS2 (and soon released the RS3), roads found these models far more attractive despite having a little less horsepower. 
While the H20-44 sold better than other models FM produced overall its sale were only lukewarm at best. Few Fairbanks  Morse diesel locomotives were ever preserved but thankfully, three H20-44s were saved and are on display at various museums around the country.

Union Pacific H20-44 #1366 (built as #DS-1369) is preserved at the Illinois Railway Museum in Union.
The FM H20-44 began production in August, 1947 using the builder's standard 2-cycle 38D8 1/8 opposed piston prime mover, which could produce 2,000 horsepower.
Additionally, it featured AAR Type-B trucks and all of the locomotives internal components such as traction motors and generators were outsourced to Westinghouse.
It was Fairbanks Morse most powerful four-axle road switcher although it was a tough sell to railroads who, as mentioned above, did not like the overall design for the service in which it was intended.
Aside from the high horsepower rating, the H20-44 also offered very high tractive, which was certainly one of its more marketable points; 75,000 pounds starting and 55,000 pounds continuous.
At 51 feet in length it was somewhat shorter than either the H15-44 or H16-44 (most of which was due to lack of short, front hood).
Fairbanks-Morse's Catalog Of Diesels
H10-44 

H12-44

H15-44

H16-44 

H16-66, "Baby Train Master" 

H24-66, "Train Master" 

FM's "Erie Builts" 

FM's "C-Liners" 

As was the case with most of FM's diesel locomotive models the company hired famed industrial designer Raymond Loewy to give the H20-44 fine lines and exterior features.
Finding such design features somewhat frivolous and doing little to boost sales FM scrapped Loewy's recommendations in the model's latter years of production to save on construction costs.
In any event, Fairbanks Morse apparently learned from the unsuccessful nature of the H20-44 and offered no future switcher-type models that included such a high horsepower rating.
Instead, in 1950 it released the H12-44 switcher that went on to becoming its most successful overhaul design. In regards to the model's classification system, it was more or less similar to what Baldwin used in its early diesel designs but was not quite as complicated in understanding.
For example, the H20-44's designation was as follows; "H" stood for Hood unit, "20" was the horsepower rating, and each 4 meant four axles and four traction motors.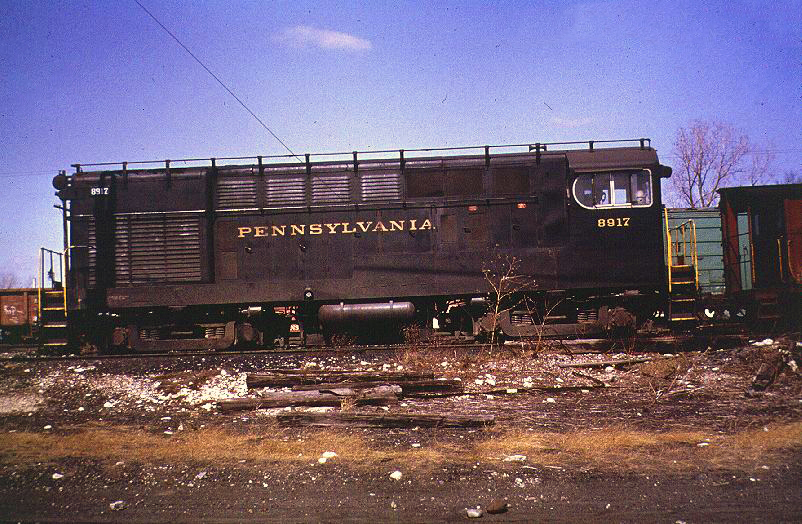 Pennsylvania Railroad H20-44 #8917, the first in a fleet of 38 units the railroad purchased from FM. Paul Winters photo/Gary Morris collection.
When production had ended in March, 1954 the FM H20-44 the model had sold just 96 units to a handful of Class I railroads. The Pennsylvania Railroad would come to purchase the most, 38.
It should be noted that while the H20-44 sold less than 100 units it is not necessarily because Fairbanks Morse's models in general were unreliable, as was usually the case with Alco (early on anyway) and particularly Baldwin.
Reliability with FM's diesel locomotives has often been questioned but I believe the issue was mostly due to the fact that FM's opposed-piston prime mover was difficult to maintain and far different from the standard designs being offered by the other builders.
For instance, in regards to the Train Master, it has been noted by John Kirkland in his book The Diesel Builders Volume 1 that the locomotives performed admirably for more than 20 years on the Southern Pacific due to a maintenance team that understood the model, despite taking a daily beating in freight service.
Fairbanks Morse H20-44 Production Roster
| Owner | Road Number(s) | Quantity | Date Built |
| --- | --- | --- | --- |
| Akron, Canton & Youngstown | 500-505 | 6 | 1948-1954 |
| Fairbanks Morse (Demo) | 2000 (#1), 2000 (#2) | 2 | 1947 |
| New York Central | 7100-7118 | 18 | 1948-1949 |
| Pennsylvania | 8917-8942, 9300-9311 | 38 | 1948-1951 |
| Pittsburgh & West Virginia | 50-71 | 22 | 1947-1953 |
| Union Pacific | DS1360-DS1365, DS1367-DS1370 | 10 | 1948-1954 |
---
---
A pair of Pennsylvania Railroad H20-44's sit in the dead line in Baltimore, Maryland on August 22, 1970. The locomotives were then owned by Ed Streigel, a scrap dealer who acquired most of his locomotives from the PRR, Reading, and Baltimore & Ohio. Roger Puta photo
When production had ended on the FM H20-44 in March 1954 it had sold to five different railroads:
Akron, Canton & Youngstown (6)


New York Central (19)


Pennsylvania (38)


Pittsburgh & West Virginia (22)


Union Pacific (10)
UP also went on to purchase FM's two pair of demonstrators, both of which were designated  #2000 giving the railroad a total of 12 units. 
Today, at least three FM H20-44s are preserved;
Union Pacific #DS-1366 at the San Diego Railway Museum


Union Pacific #DS-1369 at the Illinois Railway Museum


Akron, Canton & Youngstown #505 at the Center for Transportation & Commerce in Galveston, Texas (painted as UP #410)
Lastly, for more information about the FM H20-44 please refer to the above chart for a complete production roster.