GE "B40-8/W" Locomotives

The GE B40-8 and B40-8W (also known as a 8-40B) was the single, most powerful four-axle diesel locomotive the company ever produced, and also the last.
Built during the late 1980s the design came in two versions using either the common standard cab of the time or the newer, wide "safety" cab, which did away with side cab doors and walkways (ultimately only one railroad purchased the wide-cab version).
By the early 1990s this feature was a standard requirement of the Federal Railroad Administration (to increase crew protection in the even of a collision).
While sales for the 8-40B included more than 200 units by the late 1980s with General Electric a major locomotive builder (and actually the industry leader at that point) those types of numbers were marginal, at best. 
Today, one can still find several examples operating on BNSF (B40-8W's) while all other Class I's have retired or sold theirs. 
However, you can still catch examples in service on short lines and regionals.  It is fascinating that Electro-Motive's first and second-generation power finds greater interest among these smaller carriers than GE products from the same era.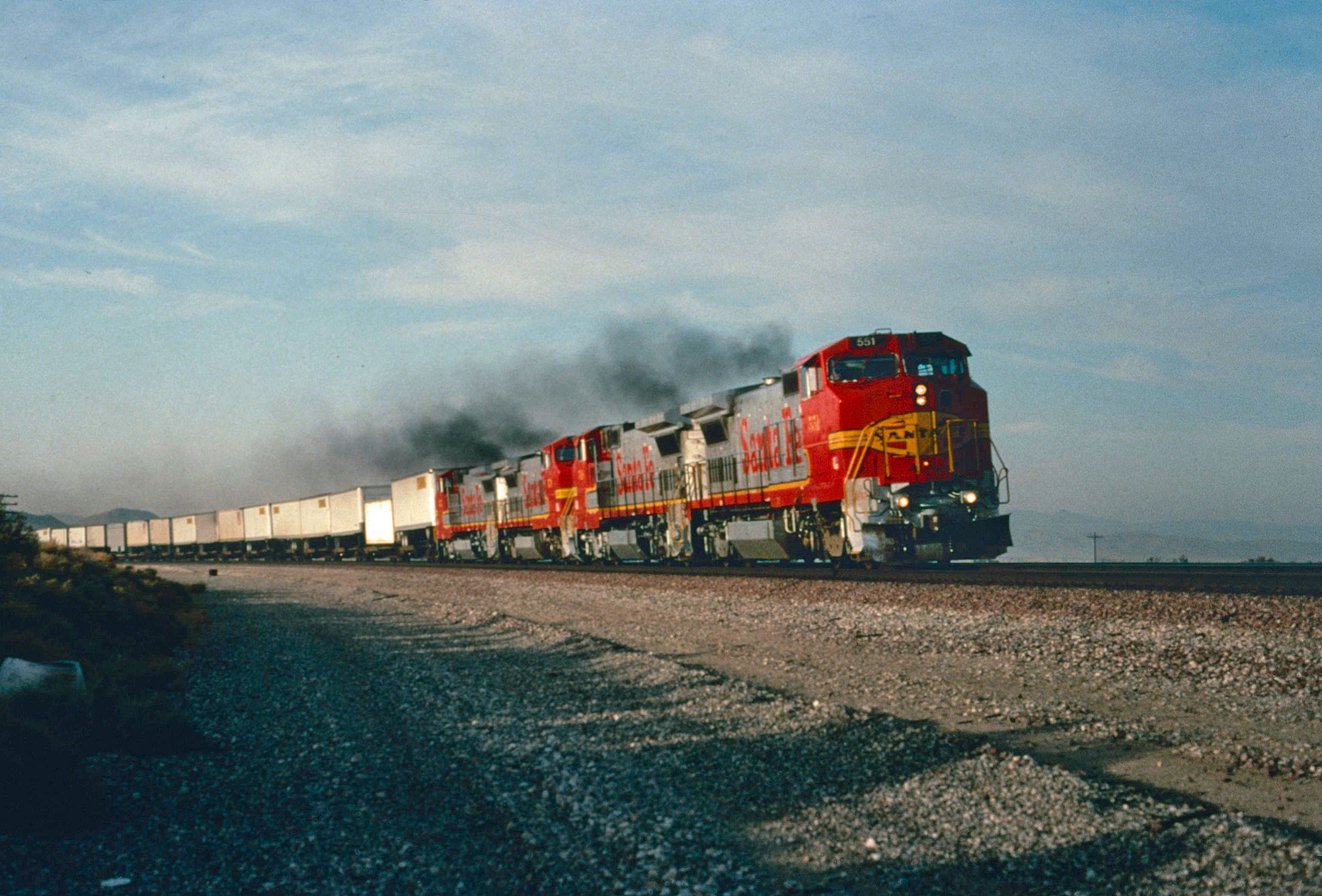 A quartet of Santa Fe B40-8W's lead trailers west over the Transcon main line at Hodge, California on the evening of September 12, 1993. Author's collection.
The GE B40-8 followed the builder's earlier B39-8 and featured the same upgraded carbody design.
The only significant difference between the two models was the B40-8's 4,000 horsepower (the locomotive continued to use General Electric's proven 4-cycle, 16-cylinder FDL prime mover).
The classification behind the GE B40-8 continued to conform to the company's standard designation for its locomotives.
For instance, the "B" regarded its four-axle truck setup (B-B) while the "40" referred to it having 4,000 horsepower. The "8" reference simply meant it was a model of GE's "Dash 8" series.
As with earlier designs like the B39-8 GE continued to use its highly successful model 752AF traction motors that offered 68,500 pounds of starting tractive effort and 68,000 pounds continuous.
By the late 1980s GE and Electro-Motive were both finding sales for high-horsepower, four-axle diesel locomotives tough (EMD's GP59 and GP60 models, for example, sold just over 400 units combined).
Not only could six-axle models produce more tractive effort with two additional axles but the those extra wheels also allowed them to spread out more of their weight across the rails (thus allowing for reduced track wear).
As such, GE built just 150 B40-8s with Class Is Conrail, Santa Fe, and Cotton Belt/SP purchasing the model. In addition, the AT&SF purchased another 83 units known as the B40-8W, which simply included the wide, safety cab (these still operate on BNSF today).
The Santa Fe widely employed this locomotives along its western main lines, particularly in California and New Mexico.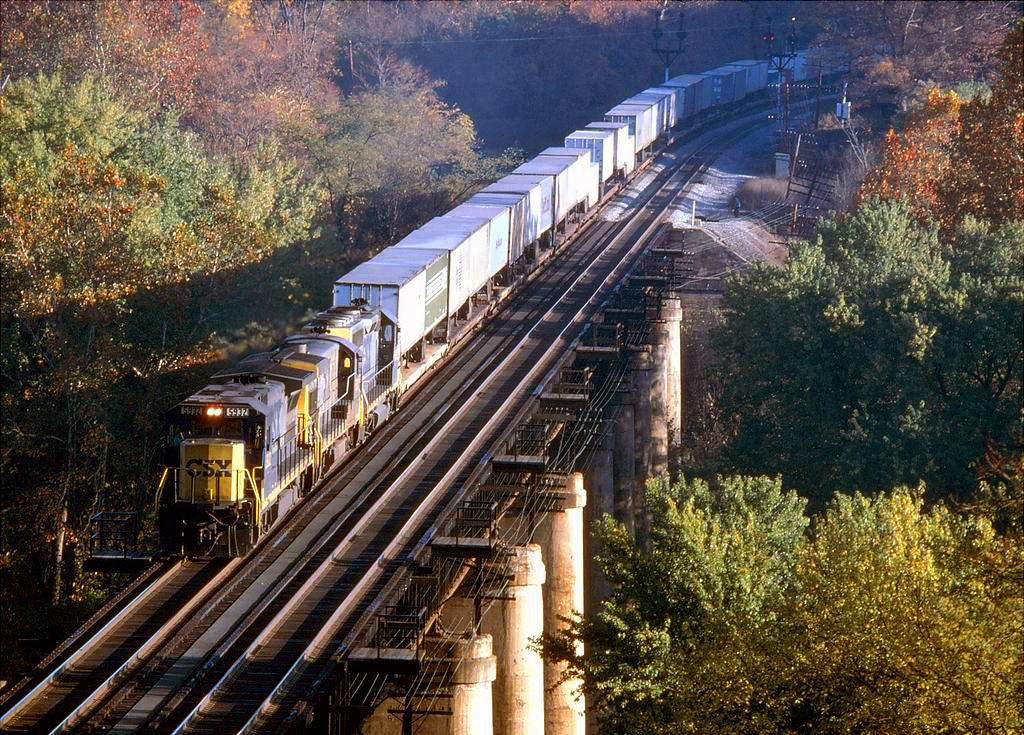 From high above we see CSX B40-8 #5932 leading a westbound pig train across the Potomac River Bridge at Tunnel Hill, Maryland on the morning of October 24, 1993. Wade Massie photo.
It should be noted that Amtrak's large fleet of P40DCs, P42DCs, and P32ACDMs (also known as the Genesis model) is also classified as a variant of the design known as the 8-40BP (typically, however, the locomotives are known by the former names).
These models are standard freight locomotives save for their head-end power (HEP) for use in passenger service. In any event, by the time production had ended on the model some 234 units in all had been built, not exactly impressive numbers for the now leading locomotive manufacturer.

GE B40-8/W Production Roster
| Owner | Road Number(s) | Quantity | Date Built |
| --- | --- | --- | --- |
| Conrail | 5060-5089 | 30 | 1988 |
| General Electric (Demo) | 8002 | 1 | 1988 |
| General Electric (Demo) | 809 | 1 (B40-8W) | 1988 |
| New York, Susquehanna & Western | 4002-4048 (Evens) | 24 | 1988-1989 |
| Santa Fe | 7410-7449 | 40 | 1988-1989 |
| Santa Fe | 500-582 | 83 (B40-8W) | 1990-1992 |
| St. Louis Southwestern Railway (Cotton Belt/SP) | 8040-8094 | 55 | 1988-1989 |
| U.S. Department Of Energy | 107 | 1 | 1989 |
---
---
Santa Fe B40-8 #7439 grinds upgrade with trailers heading westbound near Dahinda, Illinois on September 7, 1989. Brian Rackley photo.
However, GE would rebound quickly as its C40-8, which debuted in 1988, and wide-cab version (C40-8W) would sell nearly 1,500 units by the mid-1990s.
As of today, General Electric has offered no other model with the four-axle design (and neither has EMD) although RJ Corman's RailPower subsidiary, which builds genset and other low-emission, environmentally-friendly switchers still employs the B-B setup with its locomotives.
Perhaps, though, one day in the future newer technologies or needs will once again make the four-axle diesel popular within the industry. 
Lastly, for more information about the locomotive please refer to the chart above for a complete production roster of the B40-8 as well as its B40-8W variant.