Doodlebug Rail Cars

Last revised: June 22, 2023
By: Adam Burns

While doodlebugs have become endeared by many railfans and historians over the years due to their small size and quaint nature (serving bucolic towns and communities) they actually filled a very important role for the industry.

Developed during the early 20th century these rail cars, most of which were powered with gasoline engines and not diesels, enabled railroads to reduce operating costs associated with light branch and secondary lines that saw either little passenger and/or freight traffic.
Overview
The motorized cars have become known by many names and while it is not quite known where the name doodlebug was derived the car should not be confused with the Rail Diesel Car, or RDC.
This was a specifically designed and marketed single car, similar to its earlier counterpart but developed specifically by the Budd Company and was powered by a diesel engine. 
Today, a number of doodlebugs remained preserved at various museums around the country.  Provided here is a brief history of this unique aspect of the industry's passenger operations; many "Doodlebugs" served out-of-the-way branch lines and secondary corridors that were abandoned long ago.

Photos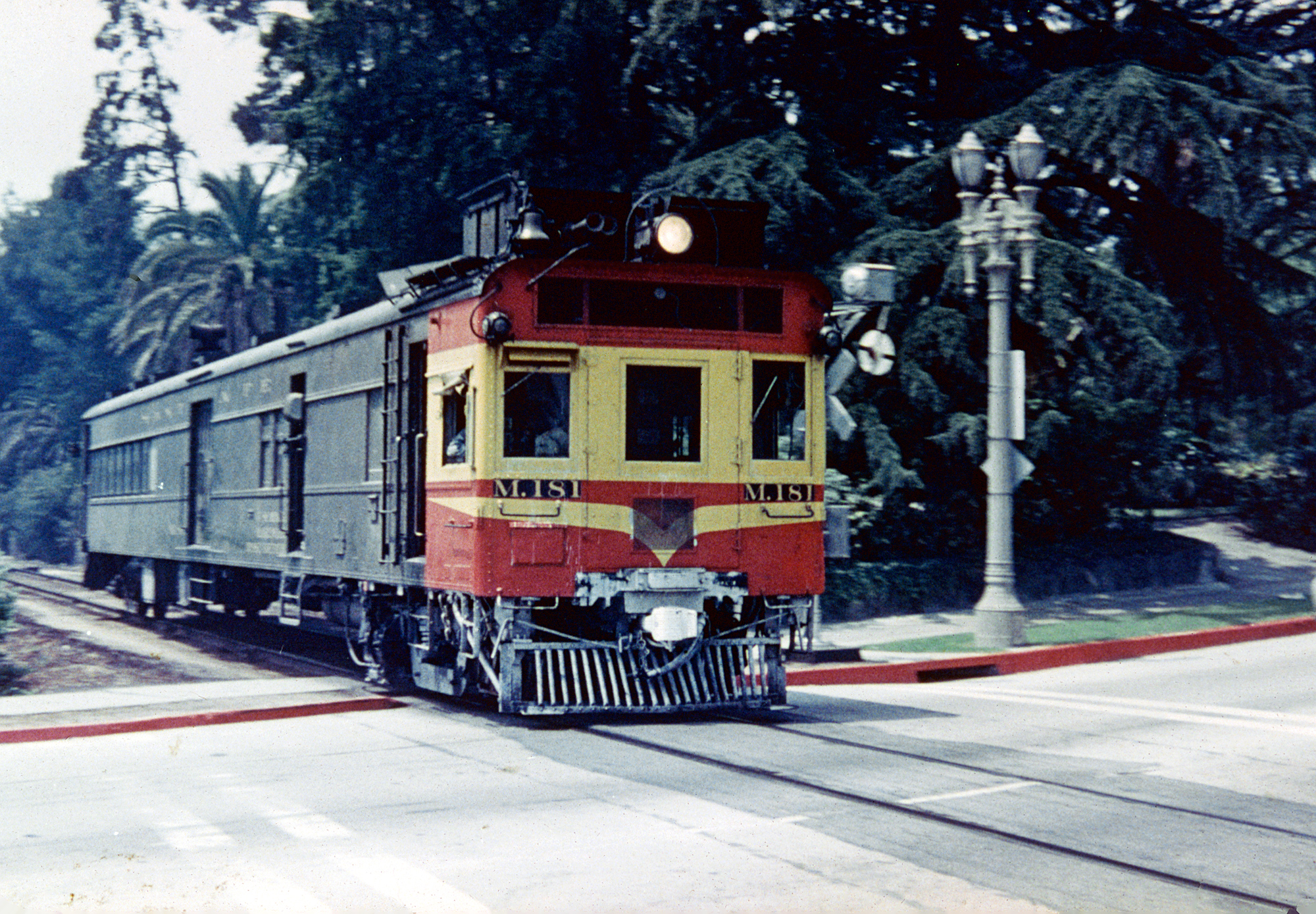 Santa Fe motorcar/Doodlebug M-181 is seen here crossing Walnut Street in Pasadena, California in 1948. This Electro-Motive railcar, completed in September, 1929 as part of order #388, featured a Pullman carbody (80 feet), RPO section, and could produce 400 horsepower. Russ Cole photo. American-Rails.com collection.
History
The earliest history of the doodlebug can be traced back to the General Electric in 1904.  It was then that the company's engineer's realized that there may be a market for self-propelled rail cars in the railroad industry.
Of course, they were quite different from similar cars used by the interurban and streetcar industry, which were powered by standard electricity.
These cars would utilize some type of self-contained engine for power. In the case of GE's test car, constructed in 1905, it took a standard Delaware & Hudson Railway baggage car built by the Barney & Smith Company and equipped it with a automobile gasoline engine.
The prime mover was a product of Wolseley Motor Company of Great Britain (interestingly, this company was founded in 1901 just a few years prior to the new car design), retrofitted for use in rail service.
General Electric
GE decided to use this specific engine for two reasons; first, it contained adequate power for their experiment but at the same time did not need such high horsepower as a standard locomotive given that it was only to be used for light passenger and freight duty.

Statistics
| | |
| --- | --- |
| First Produced | 1906 (General Electric) |
| First EMC Car | Chicago Great Western M-300 (1924) |
| Other EMC Suppliers | Pullman Standard, J.G. Brill, Standard-Steel Car, St. Louis Car Company, Osgood Bradley |
| GE Production | 89 Cars (1906 - 1917) |
| Electro-Motive Production | 500 Cars (Approximate) |
| Horsepower Rating | 150 - 900 |
| Length | 55 - 80 Feet |
As it turns out their hypothesis proved to be correct. Additionally, it used two, 75 horsepower traction motors and a 600 volt generator and was able to carry nearly 70 tons of cargo.
The car became known as GE #1, or D&H #1000, and was tested between Saratoga and Schenectady, New York where it reached speeds upwards of 40 mph.
A year after this car was tested engineers further improved on the first test car and built GE #2, which used a V8 engine that was much lighter than the Wolseley design.
This second experiment used a car built by the Wason Manufacturing Company from Springfield, Massachusetts and overall was more than 50% lighter than its predecessor.

Santa Fe self-propelled rail car ("Doodlebug") M190 (built by the Electro-Motive Corporation in 1932) is seen here laying over at Clovis, New Mexico on June 5, 1959. It will soon make the 184-mile return trip to Carlsbad, New Mexico. Stan Kistler photo. Author's collection.
GE #2 also was the first to actually debut to the public as it tested on a number of railroads including the Minneapolis, Northfield & Southern Railway, Chicago Great Western, Lehigh Valley, and the Delaware & Hudson (this car was eventually sold to the MN&S).
Around 1908 the company debuted GE #3, a third demonstrator that was more powerful and a bit lighter than the previous cars.
It also saw more publicity than its two predecessors. In the end, when General Electric concluded its rail car business to focus on main line electrification projects it sold more than 100 units, many of which were custom tailored to the railroads' specifications.
Electro-Motive
Soon after this time the Electro-Motive Corporation was founded in Cleveland, Ohio in 1922 by H. L. Hamilton and picked up where GE had left off with the express purpose of marketing self-propelled rail cars (which eventually transformed into main line locomotives featuring diesel engines).

During EMC's tenure of doodlebug construction, often considered the era in which the car truly came of age, it utilized car bodies built primarily by Pullman Standard, J.G. Brill, Standard-Steel Car, St. Louis Car Company, and Osgood Bradley.
The designs featured the same setup as GE; a baggage/combination with a sliding door for freight/mail and a rear area for standard coach seating.
For power EMC featured gasoline engines constructed by the Winton Engine Company. While Winton at the time was focused on automobile engines it began collaborating more and more with EMC in the railroad industry.
EMC's first doodlebugs were more powerful than GE's last designs and were rated at around 275 horsepower while using GE traction motors and generators. An early proponent of the motorized rail car was the Chicago, Rock Island & Pacific (Rock Island) and it soon began experimenting with its models.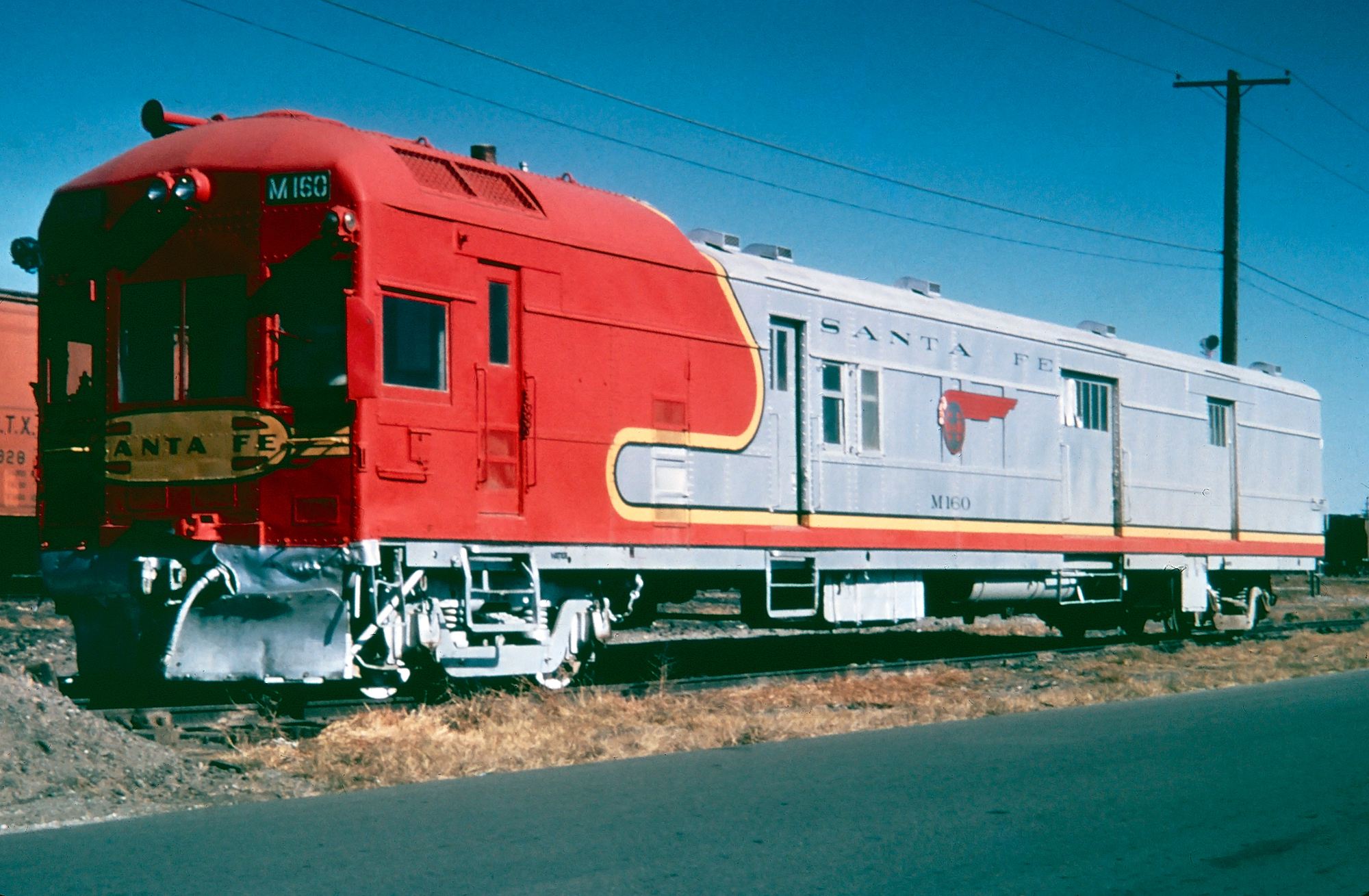 Santa Fe motorcar M160 is seen here in storage at Clovis, New Mexico on November 18, 1967. The Doodlebug worked branch line service in the region until 1966. It was a 535 horsepower car built by J.G. Brill in 1931 and currently is preserved at the Museum of the American Railroad in Frisco, Texas. Tom Hoffmann photo. American-Rails.com collection.
Looking for an increase in power the Rock, in 1927, took traction motors and the power plant from one car and placed it in another. 
This setup featured traction motors on all axles (four) with two engines, boosting its output to 550 horsepower.  EMC liked the idea so much that it soon built seven units with 800 horsepower for the Rock, using them all for many years.
While early doodlebugs appeared similar to a heavyweight passenger car newer models in the late 1920s and early 1930s had a more boxy appearance and flat cab face with a headlight attached to the hood (and in many cases extra freight/mail doors).
While it is sometimes difficult finding information about doodlebugs today the model actually became very popular for the reasons mentioned above with EMC producing more than 500 units. 

---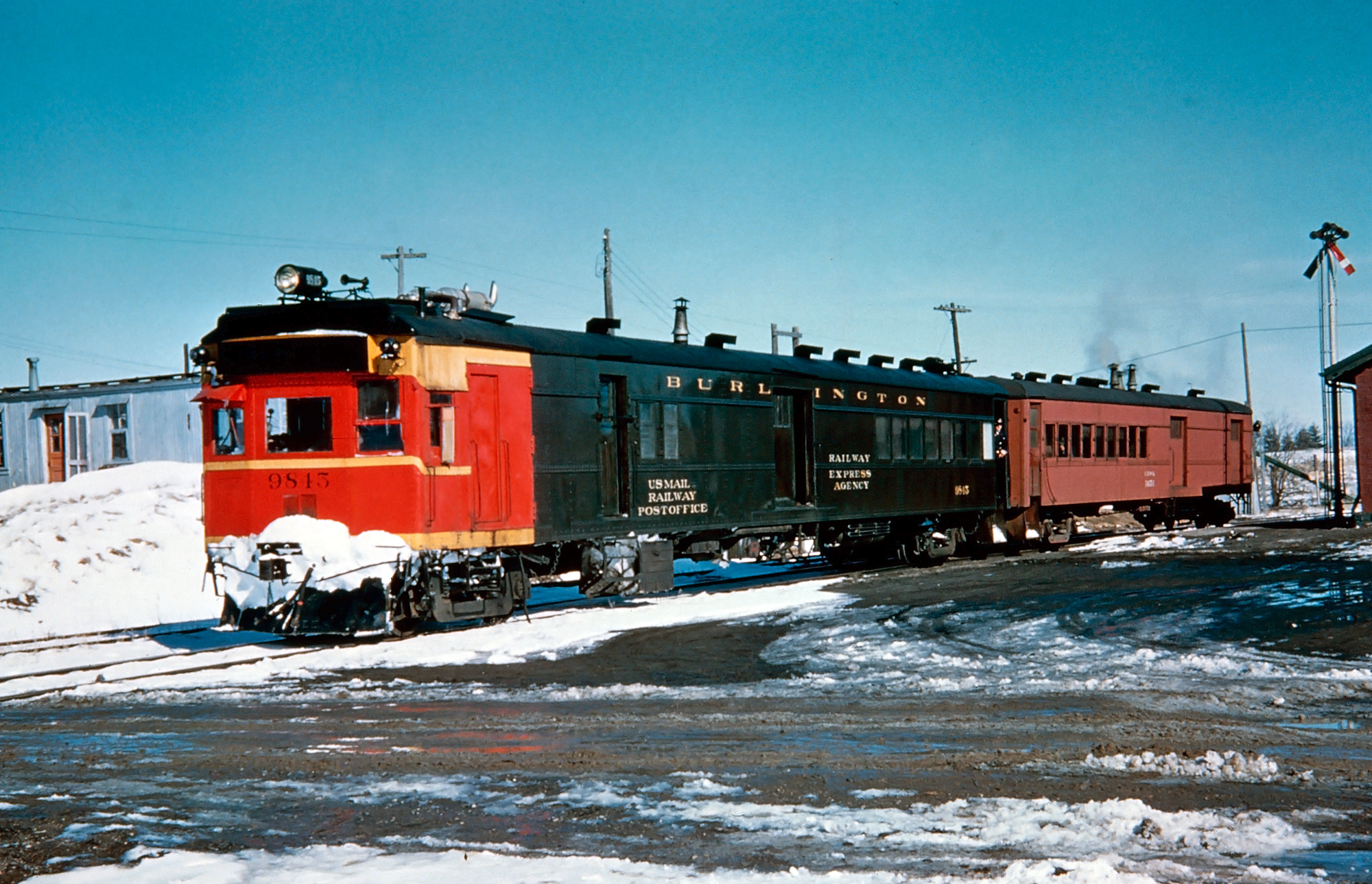 Chicago, Burlington & Quincy PMC (Passenger Motor Car) #9845 in branch line service, circa 1956. Location not recorded. This car was manufactured by Electro-Motive in 1928 and scrapped in August, 1961. It was originally equipped with a 275 horsepower gasoline engine and later upgraded with a 400 horsepower diesel. American-Rails.com collection.
Final Years
Many Class Is like the B&O, Milwaukee Road, Pennsylvania, Western Maryland, Santa Fe, Burlington and others all used doodlebugs along with numerous smaller roads finding use for it.
Unfortunately, the Transportation Act of 1958 doomed doodlebugs as it decreased the power states had to regulate railroads in providing passenger services over lightly used branch and secondary lines.
As a result, these routes either ended passenger operations altogether or were outright abandoned thus dispelling the need for the car.
While most were gone by 1960 interestingly Sperry Rail Service found a second life for some cars, which were retrofitted and operated into the 2000s checking for internal rail defects.
Additionally, other cars have been saved and are preserved at museums around the country with some still in operating condition. It has often been asked where the term doodlebug is derived.
As aforementioned, unfortunately, no one knows although it is theorized perhaps the way the car meandered or "doodled" through small towns and across the countryside.