Alco "C-636" Locomotives

The Alco C636 was the builder's final and most powerful six-axle, C-C model. While nearly 100 were built, less than 40 were sold to US railroads, as many systems found the model to be troublesome and unreliable, which certainly reflected the American Locomotive Company's (Alco) perception by the late 1960s. During Alco's early years of its Century line the locomotives proved to be fairly reliable with substantial pulling power, particularly the four-axle models. However, it can probably be accurately assumed that by the last few years of the company's operation as a locomotive builder it let much of its quality control measures slip. Unfortunately, Alco had not been a serious contender as a manufacturer since World War II.
The company continued to lose market share to GM's Electro-Motive Division and General Electric from the 1950s onward (GE began building its own diesel after 1959). Interestingly, despite few sales of the C636 (and sister M636) you can still find the locomotive in regular service on shortlines Delaware-Lackawanna and Livonia, Avon & Lakeville.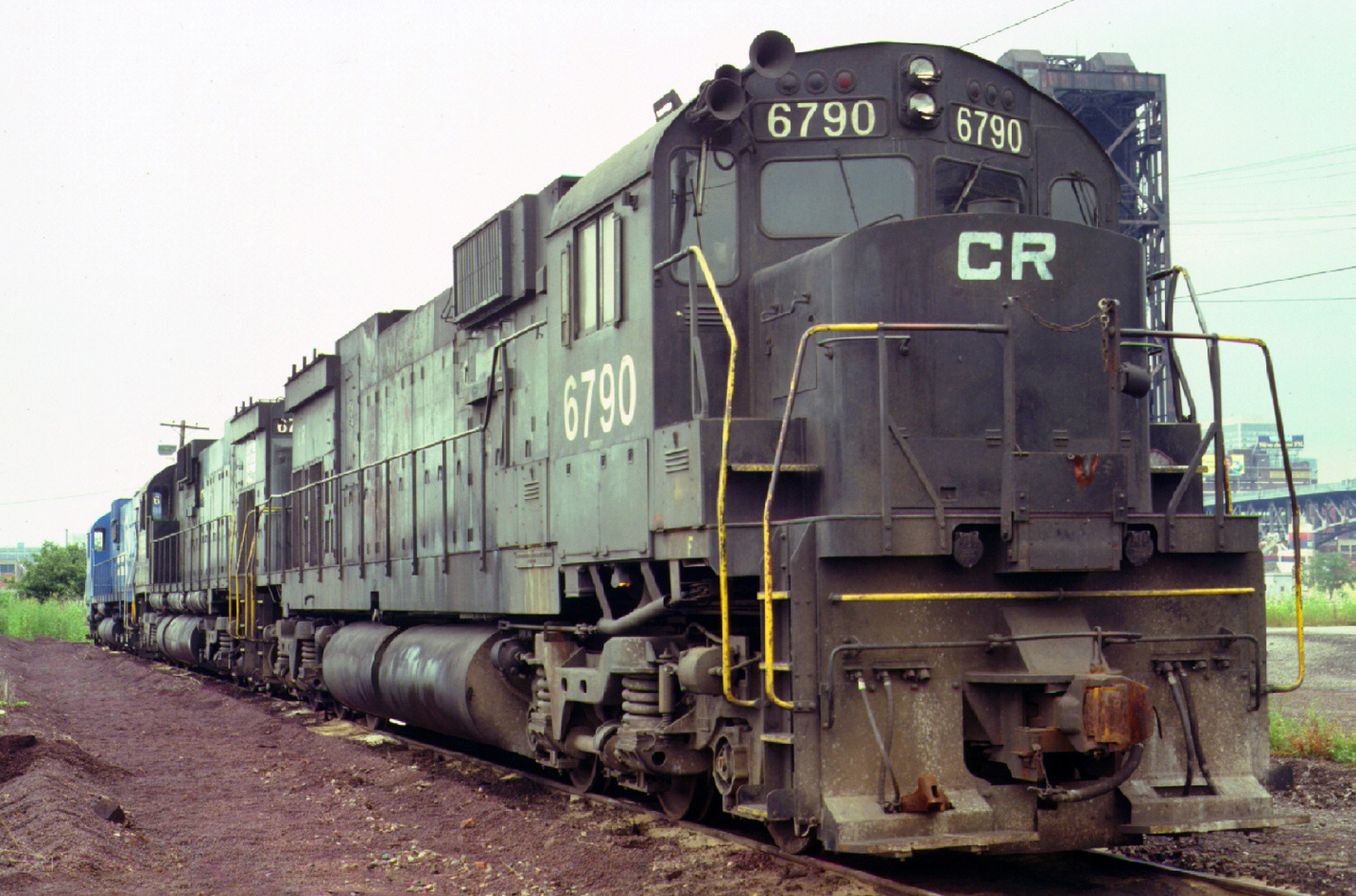 Conrail acquired a large fleet of these big C636's from Penn Central, which purchased 15 examples. Three are seen here working the Whiskey Island Ore Docks in Cleveland, Ohio on July 24, 1978. Arnold Morscher photo.
The Alco C636 began production in 1967 just a little over one year before the company would outshop its last locomotive. The most powerful standard model diesel locomotive Alco ever built (the company would manufacture a few powerful variants of its Century line for Southern Pacific and Union Pacific known as the C and C855) the C636 could produce 3,600 horsepower using the company's 251E model prime mover. Likely due to Alco's haste to keep pace with GE and EMD the C636 was plagued with problems that this time was not due to the prime mover. Instead, railroads such as the Santa Fe found issues with the traction motor blower failing, which would cause the prime mover to likewise shutdown. Ultimately, this issue and Alco's already shaky reliability in its earlier engine models (such as the 539 and 244) kept many railroads from purchasing the C636.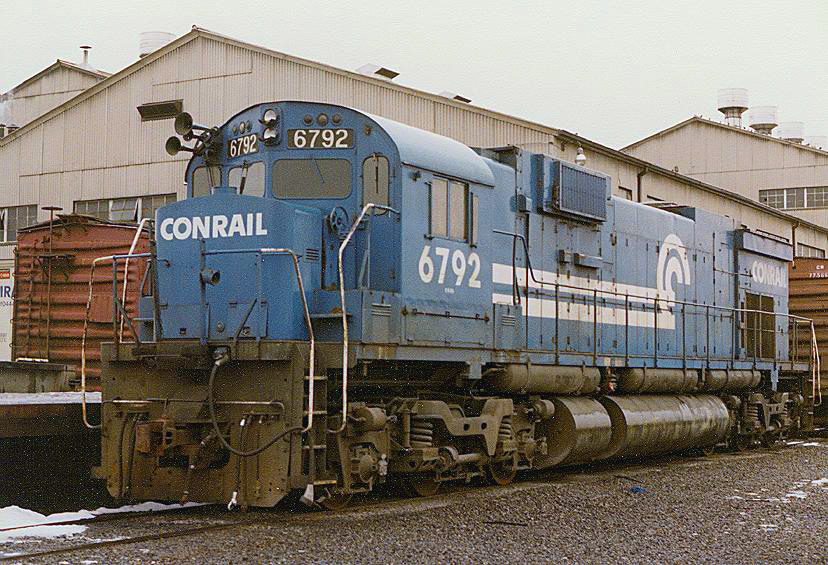 Conrail C636 #6792 is seen here in Syracuse, New York during 1979. This big Alco was built as Penn Central #6342 in 1968. Doug Kroll photo.
Additionally, the high horsepower, six-axle locomotive market had yet to take off although by the late 1960s railroads were beginning to understand the benefits of the setup. For instance, the industry leader at the time, GM's Electro-Motive Division, sold more than 5,000 examples of its four-axle designs during the '60s including the GP35, GP38, GP40, and their variants. In contrast, similar six-axle versions sold just over 500. However, before the decade ended EMD released the SD40 in 1966. It was cataloged about the same time as Alco's C636 and while the SD40 produced less horsepower the industry was impressed with everything it had to offer and would purchase nearly 1,200 of them before being replaced by the updated SD40-2 in the early 1970s that would sell even more.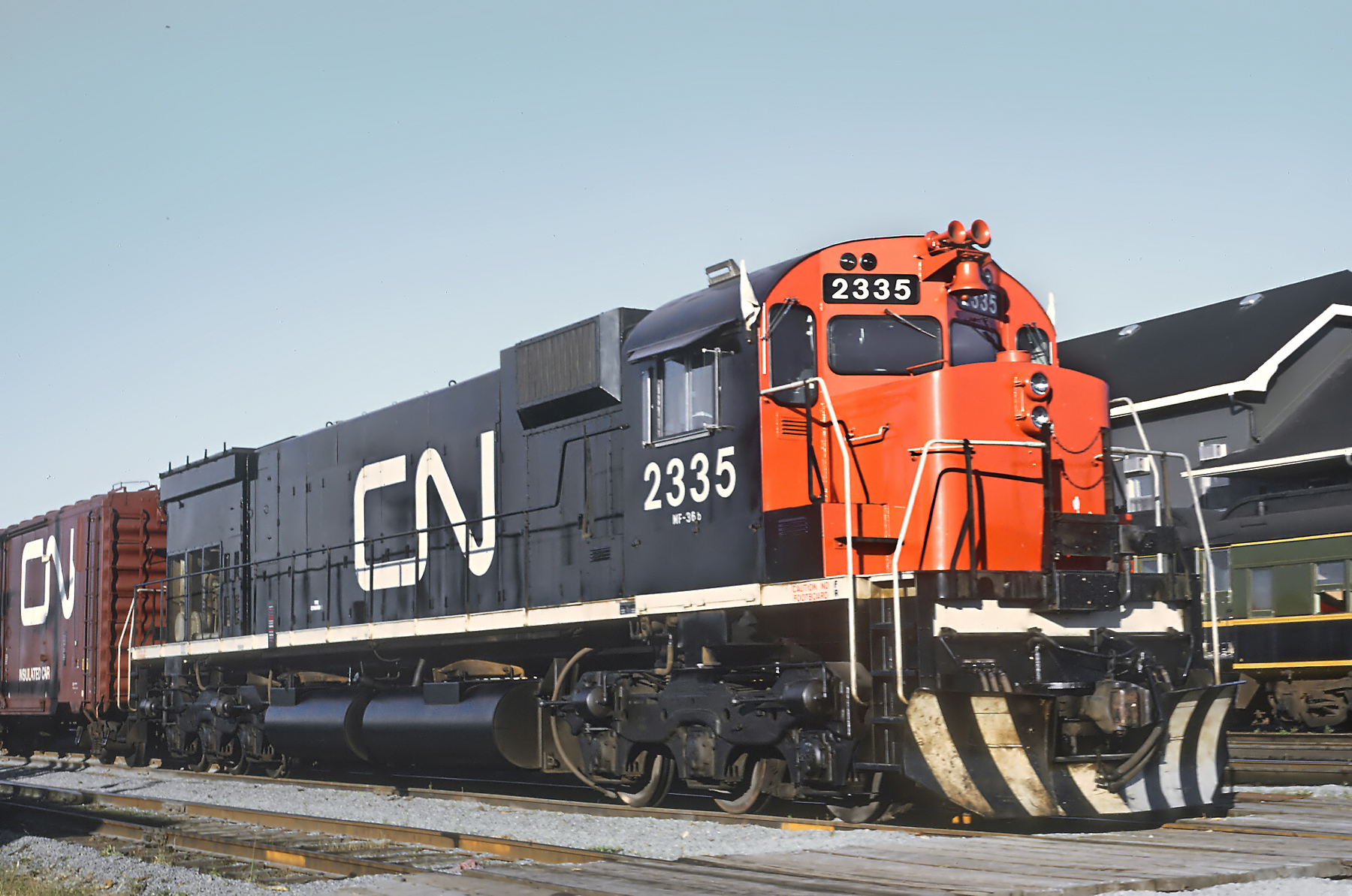 Until the Montreal Locomotive Works ended production, Canadian National and Canadian Pacific continued to purchase locomotives from the builder. Here, a big M636 is tied down at Belleville, Ontario on July 3, 1971. Roger Puta photo.
As powerful as the six-axle Century line was, particularly the C636, railroads came to also dislike them as they caused significant wear to the track structure. For instance, the C636 weighed in at 420,000 pounds while similar models built by EMD and GE weighed much less (the SD40/-2 weighed only 368,000 pounds and the U30C weighed only 363,000 pounds). Unless a railroad used the C636s on a line that was equipped with heavy rail and a high degree of maintenance the infrastructure really took a beating from the locomotives. Even then, most companies were turned away by the weight issues with the earlier C628 and C630. Additionally, with the industry being at its weakest point in its history during the late 1960s and through the 1970s few roads had the monetary resources or track to operate the C636.
An Illinois Central publicity photo featuring new C636's ahead of a long string of loaded, 100-ton hoppers circa 1968.
In the end, only 83 units of the Alco C636 and M636 (built by the Montreal Locomotive Works) were sold, and of those only 31 were purchased by US railroads (Penn Central, Illinois Central, and Spokane, Portland & Seattle). Alco also built three demonstrators (#636-1, #636-2, #636-3) that were purchased by Québec Cartier Mining. The M636s were purchased by Canadian National, Canadian Pacific, Ferrocaril del Pacfico, and Québec Cartier Mining also picked up a few more. Most of these locomotives were built by MLW after Alco had shuttered its Schenectady, New York plant.   For more information about the C636 please click here.
Alco C636 Production Roster
---
| Owner | Road Number(s) | Quantity | Date Built |
| --- | --- | --- | --- |
| Alco (Demo) | 636-1, 636-2, 636-3 | 3 | 1968 |
| Illinois Central | 1100-1105 | 6 | 1968 |
| Penn Central | 6330-6344 | 15 | 1968 |
| Spokane, Portland & Seattle | 330-335, 340-343 | 10 | 1967-1968 |
Australian-Built C636s (A.E. Goodwin, Ltd.)
| Owner | Road Number(s) | Quantity | Date Built |
| --- | --- | --- | --- |
| Cliff's Robe River Iron Associates | 262.001-262.005, 1715 | 6 | 1971-1972 |
| Hamersley Iron | 2006-2017 | 12 | 1968-1970 |
| Mt. Newman Mining | 5452-5468 | 17 | 1969-1972 |
---
---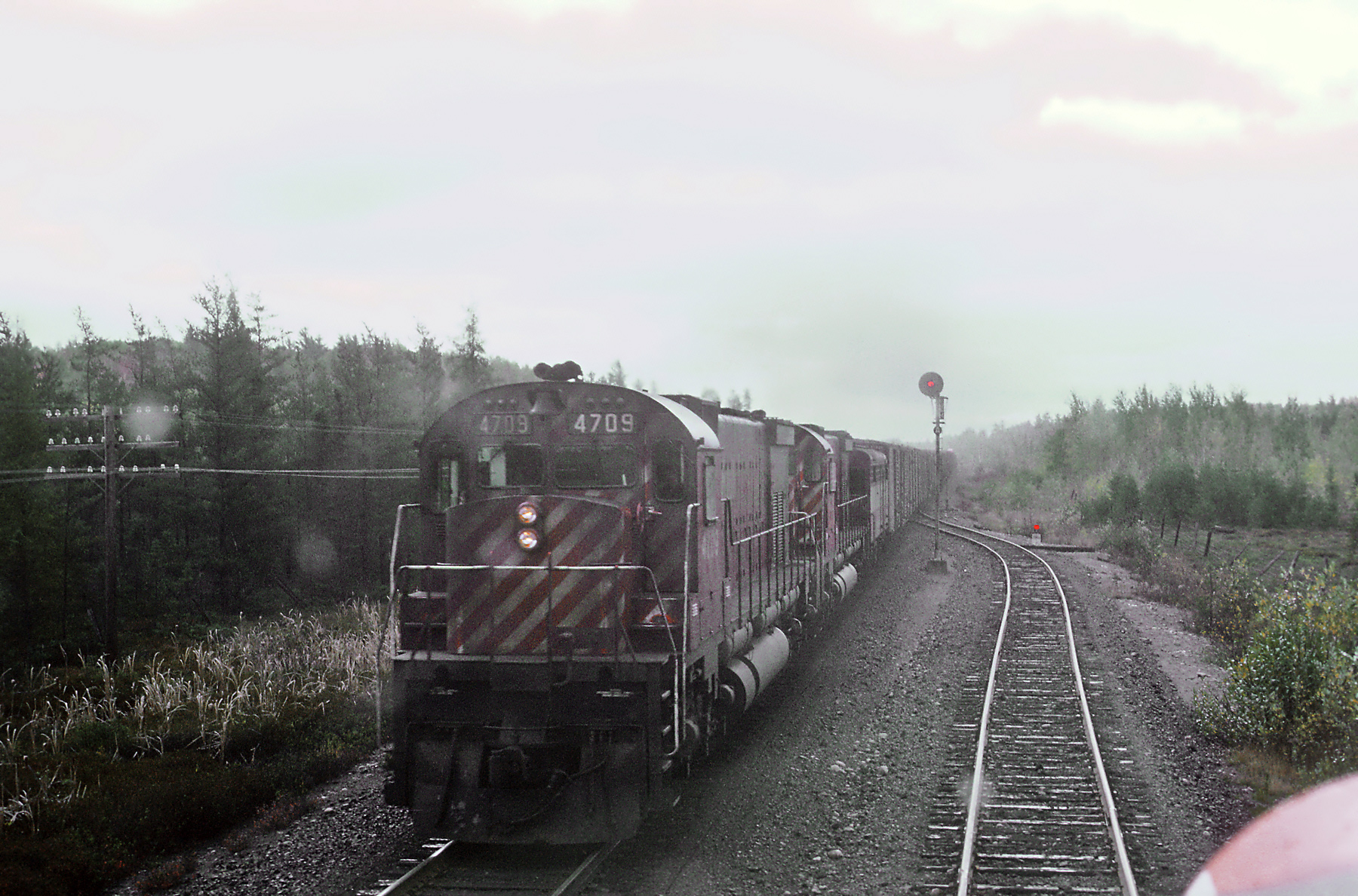 A pair of Canadian Pacific M636's and their freight meet the Toronto section of the "Canadian" at an unknown siding on October 6, 1971. Roger Puta photo.
The primary difference between the M636 and the C636 was that the former rode on Dofasco trucks while the latter featured high adhesion trucks. British Columbia Railway's M636's also came equipped with wide cabs.  Interestingly, for the early problems the C636 suffered a handful still operate around the country. Shortline Delaware-Lackawanna operates an astounding three C636s and three M636s. Also, shortline Western New York & Pennsylvania operates three M636s and uses a former C636 for parts.    To read more about other Century models please visit the Diesel Locomotives section of the site, which can be reached from the top of this page.
---
---
---