EMC "E3" Locomotives

Last revised: June 5, 2022
By: Adam Burns
The EMC E3 was the third generation cab design the builder produced, intended for use in passenger service. It was also one of the last models the Electro-Motive Corporation manufactured before becoming an official division of General Motors.
The E3 was different from the earlier three models and three distinct ways:
First, it used a new prime mover developed by General Motors and not the troublesome 201-A model from the Winton Engine Company.


Second, it could produce greater horsepower.


Third, it was the first model cataloged to the general industry (the EA, E1, and E2 were basically "experimental" designs tested and purchased by the Baltimore & Ohio, Santa Fe, and Union Pacific). 
Overview
Today, one example of the model survives, Atlantic Coast Line E3A #501.  The locomotive is restored back into its original ACL passenger livery (purple and silver) and on display at the North Carolina Transportation Museum, in Spencer (usually tucked away in the roundhouse).

Santa Fe's only E3A, #11-L, awaits departure from Dallas Union Station during the 1950s. Mac Owen photo. The unit, acquired in 1939, remained in service for nearly 30 years. She was finally retired on June 28, 1968. American-Rails.com collection.
Background
The EMC E3 began production in March, 1939 as the builder's third passenger diesel model. As mentioned above it was Electro-Motive's first to feature a GM prime mover, in this case the model 567, featuring two engines.
With each 567 able to produce 1,000 horsepower, the E3 was rated at 2,000 horsepower.
As with the EA, E1, and E2 the E3 featured an A1A-A1A truck setup (three axles per truck whereby the center axle was unpowered) and using GM's original model D7 traction motor it could produce around 31,000 pounds of continuous tractive effort (and 56,500 pounds of starting effort).
Not exactly an impressive number for a main line locomotive but then again it was powering only passenger service and not heavy freight trains up steep grades.
Once again, the E3 was very long (much longer its freight counterpart, the FT) at 71-feet, weighing 157.5 tons (the accompanying B unit weighed in at 145 tons).
However, Electro-Motived updated the carbody from earlier models. T
he E3 featured more straightforward streamlining with a long, sloped, "slant nose" that became closer to the classic trademark of later models it built under the EMD banner, beginning with the FT and used on every subsequent freight and passenger model.
This slant nose replaced the original "shovel nose" EA model, termed such as its front nose featured a slightly more raked design without the addition of a protruding, center headlight.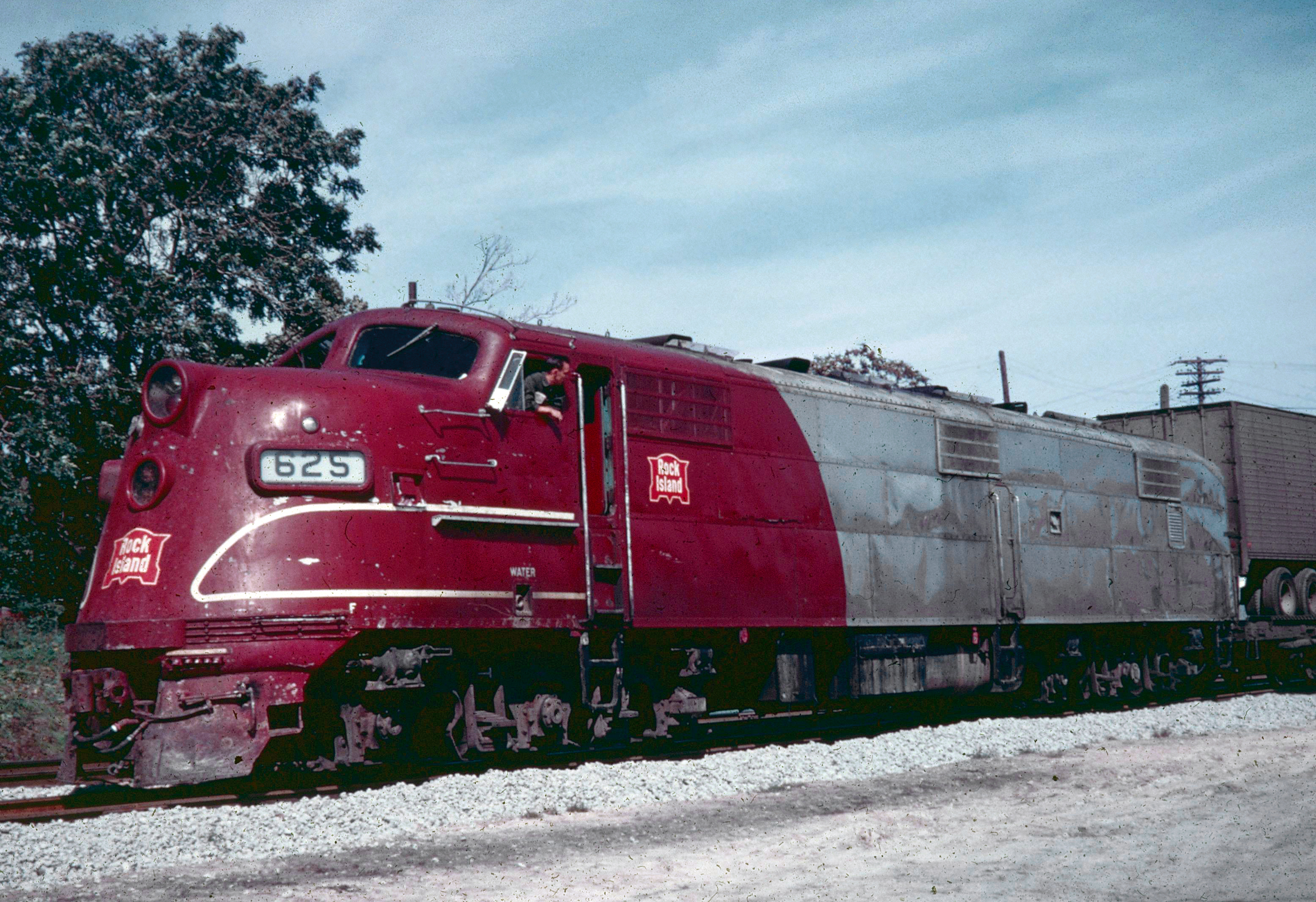 Rock Island E3A #625 works freight service at Peoria, Illinois in October, 1967. Originally out-shopped in 1939, she was traded in to EMD a few years after this photo was taken (September, 1969). Fred Byerly photo. Author's collection.
Unfortunately, the E3 was a rather unsuccessful model, partly because railroads were not yet sold on diesels as a main line locomotive (that would come with the  aforementioned FT, which began demonstrations in 1939).
While just seventeen E3s were built, eight Class I railroads did purchase at least one with the Chicago & North Western owning the most (four). 
The Santa Fe and Union Pacific also purchasing one cabless, booster (B) unit each. Other lines to purchase the locomotive included UP (an A-B set), ACL (2), Santa Fe (an A-B set), Rock Island (2), Florida East Coast (2), Kansas City Southern (2), and Missouri Pacific (2). Additionally, EMC's one demonstrator, #822 was eventually sold to the KCS and listed as #1 by the railroad.  
Production Roster
| Owner | Road Number(s) | Quantity | Date Built |
| --- | --- | --- | --- |
| Atchison, Topeka & Santa Fe | 11 | 1 | 1939 |
| Atchison, Topeka & Santa Fe | 11A (E3B) | 1 | 1939 |
| Atlantic Coast Line | 500-501 | 2 | 1939 |
| Electro-Motive (Demo) | 822 (To KCS, #1) | 1 | 1938 |
| Florida East Coast Railway | 1001-1002 | 2 | 1939 |
| Chicago & North Western | 5001A-5002A, 5001B-5002B | 4 | 1939 |
| Kansas City Southern | 1-3 | 3 | 1938-1940 |
| Missouri Pacific | 7000-7001 | 2 | 1939 |
| Rock Island | 625-626 | 2 | 1939 |
| Union Pacific | LA5 | 1 | 1939 |
| Union Pacific | LA6 (E3B) | 1 | 1939 |
---
---
For the companies that did purchase the E3 they remained in use for a number of years before finally be bumped from service, most of the time due to EMD's newer models like the E7, E8, and E9 (the last ever offered).
After the E3 was cataloged EMD continued to struggle with its passenger models, both the E4 and E5 also sold poorly.
However, beginning with the E6, which was offered just before the start of World War II, the builder finally found success thanks in no small part to successful marketing campaign of FT.  
As a result designs like the aforementioned E7, E8, and E9 proved very successful selling more than 1,000 examples combined.