Baldwin "RF16" Locomotives


The RF16 epitomized Baldwin's "Sharknose" design.  It was featured exclusively on the model during its four year production run before the builder ended domestic production of diesel locomotives.  Meant for use in freight service and in competition against Electro-Motive's F series and the American Locomotive Company's (Alco) FA, it was the best selling cab unit Baldwin built and more than 150 were outshopped. The RF16 was also the only cab design the company constructed as part of its new Standard line released in 1950, which featured an upgraded prime mover and new classification system. It also cataloged one variant, the RF-615E, purchased by the Argentine State Railway.  
While the model was far more reliable than the earlier DR-4-4-1500 it replaced, Baldwin still neglected to offer some features that would almost certainly have resulted in more sales. Today, two RF16s survive, stored away at short line Escanaba & Lake Superior in Michigan.  The railroad's owner states they will eventually be donated to a museum.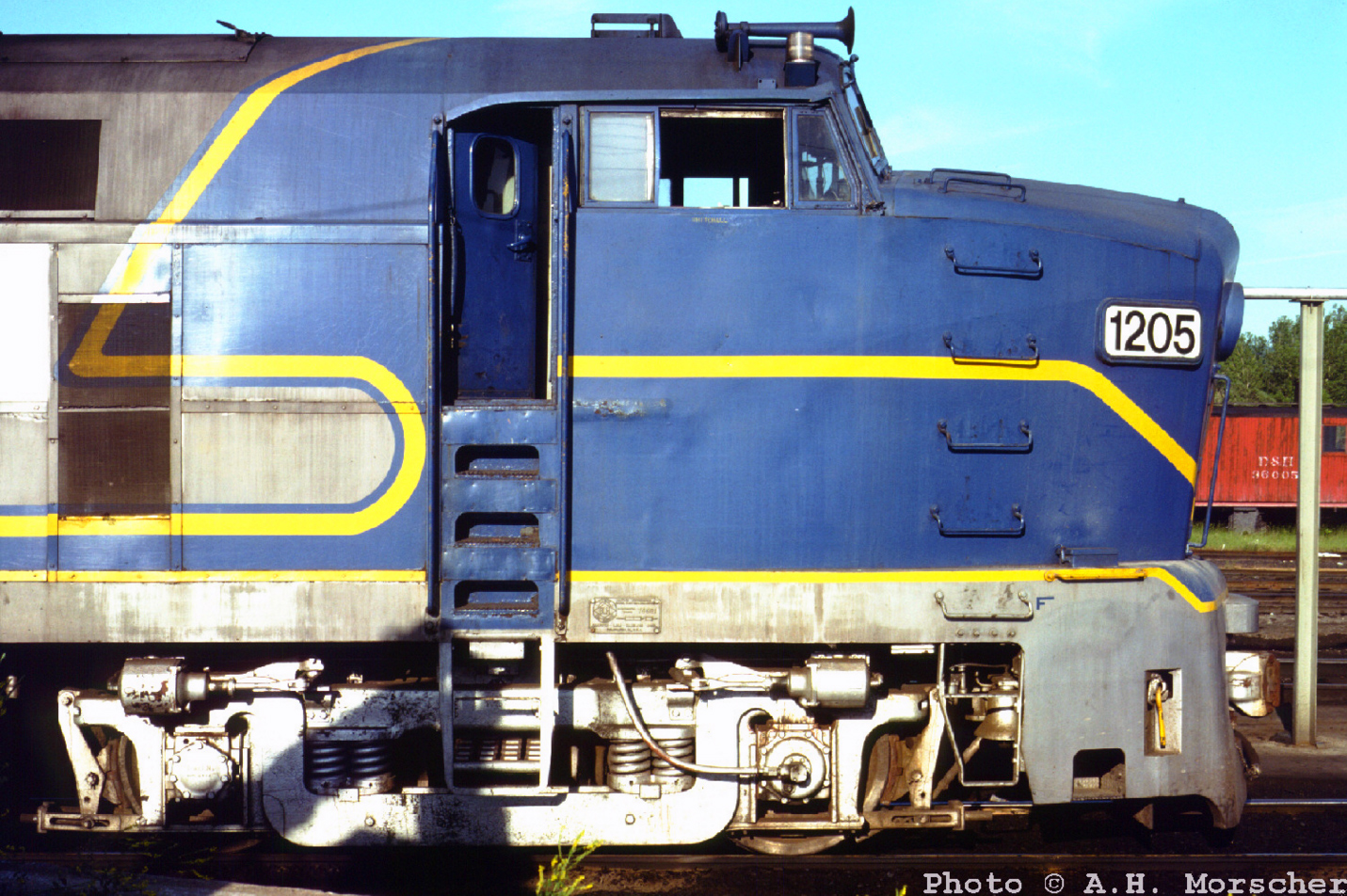 A beautiful profile of the RF16 cab, seen here on Delaware & Hudson #1205 at Whitehall, New York on June 15, 1977. Arnold Morscher photo.
The Baldwin RF16 began production in November of 1950 featuring the company's latest 608A SC prime mover capable of producing 1,600 horsepower.  One month after the model was cataloged all new locomotives being produced were listed as Baldwin-Lima-Hamilton Corporation products, a result of parent Westinghouse Electric merging Baldwin and Lima-Hamilton into a single company. With a tractive effort rating of 59,000 pounds starting and 48,600 pounds continuous the RF16 provided more than either EMD's F7 or Alco's FA-2 models then on the market. For these reasons the model became well-liked for its ability to pull heavy loads at slow speeds.   The RF16 was also one Baldwin's only designs to feature dynamic braking, something it oddly neglected to include on all of its early road switchers (unless custom ordered).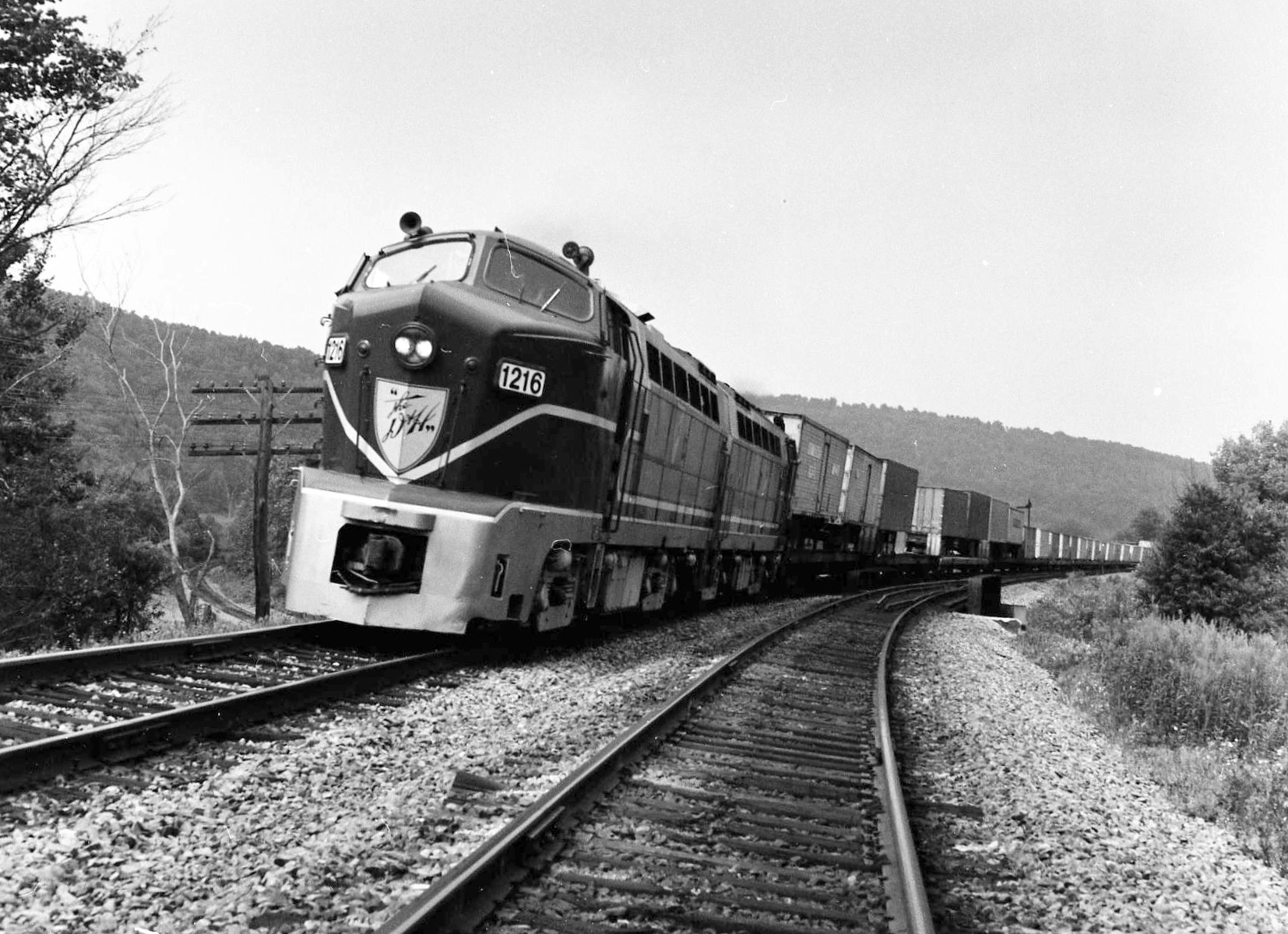 Running the Erie Lackawanna, Delaware & Hudson's pair of RF16s, #1205 and #1216, have the "Sayre Turn" bound for Sayre, Pennsylvania during August of 1975. Jerry Custer photo.
The model's internal components were outsourced to Westinghouse Electric, which provided equipment for nearly all of Baldwin's diesels.   Unfortunately, Baldwin continued to leave out another important option that was all but standard on EMD and Alco products; MU (Multiple Unit) capability. Instead, the RF16 used an air-powered throttle, which allowed it to operate in tandem with EMD and Alco units. The only way railroads could equip RF16s with the feature was to either customize the locomotive themselves or have it returned to Baldwin for upgrading. Needless to say it was a major disadvantage that certainly cost the company an untold number of sales. In any event, the classification system for the RF16 was very straightforward, particularly compared to the earlier system; "RF" referred to Road Freight and "16" designated the horsepower rating of 1,600 mentioned above.
The pair is seen here again running light through Lehigh Valley's Sayre terminal during August of 1975. Jerry Custer photo.
Overall the RF16 sold fairly well although only three Class I railroads ultimately purchased it; the Baltimore & Ohio, New York Central, and Baldwin's ever loyal customer, the Pennsylvania Railroad (which purchased the most). Among them they would bought 109 A units and 51 B units by the time production had ended in 1954. Additionally, the aforementioned Argentine State Railway purchased 51 units of a C-C design known as the RF-615E. The model was virtually identical to the RF16 save for its six axles. While the model was a rugged locomotive that could pull heavy tonnage its lack of MUing and still somewhat trouble-prone nature resulted in all three domestic railroads either selling, trading, or scrapping theirs by the 1960s beginning with the B&O in 1962.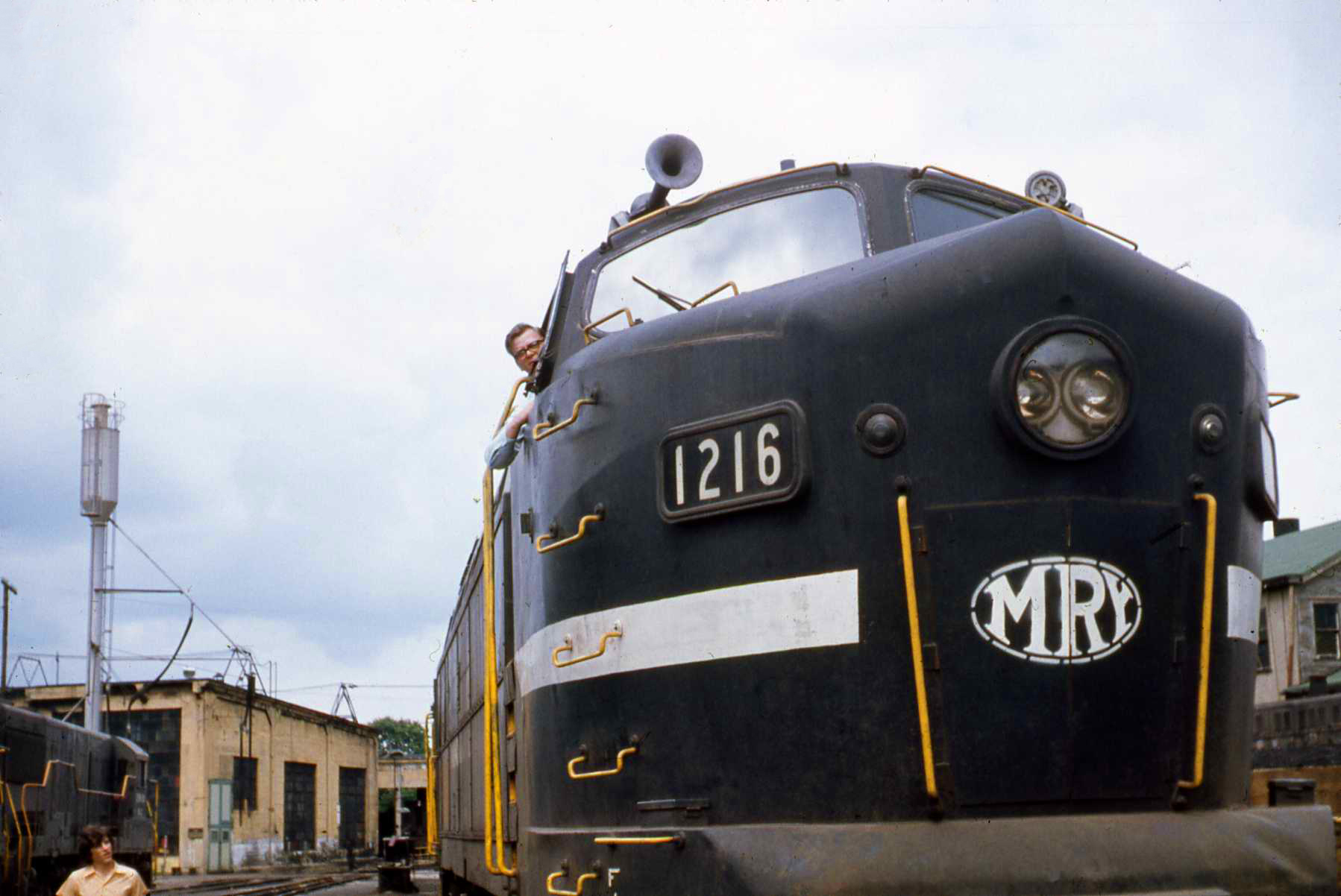 Jerry Custer photographed his brother, Lew, hanging out the engineer's side of Monongahela Railway RF16 #1216 at the shops in Brownsville, Pennsylvania in June, 1974. Ben Custer collection.
Baldwin RF16 Production Roster
| Owner | Road Number(s) | Quantity | Date Built |
| --- | --- | --- | --- |
| Baltimore & Ohio | 851-871 (Odds), 851A-865A (Odds) (As) | 19 | 1950-1953 |
| Baltimore & Ohio | 851X-861X (Odds), 865X-871X (Odds), 867XA-871XA (Odds) (Bs) | 13 | 1952-1953 |
| New York Central | 3804-3821 (As) | 18 | 1951-1952 |
| New York Central | 3702-3709 (Bs) | 8 | 1951-1952 |
| Pennsylvania | 2000A-2027A, 9594A-9599A, 9710A-9745A (As) | 70 | 1950-1952 |
| Pennsylvania | 2000B-2026B (Evens), 9594B-9598B (Evens), 9708B-9744B (Evens) (Bs) | 30 | 1950-1952 |
---
---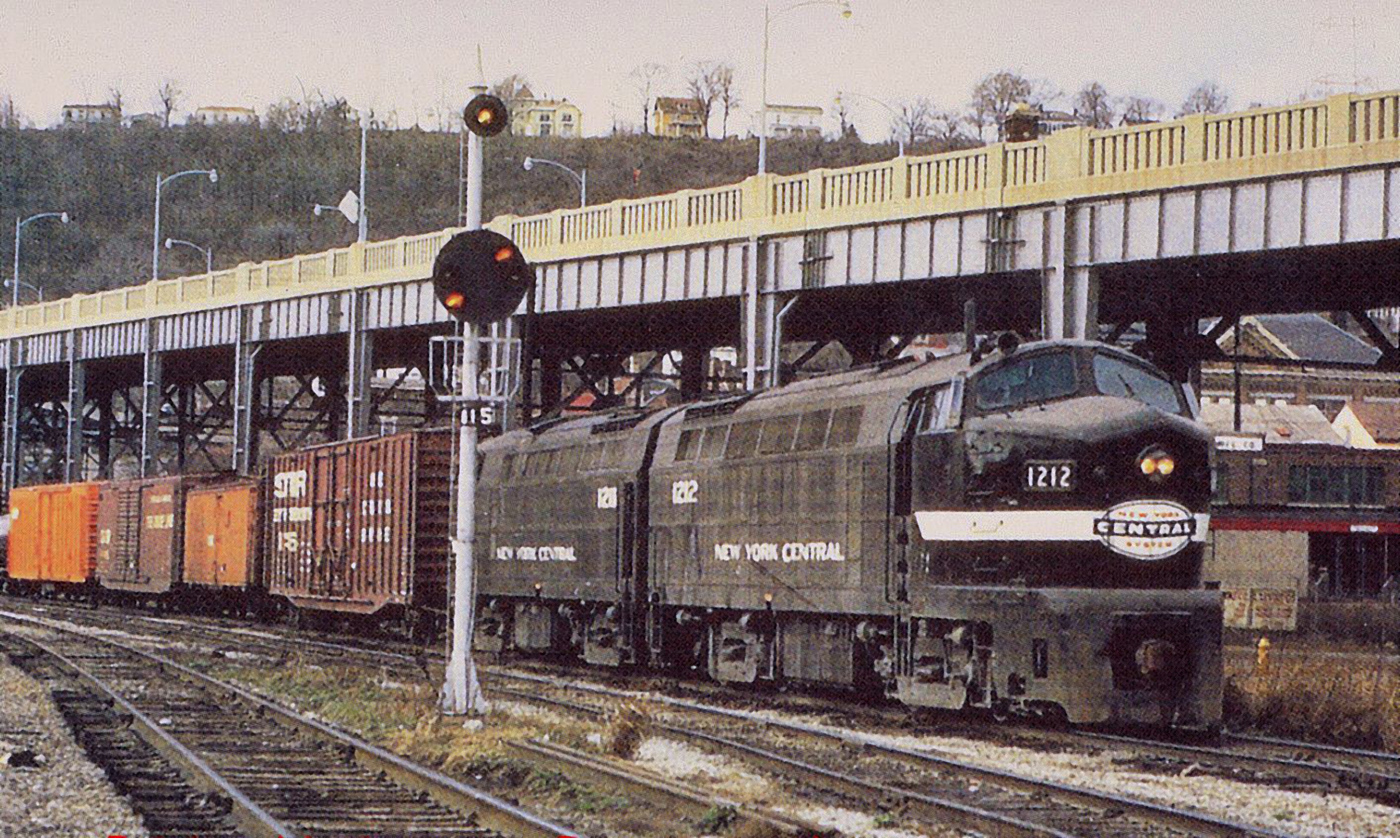 New York Central RF16's #1212 and #1211 are eastbound along the Ohio River to the west of downtown Cincinnati, Ohio with a mixed freight train on December 8, 1966. The U.S. Route 50/River Road viaduct can be seen adjacent to the train. It has since been replaced.
In 1966, just a few years prior to the Penn Central merger the PRR sold or scrapped all of its RF16s and a year later the remaining units on the NYC roster were sold to the Monongahela Railway for use in coal drag service. In 1974 the Delaware & Hudson picked up the two remaining RF16s from a scrap dealer and used them in freight service until 1978. By the early 1980s they came under the ownership of the Escanaba & Lake Superior Railroad of Michigan and for many years now have been locked in a storage, away from public view. They are reportedly operational but, of course, this is pure conjecture.  Lastly, for more information about the RF16s please refer to the chart above.