Road-Switcher Locomotives

Last revised: June 15, 2022
By: Adam Burns
Road-switchers are the modern all-around locomotives of the diesel age. 
The newest models are most often employed as main line power with older examples used in secondary, branch, and various yard duties (a setup that has been used since second-generation diesels appeared in the 1960s). 
The term road-switcher describes a locomotive that can handle both road and switching chores, offering comparable horsepower for either. 
The design first appeared in the early 1940s by one of the early diesel pioneers, the American Locomotive Company (Alco). 
Railroads liked what the manufacturer offered and for nearly a decade Alco led the market in this area.  However, eventually Electro-Motive caught up and cataloged some of the best remembered road-switchers of all time.  

Today, General Electric (which sold its locomotive division to Wabtec in 2019) holds the title as top builder continuing to sell thousands of its modern, high-horsepower Evolution Series (ES). 
The future of EMD will be interesting to watch; hopefully the builder can maintain a foothold in the market.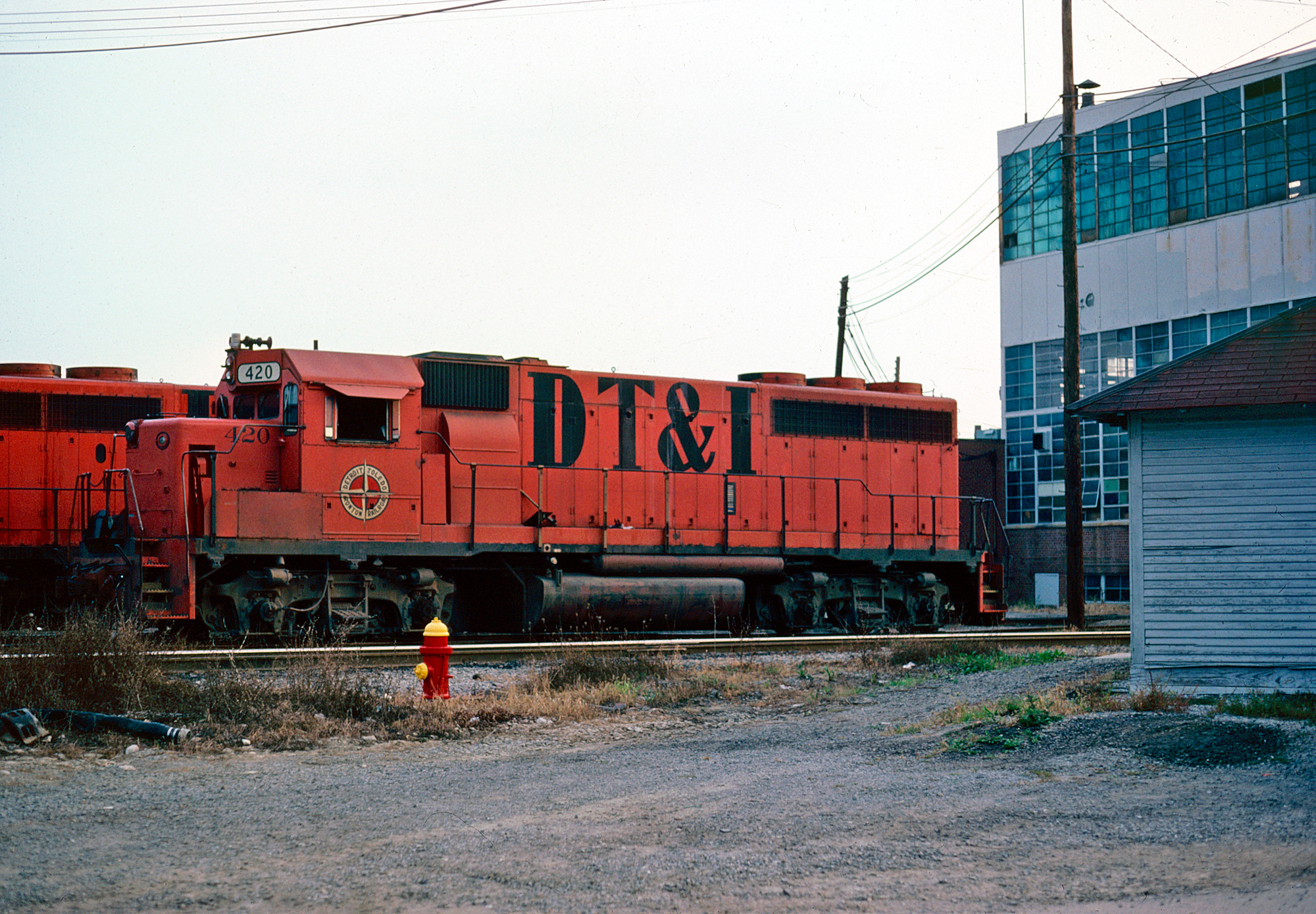 Detroit, Toledo & Ironton GP40-2 #420 was photographed here at the shops in Flat Rock, Michigan in September, 1982. American-Rails.com collection.
The first diesel locomotives put into service were switchers, boxcab designs first developed by General Electric, Inger-Soll Rand, and Alco in the 1920s. 
Roughly a decade later Alco, GE, and the new Electro-Motive Corporation all began marketing their own versions.  For Alco the builder first cataloged its new S1 in 1940, which led to an entire series. 
This little switcher was small and compact with a cab on one end, capable to producing 600 horsepower.  It was well-received and in the end Alco produced more than 3,000 examples among seven models. 
Soon after the release of the S1 the manufacturer cataloged another curious creature in 1941 that it dubbed the "RS1."  Short for Road-Switcher this locomotive was essentially an elongated switcher with a stretched hood and off-set cab, leaving a short hood on the other end.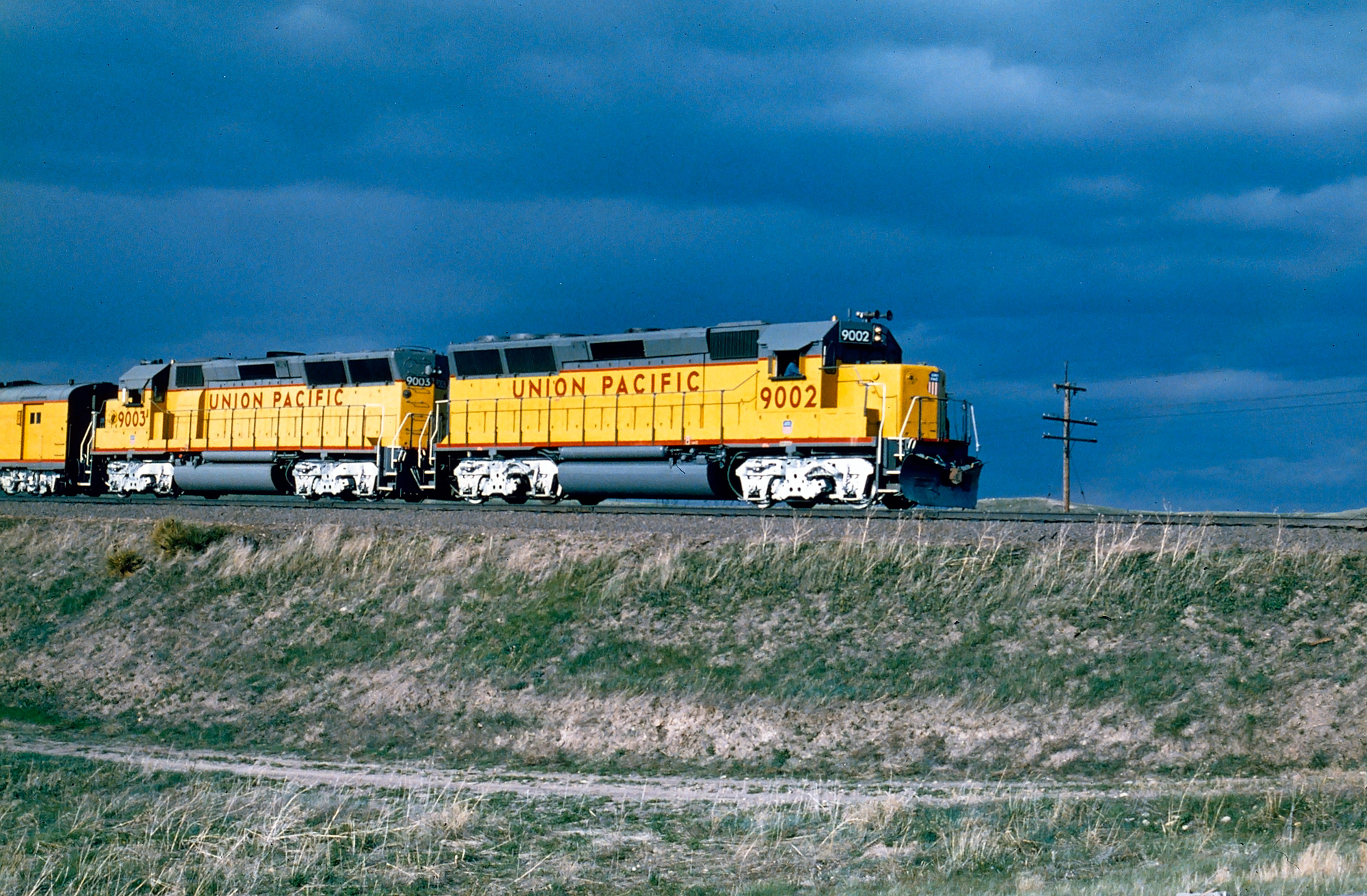 Union Pacific GP40X's #9002 and #9003 have the company business train west of Cheyenne, Wyoming, circa 1983. Mike Bledsoe photo. American-Rails.com collection.
The cab rose far above above the hood giving the engineer and other crewmen clear visibility and sight-lines. 
At the time many railroads were already enamored with Electro-Motive's revolutionary FT cab design after a demonstrator toured coast-to-coast in 1939 leaving a lasting impression.  In the end, more than 1,000 examples were manufactured through 1945. 
However, interest in the new RS1 was also growing since it offered the ability to either act as a switcher or pull standard freight trains. 
It is quite likely that Electro-Motive was caught off guard by Alco's new design; not only had someone else launched a completely new concept but it was also successful selling more than 400 examples. 
Alco would catalog the RS1 through 1960 although just after World War II it offered more powerful types like the RS2 and RS3, which themselves sold impressively (nearly 2,000 units, combined).

By the late 1940s Electro-Motive was a full division of General Motors and realized that it needed its own road-switcher model not only due to the success Alco had displayed but also because virtually every other competing manufacturer already offered one; Baldwin began with the DRS-4-4-1500 in 1946 and Fairbanks Morse released its H15-44 in 1947.  
Neither of these two companies would become major threats to EMD although FM would later offer the revolutionary Train Master and Baldwin began cataloging more reliable models by the 1950s (as sales were trending up no less) when new owner Westinghouse pulled the plug on its locomotive division. 
In 1948 EMD released the ill-fated BL2, a fascinating contraption that appeared to be half-cab unit, half true road-switcher.  It was intended to offer crews better visibility but ultimately wasn't very successful selling less than 60 examples.
Undaunted, EMD engineers returned to the drawing board and in short order had a new model within a year, the GP7.  The "GP" was short for General Purpose and these initials also gained the series its own nickname, Geeps. 
With upwards of 3,000 units sold the success of this locomotive was unprecedented as it is credited with finishing off the reign of steam, an effort kicked off by the FT. 
The later GP9 of 1954 was even more successful and between the two, along with EMD's already popular E and F series cab units, the builder now dominated every level of the locomotive marketplace. 
As successful as the GP series was its four-axle, B-B design would eventually fall out of favor by the 1970s.  For more than two decades such a setup proved satisfactory to railroads although they came realize the benefits of six-axle, C-C models by the 1970s.  
By the time second-generation units arrived in the early 1960s much more robust 2,500 horsepower units were commonplace and before the decade ended this number had reached 3,000+. 
The '60s also witnessed a major manufacturer shutting down its plant in Schenectady, New York (Alco) and another becoming a major player, General Electric.  GE's original "U-boats," starting with the U25B of 1959-1960 were boxy and troublesome. 
However, they were also cheaper than comparable EMD products while still offering easy maintenance.  Most U-boats didn't sell more than a few-hundred examples although that changed by the mid-1960s when the U30C, U33C, and U36C sold more than 1,200 units combined. 
GE was becoming a better builder and its models continued to sell well through the 1970s even through Electro-Motive still dominated with the SD40/-2 and other variants. 

---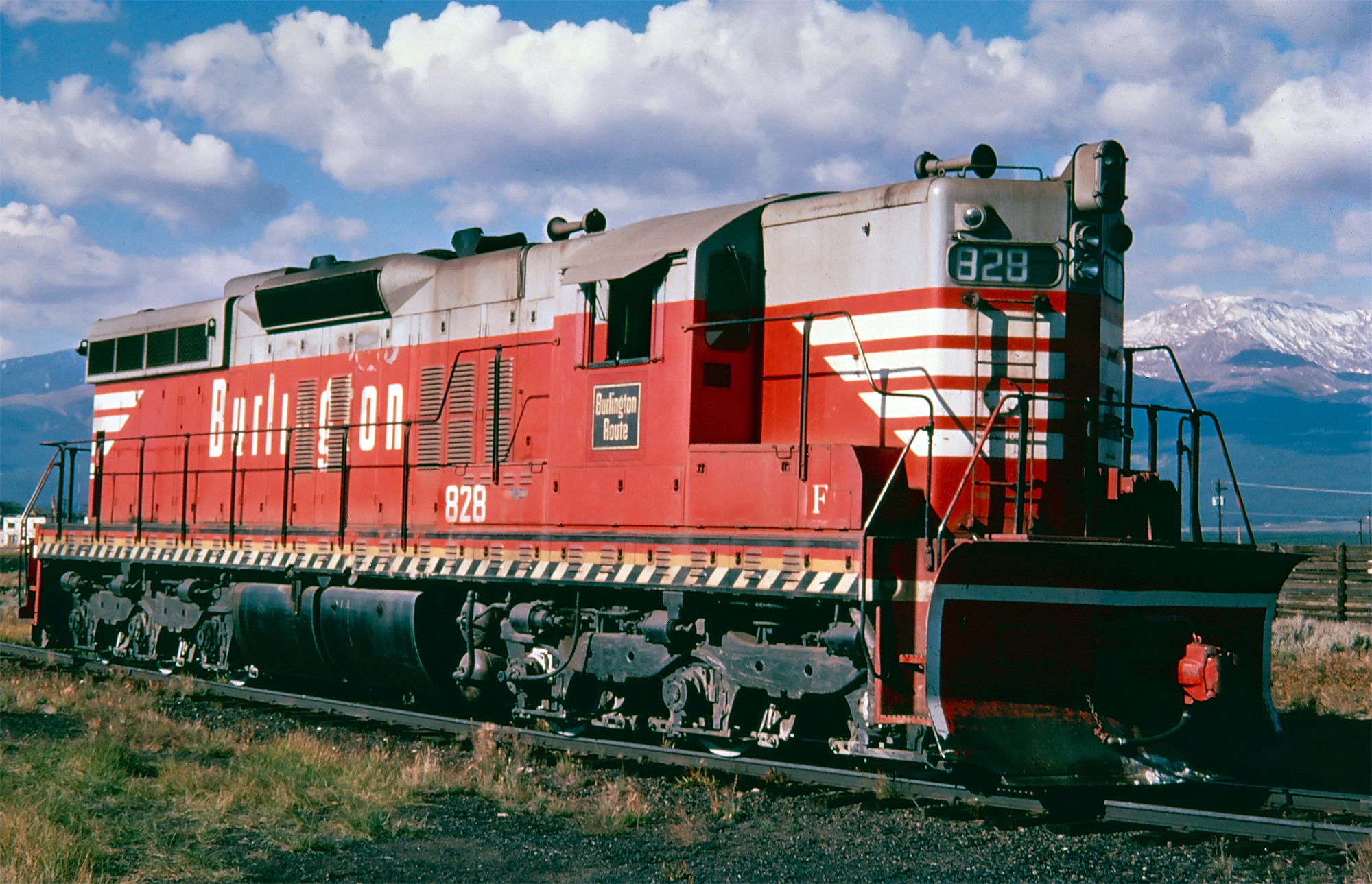 Burlington (Colorado & Southern) SD9 #828 at Leadville, Colorado, circa 1967. The unit was assigned here to serve the Henderson Mine. American-Rails.com collection.
During the 1980s General Electric would grab the top sales spot for good after EMD stumbled with the SD50 of 1981, something which has remained unchanged to this day. 
Later that decade and through the 1990s GE began selling thousands of units within its "Dash 7," "Dash 8," and "Dash 9" series.  This continues to hold true with its latest Evolution Series. 
Today, EMD is no longer a division of General Motors and has slipped far behind its rival although it still holds its own with its SD70 series. 
Road-switchers of this generation are far more advanced than the first RS1s and GP7s that rolled off the assembly line more than a half-century ago; they are far longer and feature things like steerable trucks, AC traction motors, self-loading, high-tech electronics, and a horsepower rating exceeding 4,000 that has become the industry standard.