Switcher Locomotives: An Overview

Last revised: March 8, 2023
By: Adam Burns

Switchers are a type of locomotive that have been in operation since the steam era, designed and meant for use in yard, transfer, and light freight duties. 

As you might expect this type of locomotive is not particularly powerful and steam designs were distinguishable from others as they almost always lacked front and rear axles. 
History
During the diesel era units became smaller and more compact although they were also more versatile since they could more easily be used in freight service despite most lacking dynamic brakes, which limited them to light duties working branch lines and locals. 
By the 1960s and 1970s many railroads stopped purchasing most true, switcher models; instead opting to either use those already in service or add less powerful road-switchers to their fleets (such as GP15s, GP40s, GP50s, etc.). 
Photos
Rio Grande SW1200 #133 and Western Pacific GP40 #3526 layover in Salt Lake City, Utah, circa 1975. Robert Eastwood, Jr. photo. American-Rails.com collection.
Today, many true switchers built decades ago remain in use and some can still even be found on Class I rosters. 
However, the "modern" switcher is typically a four-axle road-switcher, usually of EMD-build that was out-shopped nearly 50 years ago (such as a GP40 or GP50). 
Class I's have found these particularly useful for their redundancy (can also be used in freight work, such as locals) and short wheel-bases to negotiate industrial trackage.

Steam
During the steam era switchers came in all shapes and sizes from small 0-4-0s to heavy 0-10-0s featuring either tenders or saddletanks (denoted in their Whyte Notation with a "T" at the end; i.e., 0-4-0T). 
Most often railroads preferred the medium-sized 0-6-0s and 0-8-0s for yard and transfer work, offering a good balance of size and power. 
As switchers, most of these wheel arrangements were built (either by manufacturers or a railroad's own shop forces) from around the turn of the 20th century through the end of the steam era in the 1940s and early 1950s. 
Unlike diesels, steam switchers could not be used in freight service since they lacked lead pilots, a key component to negotiate curves.  However, several remained in use on industrial operations through the 1960s.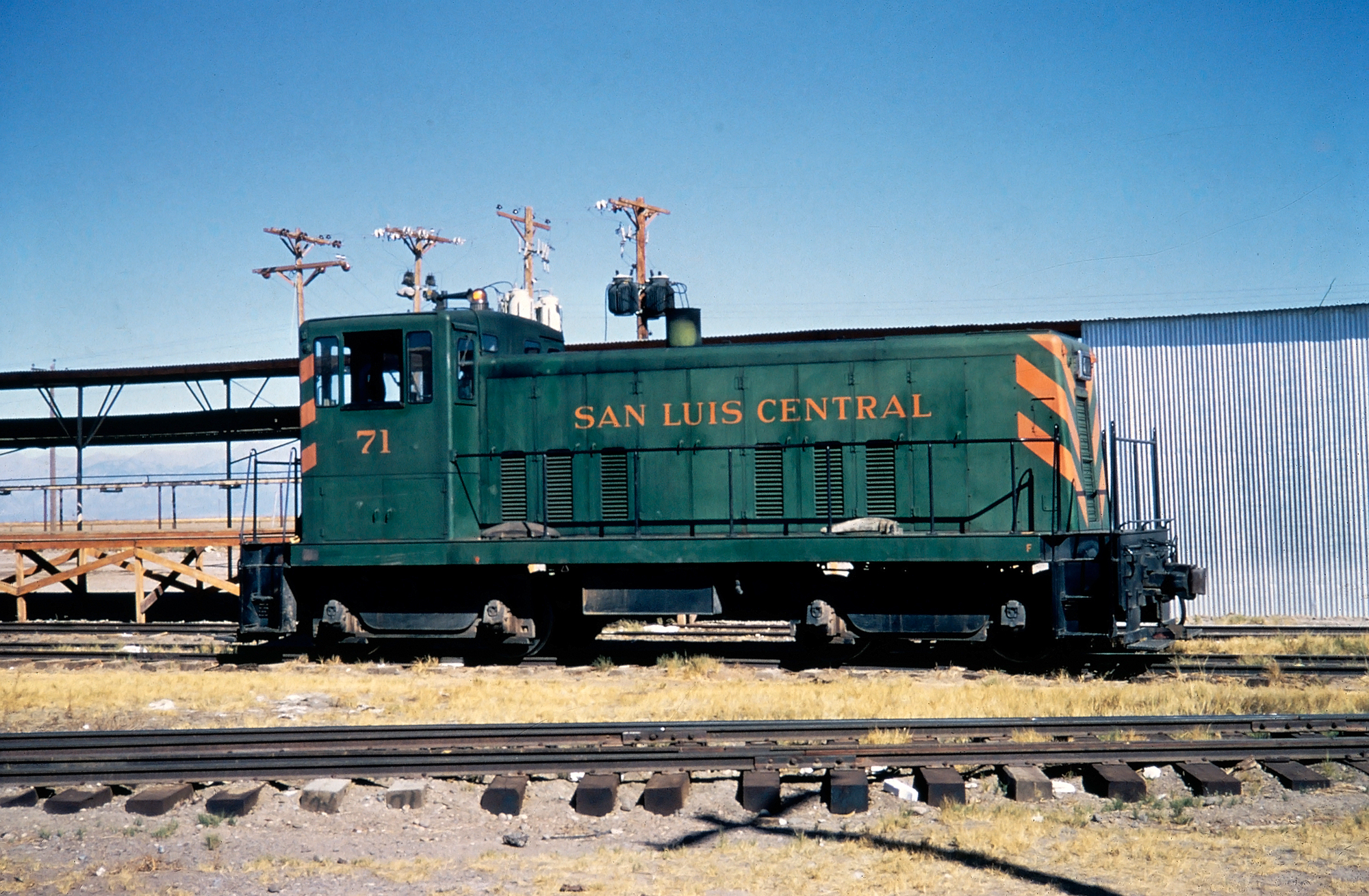 San Luis Central 70-tonner #71 at Monte Vista, Colorado, circa 1975. This unit was built new for the road in 1955. American-Rails.com collection.
Diesel/Gasoline Types
Locomotives first began using engines as power plants dating back to the early 20th century when gasoline versions were first introduced. 
The first, true diesel powered locomotive was a switcher born in 1924 as a collaboration between General Electric and Ingersoll-Rand, later to be joined by the the American Locomotive Company (Alco). 
The little boxcab demonstrator toured on several railroads listed as #8835 and drew much interest.  However, this original example did not sell.  In 1925 all three companies began marketing 60 and 100-ton models for sale, with the first purchased by the Central Railroad of New Jersey, #1000. 
At this time, though, most roads were not convinced that the diesel could be developed as main line power.  Still, switchers for use in light duty work drew increased interest and acceptance.  

Looking north from South San Francisco, Southern Pacific H12-44s #2359 and #2356 carry out switching chores during April of 1973. American-Rails.com collection.
Electro-Motive
The new Electro-Motive Corporation (EMC) began marketing its own line of switchers in 1936, followed by General Electric a few years later, and Alco in 1940. 
For EMC, which later became General Motor's Electro-Motive Division (EMD), it was not new to the concept of diesel powered locomotives.   
The new builder had worked with the Chicago, Burlington & Quincy and Budd Company in helping to develop the Pioneer Zephyr streamlined trainset that awed the public on May 26, 1934. 
It was powered by a 660-horsepower prime mover built by EMC's subsidiary division, the Winton Motor Carriage Company.  The manufacturer's early switcher models were assembled through 1938 and carried designations such as "SC," "NW," and "SW." 
In the case of GE, it began building and marketing several small switchers that were simply listed by their tonnage; 23-tonner, 44-tonner, 70-tonner, etc.  Finally, Alco offered its own variants known as the "S" series ranging from the S1 of 1940 through the S6/T6 of the late 1950s/1960s.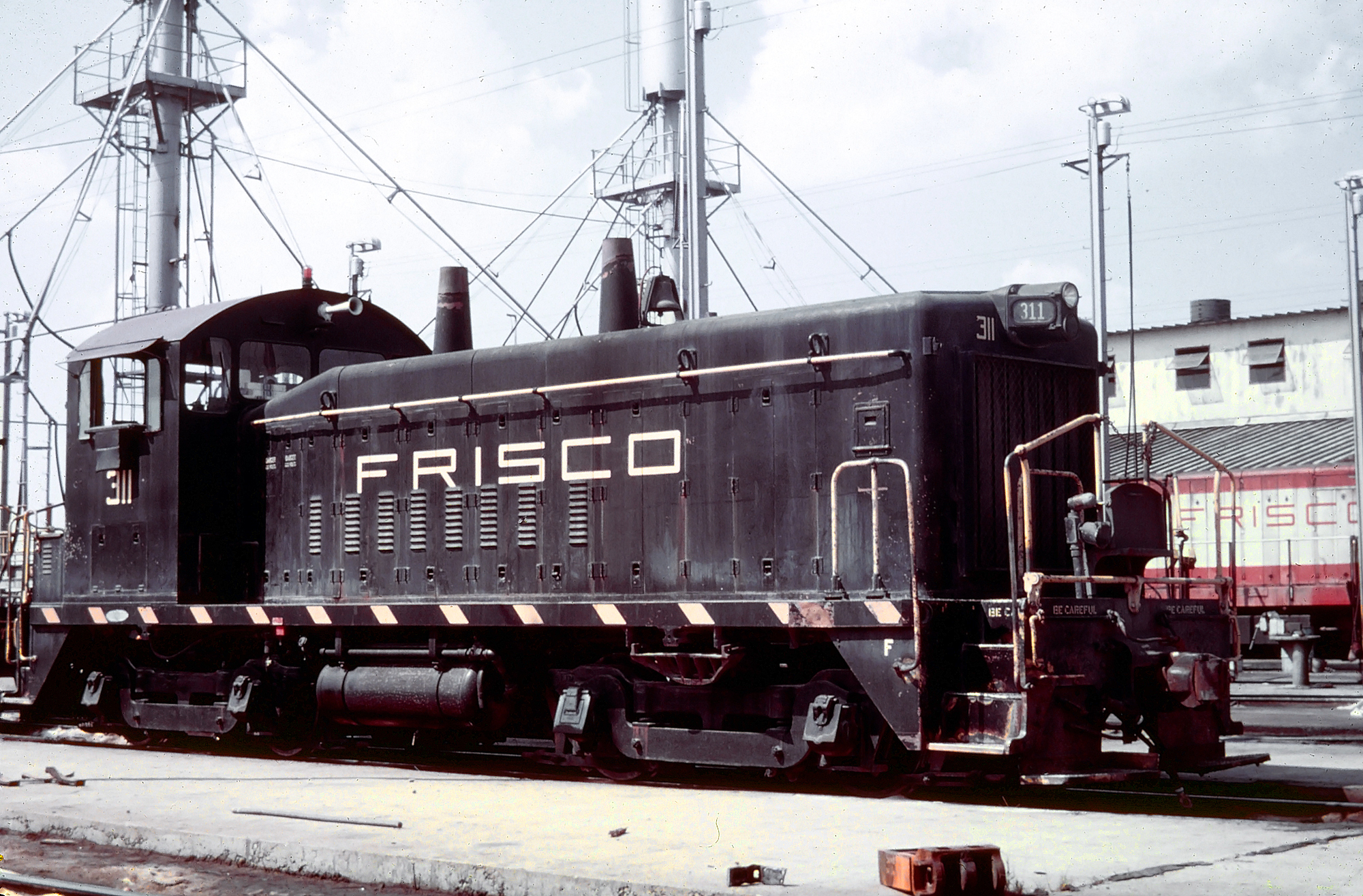 St. Louis-San Francisco ("Frisco") SW9 #311 lays over at Memphis, Tennessee, circa 1970. American-Rails.com collection.
(For a time, Fairbanks Morse also cataloged a pair of switchers, the H10-44 and H12-44 built between 1944 and 1961.  They sold quite well despite FM's inability to seriously compete in the market.) 
For GE, it saw moderate interest in its switcher line over the years selling its versions to a variety of buyers from railroads to private industries. 
Interestingly, while Alco struggled to remain competitive in the diesel market by the 1960s its switchers were well liked as the company produced thousands, the most successful of which was the S2 selling 1,500 examples.  During the 1940s it even led the market, as well as with the early road-switcher, the RS1 of 1941.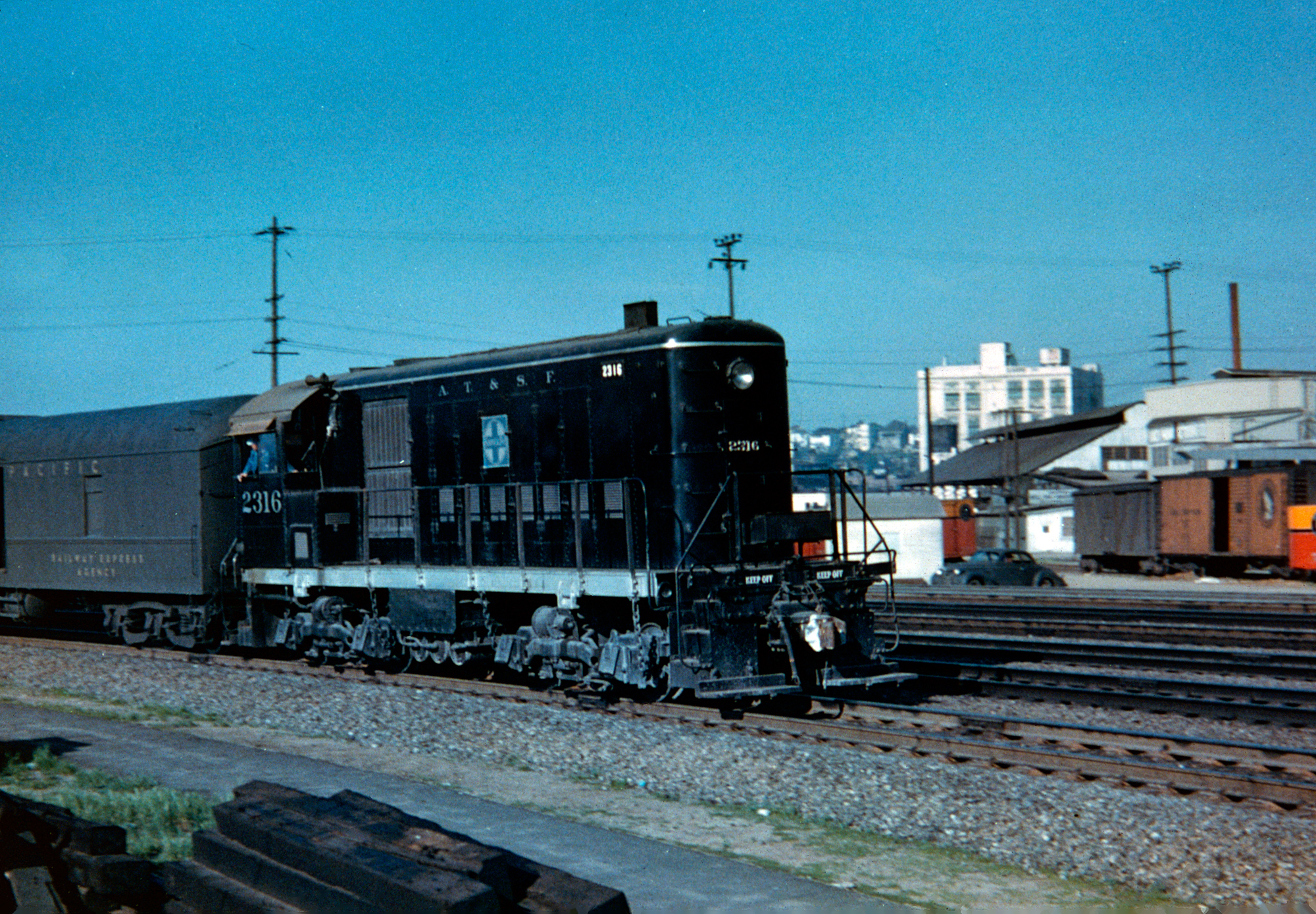 Santa Fe HH1000 #2316, an early Alco switcher completed in June, 1939 (and capable of producing 1,000 horsepower), is seen here carrying out work at Los Angeles Union Passenger Terminal in March, 1947. This unit was later sold to Precision National in June, 1971. Russ Cole photo. American-Rails.com collection.
Unfortunately, as the years progressed industry leader EMD took over this coveted spot.  During the late 1930s GM's new locomotive division moved into its own plan in La Grange, Illinois at which time it began releasing new models powered by the parent's new model 567 prime mover. 
The first designs were the NW2 and SW1 of 1939.  Just as with the popular FT cab units these switchers began selling very well with nearly 2,000 examples sold between those two variants alone. 
In the following years EMD continued to release popular switcher models like the SW7, SW9, SW1200, SW1500, and MP15 series. 
These were built through the 1980s and by that time there were only two builders left in the market.  By then, interest switchers had waned with so many now in service and a high level of reliability.

---
Missouri Pacific SW1200 #1293 and SW9 #1228 shunting open autoracks at the General Motors plant in Arlington, Texas. August, 1970. American-Rails.com collection.
Today
Even today, decades since they were outshopped one can still find early SW1s and NW2s in regular service.  Additionally, major Class Is still roster various MP15 models and SW1500s for yard service. 
In recent years there have been some new switchers built, although not by the major manufacturers; in the 2000s RailPower (now a division of RJ Corman) released a line of gensets. 
There have also been several switchers rebuilt into either gensets or overhauled for improved performance.  It seems that while we may not see new switcher models cataloged anytime soon, classic examples in service for years now will still be around for many more.