Alco "C-855" Locomotives

Last revised: May 25, 2023
By: Adam Burns

The C855 was an experimental design built only for the Union Pacific. At the time it was manufactured this Century was the most powerful single-unit diesel locomotive ever constructed. 

Designed during the 1960s, the C855 was quite similar to other locomotives constructed by General Electric and Electro-Motive during that time; Union Pacific was looking for a powerful single-unit that could decrease its motive power fleet and daily operating costs.  As a result, it ordered experimental behemoths from all three builders.
What seemed to so often be the case with Alco's locomotives the C855 proved troublesome and problematic mostly due to the fact it had not been given enough research and development. 

One particular sticking point was the use of aluminum wiring in an attempt to reduce construction costs.  It often caught fire and was unsuitable for the daily beating required of freight service. 
The model's prominent feature was the company's trademark tractive effort and the ability to pull almost anything. However, this did little to sway Union Pacific's feelings towards the C855 and the three units were scrapped after less than 10 years of service.

Photos
Overview
The idea of high horsepower locomotives wasn't new at Union Pacific.  The railroad had been experimenting with such single-unit designs dating back to the famous 4-8-8-4 "Big Boys" of 1941-1944.  
They were the brainchild of UP's chief mechanical officer, Otto Jabelmann, wanted to lower maintenance costs by decreasing the number of locomotives needed to power a typical freight train.
The work continued under David Neuhart in 1949 when he replaced Jabelmann as head of the Motive Power Department.  His efforts ultimately led to famous designs like the gas turbine, U50, U50C, DD35/A, DDA40X, and the C-855.
Horsepower
Interestingly, the C855 (designated by the builder as the DL-855) was constructed in June of 1964 during the Century line's early years of production. The model was essentially two power plants housed on one frame.
The locomotive employed two of Alco's 251C prime movers that together could produce a stunning (for the time) 5,500 horsepower. The unit rode on four B-B trucks and weighed a grueling 551,000 pounds (275.5 tons).
Obviously, this extreme weight meant that it would be a liability on the track although it also provided for incredible tractive effort that topped out at 109,000 pounds starting and 88,000 pounds continuous (these numbers put the C855 on par with some of the largest steam locomotives ever built, an area Alco was also quite familiar with).
An American Locomotive photo featuring its testbed A-B-A set of C-855's (A unit #60, B unit #60-B, and A unit #61) for Union Pacific in 1964. These beasts could produce 5,500 horsepower, each, utilizing a pair of 16-cylinder, model 251C prime movers. Unfortunately, the design was not successful.
Alco had also developed a model similar to the C855, Southern Pacific's C643H. However, there was a key difference with Espee's locomotive, which used a Voith diesel hydraulic transmission whereas the C855 did not. 
UP's version used equipment standard in practically all other Century line locomotives; traction motors (model 752) and main/secondary generators (model GT598 and GY27-5) from General Electric along with air components from Westinghouse.  
Of course, anyone who studies Union Pacific's history knows the railroad is famous for going big during the 1950s and 1960s.  In the late 1940s UP had GE and Alco build a gas turbine-electric locomotive that itself could produce nearly 5,000 horsepower.  
Additionally, during the C855's construction UP contracted GE and EMD to build similar models (EMD unveiled the DD35 and GE the U50, both of which could produce 5,000 horsepower).  The C855 was designed to operate as single units or in A-B/A-B-A lash-ups. 
In sequence the locomotives were numbered 60, 60B, and 61 (the cabless "B" unit was designated as the DL-856). In general the carbody had the appearance of the Century line with a short nose and long trailing hood only scaled up to far greater proportions.
From an exterior standpoint it didn't exactly carry a clean look with many bulges and protrusions here and there. The C855 was an incredible 86 feet in length and when all three units were coupled together the set nearly spanned a football field at 258 feet!
The whole point of UP going big with diesel technology was an attempt to reduce its locomotive fleet by using fewer units per train (thus reducing maintenance and general locomotive expenses). 
Data Sheet and Specifications
| | |
| --- | --- |
| Entered Production | 6/22/1964 |
| Years Produced | 6/22/1964 |
| Model Specification | DL-855/DL-856A |
| Engine | 251C, V-16 (2) |
| Horsepower | 5,500 (2,750 per engine) |
| RPM | 1,050 |
| Carbody Styling | Alco |
| Length (Between Coupler Pulling Faces) | 83' 11" |
| Weight | 528,000 Lbs. |
| Dynamic Brakes | Yes |
| Trucks | B-B |
| Truck Type | Swing Bolster, Drop-Side Equalizer/AAR Type-B (4) |
| Truck Wheelbase | 9' 4" |
| Wheel Size | 40" |
| Traction Motors | GE 752 (8) |
| Traction Generator | GT598 |
| Gear Ratio | 65:18 |
| Tractive Effort Rating | 88,000 Lbs. at 10 MPH. |
| Top Speed | 75 MPH |
Production Roster
Total Built = 3
| Owner | Road Number(s) | Specification | Construction Number(s) | Completion Date |
| --- | --- | --- | --- | --- |
| Union Pacific | 60-61 | DL-855 | 84730, 84731 | 6/22/1964 |
| Union Pacific | 60B | DL-856A | 84732 | 6/22/1964 |
---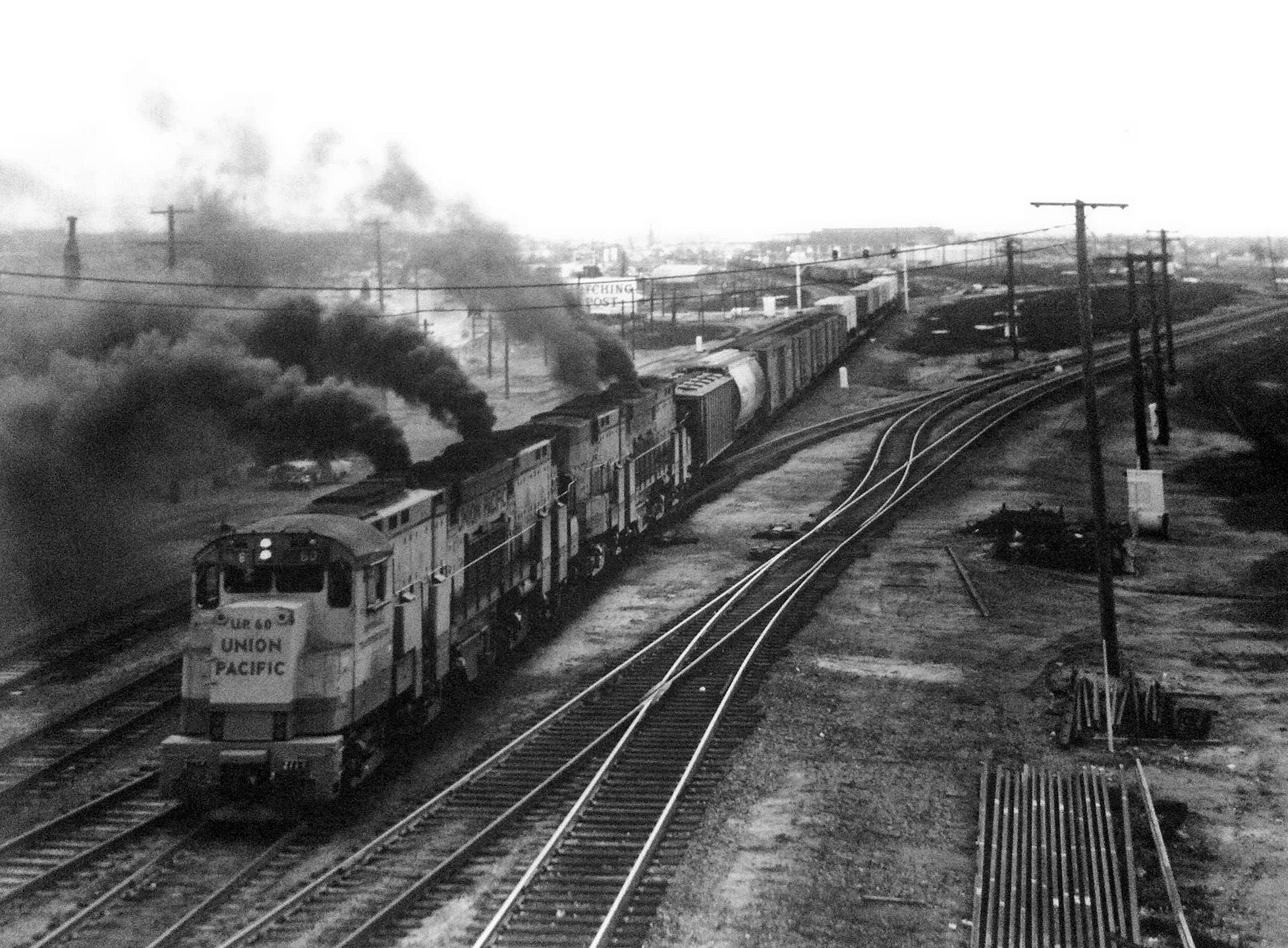 What these must have sounded like in service! With a combined output of 11,000 horsepower (5,500 hp each), Union Pacific C855 #60 and cabless unit #60-B smoke it up as they roar out of Cheyenne, Wyoming with a westbound freight on September 15, 1966. Photo from the Ken Berghorst collection/shared by Brandon Carstensen.
Reception
General Electric's and Alco's high-horsepower designs were plagued with reliability issues, lasting less than a decade in service before being struck from the roster.  Among their issues was the use of aluminum wiring, which caught fire, along with general overheating and other problems with the 251Cs. 
While both GE's and EMD's models lasted longer in revenue service than did the C855 all three designs had their problems (the C855s were off the roster by 1972). 
EMD's version, the DD35/A lasted the longest and proved the most reliable of the three, remaining in service until the early 1980s. 
Interestingly, the later DDA40X Centennials turned out to be the most successful of all with the fleet of 47 recording more than two million miles of revenue service, some of which were later rebuilt and operated through the mid-1980s. 
Sources
Foster, Gerald. A Field Guide To Trains. New York: Houghton Mifflin, 1996.
Kirkland, John F. Diesel Builders, The:  Volume Two, American Locomotive Company And Montreal Locomotive Works. Glendale: Interurban Press, 1989.
Pinkepank, Jerry A. Diesel Spotter's Guide.  Milwaukee: Kalmbach Publishing Company, 1967.
Solomon, Brian. Alco Locomotives. Minneapolis: Voyageur Press, 2009.